Looking for the perfect dual monitor desk setup ideas to breathe new life into your workspace? Here's our recommendation.
Nowadays, you are likely to find people working on more than one screen whether at a co-working space or in their home offices. Some even have workstations that can accommodate up to three or four monitors to work on.
Having multiple monitors to work with offers many benefits – whether as a video editor, programmer, or gamer. It gives you a more ergonomic and luxurious experience.
A dual monitor setup offers an extra monitor alongside your usual PC and can be used for multiple purposes. You're able to research different things simultaneously with two computers
Whether you're a web designer, video editor, gamer, content writer, or Forex/crypto trader, having a dual monitor desk setup is an excellent way to make the most of your work. It offers a much larger display and an avenue to get more work done.
Whatever it is you do on your computer, upgrading your workstation to a dual monitor setup can cultivate creativity and enhance your productivity.
So, if you're looking to upgrade to a dual-screen setup, we've come up with some great suggestions to help you through it. We included ideas on the best ways to set up dual monitors on the desk to ensure a sturdy setup as well as comfort. We hope you find them very helpful.
Upgrade to a Dual-Monitor Computer Desk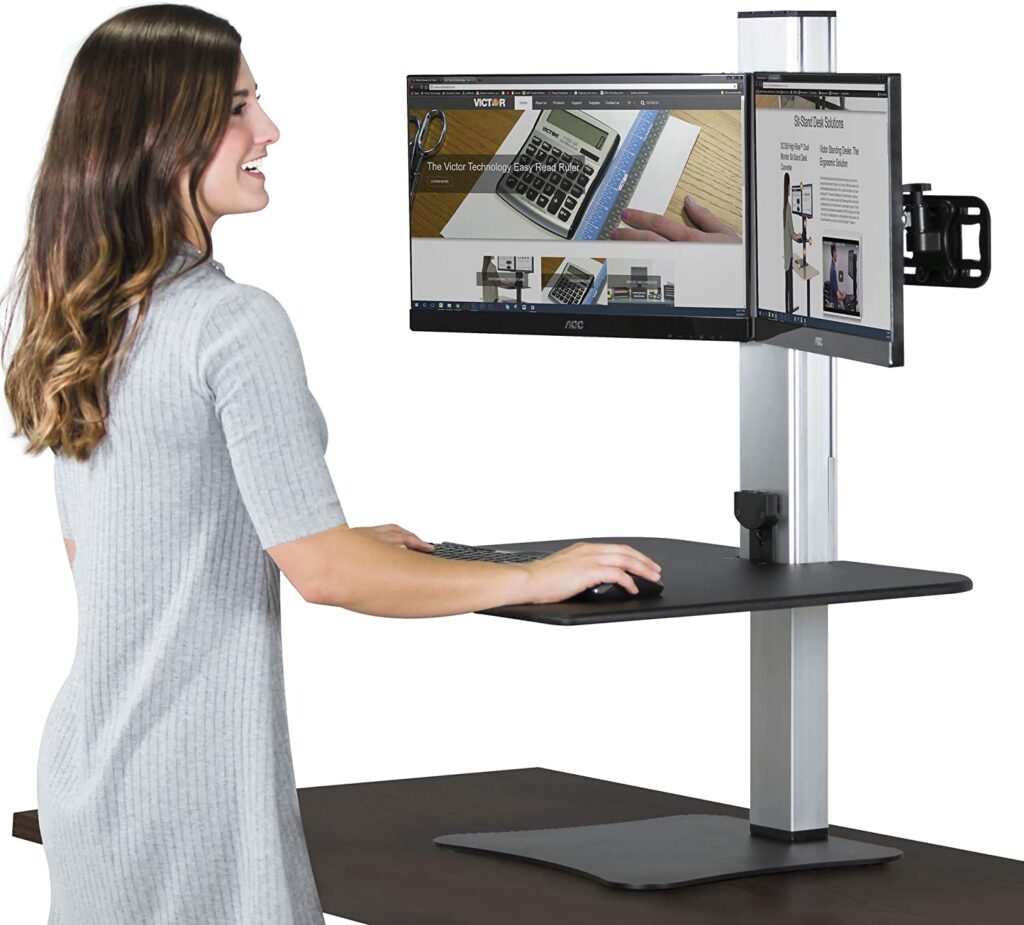 Getting a computer desk for dual-monitors can have a significant improvement on your working experience. You will need to find a desk with sufficient tabletop space to accommodate your two screens while still leaving enough room for you to work conveniently. The best dual-monitor desks on the market deliver enough space as well as offer some additional cool perks.
Consider Buying an Adjustable Desk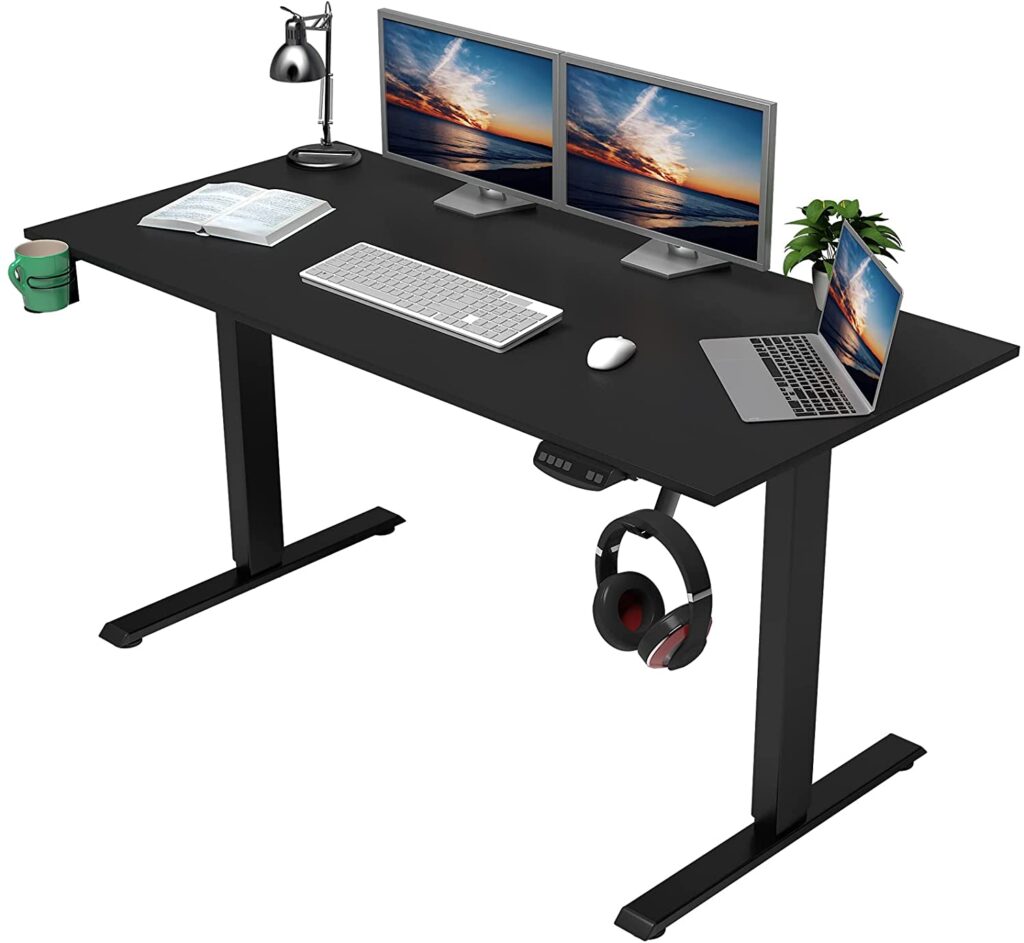 Adjustable desks are ergonomic in their construction. They are designed to support both a sitting and standing posture. Their versatility allows you to adjust the desk to the best height suitable for you.
Combine an adjustable desk with dual monitors and you're surely going to experience a whole new level of productivity. Gamers can also use this as a gaming computer desk for dual screens.
Get a Corner Desk for Space Saving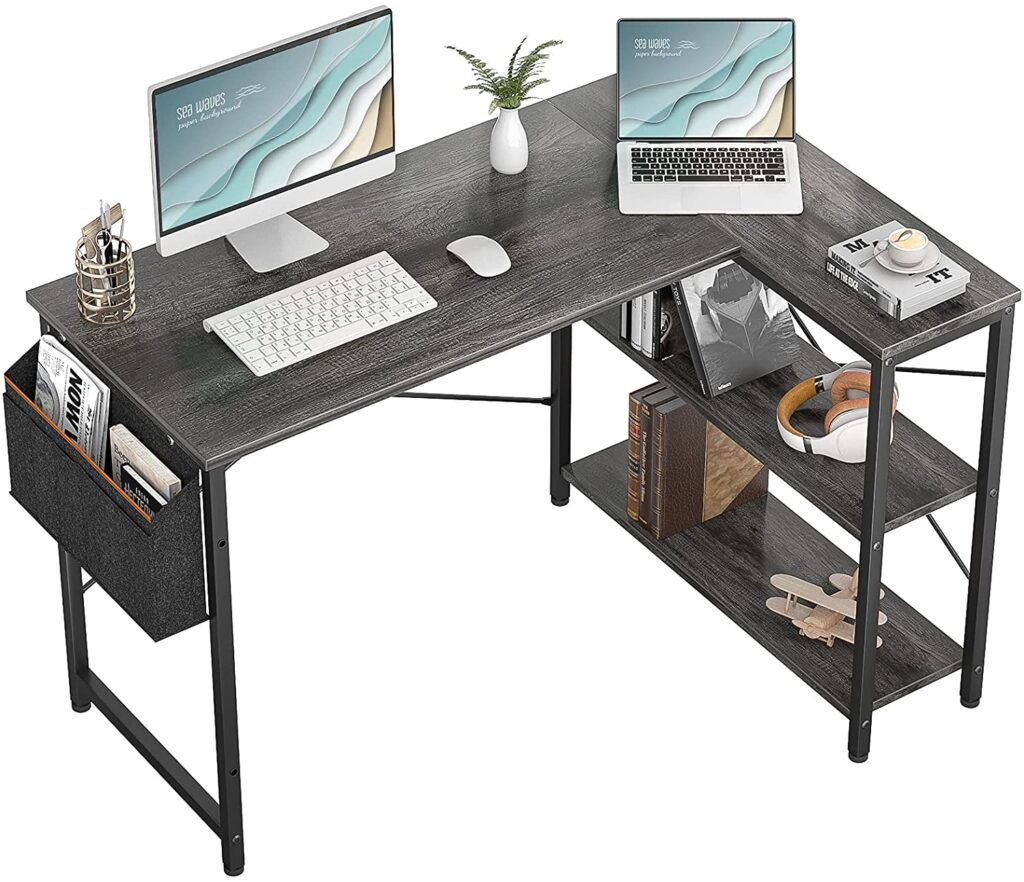 If you're trying to upgrade your workstation to a dual-monitor setup but do not have ample space, you may want to consider going for a corner desk.
An L-shaped corner desk offers better space than a traditional desk, providing better angles to position your monitors. They are perfect for maximizing space as you can fit them snugly into a corner while still having one of the finest dual-monitor desk setups.
Try Using a Monitor Stand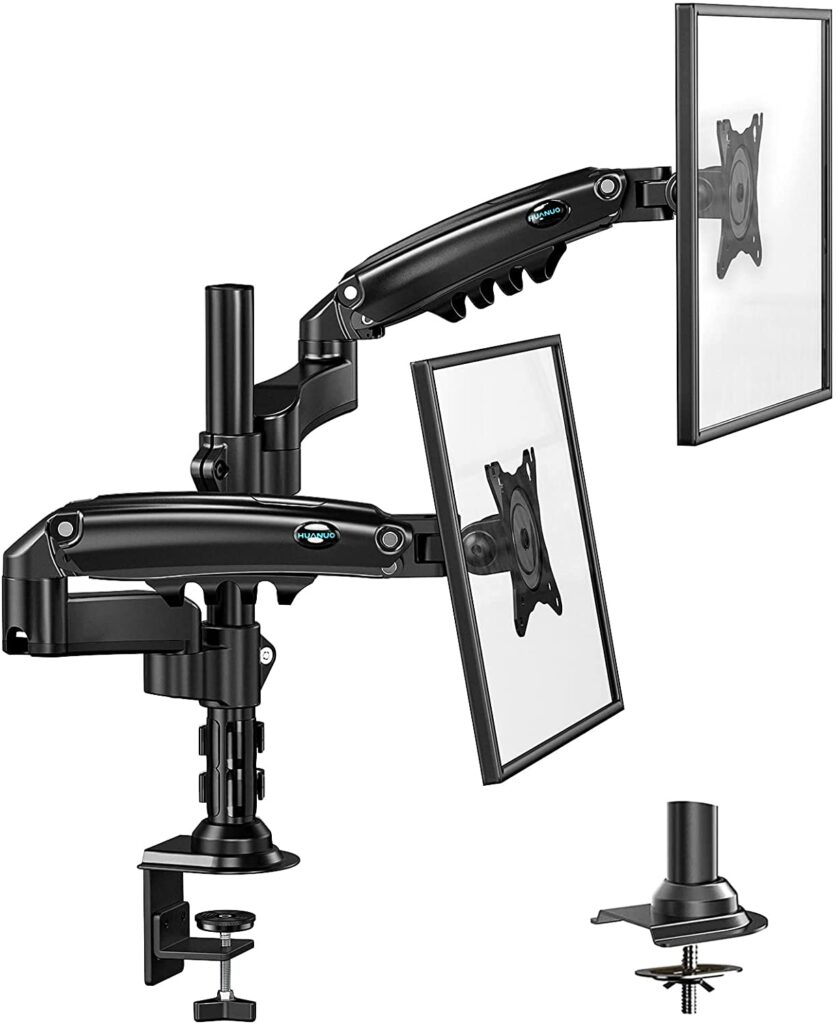 Using a monitor stand to raise your monitor can help to manage your table surface and create more room for working and placing other essential items needed for working or gaming.
Also, sitting in front of a computer for extended periods can take a toll on the body. Monitor stands are a great way to take some of the pressure off and make you feel more comfortable. They also facilitate proper posture.
Organize Your Desk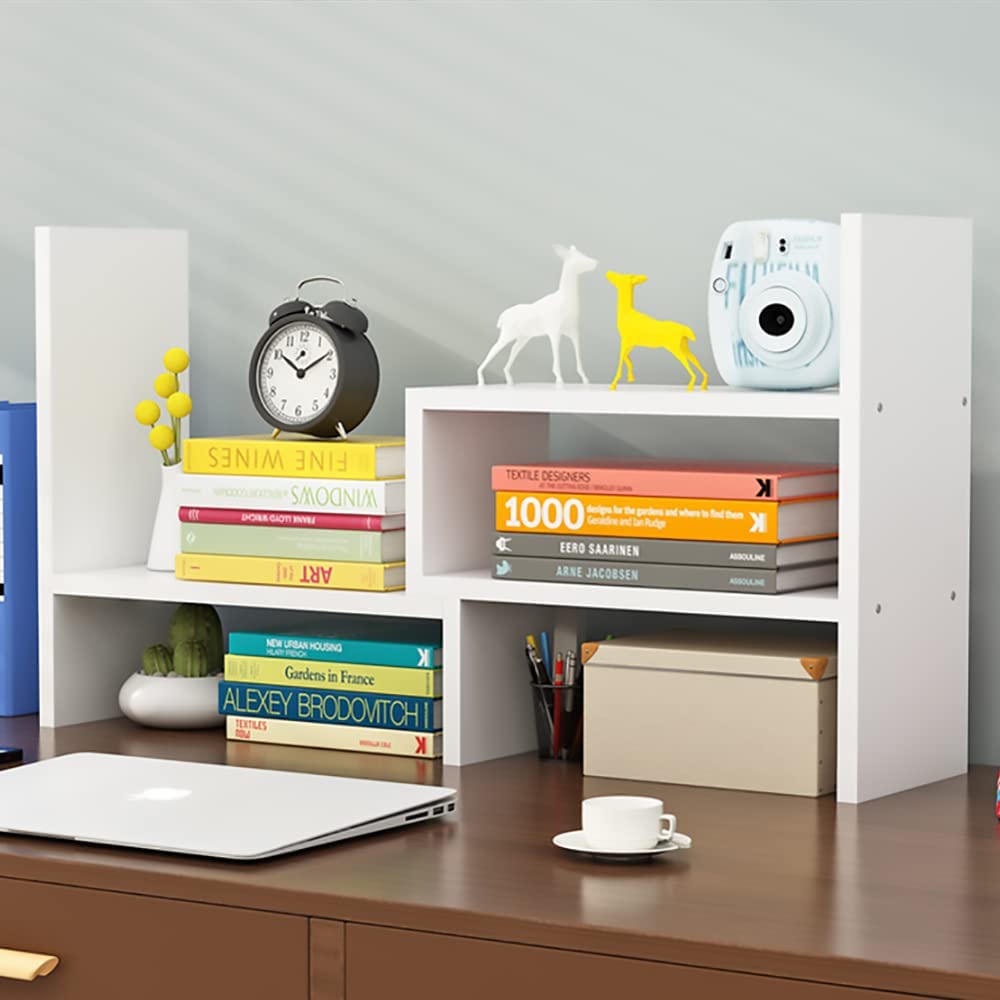 The more monitors you have, the harder it is to keep a clean desk and things may start to get messy quickly.
You may want to consider getting a modern computer desk that provides ample desktop space and helps you organize your table. Some computer desks come with spaces for you to keep items like headphones, cups, gamepads, etc., so that the desktop surface can stay clean.
If you don't have a desk that comes with spaces, you can get a desk organizer to make your workstation a little neater.
Organize Your Cables
When you make use of more than one monitor, it becomes very easy for your cables to get muddled up and even tangled. To prevent this, you will need a cable tray. These days, it is common to find computer desks that come with cable grommets and cable trays to help users maintain a clean cable system.
If you're not looking to purchase a new table, you can easily get a cable tray for your table at a low cost.
Get an Ergonomic Chair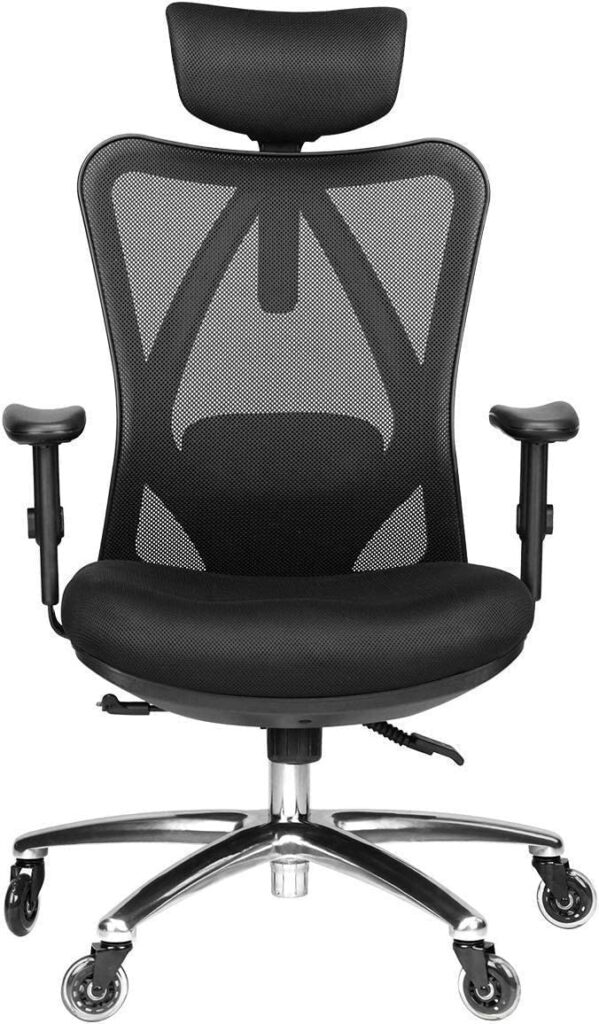 It is always best to use an ergonomic chair especially when you spend most of your time on a computer. An ergonomic chair will help you sit right and prevent any future health problems. So, don't just upgrade your desk setup, upgrade your chair as well. A dual-screen setup plus an ergonomic chair equals improved productivity.
Use Monitors of the Same Size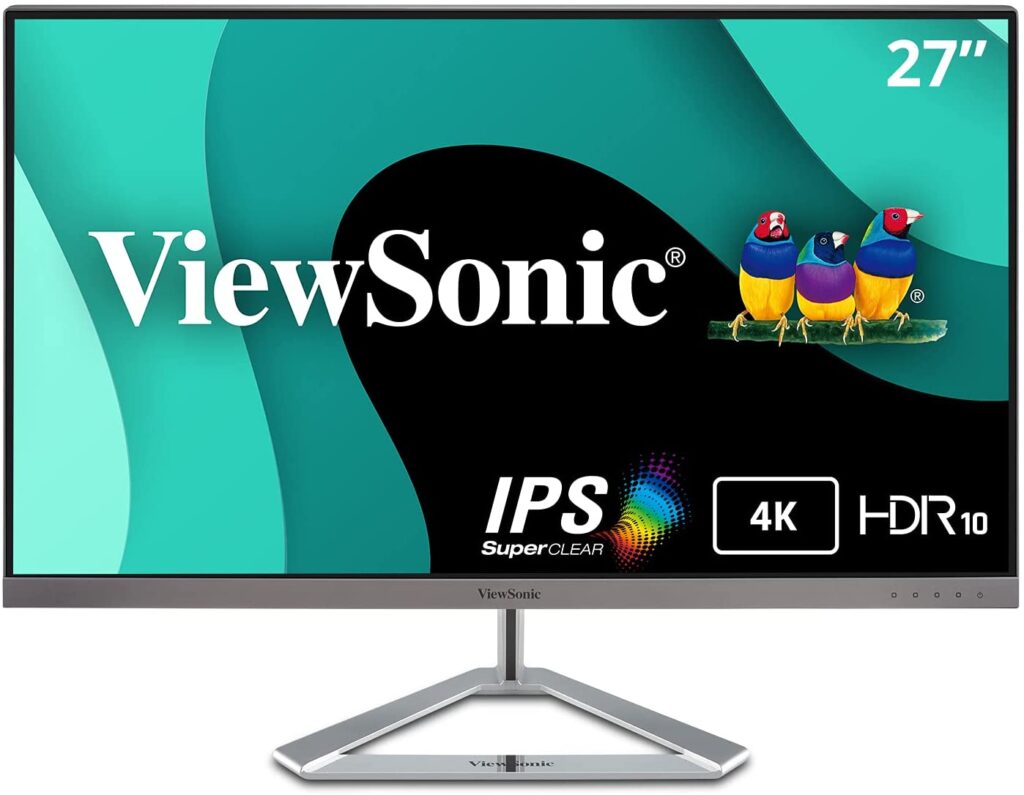 Your dual monitors should be of the same size to give an even look. This will promote a steady gaze and steady posture. If you're using a desktop monitor and a laptop, you can try keeping the center of both monitors at the same height.
Find a Perfect Position for Your Monitors
If you're not sure how to position your dual monitors, you can choose to experiment with a different positioning to find out what works best for you.
When setting up your dual monitors, you have to ensure that you keep both monitors in a symmetrical configuration so as not to leave a big gap between the two screens. You can decide to place both monitors at the center directly facing you. Or if you're going to be using one screen more than the other, you can keep your primary monitor at the center and position the second one to the left or right.
Use a Monitor Arm to Fit Dual Monitors on a Small Desk
If you have a small desk, you can use a monitor arm to hold up your monitors. This will help take the weight off the table, keep it sturdy and give you extra space on your desk surface.
Position your Screens at a V Angle
You can try the V-shaped approach, especially if you intend to use both screens equally. To do this, you need to place one monitor on the larger end of your desk and place the other one at the other end. This will give your monitors a V-shaped look and keep you at the center of both screens.
Keep Both Monitors at Arm's Length
Your monitors should best be placed at an arm's length distance to enable you to have a viewing distance that is not too far or too near to your seat. This way, you can avoid straining your eyes or leaning forward.
Keep Keyboard and Mouse at the Same Level
It is very important to have your keyboard and mouse positioned correctly. If your keyboard and mouse are not in the right position, it can make you uncomfortable and affect your productivity. Ensure that your keyboard and mouse are at the same level and the same height as your elbows. You can invest in a computer desk with a pull-out keyboard tray for your keyboard and mouse.
Setting Up Display on Both Screens
Ensure that both screens are set at the same level of brightness, contrast, and font size to make it easy on your eyes.
PS: I found this video of one of the best dual monitor desk setup as far back as 2020. It's a clean and simple setup but very pleasing to see.
Final Words
We've come to the end of this article. Follow the ideas we've mentioned above and setting up your dual monitor desk won't be so much trouble.
These suggestions should help you to choose how you want your dual-monitor set up to look and also ensure that you get the best experience with your new desk setup. We hope you found these suggestions helpful.