Dogs are great companions. Our fur buddies are our closest friends. But, whilst being adorably cute they are also known to leave behind fur, spill crumbs, and even destroy the furniture while they are at it.
For some unknown reason, active dogs love to pull on the couch and leave fur everywhere, bouncing and jumping from couch to couch are imminent hazards when you have a dog in your home, so you'll need furniture that can withstand it – dog couch covers.
If you're only considering wrapping air bubbles around all of your upholstery to prevent stains, tears, spills, and odors from your dog, think again.
To help you cut short the thinking stage, pet-friendly couch covers are a must-have, if you have fur buddies at home and want to keep your furniture as is, without worrying about incurring expenses changing the upholstery.
However, choosing the best sectional couch covers for dogs can be challenging. There are plenty of options designed for comfort that will withstand the worst messes from your fur friend(s).
To save you from the stress of deciding which couch cover is the best we've researched for you and found the best sectional couch covers for dogs made of durable fabrics – ideal for even the most chaotic households.
They are virtually indestructible and easy to clean not forgetting they give your space the extra spice you need but didn't know you do.
Let's take a look at the top-rated couch covers every dog owner should have:
What are the best sectional couch covers for dogs?
Reviews of Top-Rated Couch Covers for Your Fur Friends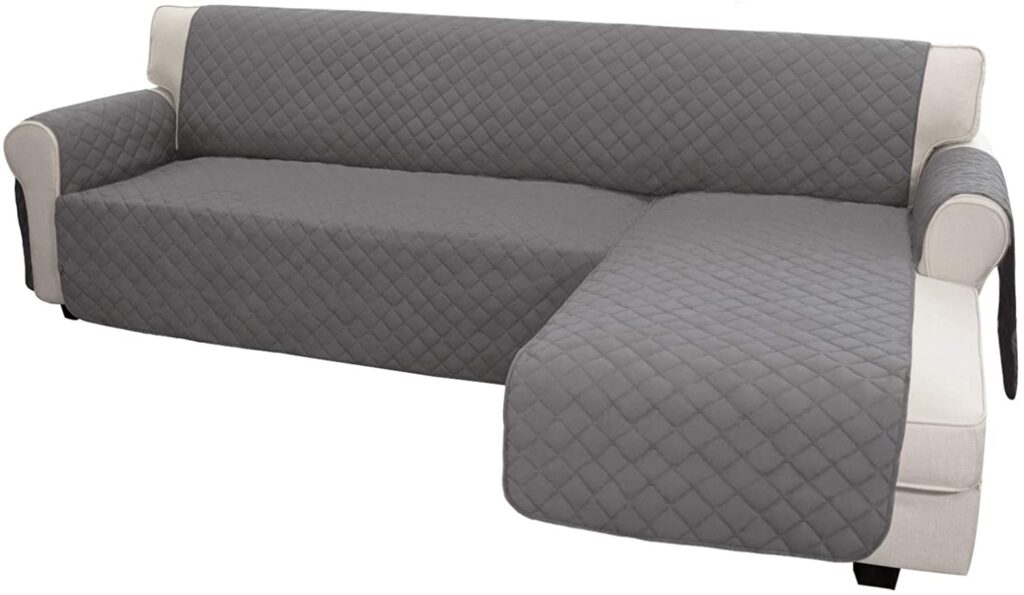 Our first choice of a sectional couch cover especially for L-shaped couches is this easy-going couch cover, and you'd find out why soon enough.
But, who would not love a durable but yet affordable and easy-to-install, easy going sofa slipcover reversible sofa cover? Obviously, we all do. We are all tired of seeing our sofa get stained by our fur buddies and yet being unable to clean it.
So, back to why we love this couch cover and it's our top choice.
You want a high-quality slipcover that your dogs can't easily drag off the couch, yet you want something easy to clean.
We crown this as the best couch cover for good reasons. This easy-going cover fits the description, as it's made of microfiber which makes it easy to clean when it gets stained. With this; you no longer have to worry about your pets staining the sofa with shed hair.
Installation is also where a lot of couch covers don't get it right, but not this couch cover for dogs. You will have no problem installing it because it stays in place very well, due to the foam pipes inserted in it.
Now you don't have to worry about how much the kids or pet rolls in it because they never seem to come off or get out of place. Also, there won't be any unwarranted pet accidents thanks to this good quality cover with neutral colors.
I know you dream of having not only a comfortable and beautiful sectional couch cover but also one of exceptionally good quality that can last a long time and yet it has a decent price. Now, you've got our recommendation. This is the perfect couch cover. It's our favorite pet couch cover that fits into your existing decor and we're sure you'd love it too.
Product Features
Microfiber
Grey color
Seven foam pipes
Pros
This sectional couch cover is easy to wash.
You want a pet-friendly sofa cover, you got it.
Stays in place thanks to foam pipes
You don't have to worry about your pets getting too excited or agitated and damaging your sofa
Fits most L-Shaped sofa perfectly
Cons
It is not water-resistant.
Pricing is a bit stiff at over 50 bucks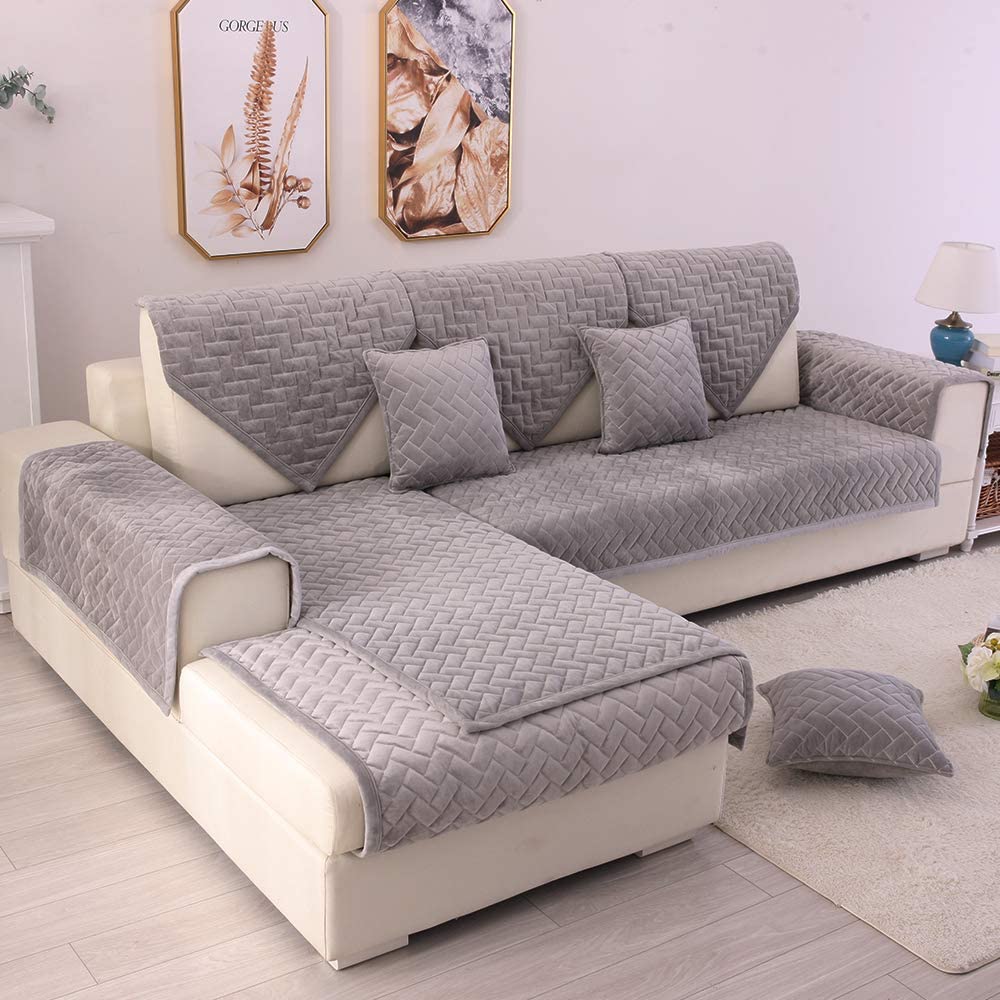 Another beautifully designed couch cover for dogs that's worth talking about is this budget-friendly Tewene anti-slip cover.
Believe me; this couch cover will give any other pet-friendly cover for sectional sofa a run for their money when it comes to functionalities. The pieces of beautiful polyethylene terephthalate cover double as a play mat.
To buttress the point, you can choose to use the Tewene anti-slip sectional couch covers for dogs as either a couch cover or as a mat/rug (works fine as a play mat for the kids and pet and also as a bedroom rug.)
And if you're wondering, it doesn't feel like a 20 bucks cover. It's so comfy to sit and lay on, and you, your kids, and pets would enjoy the smoothness of the cover.
My dogs always seem to stay put when they are on it and I don't have to worry about tucking the covers back in because they never seem to slip off.
You'll find that the material is thick enough to not be able to drag off the couch, yet super comfy material. While I can't say this is resistant to water, I'd love to mention that it's easy to clean when stained.
Unlike some other couch covers they seem not to attract pet hair much and even when they do, it tends not to show because of their light grey color. The cover is so good at hiding stains and is also so easy to wash when they do get dirty.
Doesn't matter the type of couch you have, whether fabric or leather, you'll love this pet couch cover. Why get a new sofa when it's a good idea to use this best couch cover for your couch cushions, prevent pet accidents, dog hair lying around and maintain your old couch for a long time.
Product Features
Made of Polyethylene terephthalate
Light grey color
The anti-slip backing silicon rubber design
Works for leather and fabric couch
Pros
A multifunctional couch cover can serve as a pet rug, bedroom rug, and the designated couch cover to prevent your pets from scratching/biting your sofa
Super soft and comfortable to sit or lay on.
The material is pretty wash and clean.
Has a solid anti-slip property that keeps it from easily slipping off.
Cons
It helps with water but not water-resistant.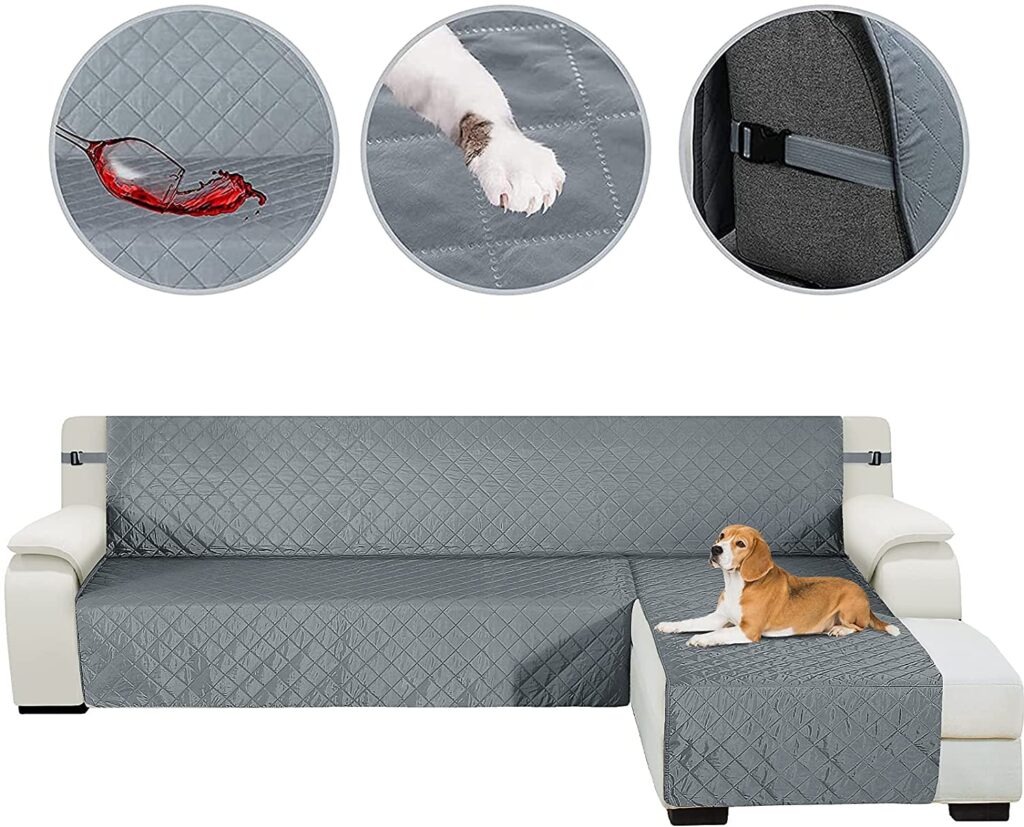 Okay, this is unarguably one of the best sectional pet couch covers. It's a beautiful water-resistant couch cover ideal for dog owners tired of washing their couch covers anytime their fur buddies climb on the sofa.
This super cool couch cover gives you zero worries with regards to your fur friend(s) and your expensive living room furniture.
Why worry about stains, drink spills, and other debris when you can throw this easy-to-clean couch cover on your sofa and take out whatever mess left behind by your pet later without stress.
Although I can't really pronounce the name of the company – HDCAXKJ, I would say they did a solid with this one.
The couch cover is made of polyester and microfiber, which makes stain come off easily, and I can't seem to stop loving its coffee color, which will beautify your couch and hide stains even when they do get stained.
It's an impressive couch cover for any pet owner that will protect your couch from so many other accidents that may happen along the way, such as protecting it from water and drink spills, prevent your pet hair from getting stuck on the couch, and also wear and tear.
The covers are so easy to use and mask your sofa perfectly even when it starts aging. So, you really don't have to worry much about getting a new couch when it gets old because there'll be little or no notice as it masks it perfectly making it as beautiful as always.
Product Features
Made of Polyester and Microfiber.
Coffee brown color.
Water repellent technology.
3-pieces design
Pros
The material is soft and comfortable.
This sectional couch cover for dogs is easy to clean.
Built with water-resistant material, you don't have to worry about soaking your couch
Aesthetically, this is a beauty.
Cons
It is soft and as a result, can get ripped apart by your pet.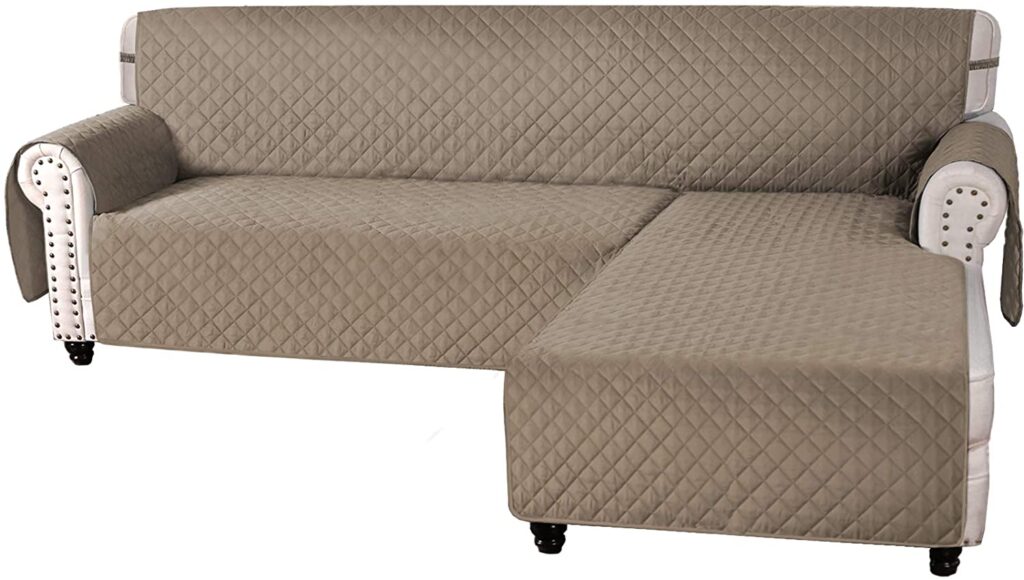 This is another high-quality slipcover that prevents scratching, biting, and damaging the living room couch I like. It's a perfect cushion protector that's very durable and still looks fancy.
With a bold look, this pet couch cover is sure to add color to your home. Why change your couch because the upholstery is diminishing when this solid couch cover can restore it beautifully.
Made from high-quality materials like Polyester and Polyester blend, the H.VERSAILTEX sofa cover is both thick and comfortable.
It gives you the comfort you want as well as the durability you need, thanks to premium high-quality materials.
An all-in-one couch cover that helps you prevent water or drinks from touching/soaking your sofa while also keeping the sofa safe from playful kids or dogs and cats scratching and tearing it.
Quality-wise, you'll definitely recommend this to your friends because asides from being nice-looking with a cool color, this couch cover is 100% durable and will offer you everything you need from a sectional couch cover for dogs.
Do you want a couch cover that beautifies the living room and is also comfortable to sit on while being easy to clean if it stains? You'll definitely appreciate the work this couch cover does.
Product Features
Made of polyester and polyester blend.
Taupe color.
Machine washable
Non-slip design
Pros
The material is believed to be water and tear-resistant
It's made of high-quality polyester that's very thick and takes on scratches quite well
It's machine washable, making it easy to clean when it stains
The material is soft and comfortable.
Fits sectional couches (main sofa and chaise sofa) perfectly.
H.VERSAILTEX sofa is also able to prevent our pet furs from getting stuck in the sofa.
Cons
A few complaints that it doesn't stay tucked in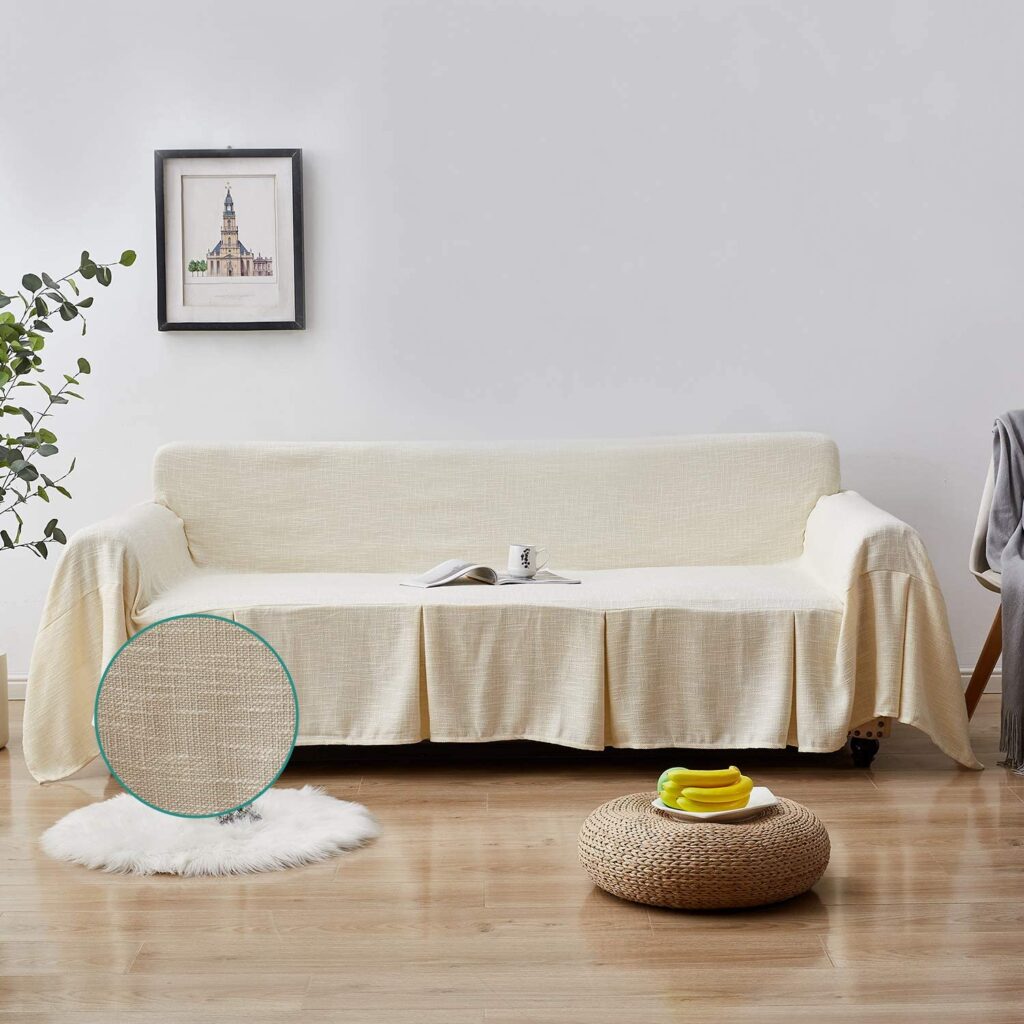 Linen always looks good, and this sofa cover just proves that once again. The RHF sofa cover comes in small, large, and extra-large sizes. For this review, we'll be looking at the large size which is the ideal size if you want to purchase a sectional couch cover.
Designed as a one-size fit all pet couch cover, the RHF is a unique and classy beige-colored cover made with natural, breathable material that feels like linen.
The cover is a carefully woven, high-quality coarse hemp fabric with rich texture and great durability. It is even more exciting because it can be used for just any type of sofa due to its stretchy nature.
Remarkably, the RHF sofa cover is of a soft nature, making it so easy to use and also very comfortable for the body, whether for you or your pets.
We can't stop gushing about the material quality of this stretchy cover I know. This is because the level of craftsmanship is top-notch and the finished product is an exceptionally superior level material that doesn't wrinkle even after being washed.
If you're looking for a sectional couch cover for your sitting room to give it that expensive and classy look even without breaking the bank, this is a fitting option.
Product Features
Linen material.
Beige color
Material stretches
Perfect fit
Pros
Beautiful material
You can stretch the cover to fit
It is wrinkle-free, even after being washed.
The material is very comfortable
You can easily wash it when it stains
Cons
Sadly, it stains quite easily
If you have troublesome pets, they can take them off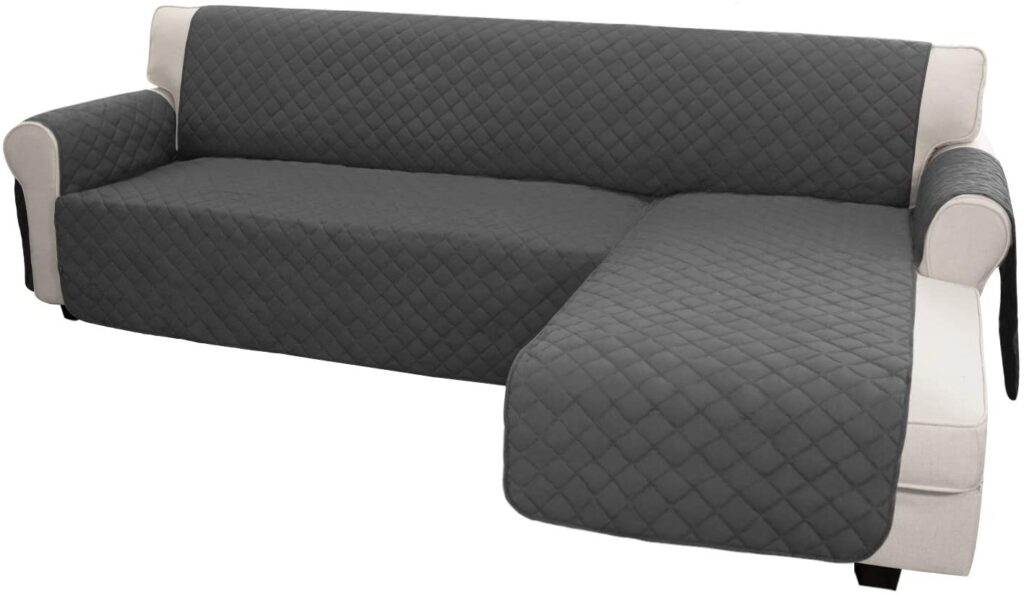 This is another Easy-Going couch protector to keep your pets from chewing up your furniture. You want a reasonably priced cover for your sectional couch, right? This slipcover fits L-shaped sectionals and is really easy to install.
If you are tired of seeing your sofa get stained, scratched, chewed on, and you don't want to keep stomaching heavy expenses on furniture maintenance, maybe you should look towards this sofa protector.
The Easy-going L-shaped sectional couch protector is made of microfiber, making it easy to clean when it gets stained, ensuring you no longer have to worry about your pets staining the sofa.
You will have no problem installing it because it stays in place very well due to its inserted foam pipe pieces. Again, you don't have to worry about how much the kids or pet rolls in it because they never seem to come off or get out of place.
This Easy-Going sectional couch protector is a dream that comes through for pet lovers who want a sofa protector that will not only do the work of keeping the sofa protected but also give spice to their home interior.
You'll appreciate the quality of this couch cover allowing it delivers a comfortable sitting or lying experience while being safe for kids and pets. The best part is you get to protect your couch from dog attacks. Well worth the 50 bucks you'd spend if you ask me.
Product Features
Microfiber
Dark grey in color.
Come with 7 foam pipes
Pros
Easy to clean
Moderately priced for the quality of sectional cover you're getting
It stays in place while being used.
Stains are not very noticeable
Cons
It is not really water-resistant.
Choosing a couch cover (what to look for and how to choose one)
Material
The many different couch cover materials available can help resist stains and fur buildup better than others. If you have a large, playful dog who likes to jump on the couch, nail marks and possible cracks can damage natural leather covers.
These small and insignificant nail marks provide a patina over time.
Instead, consider alternatives to tweed, twill, or microfiber, which are known for their dense fabrics and moisture-absorbing/stain-resistant properties. Microfiber is the most easily accessible in terms of budget and inventory
Your Style and Color
It is advisable to use dark-colored fabrics to help disguise the fabrics. Go with darker colors like black, gray, or navy that easily hides imperfections as white or cream colors are more problematic to maintain.
Do not forget your interior décor as you do not want to compromise the colors, you need to look at the designs and prints and how well they fit into your home decor. It is advisable to choose something that reflects your style and mood in the room.
Quality
The quality of the fabric is really very important. If the quality is poor, the fabric will not last long. If the quality is good, you won't need to change the fabric in a short time.
Allergic reaction
Different couch covers are made of different materials. This means that any material will cause a reaction, especially for people who are allergic. It is advisable to choose a microfiber cloth, as it does not leave hair and therefore does not attract dust.
Frequently Asked Questions
How can I protect my couch from my dog? Are there any other ways?
The most effective way to protect your couch from your dog is to buy a durable sofa shield or dog couch covers that will protect and act as a barrier between your dog and your couch making sure that the fabric fits properly into your couch and does not have holes.
It is also advisable to trim and groom your dog's nails if you have an active dog that likes scratching.
What is the best pet-friendly couch cover to use?
We have listed the best options in the review section. To summarize, the best dog couch cover to use should be a durable fabric; it includes suede, leather, spandex, microfiber, polyester, denim, and canvas.