Do you have a tiny apartment but still need comfortable and well-made furniture that doesn't take up too much space?
There's good news: you can get any of the best wall hugger recliners for small spaces if you're in this situation. And that means your apartment can be as cozy as a spacious mansion, too.
What is a Wall Hugger Recliner?
A wall hugger recliner is an innovatively designed – yet insanely comfortable – and streamlined lounger that provides practically the same highly irresistible lounging luxuries that conventional recliners offer, minus all the bulk.
Wall hugger recliners typically adopt the same design as any other traditional recliner, but with one significant benefit: they occupy the least amount of space when they are fully reclined.
It is not uncommon for a few wall-away recliner models to require at least 3 inches of clearance. And although they are comfortable and space-saving, choosing the best wall hugger recliner can be somewhat challenging.
Bear in mind that walls are not the only ones who can get hugged by these incredibly comfy chairs. When you try the wall-hugger experience just once, you will feel the definite cozy embrace of these recliners. And once you do, you will never want to part with them. You will always look forward to plumping down on the plush and inviting wall-away recliner after a long day.
How Does a Wall Hugger Recliner for Small Spaces Work?
A wall hugger recliner – otherwise referred to as a wallaway recliner or wall-saver recliner – is definitely unique because it is usually positioned close to a wall. It is designed such that it sits on a track. And when you recline, the wall-away chair moves forward.
This makes you recline away from the wall in your small living space. Wall hugger recliners are excellent space-savers. Therefore, if you do not have a lot of room in your apartment but still want to recline at the end of a long day at work, a wall hugger recliner is perfect for you.
But the truth is that the recliner market is replete with several excellent products. However, we have done the brain-racking for you and narrowed down your options to the best of the best wall hugger recliners that money can buy.
In the next section, you will come across the top-notch wall-away recliners we have carefully selected for you.
Our Top 8 Wall Hugger Recliners for Small Spaces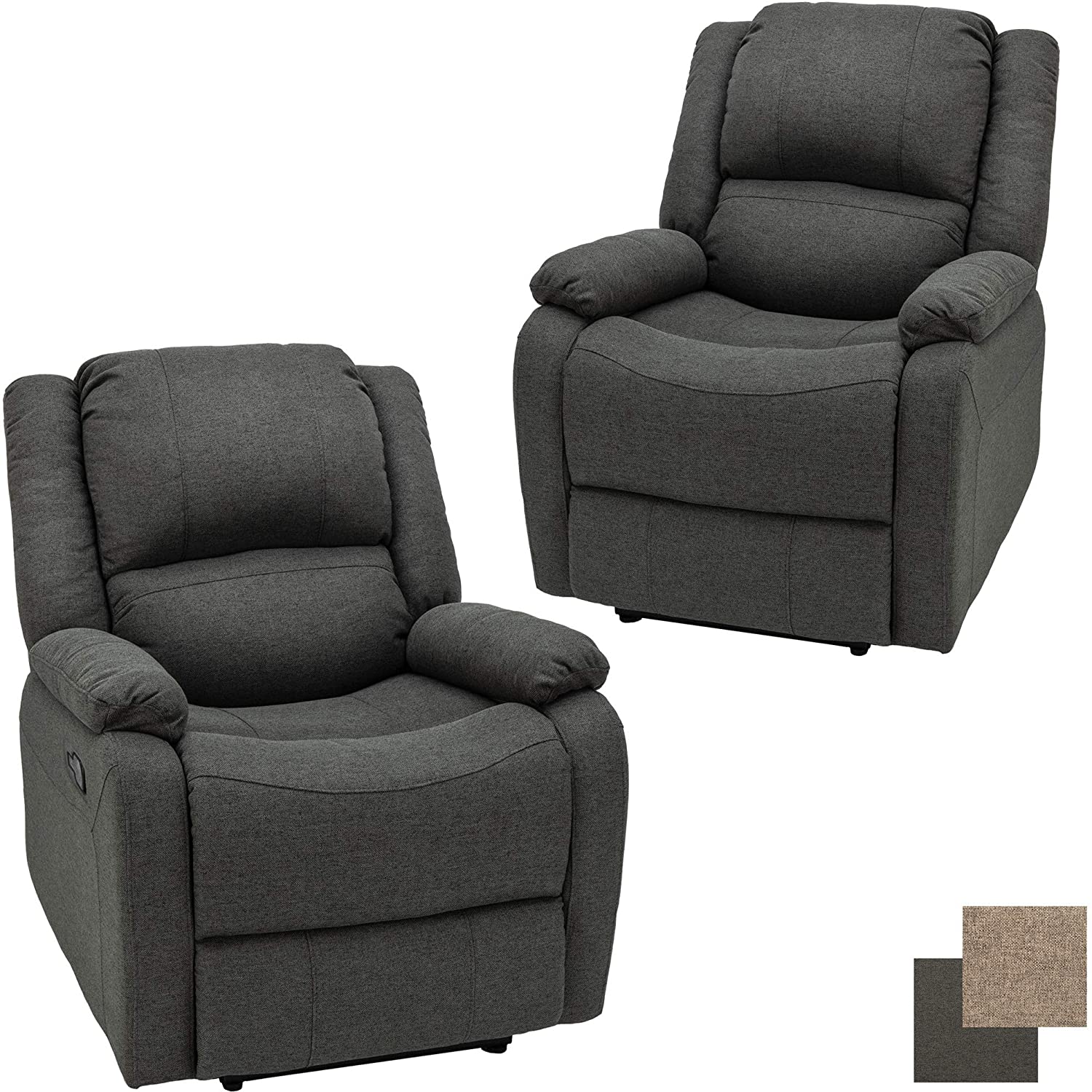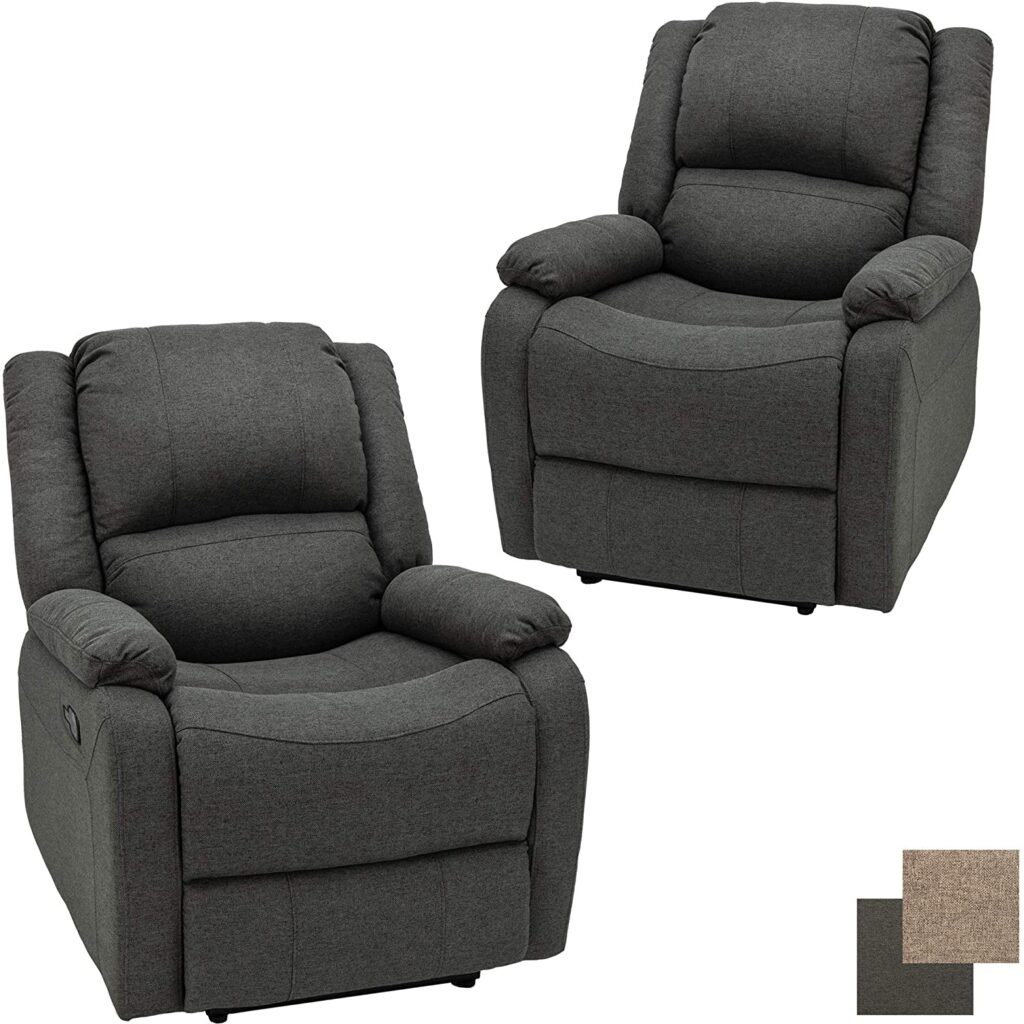 The RecPro Charles Collection 30″ Zero Wall RV Recliner top this list because it comes with an insanely and incredibly small clearance requirement. This wall hugger needs just 3 inches of space from your wall when getting into a fully reclined position.
The RecPro Charles Collection 30″ Zero Wall RV Recliner comes in several earthy color varieties. This means you can choose anyone that perfectly matches the décor of your apartment without stress. It is an incredibly comfortable recliner and can even serve you exceptionally well as an extra sleeping spot when you take it outdoors.
This wall hugger comes with buttery-soft faux leather that is soothing to touch, highly durable, and very easy to clean. And you don't have to worry about spills because the faux leather holds up quite well and is long enough for you to mop up spills.
Its Tiona pattern makes the recliner look elegant, and the soft, thick padding on every side offers generous support and comfort at all times.
This wall hugger recliner also showcases a small tab lever on its sides and a user-friendly mechanism that helps you set its position the way you want or desire. It has a sturdy, all-metal construction base which gives the wall hugger its strength and heft. The base also allows it to bear weights up to 300 lbs.
Pros and Cons of the RecPro Wall Hugger Recliners for Small Spaces
What we liked
Sturdy and well made, right from interior construction to upholstery
It only needs 3 inches of clearance
Incredibly comfortable
Easy to assemble
It takes up little space
Excellent customer service
What we didn't like
The longevity of the stitching is an issue
Expensive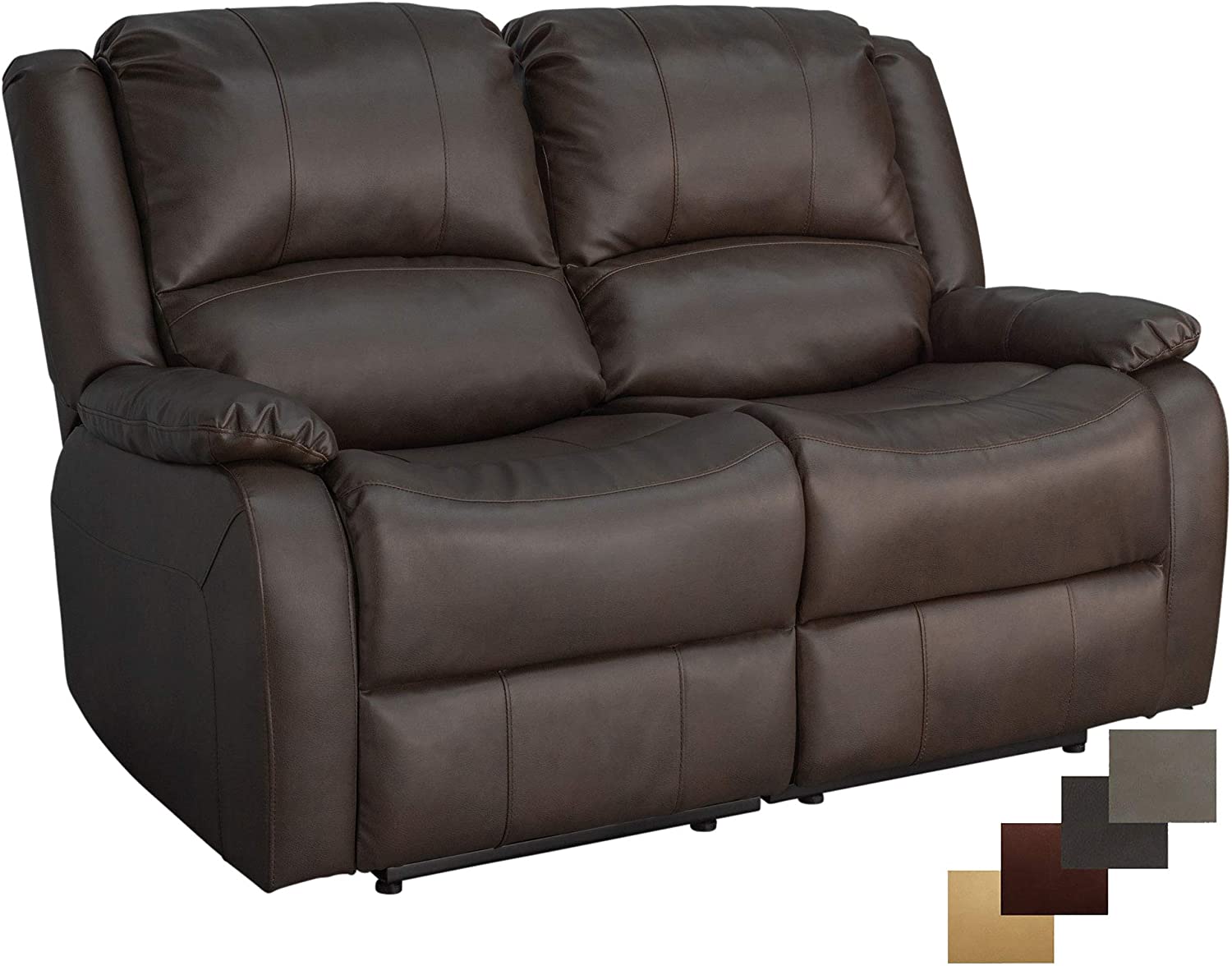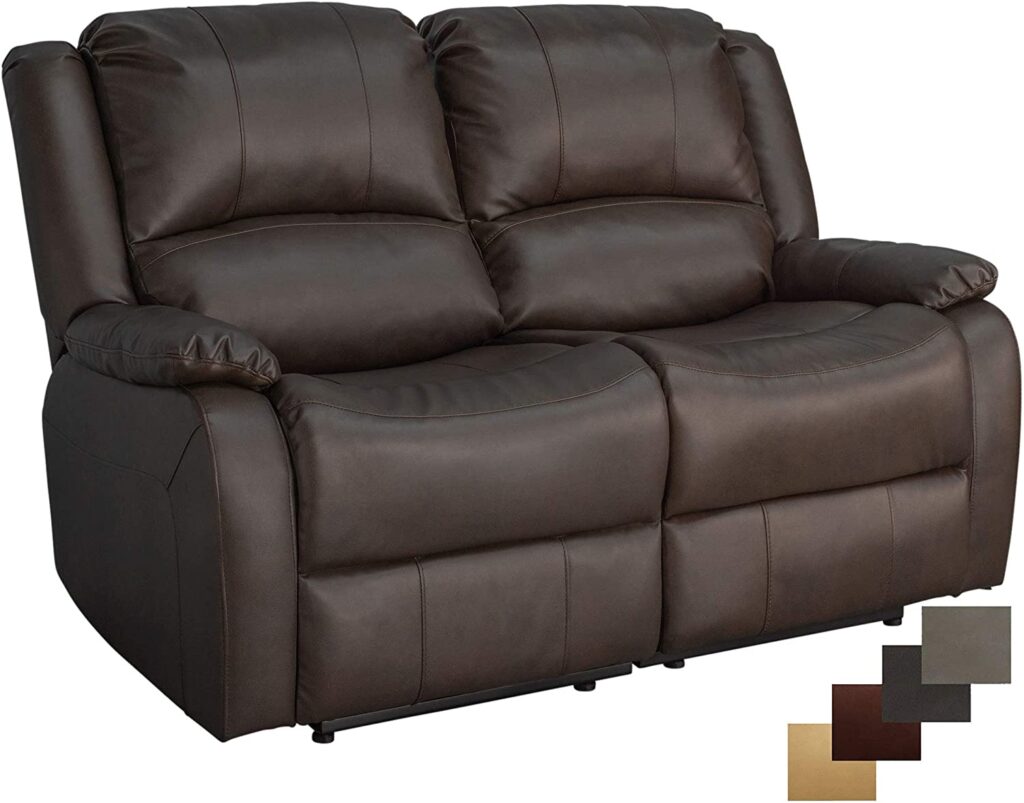 If you are looking for the true definition of class, ergonomic design, and comfort, just take a look at the RecPro Charles Collection 58″ Double Recliner RV Sofa. This double recliner comes wreathed top to bottom with a solid, durable, and easy-to-clean faux leather covering.
This wall hugger comes in several color varieties for those who would love to choose from a wide range of choices when equipping their homes or RV for comfort.
The color-coordinated threading matches the tone of the coverings and sets this wall hugger recliner apart from others in the market today. The stitched channeling also adds clean lines and a handsome definition to the modular combo. These high-performance coverings are highly durable and will last very long in your home.
Pros and Cons of the RecPro 58" Wall Hugger
What we liked
The modular structure that allows for effortless installation
It saves a lot of space
It is very easy to assemble and mount
Astonishingly comfortable, even for 2 people
Ships in only 2 well-packed boxes
What we didn't like
The seams and fake vinyl coverings may be an issue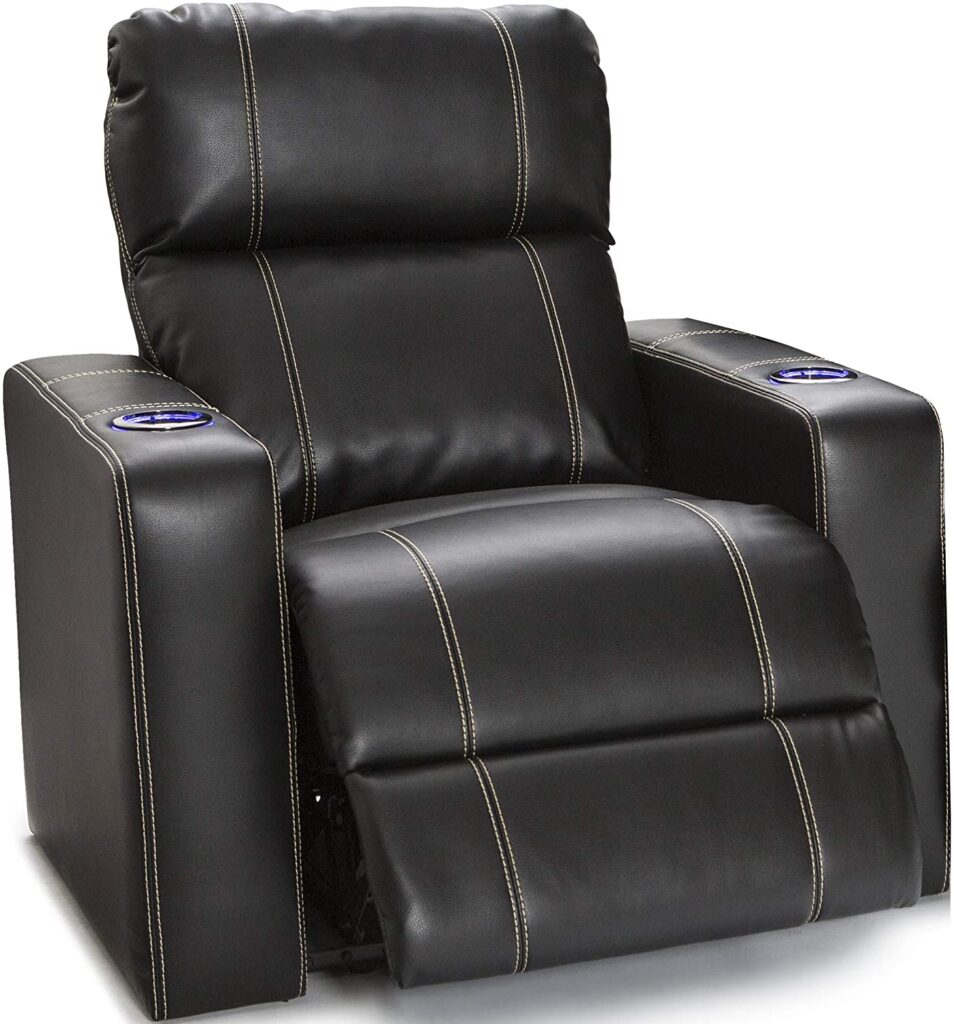 This home theater seating base lighting single recliner is a gorgeous wallaway piece of furniture from Seatcraft. The wall hugger is a combination of enveloping comfort, eye-catching design, and a space-saver.
It comes in a leather hybrid that makes this wall-hugging recliner look luxurious, and its soft texture will always invite your touch. A leather hybrid is considered much more durable than fabric and showcases a lovely color that perfectly matches the décor of any home theater setup.
The exceptionally pleasing white stitching pattern is a pleasant contrast to the entire design as it runs vertically down the back, the seat, as well as the footrest.
You will find control buttons on the side of this wall hugger, enabling you to operate the recliner efficiently. At the press of a button, you can set the wallaway recliner into any position you love or desire.
And its ambient light button offers you the option to switch on – or off – the small LED light that highlights the inset cupholders you will see on this recliner's armrests.
This wall hugger also comes with a USB port set within the recliner's control panel so that you don't have to move an inch in order to charge your smartphone. This is a perfect fit that boosts a theater room experience every day, even in a small space.
There is nothing sweeter than leaning back right into bliss with profound comfort set at your fingertips and enjoying the moving theater experience in your home.
Pros and Cons of the Seatcraft Wall Hugger
What we liked
Showcases LED cupholder lights
It is a powered wallaway recliner
It comes with a USB charging port
Assembling it is a breeze
LED cupholders and at the bottom right by the footrest
Incredibly comfortable with just the right amount of variable options
High-quality gel-infused leather
Excellent customer service
What we didn't like
It is much heavier than most in its class
It is relatively pricey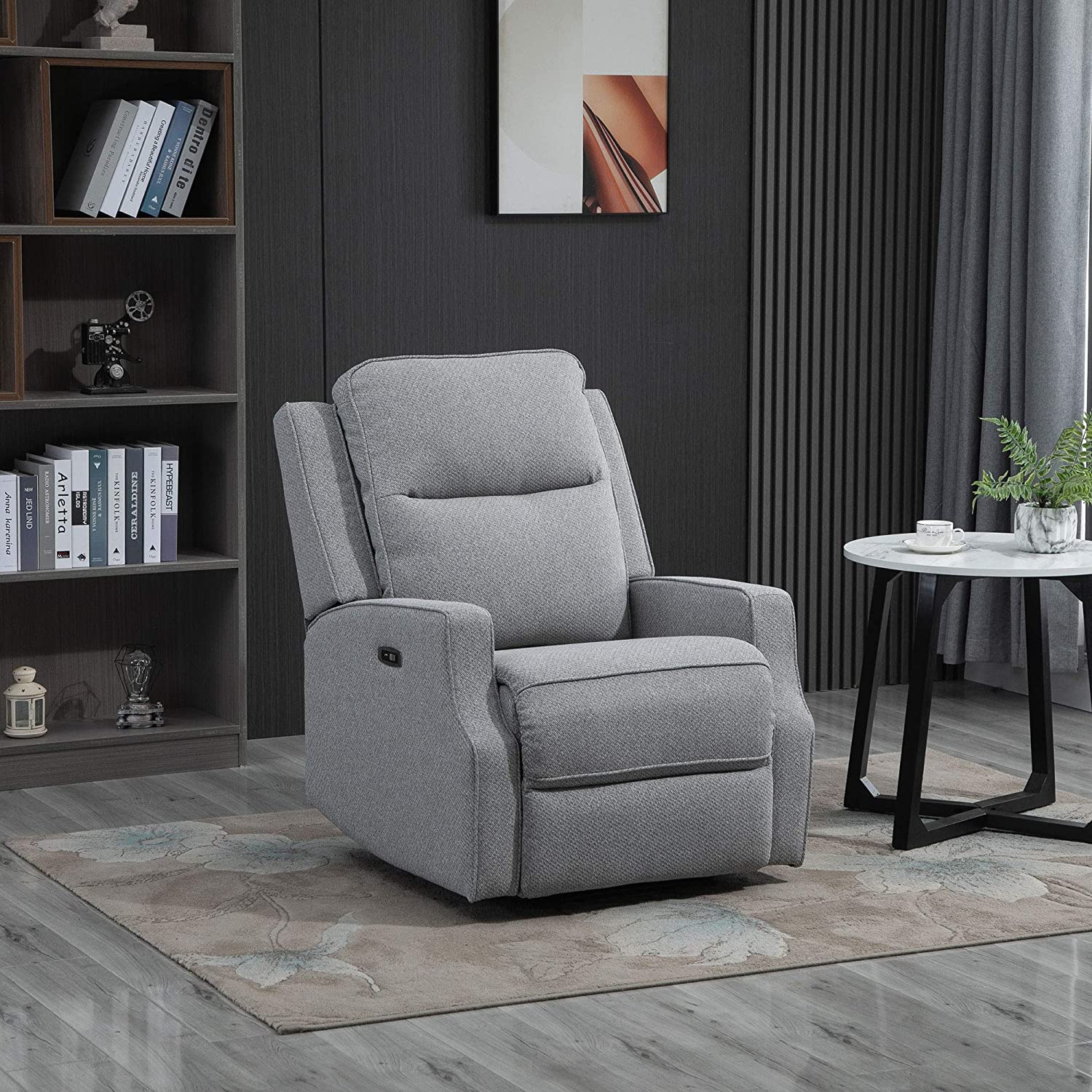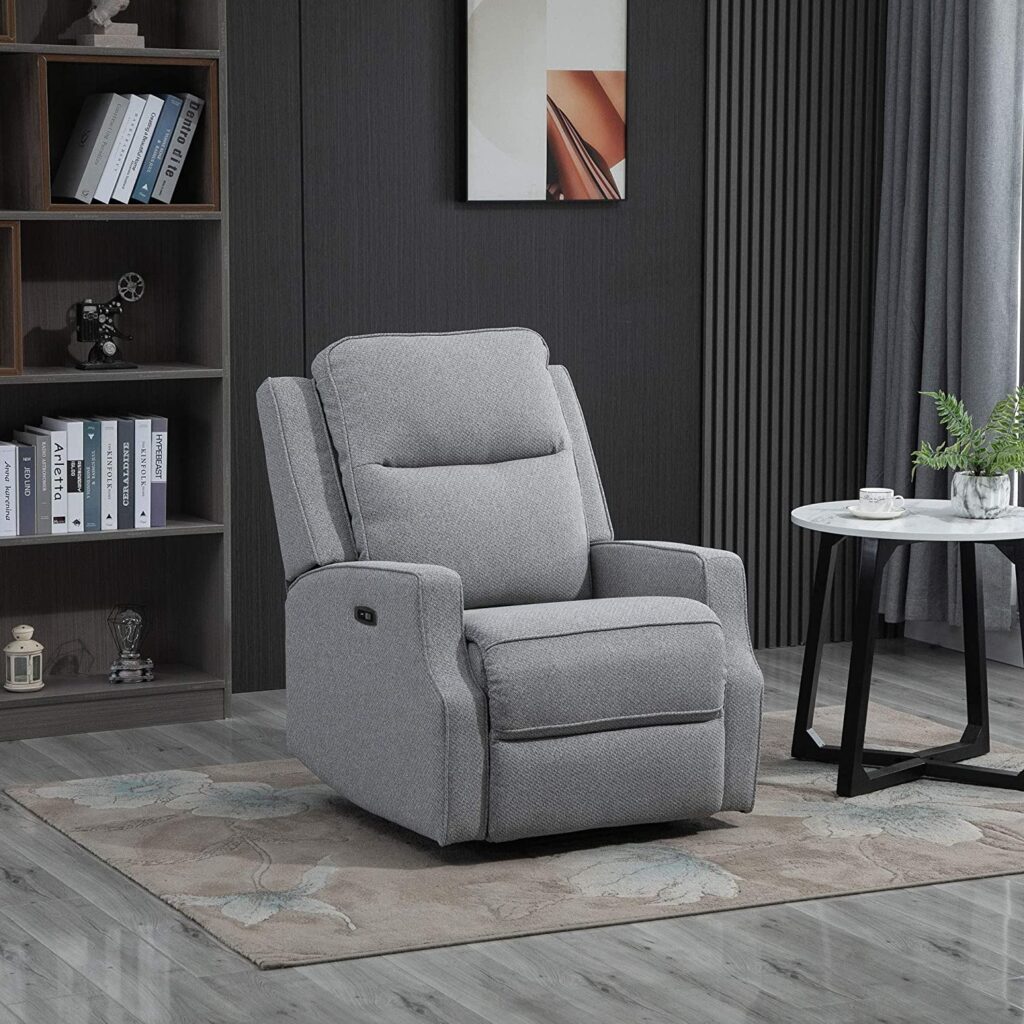 The HOMCOM Electric Power Wall Hugger Armchair Sofa Recliner helps you create a welcoming and warm seating option in your home. It is easy to maintain even as it adds a stylish look to your living quarters.
The backrest and wide seat are carefully filled with a padded sponge in order to provide the coziest place to unwind at the end of a long day at work.
This wall hugger recliner is equipped with a power reclining function that allows you to a reclined angle of up to 150 degrees. You can control it via a button affixed to the side of its armrest. It also has a retractable footrest that provides additional comfort and excellent support when resting.
The HOMCOM Electric Power Wall Hugger Armchair Sofa Recliner has zero wall design as it requires only a 2.75-inch distance from your wall to recline.
It has a USB interface on the armrest for your smartphone, making this recliner double as a power bank for your cell phone. This means you don't have to get up when using your phone, and it's running out of juice.
The ergonomic design of this wall hugger recliner for small spaces makes it very attractive. It is covered by linen-touch fabric that offers a comfortable and breathable experience as you relax on it.
Pros and Cons of HomCom electric wall hugger recliner
What we liked
Power reclining functionality
Doubles as a power bank for your cell phone
Ergonomic design
Covered with linen-touch fabric for breathable/comfortable experience
Integrated USB port for charging your smartphone while resting
Requires only 2.75 inches of wall clearance for full recline
It takes up little space
Sturdy and well-made steel frame
Reclines up to an angle of 150 degrees, controlled by a button by the side of the armrest
Retractable footrest
Electric lift ensures reclining is smooth and noiseless
It comes with easy-to-understand, step-by-step instructions
What we didn't like
No power button warning in case the power is held down for too long
It may not be too safe for older adults as it tips forward too easily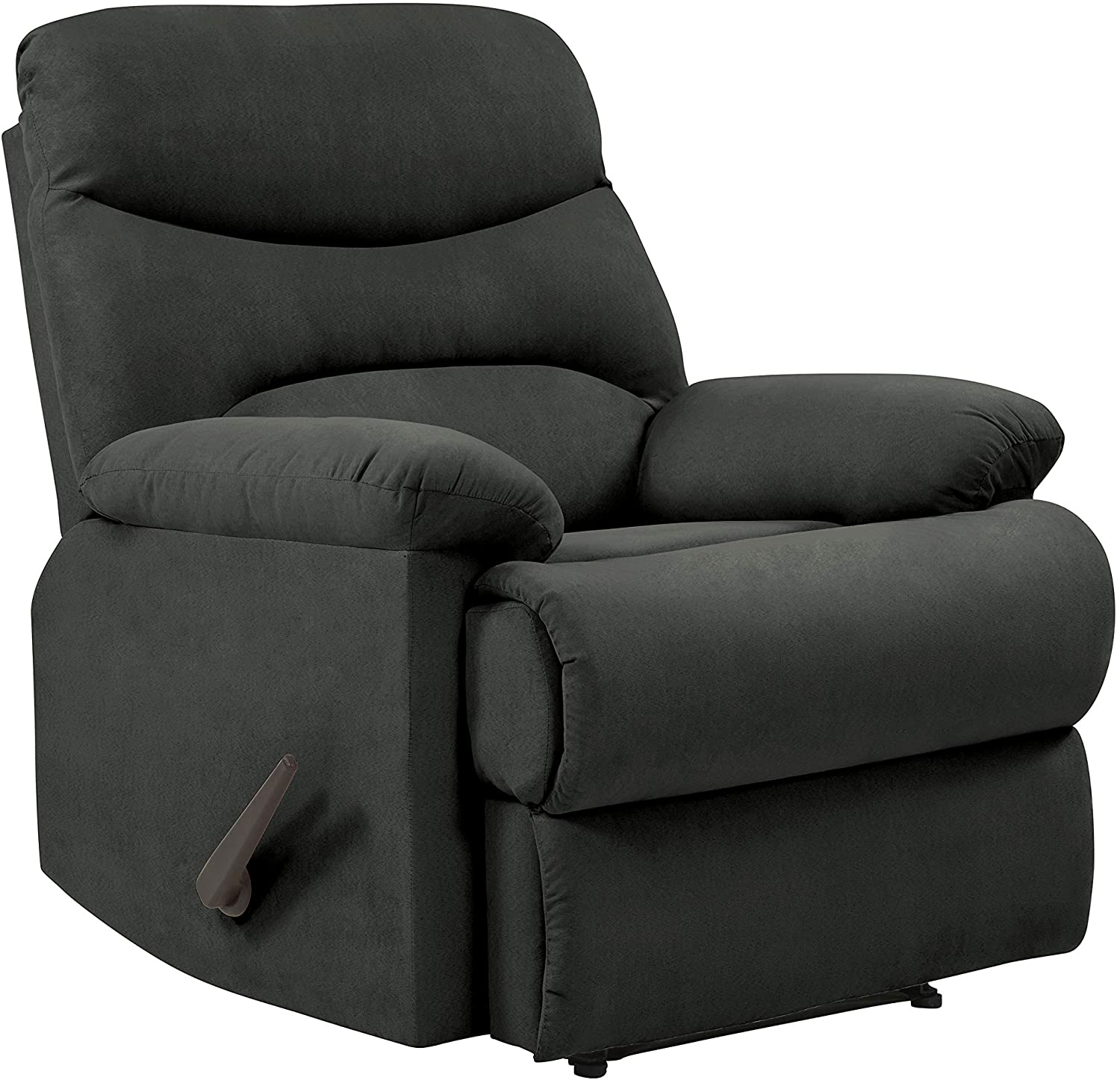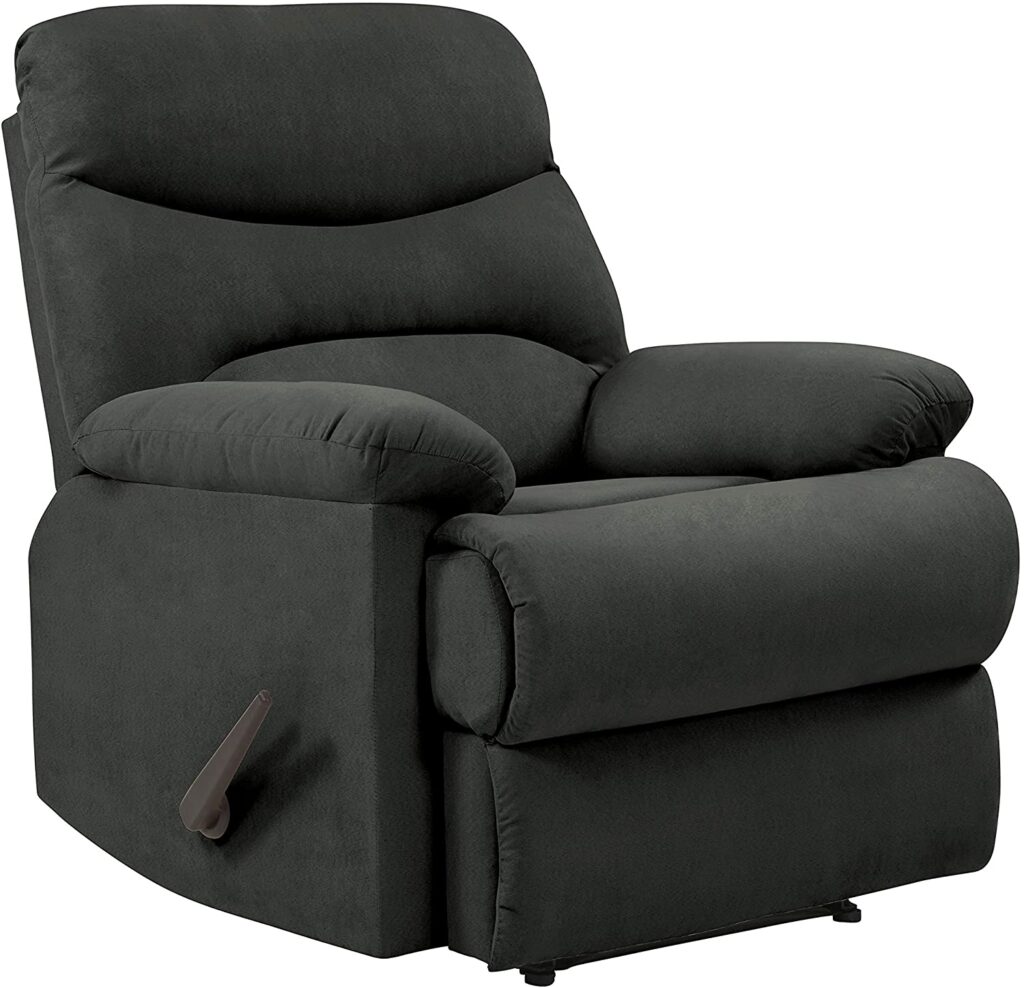 Another functional wallaway recliner you should consider as you shop for a space-saving wall hugger is the Domesis Wall Hugger Recliner.
This recliner comes covered in a highly durable, stain-resistant gray microfiber that enhances its look and easily complements several modern home styles today. It also sports a 100 percent, easy-to-clean polyester fabric.
The Domesis Wall Hugger Recliner requires only 4 inches of clearance from your wall in order to recline perfectly. It is filled with high-density foam, polyester fiber, as well as a pocket coil spring system wrapped independently for a truly custom sit.
This wall hugger recliner also takes up far less space when reclining than many of its counterparts. This makes the Domesis Wall Hugger Recliner perfect for theater rooms, living rooms, media rooms, and bedrooms.
The remarkable wallaway recliner also features an easy-to-open and reach angle as well as a brand-new stretch mechanism that offers an additional 21/2 inches of leg support for much greater comfort.
And at 70 inches when wholly inclined, 42 inches right from the back of the seat to the footrest, and 28 inches from the seat to the top of the recliner, this is one wall hugger you will love to have in your home.
Pros and Cons of Domesis Wall Hugger
What we liked
Easy to put together. It takes less than 15 minutes to assemble
It comes with step-by-step instructions for easy assembly
Covered in a highly durable, stain-resistant microfiber
The new stretch mechanism offers additional inches of leg support for much greater comfort
It takes up little space, requires only 4 inches of clearance from your wall in order to recline
Equipped with an easy-to-open-and-reach handle and steel reclining mechanism
Spring clips integrated for noise reduction
Seats up to 300 pounds
What we didn't like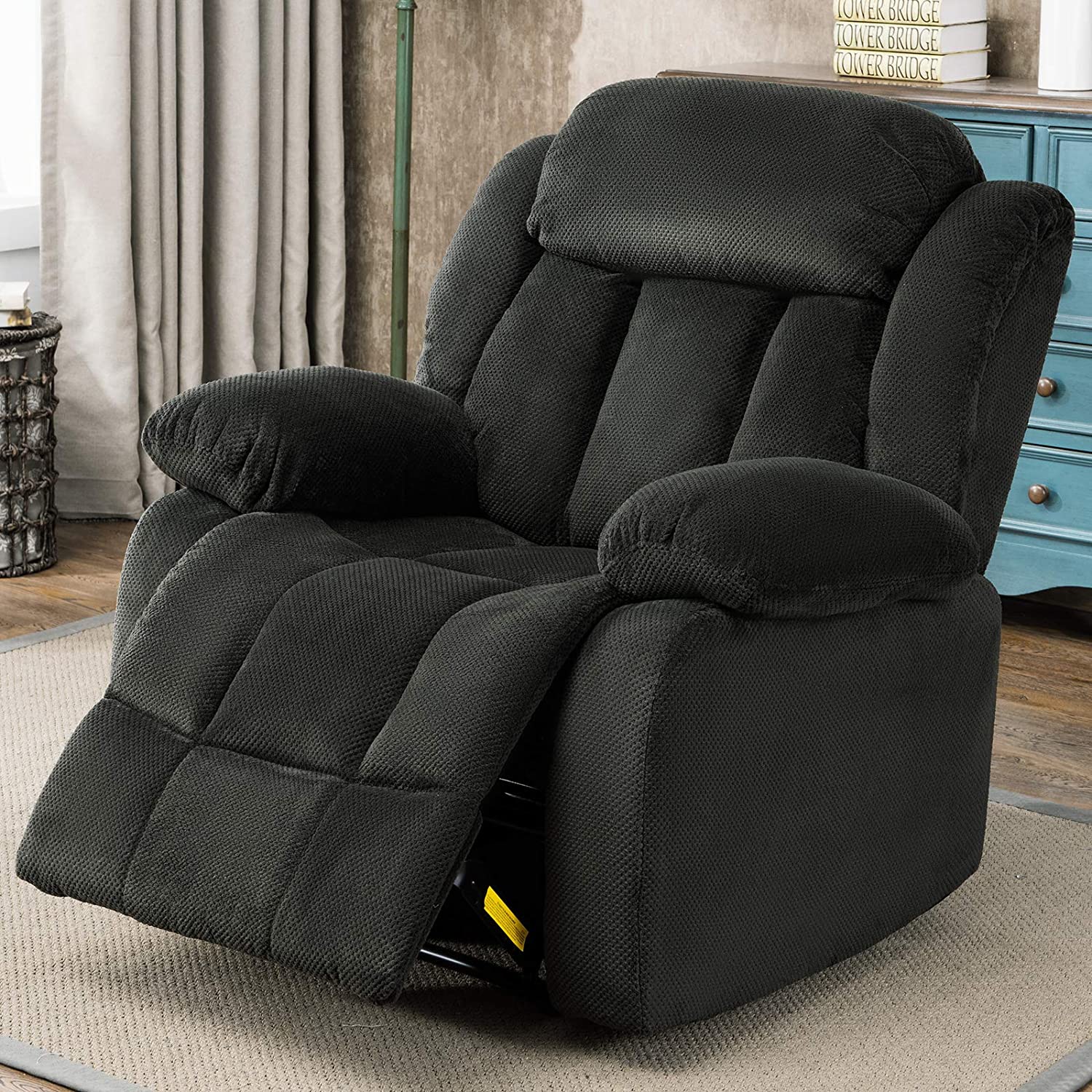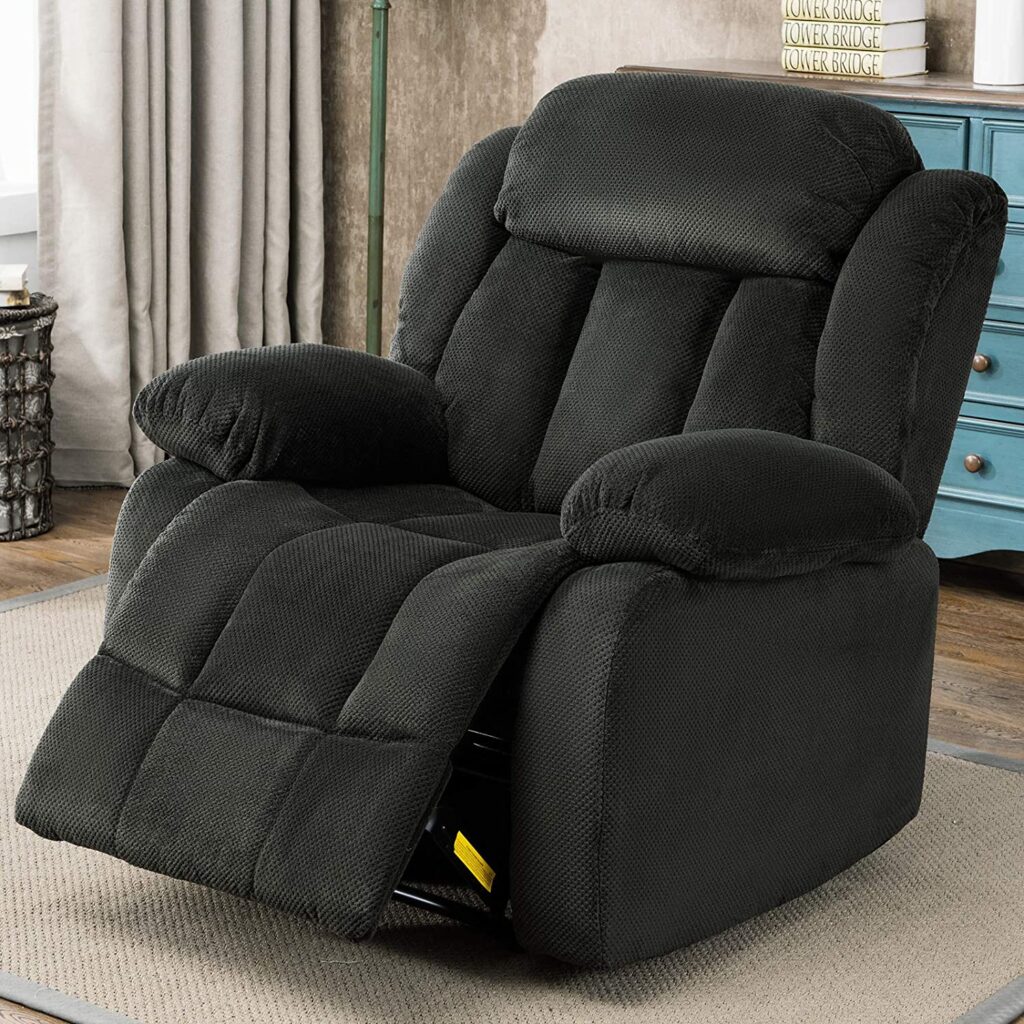 The ANJ Breathable Fabric Recliner Chairs are well-designed manual recliners that come with overstuffed headrests and armrests. Its padded cushion offers a wonderful seating experience that significantly drives away tiredness and stress while enhancing the quality of your life.
You can make this wall hugger recliner stretch and position at an ideal angle using a simple lever. When you hold the recliner's armrests and lean backward, it moves into the second position that is perfect for a nap. Pull out the lever, and the footrest pops right out and retracts completely when you kick it with your heels.
Its breathable and skin-friendly fabric is carefully chosen and adopted to boost your sense of touch significantly. This wall hugger recliner is filled with more than enough sponges to provide users with adequate lumbar and back support for prolonged periods.
And to prolong its lifespan and ensure your safety, the wall hugger recliner comes with an expertly crafted wooden structure right inside as well as a durable metal frame at the bottom.
The ANJ Breathable Fabric Recliner Chair is multifunctional as it can be used for a wide variety of needs per time. It works well as a regular char for reading, watching TV, or playing games on your smartphone. And it also offers a comfortable and convenient place to meditate or take a nap. This nice-looking and practical recliner will significantly upgrade your small space, i.e., a living room, study, or bedroom.
Pros and Cons of ANJ Recliner chair
What we liked
Super comfy
Strong, well-built interior and exterior construction
Easy to manage both upright and down positioning
Durable quality
An impressive degree of recline, i.e., from 90 degrees to 145 degrees
Durable steel construction that ensures 25,000 times usage
Overall dimension perfect for small spaces
What we didn't like
It may not be perfect for tall people
Arms do not have substance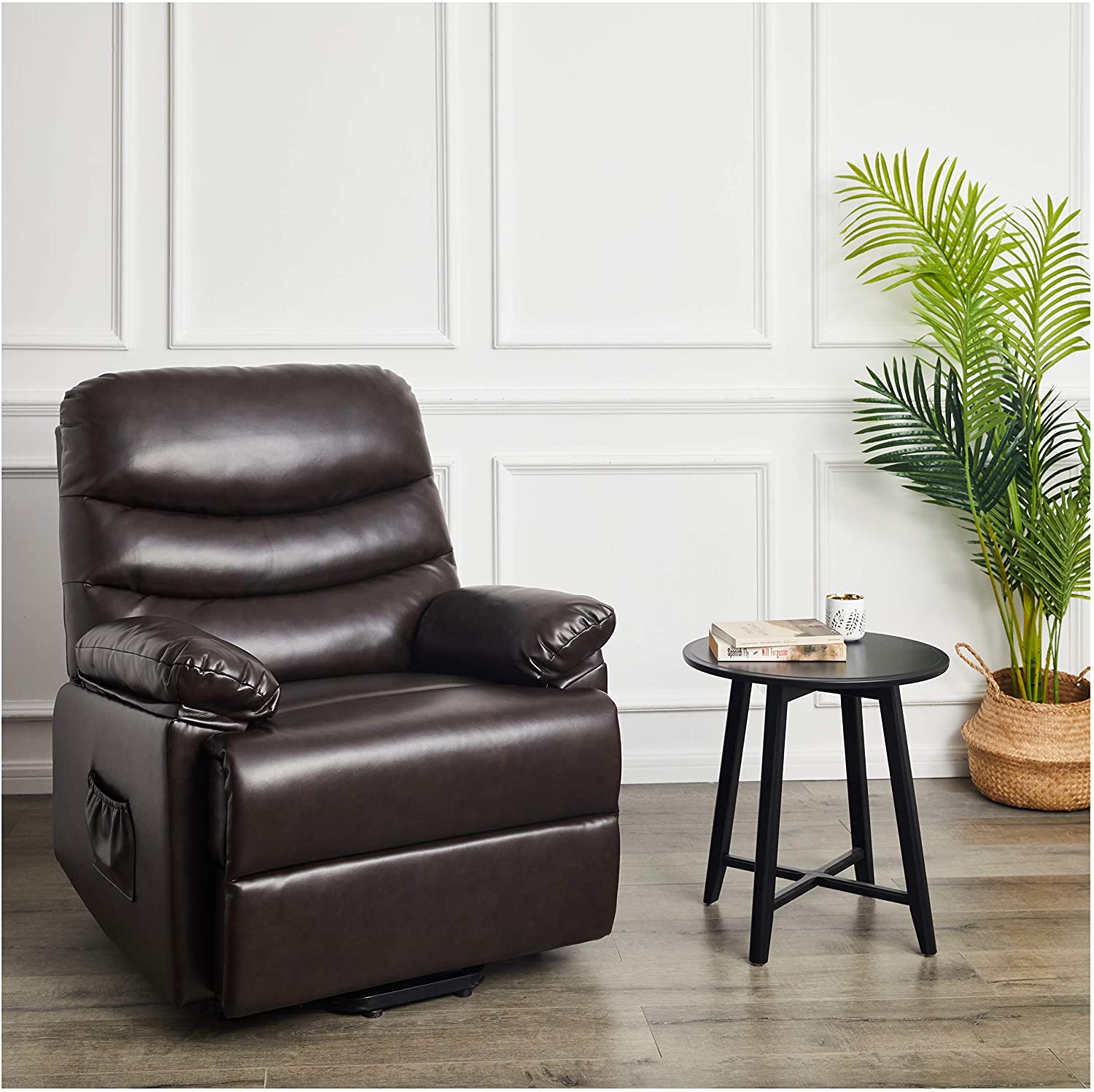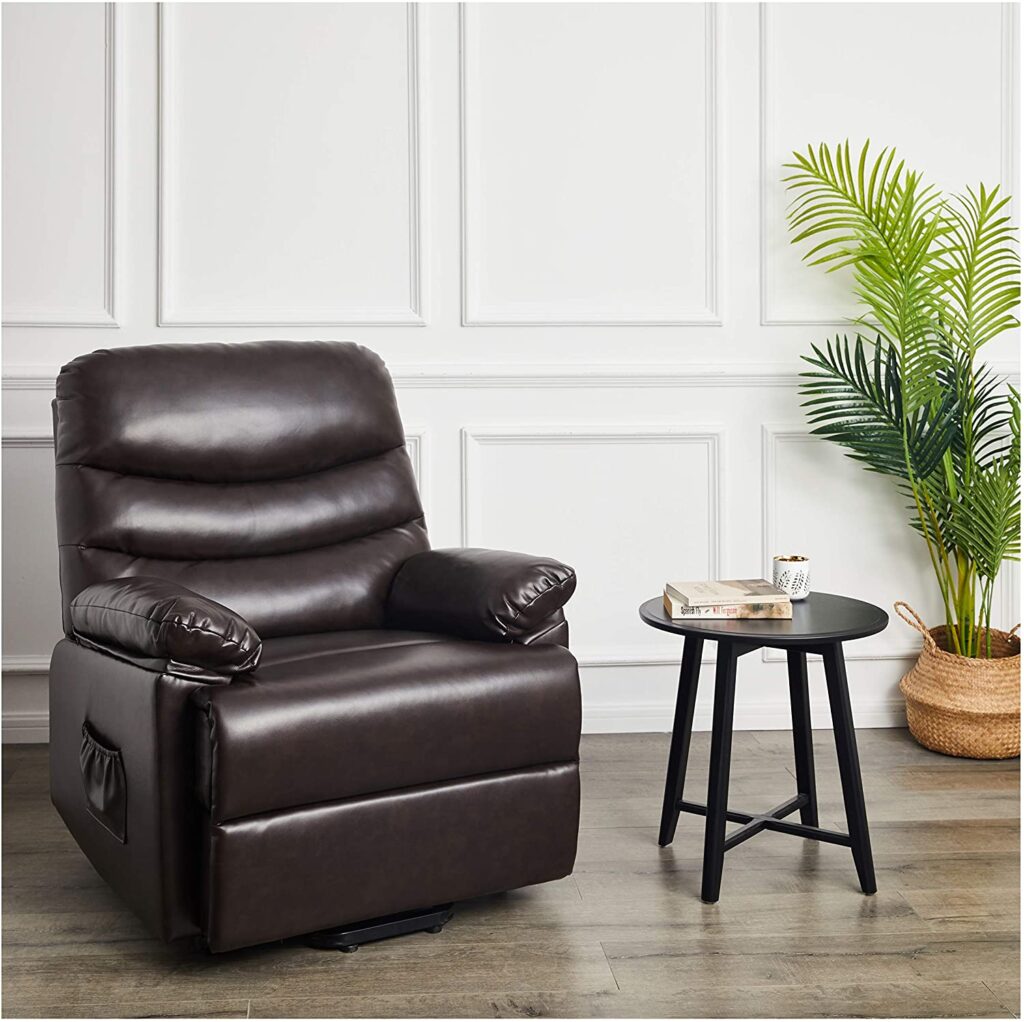 Creating a welcoming and cozier abode becomes easier with the JC Home Sabadell Wall-Hugger Power-Lift Recliner. This wall-hugger power-lift recliner offers user-friendly convenience and ultimate comfort, as well as kick-back relaxation.
The well-made wallaway recliner is a combination of reliable craftsmanship and high-quality materials that offer incredible support. The high-density foam, as well as the independently wrapped pocket coils, makes this wall hugger recliner one of the most durable pieces in the market today.
Select models even come with bonded leather upholstery for a sophisticated appearance and overall strength. The wall hugger recliner offers modern aesthetics and comes with smoothly curved contours as well as tufting for added dimension.
Pros and Cons of the JC Home Power Lift Wall Hugger
What we liked
Durably built
Highly attractive upholstery
Minimal assembly required
Casual contemporary style
It comes with step-by-step instructions
What we didn't like
It appears to be made only for people with smaller frames
It is very slippery because it is made of faux leather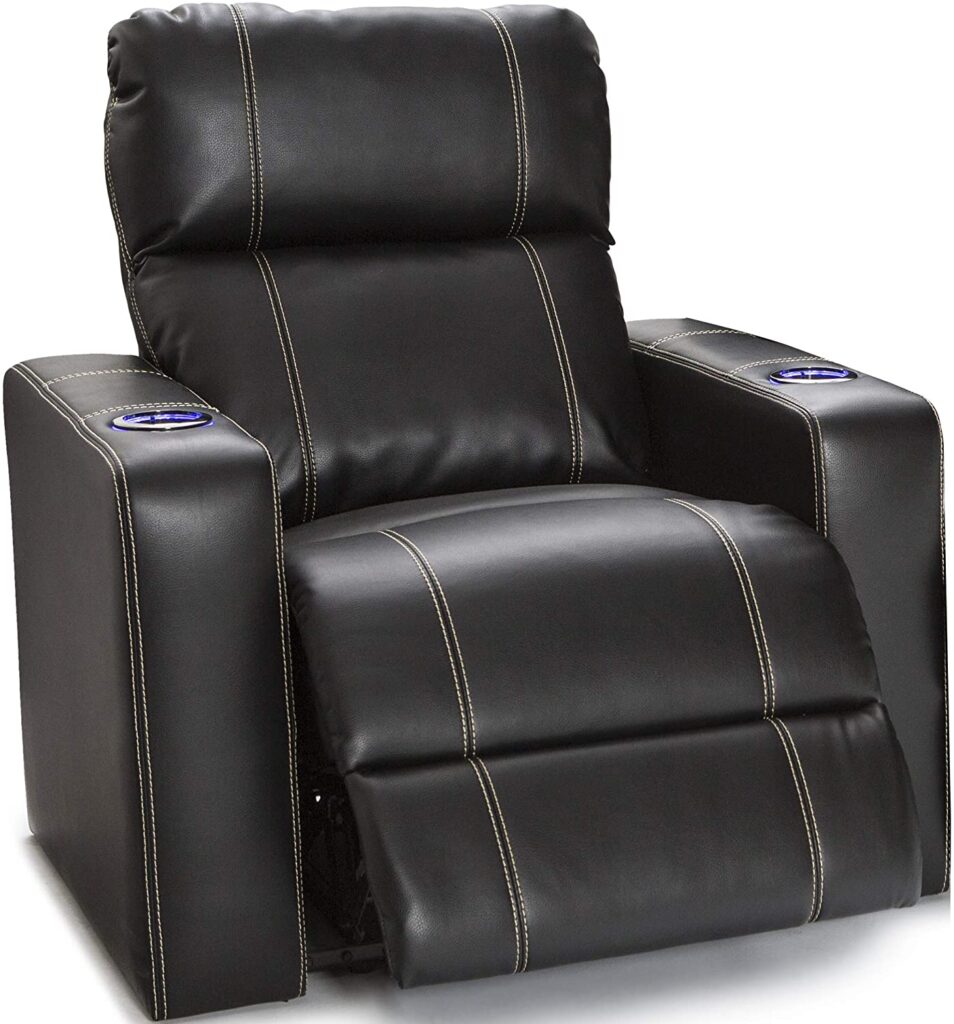 The Seatcraft Dynasty – Home Theater Seating Single Recliner offers nothing but enveloping comfort via its warmly inviting seat design. It is innovatively fashioned from a material – known as bonded black leather – designed to match top-grain leather's soft texture and luxury appearance. Its black color was intentionally chosen so that it matches any home theater décor setup.
The back of this wallaway recliner features an excellent contrast stitching pattern that runs vertically and delightfully down the back, seat, as well as footrest. It is a power recliner with an inbuilt USB port for charging your cell phone. The ambient base lighting and lighted cupholders make for a cozy ambiance.
Pros and Cons of Seatcraft Home Theater Recliner
What we liked
Lighted cupholders
Inbuilt power recline control panel
Ambient base lighting
Super cozy and highly durable
Easy to assemble
Great customer service
What we didn't like
The power buttons for the lights are somewhat too sensitive
Buyer's Guide: What to Consider When Looking for the Best Wall Hugger Recliners for Small Spaces
You need to consider several factors when looking for wall hugger recliners that can conveniently fit in small spaces. And they are as follows:
Style and Color
Although you will be buying comfortable furniture for your small space, you still need something aesthetically pleasing. Wall-hugging recliners come in a wide variety of colors, shapes, and styles without sacrificing plushness.
You can select a neutral so that you can accessorize the wall hugger any way you want. And ensure you go for one that is incredibly easy to maintain.
Features
Wall-hugging recliners have to be versatile. This is why the best wall hugger recliners come with cup holders, footrests, side pockets, USB charging ports, etc. Other options to look at include:
Lift chair
Remote controlled
Swivel base
Glider or rocker
Massage
Heat, etc.
Therefore, only go for wall-hugging recliners with multipurpose features that make life easier and more comfortable even in your small space.
Dimension
Although this factor is very obvious, it is still a crucial one. Since you will be adding a piece of furniture to your small space, take time to accurately measure the area you will position the furniture before buying it.
This will save you lots of hassles later on when your furniture arrives, only to discover that it does not fit. This is even much more vitally essential for wall-hugging recliners since they usually change in dimension when in a reclined position.
Most wallaway recliners don't take up too much extra space, even when reclined. But then, conventional recliners need a few inches more spaces between the back of the recliner and the wall when the recliner is in full position.
You should also bear in mind that the footrest will also take up some space when in the reclined position with your feet set over the edge.
Distance from the Walls
Considering every inch in your small space will be worth it since you need a wall-hugging recliner. This is why you need to seriously look at or factor in the distance from the wall for any of these products you may be considering.
Material Used
Wall hugger recliners are usually made with leather, canvas, faux, or leather. Since you live in a small apartment, there's an excellent chance that you will be using your recliner for meals, naps, etc., from time to time.
And for this reason, you will want to get your hands on a wall hugger recliner that comes with a fabric you can easily clean. Some of the excellent options for this include canvas, polyester, and vinyl. These materials are stain-resistant and very slow to soak up spills.
You may want to steer clear of velvet, genuine leather, or even linen because of their penchant for heat. However, if your goal is to make your small space visually appealing, you may consider them.
Final Thoughts
So, there you have them: the best wall hugger recliners for small spaces. A wall-hugging recliner works just like regular recliners by allowing you to sit or lounge upright.
The primary difference between conventional recliners and their wall-hugging cousins is that the latter doesn't take up too much space. They can be positioned close to the wall and still recline comfortably.
And lastly, wall hugger recliners are excellent compact options, even though you may not be able to recline when resting. But it is still the perfect choice for you or anyone else that lives in a small space.