Are you looking for the perfect mesh gaming chair? Pro gamers are usually intense when searching for accessories or equipment to enhance their gaming experiences and capabilities.
Since you will be spending several long hours in a chair gaming intensely, invest in a durable, high-quality, comfortable, and supportive mesh gaming chair.
If you also experience neck stiffness, tightness in your legs, or back pain after thrilling gaming sessions, it is high time you changed your gaming chair.
A high-quality and durable mesh gaming chair prevents most of these body pains since they provide ample support.
A mesh gaming chair also ensures you sit in a healthy, correct posture each time you're gaming.
However, testing all the mesh gaming chairs on the market today is practically impossible.
But do not worry: we have done the hard work for you and selected the best mesh gaming chairs. We will be reviewing each of them in the following paragraphs.
Before then, find out what makes mesh gaming chairs the perfect choice for gaming.
What Makes Mesh Chairs Good for Gaming?
Most newbie gamers don't view mesh gaming chairs as comfortable options. That may be true, at first. But what is more accurate is that mesh gaming chairs are more supportive than fully padded chairs.
Most padded chairs will cause you to sink on the seat. Some of them have too much padding, which can severely hurt your posture during gaming sessions. You may not be aware of this at first, but your back takes a bad posture over time, and you begin to experience severe back pain.
A mesh gaming chair significantly improves posture and minimizes back and neck pains. Such chairs have firm structures and provide support. They also come with a wide array of adjustment options to make you more comfortable during your gaming sessions.
You may even get an upholstered seat for increased comfort while ensuring the mesh back provides postural and ventilation support.
Top 5 Mesh Gaming Chairs You Can Buy Today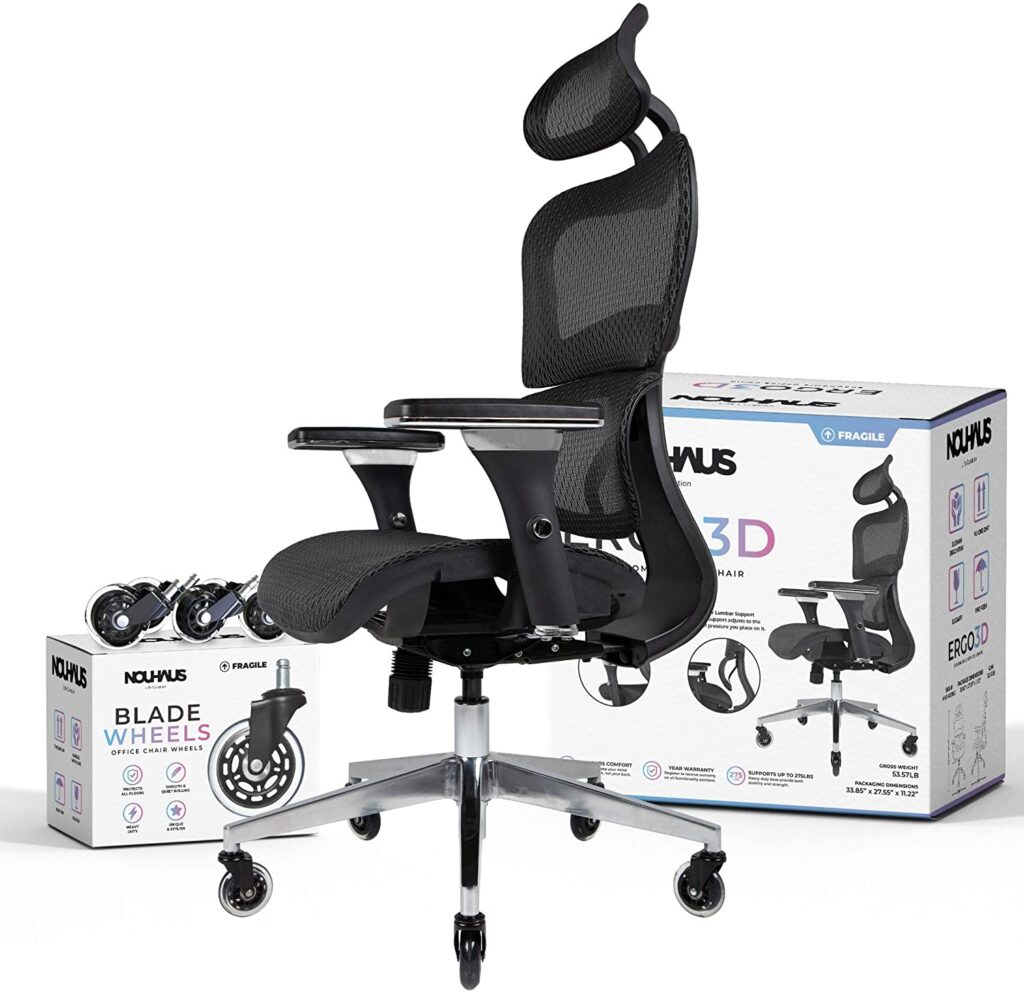 The NOUHAUS Ergo3D Ergonomic Office Chair is an ultra-sleek, ergonomic mesh gaming chair with advanced features. The beautiful thing is that you won't need to break the bank in order to purchase this futuristic-looking gaming chair.
The NOUHAUS Ergo3D Ergonomic Office Chair has 3 individual sections: the headrest, backrest, and lumbar support. It is equipped with a patented ElastoMesh material that provides optimal air circulation that prevents sweating and sticking.
The NOUHAUS Ergo3D Ergonomic Office Chair's mesh material is so soft that it conforms to your body without making you feel somewhat 'wirey.' This unique material is innovatively applied all over the chair, notably the headrest, seat cushion, and lumbar support.
This mesh gaming chair makes use of a 3D lumbar support system that fits nicely into your lower back while aligning with your spine. This helps to alleviate excessive compression and pain.
Each time you change your lean back or change your sitting position, the NOUHAUS Ergo3D Ergonomic Office Chair's lumbar support adapts immediately to the pressure and equally provides support to your back.
What We Like
Adjustable lumbar support suitable to your needs per time
Breathable mesh that prevents sweating and stickiness during long-term gaming sessions
4D adjustable and solidly built armrests
Sturdy overall construction
Ergonomic and high-quality
What We Didn't Like
Rollerblade wheels roll too easily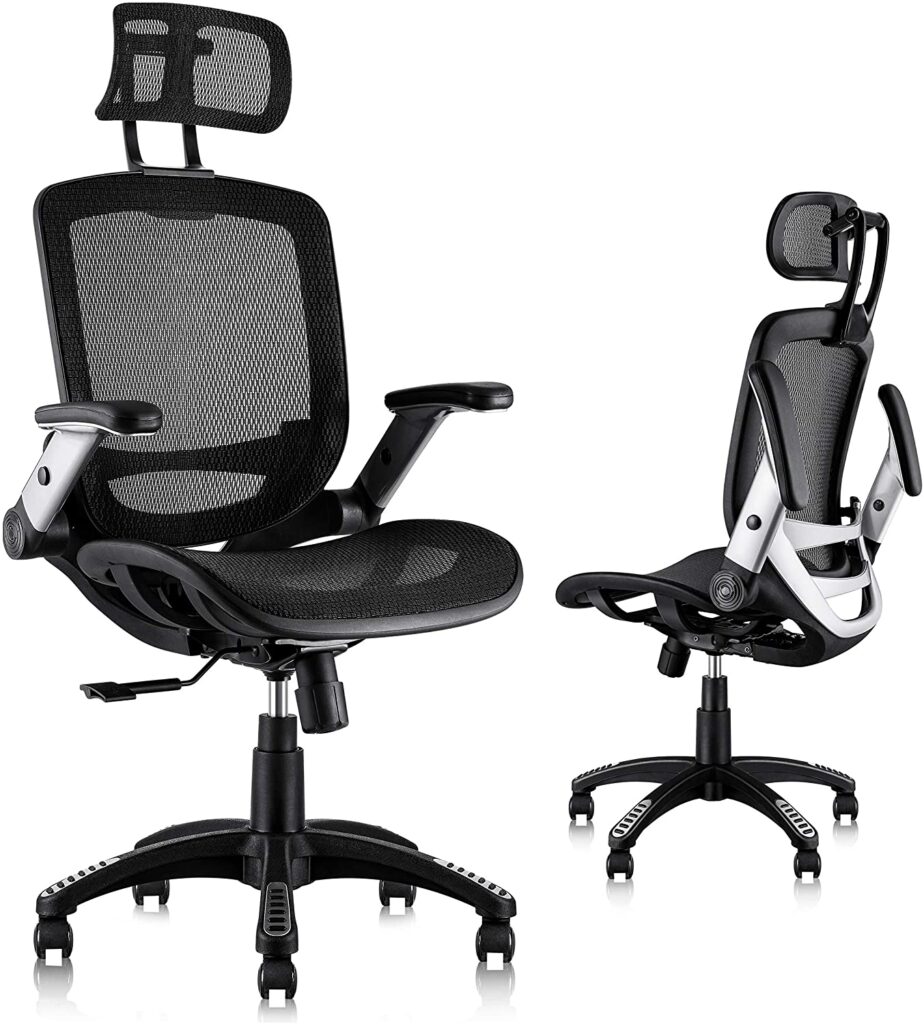 Four major points of the human body must be supported regarding ergonomics. This includes the head, back, hips, and even hands, especially gamers.
The innovative Gabrylly Ergonomic Mesh Office Chair provides adequate support to these areas.
This chair comes with an adjustable headrest cushion as well as a mesh back with lumbar support, a 120-degree reclining feature, adjustable padded armrests, and a U-shaped seat design.
The Gabrylly Ergonomic Mesh Office Chair seat is large, making it the ideal choice for people between 5 feet 5 inches and 6 feet 3 inches. The U-shape design of the seat minimizes pain in your lower back, tailbone, and hips.
The Gabrylly Ergonomic Mesh Office Chair's ergonomic design helps you sit in a healthy posture. Its flip-up armrest is a feature you can use to save space while pushing it directly under your desk.
What We Like
Easy to assemble
Mesh material is breathable, comfortable, and resistant to abrasion
Adjustable and foldable armrests
Larger seat accounts exceptionally well for people with different body builds
Affordable
What We Didn't Like
The neck support is not the perfect option for tall individuals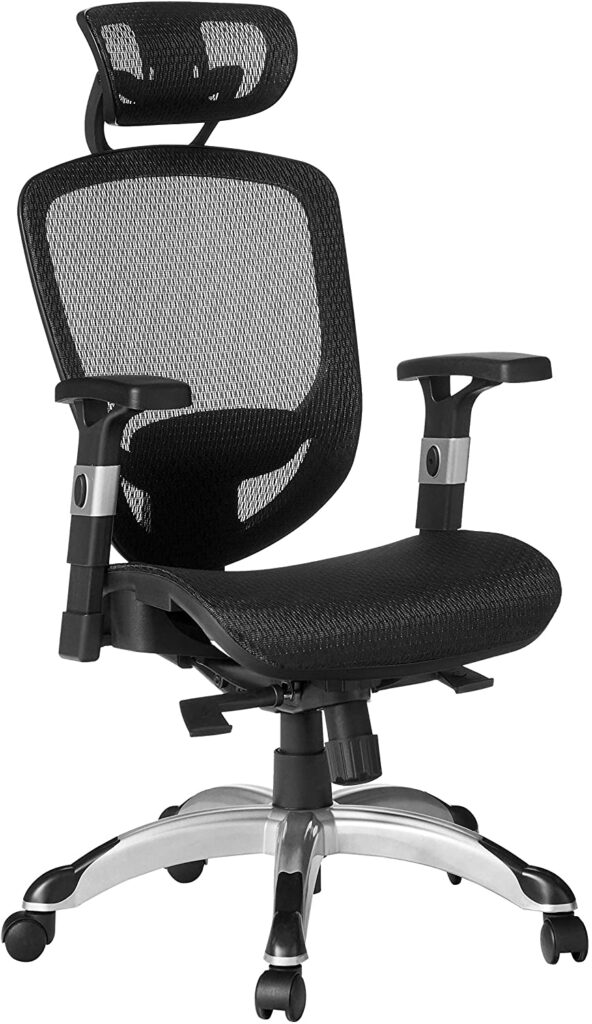 The Hyken Mesh Task Chair is not only perfect for your home office but is also one of the best mesh gaming chairs on the market today. It is a high-back chair with a breathable mesh back that gives it a modern look while ensuring you remain cool throughout your game sessions.
The Hyken Mesh Task Chair is designed and built for form and function as its mesh upholstery permits air to circulate readily while you remain comfortably seated.
This chair has an adjustable tilt lock and tilts tension function that lets users find the ideal seating angle. The numerous height adjustment options of the Hyken Mesh Task Chair make it incredibly easy to find the perfect configuration suitable for your desk. Each armrest readily adjusts to height for optimal comfort.
The Hyken Mesh Task Chair is equipped with sturdy carpet casters that can easily support individuals up to 250 pounds. The casters roll across the floor quickly with zero hiccups, enabling you to zap around your gaming desk or room at will.
What We Like
Affordable
Sturdy wheels
The headrest adjusts 2 ways: height and angle
Ergonomic and comfortable
What We Didn't Like
The headrest mount is somewhat flimsy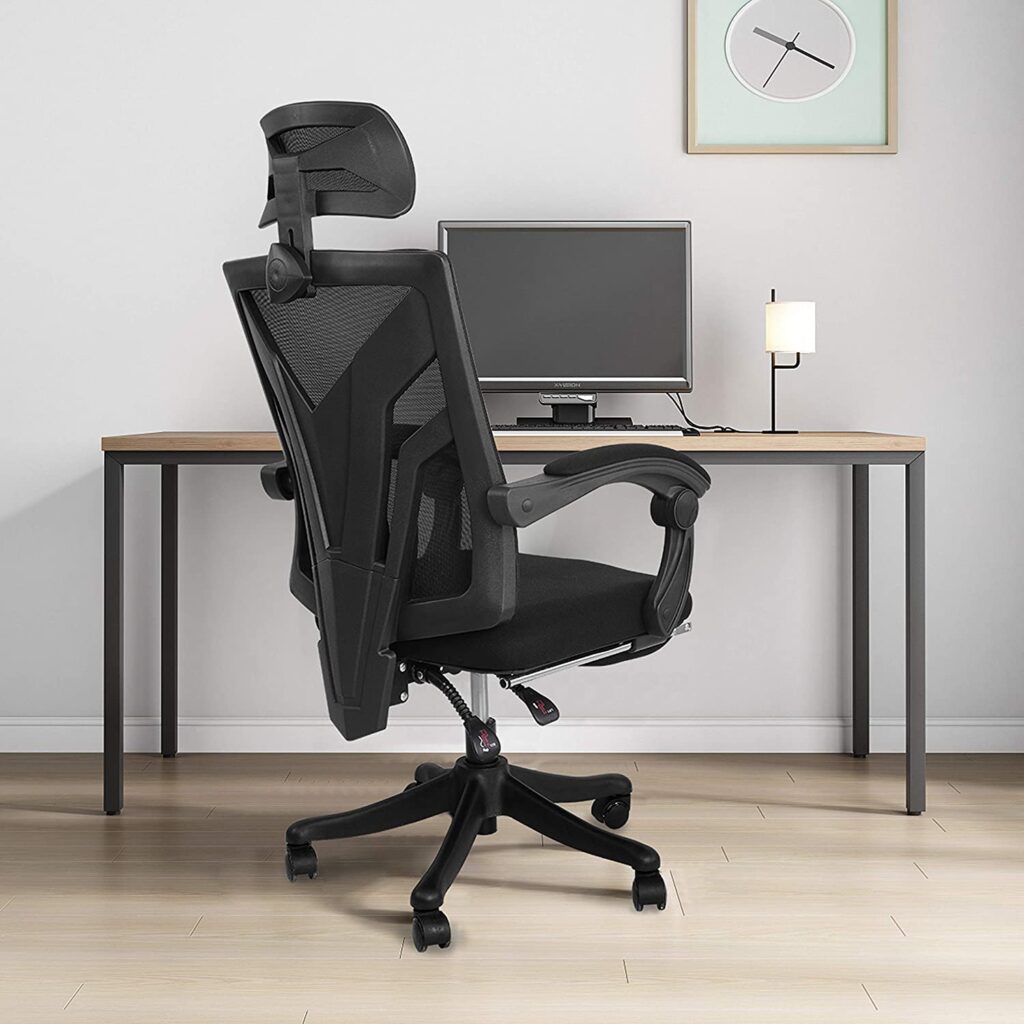 The AuAg Home Office Chair is perhaps the ideal choice for gaming and work. This chair comes with a well-ventilated and breathable backrest that helps ensure you remain in the proper sitting position for prolonged hours.
The AuAg Home Office Chair has a breathable, thick, resilient, and padded mesh seat. This is made from breathable mesh clothes and a high-quality thick sponge. The chair's thick frame makes it look stable and sturdy.
The AuAg Home Office Chair has multi-function features, including multi-direction wheels, 360-degree swivel, as well as adjustable seat height. The headrest pillow is removable, and its lumbar cushion is well-designed. The chair also features an ergonomic-human-curve-designed headrest and backrest, significantly supporting the spine.
What We Like
Excellent build quality
Affordable
Extremely comfortable
Easy to assemble
Adjustable headrest, backrest, etc.
What We Didn't Like
The seat cushion has issues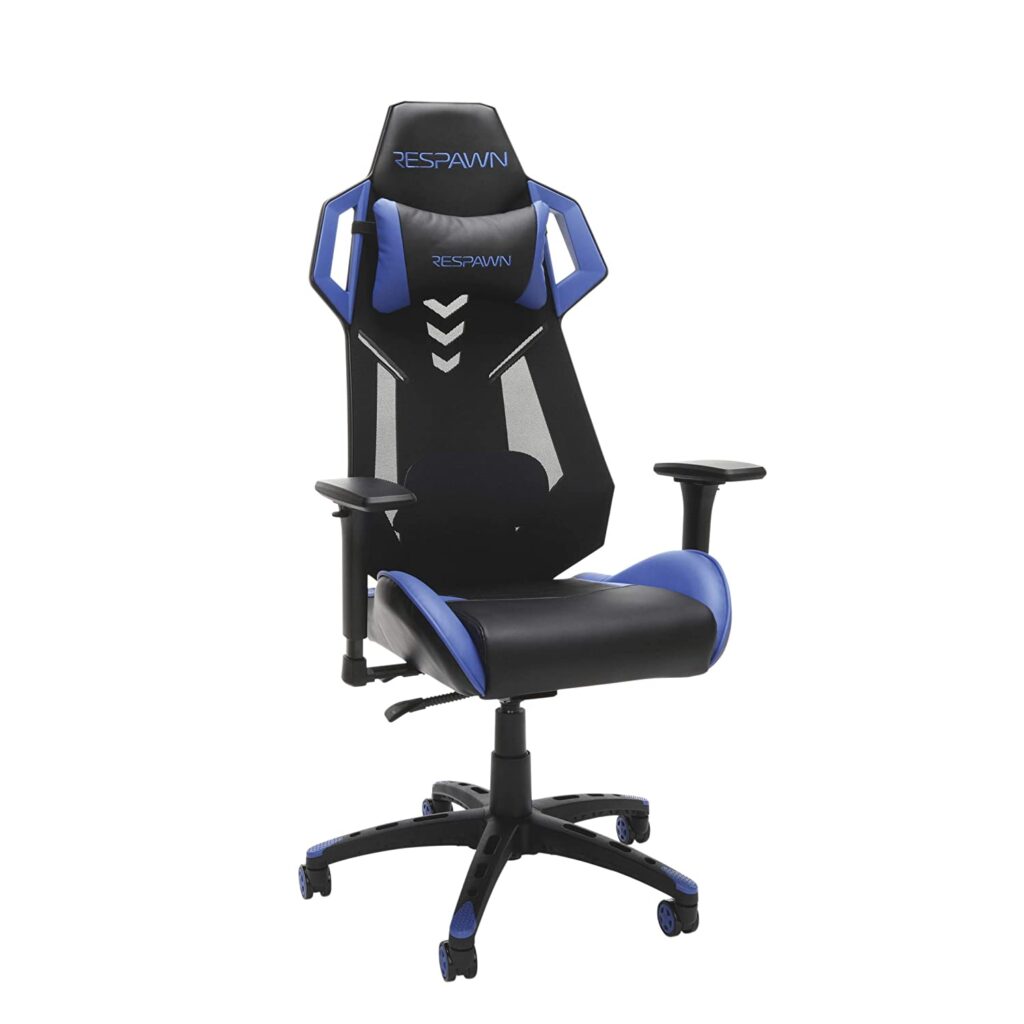 If you are looking for a professional-grade mesh gaming chair with 4D adjustability and gamified seating, the RESPAWN 200 Racing Style Gaming Chair is your best bet.
This chair has a steel tube frame design that provides high-contoured support. Its open backseat structure guarantees additional heat control. Its adjustable headrest delivers lasting ergonomic comfort.
You can easily find optimal positioning by lowering or raising the RESPAWN 200 Racing Style Gaming Chair. You can also tweak the depth of the armrest as well as the chair's height.
The RESPAWN 200 Racing Style Gaming Chair helps you stay cool and calm when gaming sessions heat up.
What We Like
Easy to assemble and comes with step-by-step instructions
High quality and durable
Capable of holding up to 275 pounds
It comes with a 5-year limited warranty as well as year-round, dedicated representative support.
What We Didn't Like
It is not the perfect choice for very tall and hefty gamers
Read: Best Gaming Chairs for PS5 You Can Buy Today (2022 Reviews)
Buyer's Guide: Features to Consider When Shopping for the Best Mesh Gaming Chair
This is crucial ingredient in any gaming chair. The mesh gaming chair should have a sturdy frame built from durable metal or steel. Stay away from mesh gaming chairs built with wood or plastic as they do not hold up as long as their metal counterparts.
Mesh quality is also vital and must be durable, especially when taking breathability into account. Some mesh chairs are made with low-quality materials, and they soon start sagging or tearing after heavy use.
Ensure your chosen mesh gaming chair is made with high-quality mesh material.
A gaming chair needs to be designed or optimized around gamers in order to boost productivity and efficiency. Ergonomically designed mesh gaming chairs improve posture, reduce severe back pain, support every movement you make while gaming, and enhance your gaming reaction time.
Ergonomic features include:
Adjustable lumbar support
Great wingback design for supporting the shoulders
Curved and high backrest with several upper back and neck support
Tilt or tension lock mechanism etc.
The more ergonomic features a gaming chair has, the more enjoyable the user experience.
If the airflow is one of the primary reasons for getting a mesh gaming chair, then consider it when shopping for one.
Although all mesh is breathable, some specific designs and materials are much more breathable. When deciding which of these top mesh gaming chairs you should buy, these should be your target.
Mesh chairs are often comfortable, supportive, and more flexible than other types of chairs. Therefore, make back comfort, seat comfort, and arm comfort a priority when shopping for the best mesh gaming chair.
It is essential to check the type of cushion or support a mesh gaming chair has. Most full mesh gaming chairs come with a mesh for the seat. This may be preferable by some pro gamers. If you belong to this category, you need to also check the weight limit of such mesh gaming chair options.
However, if you prefer a cushioned mesh gaming chair, ensure it is comfortable and supportive. Memory foam and gel are excellent options you should consider.
Adjustability should be one of the significant features you should look for in a mesh gaming chair if you move around a lot during your gaming sessions.
Some mesh gaming chairs come with tilt or tension features that help keep you in optimal gaming position as you move around during your intense gaming sessions.
You will likely be using this mesh chair for gaming. Th
is implies that the best mesh gaming chair for you must come with lots of elbow room, especially if you use a controller or keyboard. Some mesh gaming chairs even come with movable and adjustable armrests.
Mesh gaming chair design is crucial, especially since you need to consider 3 options: high-back, mid-back, and low-back gaming chairs. The ideal choices are the high-back and mid-back mesh gaming chairs. They provide the support you need for long gaming sessions.
Check the overall dimension of your chosen mesh gaming chair to ensure it is designed for your weight and height. The color of the gaming chair is also essential; choose one that blends in with the interior décor of your gaming room for aesthetic appeal.
You need to decide whether or not casters should come with your preferred mesh gaming chair. Some pro gamers hate moving in their chairs during intense gaming sessions. Such people generally find casters to be highly inconvenient. The casters break off too quickly and cause many hassles in some cases.
However, this is not to say some gamers do not prefer mesh gaming chairs with casters. If you love moving your mesh chair around the area or from one spot to another, you need a gaming chair that comes with casters.
Ensure your preferred mesh gaming chairs come with large caster wheels. They are the best option for rolling over other objects, carpets, etc.
Conclusion
Mesh chairs are an excellent choice for gaming because of their modern design, how comfortable it is, and how it allows you to stay cool during your gaming sessions.
The best mesh gaming chairs are equipped with innovative features that enhance your gaming experience. Therefore, ensure you consider these when shopping for the best mesh gaming chairs on the market today.