If you're having tailbone pain, the likely cause of this is the coccyx being damaged. Coccydynia or tailbone as it's commonly known can be managed with some thin, ergonomic pillows called Coccyx cushions.
In today's post, we'd be looking at managing coccydynia using some of the best coccyx cushions available on the market.
Intro – What exactly is Coccyx?
The coccyx, which is usually located at the spinal column's base, is a small triangular bone sitting just above the symphysis pubis. As small as this bone is, it's very important to support your weight when you're sitting.
Due to the nature of this small bone's work, it tends to get damaged when you exert excess pressure on it. Damaging the coccyx means pain, but they're not typically considered medical emergencies.
Sure, you'll be in a bit of pain and may experience swelling and bruising around the area but they're not so serious.
At best, your doctor will prescribe pain medications and recommend you get a coccyx cushion to ease the pain.
If you're here looking for the best coccyx cushion to buy to help reduce the inconveniencing pain you're experiencing, I've put together a list of the top 5 coccyx pillows for tailbone pain.
Top 5 Best Coccyx Cushion to Ease Tailbone Pain
One of the finest seat cushions for coccyx and tailbone pain is this Kabooti cutout by Contour Products. I love the wedge shape of the pillow as it helps with correcting posture defects and supporting the spinal discs.
Tailbone Pain sufferers will appreciate the coccyx relief cutout that reduces the pressure you feel on your tailbone region.
The cushion boasts seven (7) distinct features put in place to ensure you get the best of sitting comfort. It's made of breathable material for airing and highly resilient material to evenly distribute your body's weight to lessen pressure.
This Kabooti seat cushion allows you to sit with ease and comfort on the go as it's fit for use any and everywhere, whether your home, office or commuting.
Benefits of the Kabooti Deluxe Combo Cushion
Aesthetically pleasing with the perfect coccyx relief cutout that reduces of your sensitive tailbone from touching seating surfaces.
Made of high resilient material together with high-density foam that combines to give you better support and ensure your body's weight is evenly spread.
Comes with a breathable cover that's soft and easily washable.
Supports better posturing thanks to cradling edge design.
Great back support, so that you don't only get sitting comfort but can rest your back without pains.
The Kabooti Deluxe Freedom Combo is an exceptional coccyx cushion. It supports healthier posturing and alignment of the back.
The combo of seat and backrest makes it a great buy for anyone experiencing any type of back pain while battling tailbone pain. It's also budget-friendly priced at around $64.99 for the combo.
This high-quality seat cushion is built not to flatten under your bulk, rather to mold and take in your weight while retaining its shape.
The Everlasting Comfort Coccyx cushion is made of superb quality memory foam. Its ergonomic design is perfect to maintain and correct posture and most importantly, help you reduce tailbone pain.
As a versatile pillow or cushion, you can use it if you have any posture defects or suffering from either coccyx or even ischial tuberosity bursitis
This pillow has an ergonomic design with the U-shape making use of heat-responsive technology to adjust to your bottom's shape without stretching or losing its shape.
A textured bottom makes it non-slip, so it stays in place on any seat you place it on. For your convenience, there's a machine washable cover so you maintain proper hygiene while seeking comfort.
Benefits of the Everlasting Comfort Coccyx Cushion
Made of premium memory foam that's designed to last long while soothing coccyx/tailbone pain.
The ergonomic U-shape design helps suspend your coccyx, preventing it from pressuring sensitive areas and ultimately, helps you improve your posture.
Comfortable to sit on for hours, you'll fight with your pet for it.
It's designed to be portable, lightweight, yet versatile and can fit most chairs from car seats to office seats and airplanes. The perfect travel companion.
Comes with a lifetime replacement warranty which is not something you get every day.
There has been no shortage of praises for this coccyx pillow. In fact, users have confessed they fight over who's going to sit on it with their pets.
If you want an ergonomic cushion to relieve the pain in your tailbone area, this is the best option in my opinion.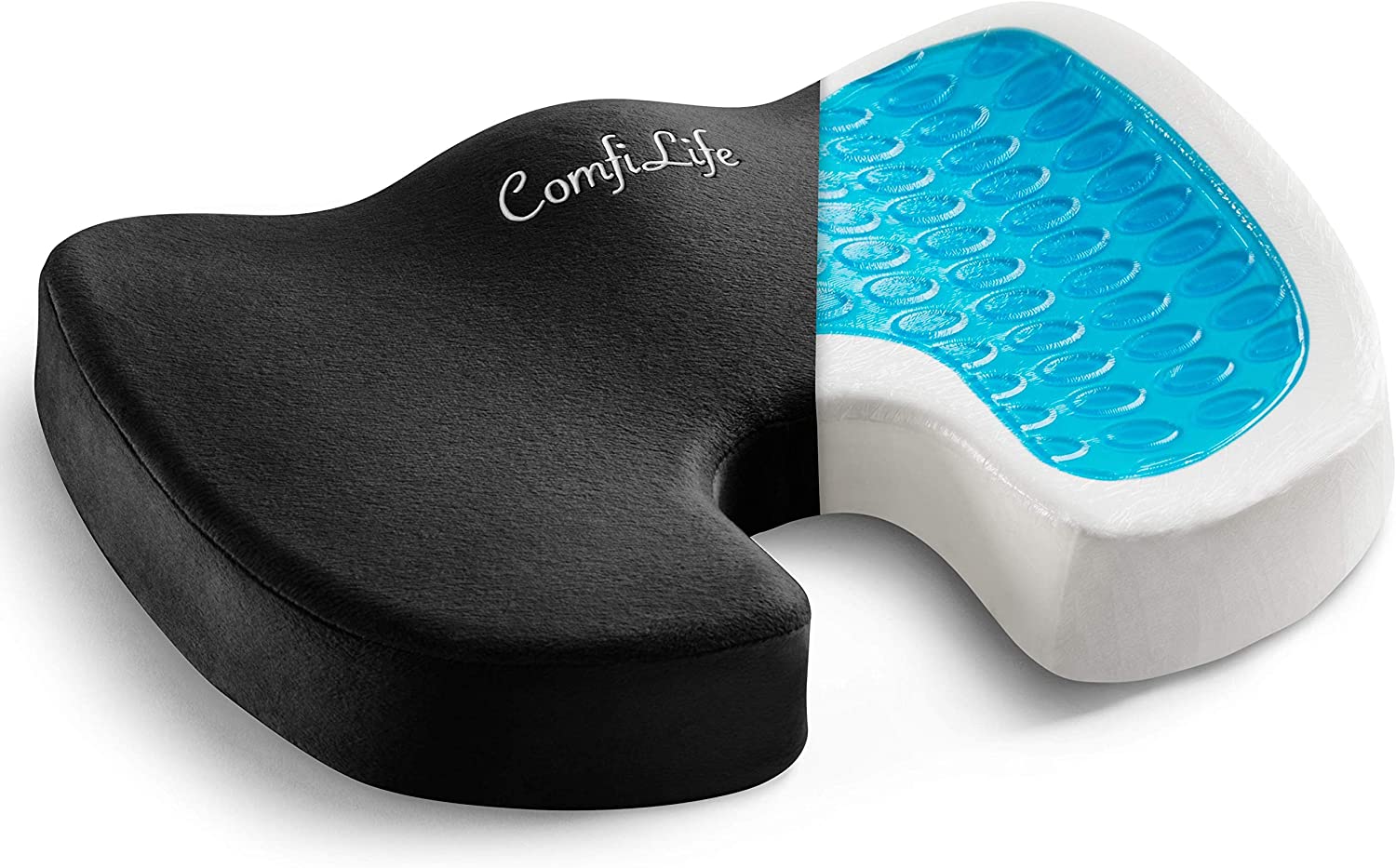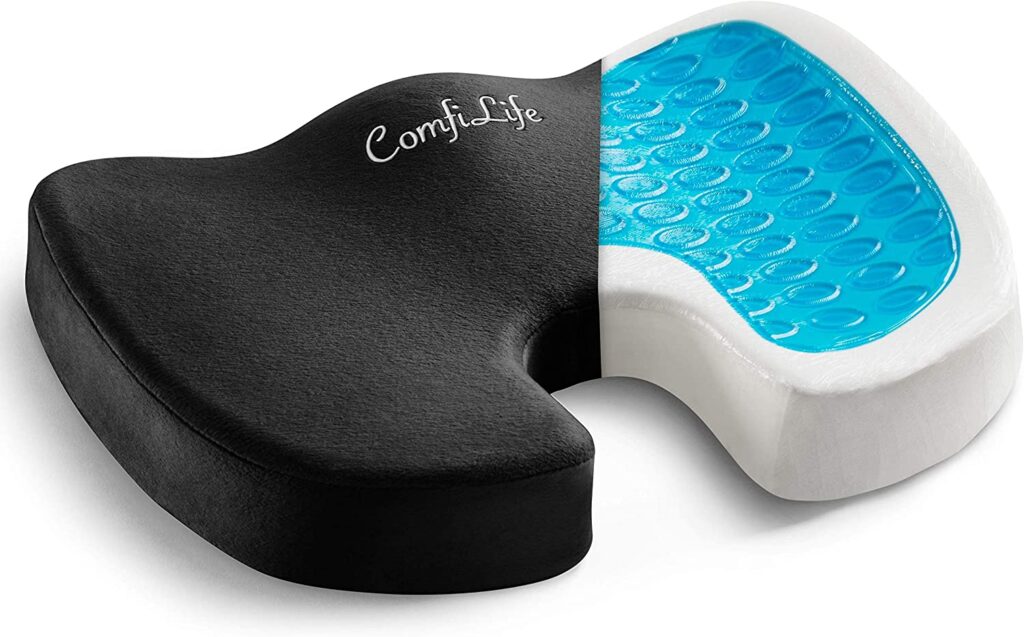 The ComfiLife premium comfort seat cushion is another quality memory foam-infused cushion designed to reduce pain in your back region from sciatica to coccyx.
It uses a mix of high-quality memory foam and innovative cooling gel to give you that long-lasting, pain-free comfort you crave.
Like the Everlasting Comfort pillow, the ComfiLife seat cushion is ergonomic with a U-shape design to take your bulk, and prevent the coccyx from pressing against sensitive parts, whilst still retaining shape.
It's touted as one of the best seat cushions that promotes healthy posture and spinal alignment.
A premium rubber texture makes this seat cushion nonslip, allowing it to stay in position without moving, whether on office chairs or a car seat, you can be sure there'll be no unexpected movement.
Benefits of the ComfiLife Premium Gel Enhanced Coccyx Seat
Ergonomic design that allows it take in your bulk without losing shape.
A powerful combo of high density memory foam and cooling gel later promises a durable cushion for long lasting comfort.
It's portable and versatile, good for use on all kinds of chairs.
Non-slip rubber texture ensures the cushion stays put with no shakes.
Great for posture correction, sciatica, coccyx pain relief and more.
If you're always propped on your rear, you'll enjoy the relief this cushion offers.
The Kabooti 3-in-1 donut seat cushion promises to be the seat cushion that takes away the need to get any other. It was built as a 3-in-1 ergonomic cushion to tackle problems related to sitting like tailbone pain, coccyx injuries, and even hemorrhoids.
This innovative pillow combined the best features of your traditional seating wedge pillow, tailbone cushion, and donut pillow to form this 3-cushion in 1 comfort solution.
Its beautiful ergonomic design seeks to give you long-lasting sitting comfort all day, every day.
The main selling point of this Kabooti donut cushion is definitely the versatility. It doesn't follow the norm with most seat cushions available, that is, targeting only one pain point.
Kabooti 3-in-1 cushion is an orthopedic relief cushion that caters to a lot of seating abnormalities, whether you need a tailbone cushion to ease the pain or even an ischial pillow, this Kabooti is an all-in-one cushion.
BUYERS GUIDE FOR BEST COCCYX CUSHION TO EASE TAILBONE PAIN
The best coccyx cushions for tailbone pain come with distinct features that make them stand out from the plethora of models in the market.
When buying a coccyx cushion, there are several features that you should look out for that will help you make the right choice to suit your needs.
Below is what you need to consider when looking for the best coccyx cushion:
The Shape of the Cushion
You must consider the shape of the cushion before buying one. These cushions come in different shapes: U-shaped, O-shaped or doughnut-shaped, V-shaped, wedge-shaped, and more. Choosing the right shape depends on what works best for you.
People are uniquely different. And so, what works best for one person may not work best for another. The only way to find out what shape does it best for you is to try out different ones.
The U-shaped cushions and the doughnut-shaped coccyx cushions are the most common and are mostly recommended by orthopedists.
U-shaped cushions are usually recommended for the alleviation of tailbone pain and comfort, while O-shaped cushions are mostly recommended for the relief of tailbone pain, hemorrhoids, and post-natal pain.
Size and Weight
When looking for a cushion, you should also consider the size and weight. Your size and weight will determine what kind of cushion you should buy. A smaller-sized person will need a smaller cushion, while a bigger-sized person will need a bigger cushion to support their weight.
You should also consider how and where you want to use the cushion. You may need to have different cushions for specific purposes such as when working, driving, sitting at home, or traveling. If you need a cushion that you can take everywhere with you, you will need one that is smaller in size, doesn't weigh so much, and allows easy mobility.
Cushion Filling
An obvious factor to consider is the cushion filling. Nobody wants a cushion that will flatten too quickly. To avoid this you need a filling material that is resilient and provides ample support and comfort. The best in this regard is the memory foam filling. Cushions with memory foam filling are best and most sought after for their superlative comfort and resilience.
Coccyx cushions made with memory foam fit perfectly with the natural shape of the buttocks. They are much harder to flatten and regain their shape after long hours of use. They provide superior comfort, support, and pain relief.
Material Cover
The more time you spend sitting on a memory foam cushion, the hotter it gets because it absorbs heat, and it will become uncomfortable to sit on. You will need a cushion covered in breathable material, especially if you sweat a lot. The best material in this regard is mesh fabric. It ventilates easily and is better at controlling temperature.
Care and Maintenance
This is also a very important factor to consider when buying a coccyx cushion. Some coccyx cushions come with removable covers that you can easily clean in a washing machine. Others do not come with removable covers and can only be spot-cleaned.
You may want to consider going for a cushion that has a removable and machine washable cover. Some companies sell replacements for their removable covers. So you can easily order a replacement cover in case your cushion gets damaged.
Extra features
Some coccyx cushions come with additional features to ensure better comfort and relaxation such as built-in heat and massage. Cushions with such functions are better at alleviating tailbone pain, offering support, and providing maximum comfort to the user for an extended period of sitting.
Just had surgery? Be sure to check out the best bbl pillow for you today.