Have you been scouring the internet in search of the best gaming chair for the PlayStation 5? You're in luck! Shopping for the best gaming chair for the ps5 is no longer a hassle just as long as you know what you want in a gaming chair.
Gaming chairs are not like your regular desk chairs or sofas. Having a comfortable gaming chair can transform your gaming experience. You can enjoy a better gaming experience in a laid-back position.
The new ps5 console comes with new games, improved graphics, and more processing power. You are going to need the perfect gaming chair to enjoy gaming on the ps5 console.
How do you know which gaming chair is best to help you bring your A-game? You want a chair that delivers comfort and ease; not only that, you want a chair made of top-quality materials that won't wear or break easily. You also need a chair that facilitates a thrilling gaming experience.
More so, console gaming chairs are a great accessory to have for those who just got the new PlayStation 5 (if you're one of the lucky few to get hands one) and are looking to upgrade their gaming setup.
Below are the best gaming chairs for your ps5 console. Whether you will be playing in the living room or on your desk, these gaming chairs are packed with multiple functions to support you all the way and rev up your playing experience.
Best Gaming Chair for PS5 Setup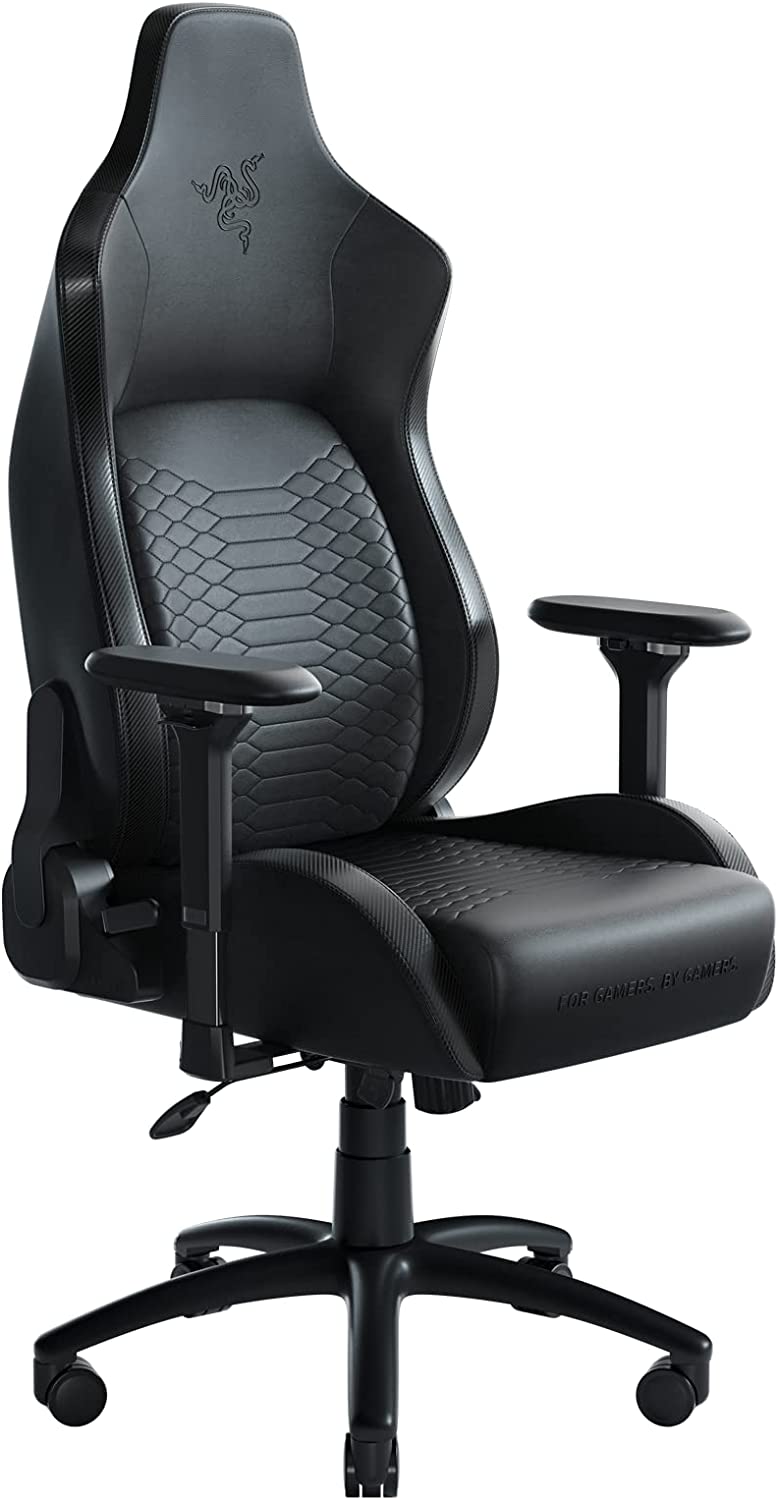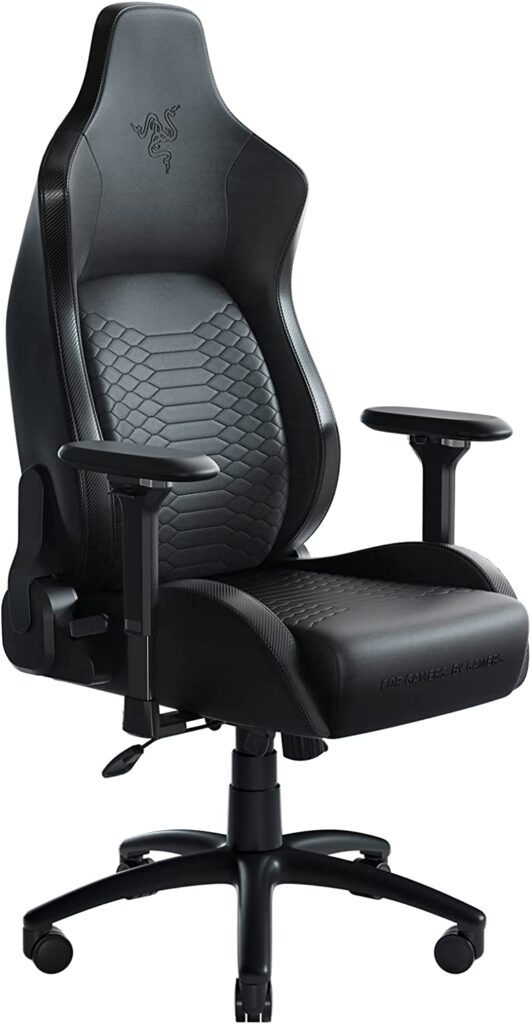 The Razer Iskur gaming chair makes it to our list as one of the top gaming chairs for gaming on the ps5 console. We all know that a bad chair can lead to pains and all kinds of discomfort, and when you're uncomfortable, you're likely to not be at the top of your game. This gaming chair is ergonomically designed to support perfect posture for hardcore gaming and to ensure comfort and alleviate back pain while you're gaming.
Built with a complete lumbar support system, this elegant gaming chair allows you to enjoy support at your lower back with a built-in, fully adjustable lumbar curve that closely fits the curve of your spine for an ideal posture and maximum comfort while gaming for an extensive period.
It comes with 4D armrests that enable you to adjust the height of the armrests, the angle, and move them forward or backward so that you can comfortably rest your arms in any position you're seated.
Fashioned with high-density foam cushions, the chair is durable, gives a plush feel, and offers better support and comfort to your body's unique shape.
This gaming chair is covered in multi-layered PVC synthetic leather that is tougher and more durable than the standard PU leather, which makes it better resistant to tear and wear that results from hours of everyday use.
With a combination of its steel-reinforced body frame, armrests, wheelbase, and angled seat edges, the chair is designed to support gamers with a height of 5'6" to 6'2" and accommodate a maximum weight of 300lbs.
Why You Should Consider the Razer Iskur Gaming chair
Memory foam head cushion
4D armrests
High-density foam cushions
Multi-layered synthetic leather
Ergonomic lumbar support system
Supports healthy posture
Steel-reinforced body
Support maximum weight of 300 pounds
Suitable for a height of 5'6" to 6'2"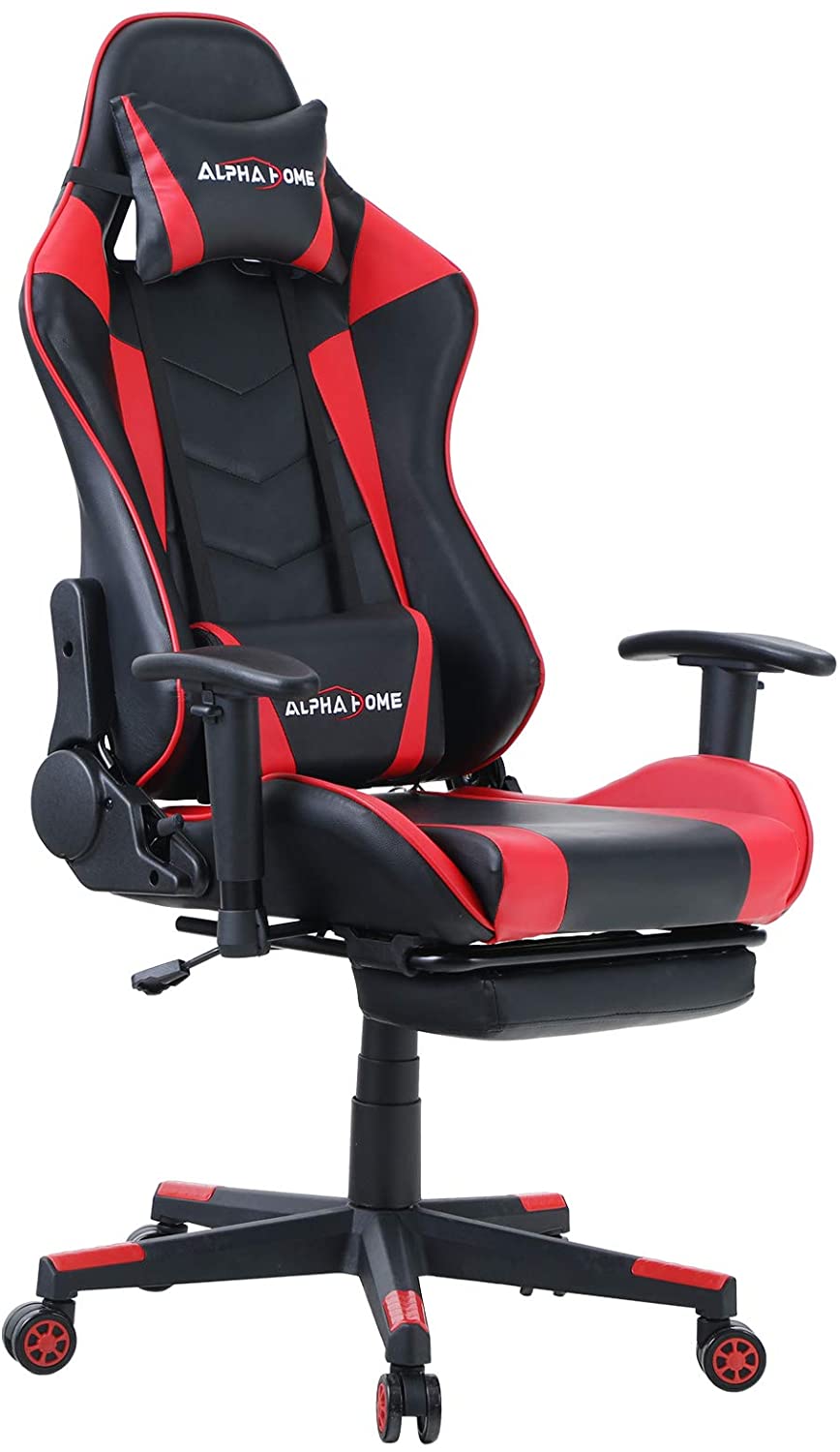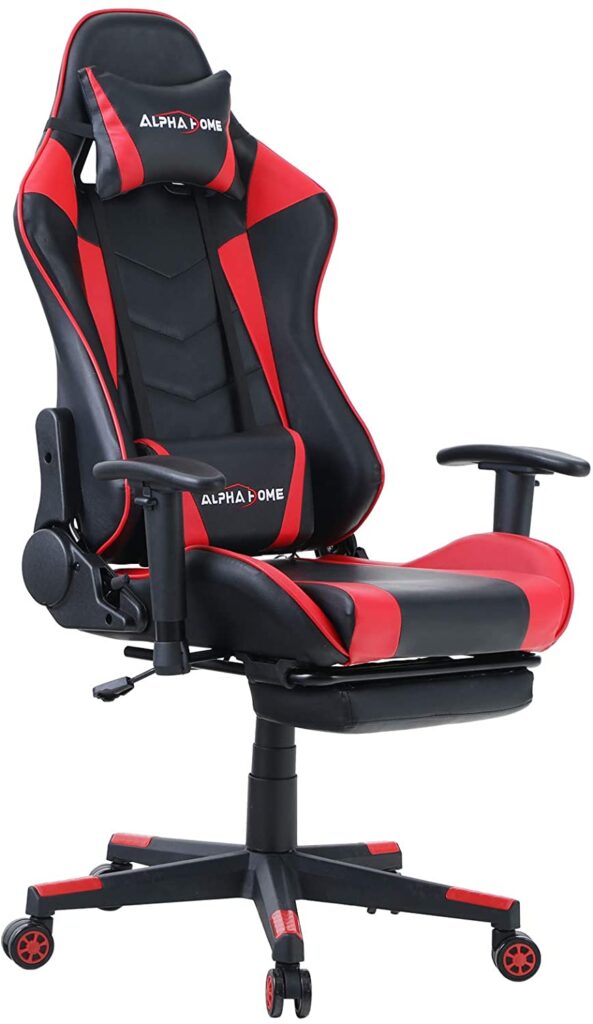 Looking for a gaming chair that you can use for your ps5 console? Then you should consider adding this baby to your gaming setup. With its ergonomic design, this chair is engineered to provide matchless support and comfort to the gamer.
The backrest is ergonomically designed to reduce pressure on your back by supporting your neck, spine, and waist. The backrest fits the natural curve of your cervical spine and provides comfort to your back during prolonged sitting, allowing you to stay focused when gaming. The design of the backrest also allows you to adjust it between 90° to 165° for your convenience.
The armrests can be adjusted between 0-20° to suit various needs. It comes with an integrated headrest with a removable pillow that lets you relax your neck. The chair also features a USB-powered lumbar massage pillow that comes with three levels of adjustment – red light, which represents high-level vibration, green light, which represents middle-level vibration, and blue light, which means low-level vibration.
The chair as well comes with a footrest that you can take advantage of for your relaxation. It supports a swivel of up to 360° for swift movement and easy mobility. It also comes with height adjustable functions that make the chair suitable for various heights.
This chair does not only meet your gaming needs, but it also meets your work needs and relaxation needs, which makes it a suitable chair for different purposes including working in the office and studying.
What's more, constructed with some of the most sophisticated materials in the market, this racing-style gaming chair is built to last. The high-quality resilience-shaped sponge is elastic and comfortable for the body. Topped with PU leather finishing, the chair adds an elegant feel to your room. The multi-directional wheels are silent, wear-resistant, and do not scratch the floor.
Why You Should Consider the Alpha Home Ergonomic Gaming Chair
Ergonomic backrest with lumbar support
Adjustable backrest
Adjustable armrests
Adjustable height
Footrest
Waist vibration massage
High resilience shaped sponge
Multi-functional
Easy to assemble
Maximum support of up to 400lbs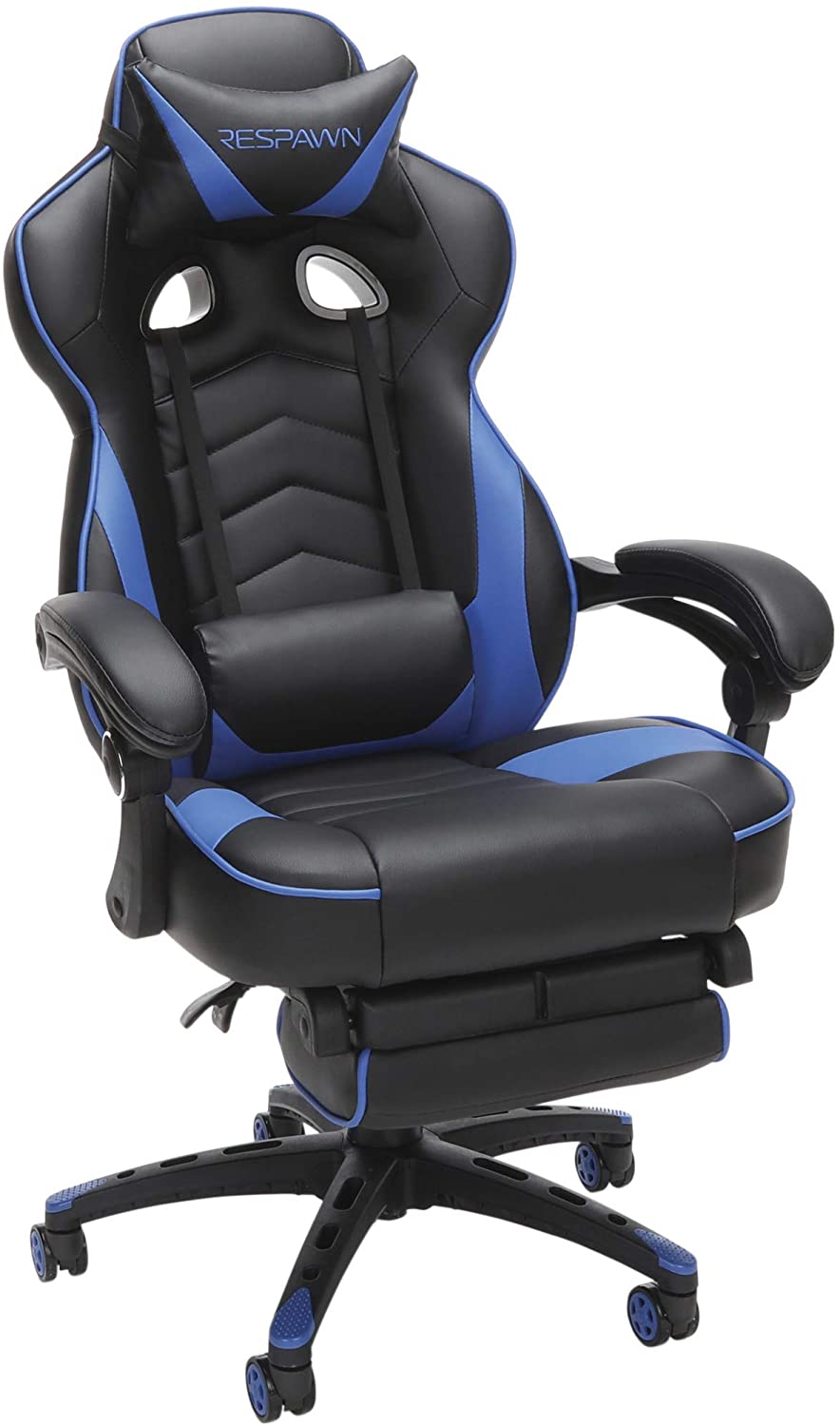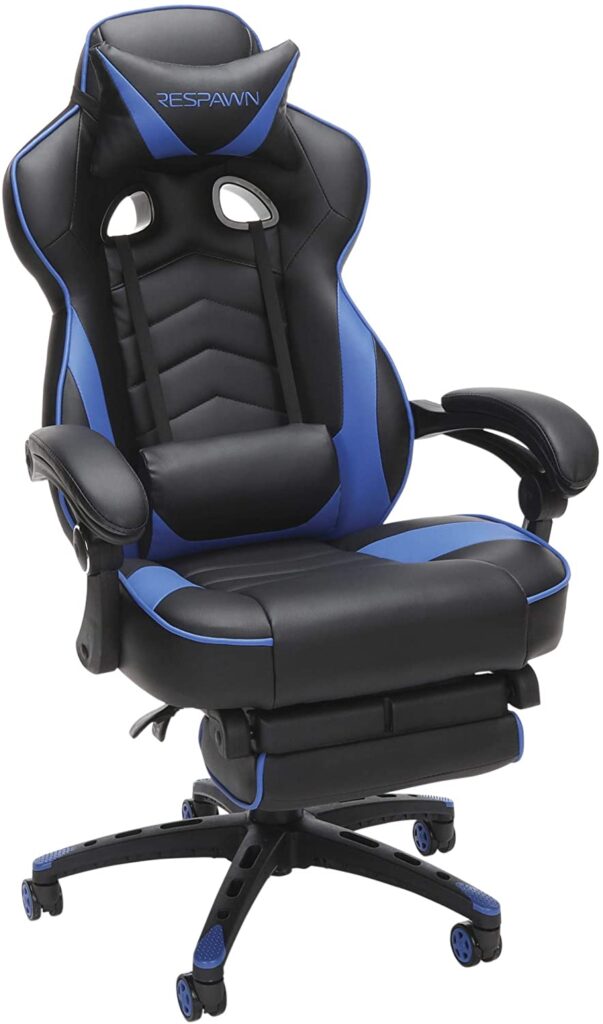 This is one gaming chair that every gamer would certainly love. The Respawn gaming chair brings luxury, style, and comfort to your gaming room. It comes with many cool features to rev up your gaming experience. If you just got your ps5 console and are looking for a gaming chair that will leave you comfortably immersed in your gaming activities, the Respawn RSP-110 racing style is the one.
The chair features tilt lock functions that allow you to recline the chair up to 155° and stay locked in an infinite range of positions, with the tilt and lift levers located on the right side just beneath the chair for easy operation. As the chair reclines, the armrests pivot with it. The armrests are soft and padded so that you can relax your arms and relieve your elbow of pain.
It is constructed with beautifully segmented padded designs to provide contoured support to various parts of your body exactly the way you need it. The chair comes with a built-in extendable footrest that you can use to relax your feet when you feel like it. It also features adjustable lumbar and head pillows that provide support and comfort for long hours of gaming.
This gaming chair is designed with bonded leather finishing for an exquisite look and durability. This gaming chair certainly stands out among its competition. It emits an elegant and professional look and can be used not only as a gaming chair but as an office chair.
Whether you need a chair for intense gaming activities or for working in the office, the RSP-110 literally has your back. You're sure to be at the top of your game with this racing-style gaming chair. The chair is sturdy and can hold a weight of up to 275 pounds for long-term use.
Why You Should Consider the RSP-110 Gaming Chair
Extendable footrest
Adjustable lumbar support pillow
Padded armrests
Adjustable headrest
155° reclining control with infinite angle lock
360° swivel
5-year limited warranty
Supports up to 275 pounds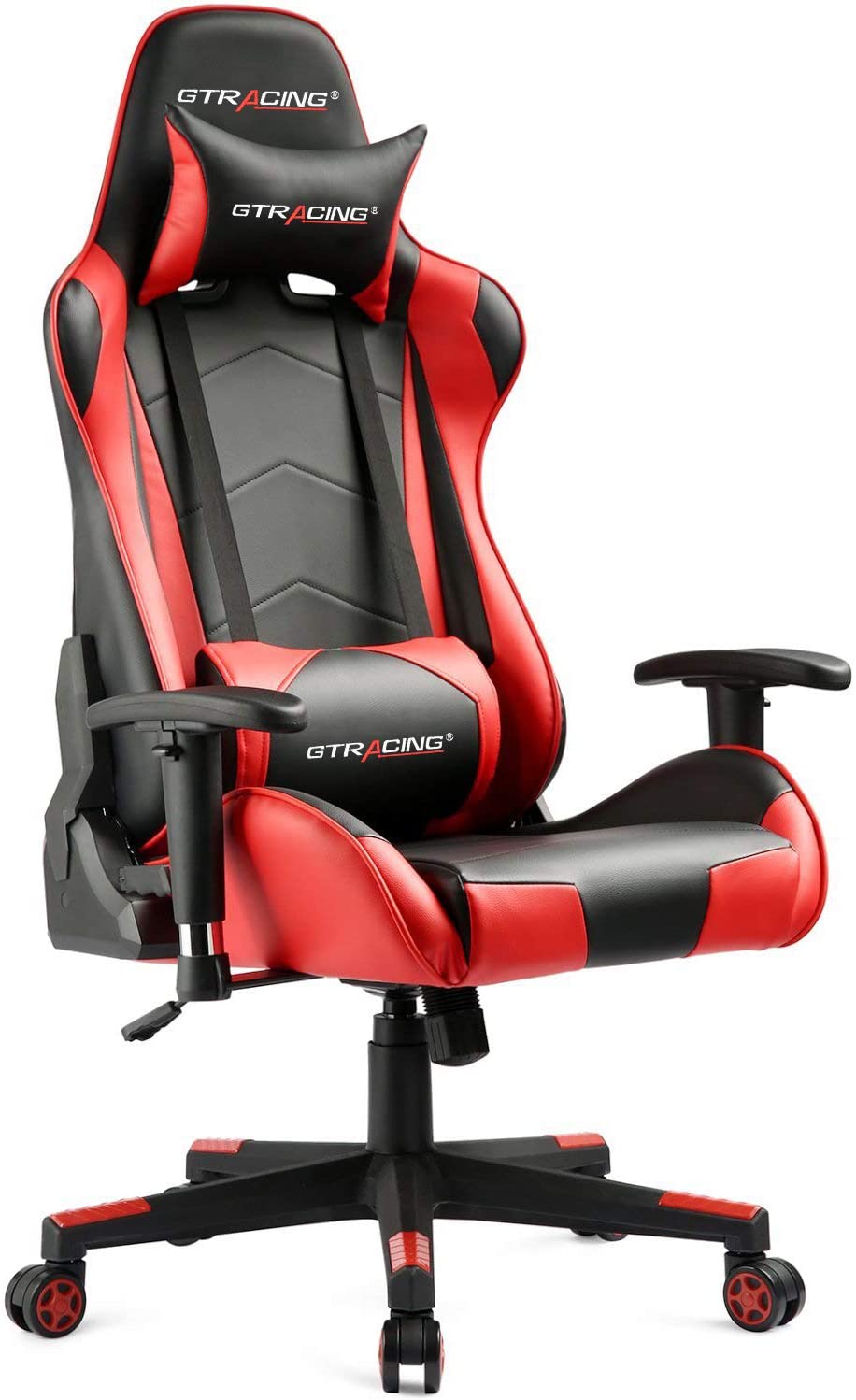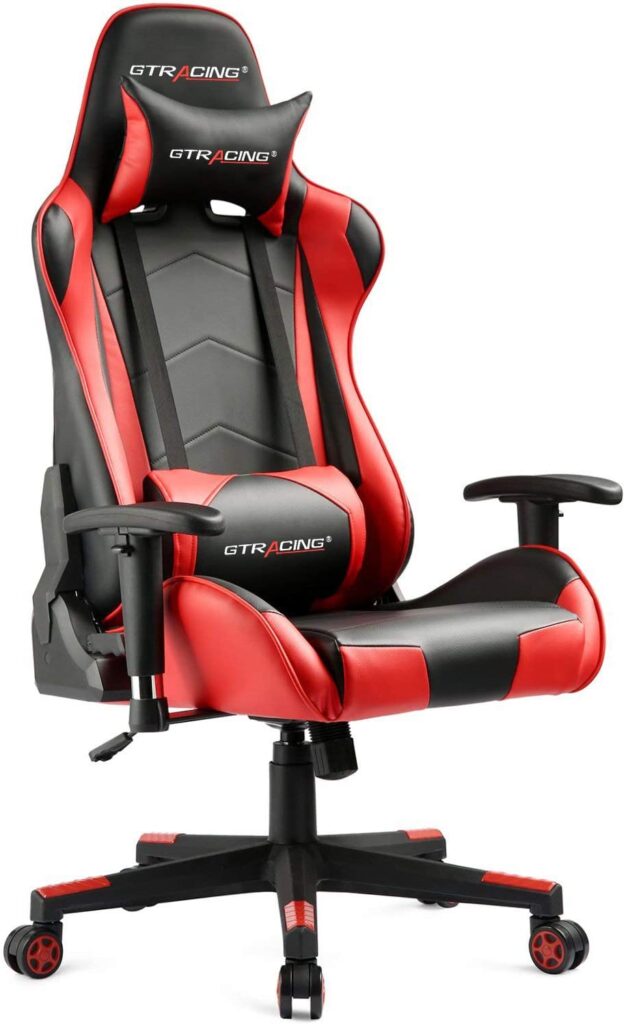 This chair qualifies as one of the best gaming chairs for latest Sony's PlayStation 5 for many reasons, one of which is its element of comfort which makes it perfect for gaming. It is specially designed to improve your gaming experience. Pro gamers will certainly love this chair for its top-notch level of comfort.
Check out its ergonomic design that features a strong metal frame and thickly padded backrest and seat to help keep you comfortable for an extensive period of intense gaming or long working hours, if you choose to use the chair for office work instead. The removable headrest pillow and the lumbar cushion add another level of comfort to this gaming chair.
This bad boy is designed to be multi-functional with its multiple adjustable features. The armrests and height of the seat can be easily and conveniently adjusted to meet your needs. It features a 90-160° reclining and rocking function that you can take advantage of and enjoy a rocking experience when you feel like relaxing or taking a break from work or gaming.
This gaming chair is not only built for comfort, it has sturdy construction with a 5-point base built with heavy-duty rolling casters that are made of nylon, smooth, and swivels up to 360° to allow for durability and swift movement.
The chair is upholstered in high-quality smooth PU leather for durability. It is packed with high-density foam for excellent comfort. The additional seat cushion, lumbar, and headrest pillows offer extra support and comfort for intense gaming. The heavy-duty nylon rolling casters ensure stability and mobility.
This chair is versatile and can be used for several things besides gaming. This beautiful piece makes a perfect addition to your office space, gaming room, or study. It is available in a variety of colors.
Why You Should Consider the GTRACING Computer Gaming Chair
High intensity thicker steel frame
Up to 160° recline and rock function
Anti-collapse sponge
Headrest and cushion support system
Adjustable armrests
High-density foam
Seat height adjustment
Heavy-duty base
Smooth nylon casters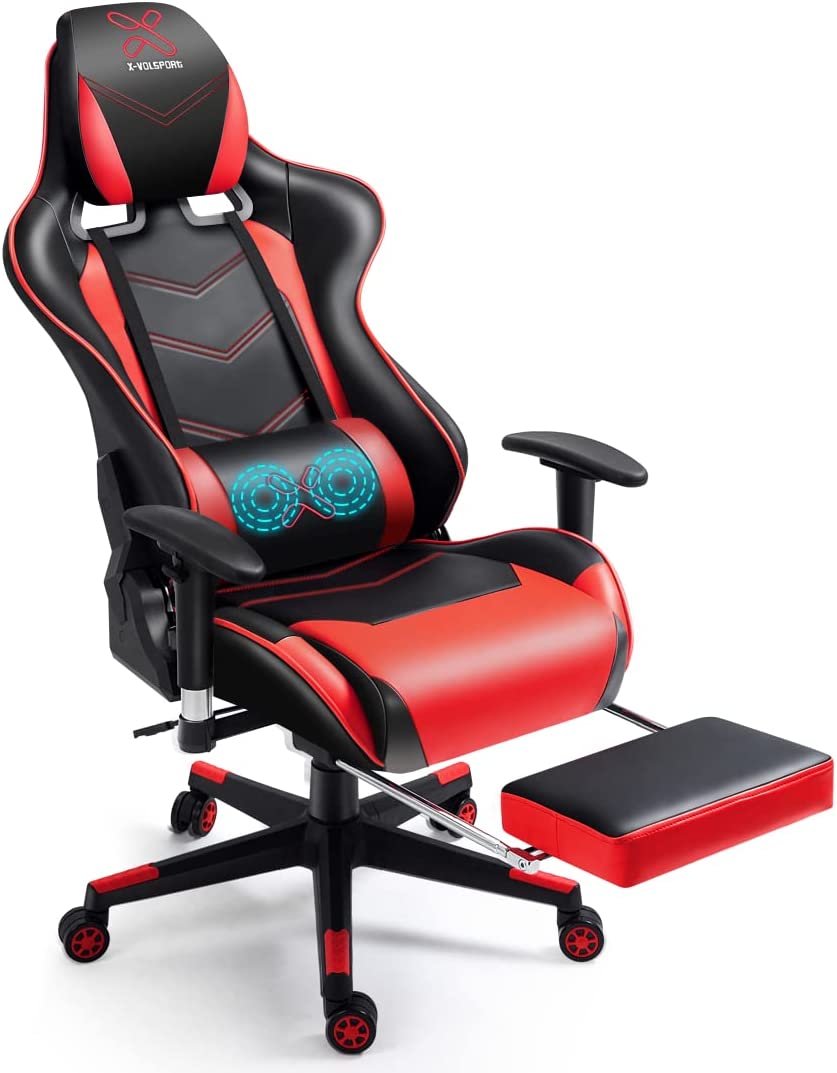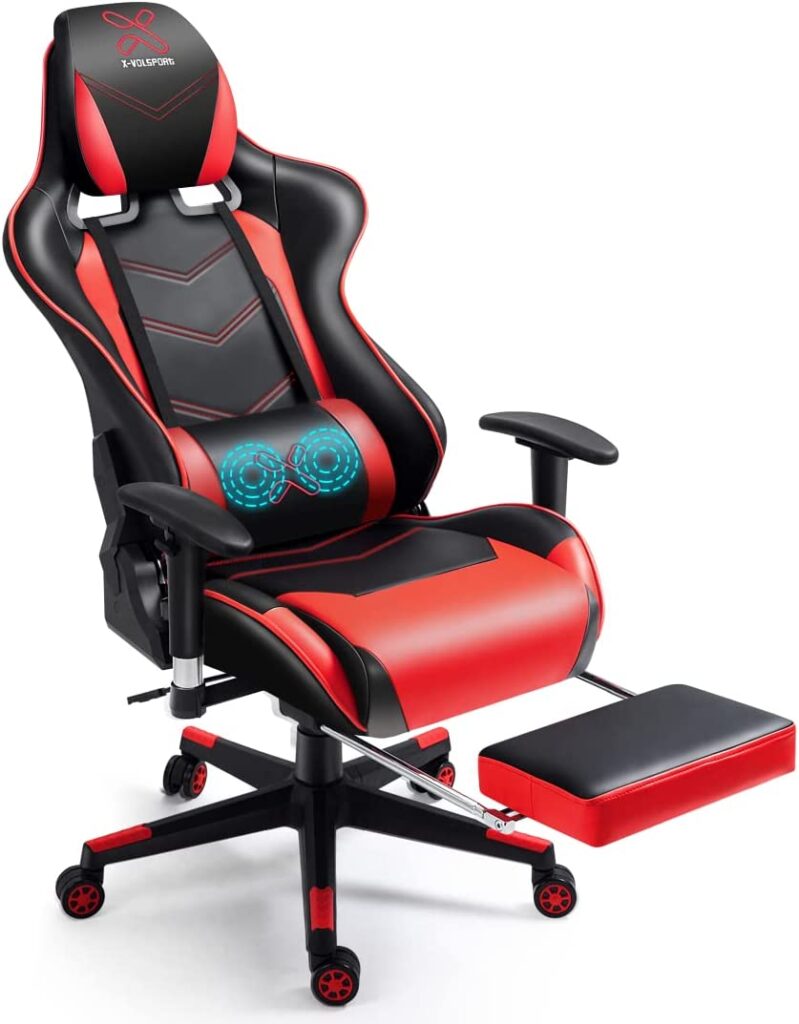 The X-VOLSPORT massage gaming chair is a perfect choice for those looking to upgrade their gaming setup for their ps5 console. Besides gaming, this chair also makes a perfect addition to your office, study, or room. It is an ideal choice for gaming, working, studying, and having a rest.
The chair is very well padded to provide support in all the right places, with all the standard adjustable features we love to see in a gaming chair. This chair is packed with multifunctional ergonomic features that every gamer would love.
First, let's talk about the removable headrest and massage lumbar cushion of this high-back gaming chair that ensures you stay better relaxed when working or gaming. It has a tilt lock function that lets you recline the chair and lock it at any angle between 90-170°. It also comes with a retractable footrest so you can kick back and relax comfortably. When using the knob under the seat to adjust the chair, it starts to swing which is pretty exciting.
The armrests can also be adjusted up and down or rotated to suit your different needs. You can also adjust the height of the chair to suit your stature. This chair just does everything right!
This high-back gaming chair is constructed with materials of superior quality to ensure stability and durability. It has a strong metal frame design to help facilitate a comfortable seating position. The chair is covered in PU leather that is friendly to the skin and wear-resistant. The seat cushion is thickly padded with high-density foam which is more resilient and makes the seat extra comfy.
The heavy-duty base with nylon smooth-rolling casters offers great stability, easy mobility, and durability. It can support a maximum weight of up to 300 pounds, making it suitable for most people.
Why You Should Consider the X-VOLSPORT Massage Gaming Chair
Moveable back massage
Adjustable armrests
Retractable footrest
Comfy leather cushion
Adjustable seat height
Recline and lock up to 170°
Smooth nylon casters
Supports up to 300 pounds
360° swivel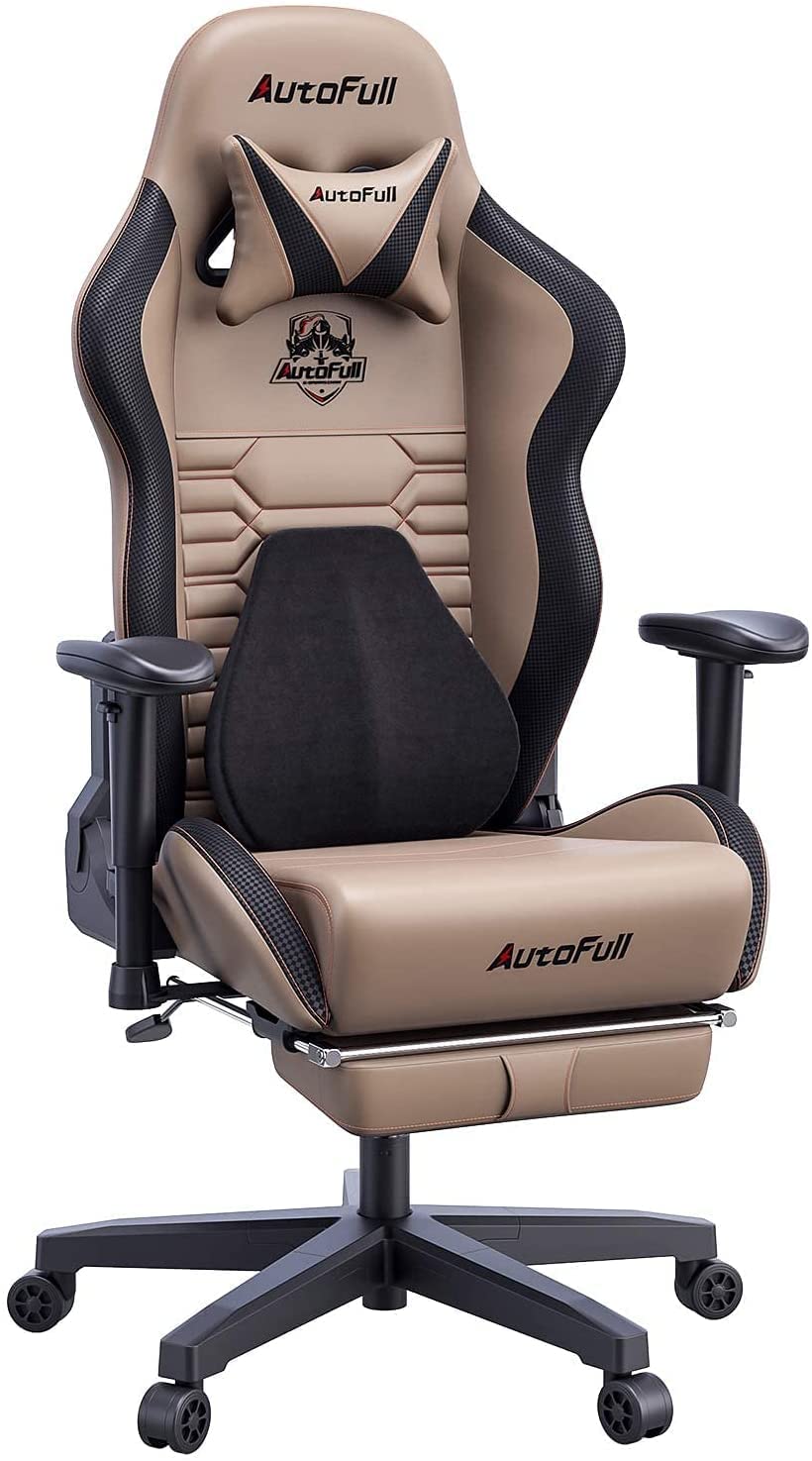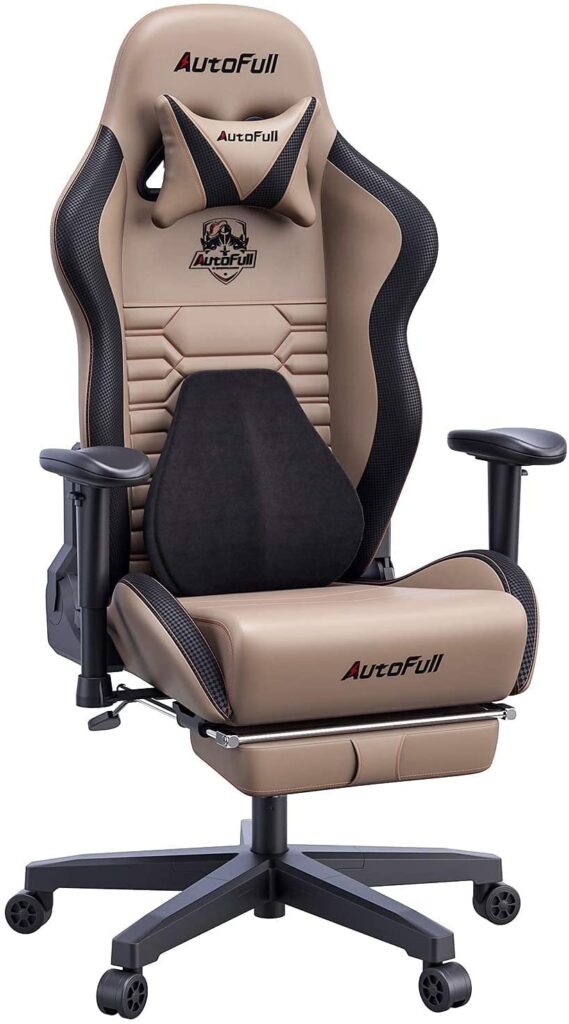 This is a pretty cool piece to have in your gaming or working space. This ergonomic gaming chair is such a beauty and it is specially designed to create the best gaming experience for pro gamers. This chair is more than just aesthetically pleasing; it comfortably hugs your body and braces you up for an immersive gaming experience.
Made with superior quality carbon fabric, the chair is more comfortable and sure to last a long time. It has a comfortable seat cushion that is padded with an anti-collapse sponge with a density that is 50% higher than the regular sponge used on other gaming chairs on the market.
The chair is ergonomically constructed to fit the natural curve of the lumbar spine, and it has a 3D bionic modeling lumbar pillow for better support to your waist region to help you stay relaxed and relieve the pressure off your back.
The chair also lets you recline up to 170° so that you can lie down comfortably and conveniently watch your favorite videos, read a book, play video games, or even take a nap while still getting all the ergonomic support you need. With its retractable footrest, you can completely stretch your legs while at it, in any position you desire.
It comes with 2D armrests that can be adjusted 7cm upward and downward and 45° to the left and right to help you find the most comfortable angle to rest your elbow. The height of the seat can also be adjusted up to 3.2". It also comes with an adjustable headrest pillow for additional comfort.
It comes with a strong integrated metal frame, with an upgraded thicker gas lift and a sturdy nylon base, and can accommodate a maximum weight of 350lbs. The PU rolling caster wheels are built for durability and allow you to glide smoothly over any surface without ruining the floor.
Topped with an improved PU leather fabric that is more durable than regular PU leather, the chair is smoother to the touch.
Why You Should Consider the AutoFull Gaming Chair
Premium PU leather
Anti-collapse sponge
3.2" lifting function
Retractable footrest
2D adjustable armrests
Ergonomic head and lumbar pillow
90-170° reclining and 25° rocking
Comfortable seat cushion
SGS level 4 gas lift
Sturdy nylon base
Can support up to 350lbs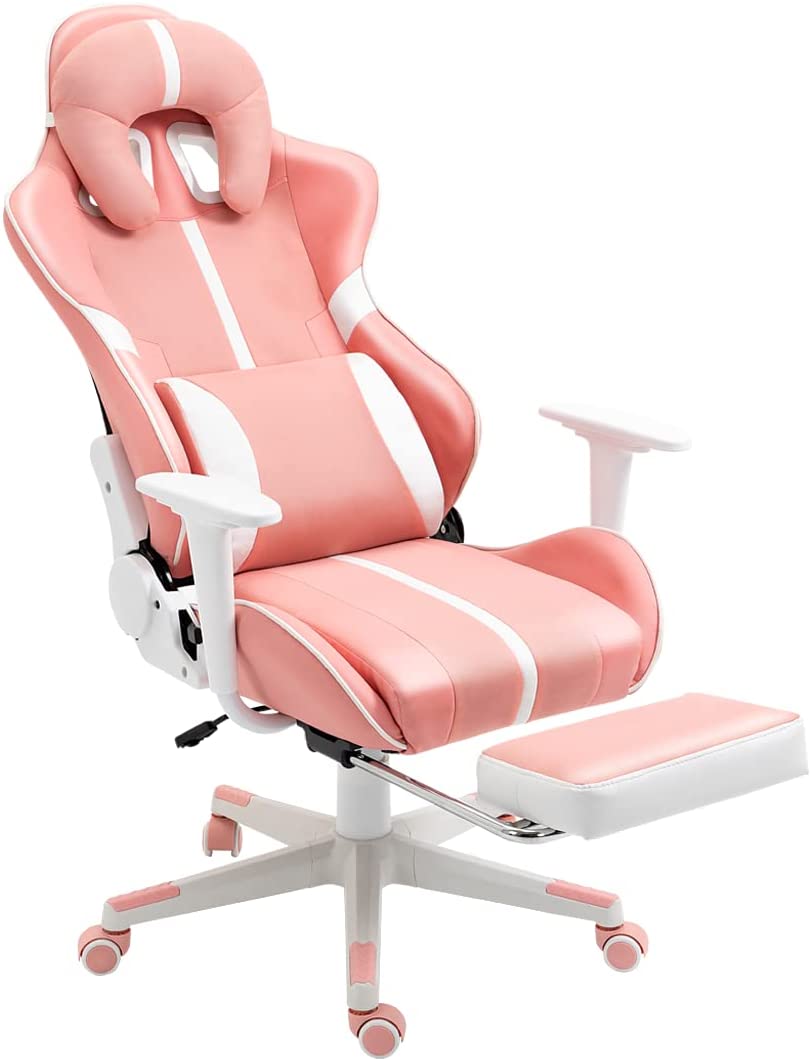 This beautiful piece of gaming furniture is specially designed and dedicated to females in the gaming world. This exquisite piece is designed using a high-density sponge cushion and premium PU leather that ventilates easily, accompanied by a 3.15 inch super thick seat cushion to ensure excellent support and comfort for long-term sitting, whether it is to game, work, study, or rest.
This chair is made for both the female gamer and office worker to provide optimum support and comfort to your back while taking your mind off the pressure on your back to allow you to enjoy superb gaming or working experience.
This racing-style high back gaming chair has a wingback construction that embraces your body at multiple points to relieve pressure off your back. The chair fits just right with your body's cervical shape and helps to protect your spine and lumbar with its back support and massage feature. This ergonomic design is top-notch.
The chair comes with multiple adjustable functions for your convenience such as seat height adjustability, backrest adjustable function that lets you recline the back of the seat between 90-170° so that you can adjust to the most comfortable position. It also features a detachable headrest pillow, lumbar support with massage, as well as a retractable footrest that you can pull out to allow you to stretch your legs in a reclining position for the best relaxation.
For sturdiness and durability, this high-back gaming chair adopts a one-piece steel frame structure. The PU leather upholstery makes it more resistant to dirt, and more friendly to the skin.
The chair also includes a sturdy five-star base made of heavy-duty nylon rolling casters that move smoothly on most floors without scratching them. This allows for great stability and mobility, giving the chair enough power to hold up to 300 pounds of weight.
The class-3 gas lift mechanism of the chair enables you to adjust the height of the seat quickly and silently to meet your convenience, making it suitable for any table height. The chair can only swivel up to 180°.
Why You Should Consider the X-VOLSPORT Pink Gaming Chair for Females
High-density sponge cushion
Retractable footrest
Detachable headrest pillow
Lumbar support with massage
90-170° reclining function
One-piece steel frame structure
Adjustable seat height
Commercial class-3 gas lift
Sturdy five-star nylon base
Can hold up to 300 pounds
One-year guarantee
It makes a perfect gift for females
What to Look For When Buying a Gaming Chair
With the plethora of options in the market, picking the right gaming chair can be quite tedious and even confusing, especially as these chairs come with similar features. This is why you need to know what you want in a chair before you start searching for it.
Ergonomics is most important especially when it involves sitting for a long time. An ergonomic gaming chair facilitates good posture and ensures that pressure is taken off your back to allow your mind to concentrate on the game. It also makes you more productive.
More so, there are quite some features you are likely to find in a gaming chair. Although not every chair will have all the features, higher-end chairs are more inclusive. Choosing a gaming chair for yourself will ultimately depend on what you can afford or what feature is most important to you.
Below is a highlighted list of features you might find in a gaming chair
High-quality foam padding
Adjustable lumbar support ( some with massage)
High back tilt function (some with locking capabilities)
Headrest (may or may not be adjustable)
Height adjustment
Retractable footrest
Armrests adjustment
Swivel (may or may not be 360degrees)