As a makeup artist, achieving the best look requires comfort, stability, safety, and attention. That means you need only the best chair every top makeup artist uses, as it can easily influence the outcome of the makeup session.
Getting a top chair for makeup artists minimizes the chances of ending up with a sore neck and aching back due to a crooked posture when applying makeup for a client or yourself.
Aside from ensuring your comfortability, your makeup area should look stylish. This is why we have gone to the trouble of compiling the best makeup chairs for artists.
The Top 5 Chairs for Makeup Artist
The Impressions Foldable Makeup Artists Chair is a professional piece built with lightweight aluminum with easily foldable inner hinges that boosts stability.
The backrest and seat are made of durable fabric and incredibly comfortable for users.
This makeup artist's chair is easy to transport, despite its sturdy build. It comes with a removable footrest for easy storage.
Pros and Cons
What we liked
Easy set-up
Comfortable and portable
Easily foldable with inner hinges
Folding design engenders effortless and storage
Backrest and footrest support
Satisfaction guarantee
What we didn't like
It comes with no set-up instructions or manual
The Tall Folding Director Chair sounds like a movie director's chair as it is designed likewise.
However, this is an amazing makeup artist chair that is also great for watching games, tailgating, camping, outdoor concerts, etc.
It is a super light, highly durable, and compact makeup chair, despite being constructed with a thickened aluminum
It comes with an aluminum retractable side table, and its height makes it usable anywhere.
The makeup artist's chair comes with a large, multi-functional storage bag – for keeping accessories like smartphones, chargers, etc. – as well as a retractable footrest to ease your relaxation.
The height of the Tall Folding Director Chair is commendable – up to 24 inches – and can support weights up to 300 lbs. The makeup artist chair weighs only 9.48 lbs. Its 900D oxford fabric – used for the seat and backrest – is breathable and incredibly comfortable.
The Tall Folding Director Chair has non-slip rubber covers on its four legs that ensure a firm stand.
Pros and Cons
What we liked
Perfect height for its primary purpose and art shows
User-friendly
Portable
Multi-functional side storage
Retractable footrest helps you relax
Versatile
What we didn't like
Table attachment could be improved
The ONIVA is one of the best options for anyone looking for a makeup artist chair. Thanks to its folding design, this lightweight chair is easy to transport, which also plays a considerable role.
The sturdy makeup chair – capable of holding someone who weighs up to 300lbs. – is constructed with aluminum, which makes it highly durable and stable when in use.
This seat is extra-wide – up to 19½ inches wide – and its durable polyester canvas and padded armrests make it a wise choice
The ONIVA has storage spaces and zippered security pockets that ensure you don't have to strain to reach for accessories as you apply makeup for yourself or your clients.
It also comes with an insulated pouch designed for holding a bottled beverage, and its double, adjustable shoulder straps make it easy for you to move from one place to another.
The chair also has a pop-up side table that can hold up to 10lbs. and also doubles as a camping chair.
Pros and Cons
What we liked
Easy to transport, thanks to its shoulder straps and carry handle
It makes the makeup process highly efficient
It comes with zippered pockets for storing accessories and an insulated beverage pouch.
Exceptional customer service
Convenient side table folds out and can hold up to 10lbs.
Lifetime guarantee
What we didn't like
Good for adults only
The backrest is considered too flexible and soft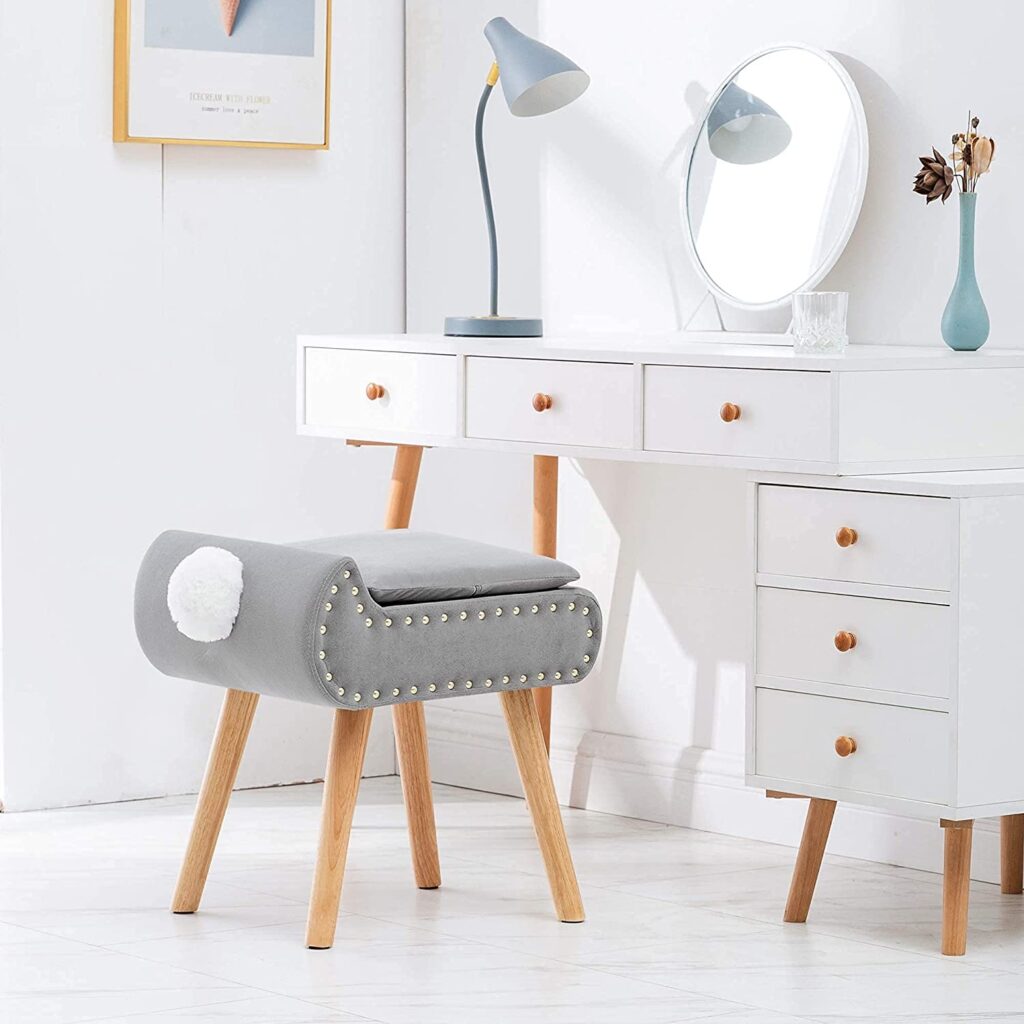 The Modern Storage Faux Fur Square Vanity Stool is a practical item with a hidden large storage space that enhances its glamorous lifestyle.
It is an excellent partner for your makeup table in the living room or bedroom. You can store items such as music scores, books, clutter, etc.
The Modern Storage Faux Fur Square Vanity Stool showcases a classic and modern style as it features cozy, soft, and white faux fur as well as velvet upholstery.
This footstool has a square shape set on light color wooden legs with clean lines. The entire frame of this unit is padded extensively with velvet fabric and high resilience foam that enhances its overall look.
The Modern Storage Faux Fur Square Vanity Stool comes with environmental and multi-functional adaptation as it has a wide range of applications. It is built to withstand several years of use, which means you won't have to replace it anytime soon.
Pros and Cons
What we liked
Sturdy and comfortable
Environmental and multi-functional adaptation
Highly durable
It comes with detailed assembly instructions and necessary hardware
Built for comfort
What we didn't like
The metal feet may leave marks when dragged across the floor
The Impressions Heart 360 Degrees Vanity Chair is one of the most beautiful classics with a heart-shaped backrest and cushioned seat.
It is equipped with a 360-degree seat spin as well as an adjustable height feature that you can deploy by simply lifting it from 36 inches to 40 inches. This makes the makeup artist chair more flexible and comfortable for you.
The Impressions Heart 360 Degrees Vanity Chair has a sturdy construction, and its anti-skid pads prevent your floor from getting scratched unnecessarily. However, the classic look of this chair will enhance your makeup corner or environment anytime you use this unit.
Pros and Cons
What we liked
Multi-functional unit
Sturdy construction
Anti-skid pads eliminate worry about floor scratches
100 percent satisfaction guarantee
What we didn't like
Also read: Best Ischial Bursitis Pillow and Cushion [2021 Review and Buying Guide]
Buyers Guide: Factors to Consider When Buying a Professional Makeup Artist Chair
A Suitable Height
Do not mistake a director's chair for a makeup artist's chair, even though they bear great similarities.
Makeup artist chairs are somewhat higher than regular chairs and are designed to ensure the client's back remains upright but slightly lower than yours.
Since you will likely work with clients with different statures, experts usually recommend getting a double-height makeup chair.
Stability
The best makeup artist chair must be stable, ensuring the person sitting in it is comfortable, stationary, and safe.
Unstable makeup artist chairs make it practically impossible for you to do your makeup work neatly and in peace.
Therefore, make sure the makeup artist chair has a pretty stable base with tightly secured legs as well as a well-calculated center of gravity.
You will enjoy more benefits if the makeup artist chair comes with a well-crafted anti-tip system.
The Seat and Backrest
The seat and backrest of makeup chairs must not be made with simple cotton cloth because they deform easily. Such fabrics are prone to wear and lose color over time, making the makeup chair look dirty, unsafe, and unkempt.
The best material for a makeup chair's backrest and seat must be washable and breathable.
The finishes of these materials should be sewn, not stuck with glue. Using glue is a bad idea as it tends to dry over time, making the makeup chair lose its tightness.
Structure and Strength
The structure of the makeup artist chair must be ergonomic and safe. It must be hard-wearing, i.e., capable of withstanding decay, wear, and tear.
Indeed, the reinforcements, welds, finishing, steel screws, etc., all drive up the price, especially when they are well taken care of.
However, all these ensure the durability of the makeup artist chair and enhance your customers' high-security standards.
You can easily recognize poor-quality makeup artist chairs as they are not always 'straight' when you view them from behind.
Moreover, the two supports for the backrest may converge and put the makeup artist chair off-axis. This is an indication of incredibly poor structural quality.
Portability
The best chair for makeup artists must be user-friendly, i.e., easy to open and close. It should not come with several separate pieces that need to be attached or screwed, asides from the footrest, which is often provided separately.
It must be easy to carry, meaning that it shouldn't be too heavy. A good chair for a makeup artist should be equipped with a durable protective back for transportation.
It Must Be Highly Comfortable for You and the Client
The best chairs for makeup artists must be very comfortable for the customer and the makeup artist. This is vitally important as the makeup artist may get involved in very long makeup sessions.
In such cases, makeup artist chairs with adjustable and removable headrests are a blessing.
This unique feature enables your clients to relax while keeping their faces in the perfect positions for makeup application.
Some makeup artist chairs have foldable features with padded backrests and seats. A non-slip footrest is also very essential for comfortability.
Easy to Clean
As a makeup artist, your workstation is destined to be messy from time to time ad very quickly. This is why you should go for a makeup artist's chair that is easy to clean when there is a powder or foundation spillage.
Conclusion
The successful application of makeup is practically impossible if you don't use the best makeup chair. Using the right makeup chair reduces fatigue and promotes the entire makeup application process.
The best makeup chairs shared in this piece should make your job easier and efficient. Go through the reviews and make your choice according to your budget right away!