Need the best giant bean bag chairs for your living room or even your outdoor fun times? This list is all you need for the top-rated giant bean bags on the market.
Introduction
Organizing and being part of an outdoor get-together with family and friends can be fun.
However, you can enrich this experience by introducing the best giant bean bags, which bring the living room experience to the shores of a lake or a campsite. Everyone gets to sit comfortably to share stories and drinks.
Giant bean bag chairs became very popular in the 1960s as it provides adequate support to every joint.
It is also an excellent addition to any home and the top choice for young adults or teens. The original Sacco design was released in '69, though this versatile chair has been redesigned severally in order to match the latest trends and modern lifestyle.
From working at home to enjoying the home cinema, you can unwind and relax in pure luxury.
If you are in the market for modern bean bag chairs that are comfortable, aesthetically pleasing, and suitable for every individual, irrespective of age, you are welcome to the right page!
We have researched and selected the best giant bean bag chairs available today. Therefore, get set for the coziest seats of your life with any of these giant bean bag chairs.
The Best Giant Bean Bag Chairs of 2021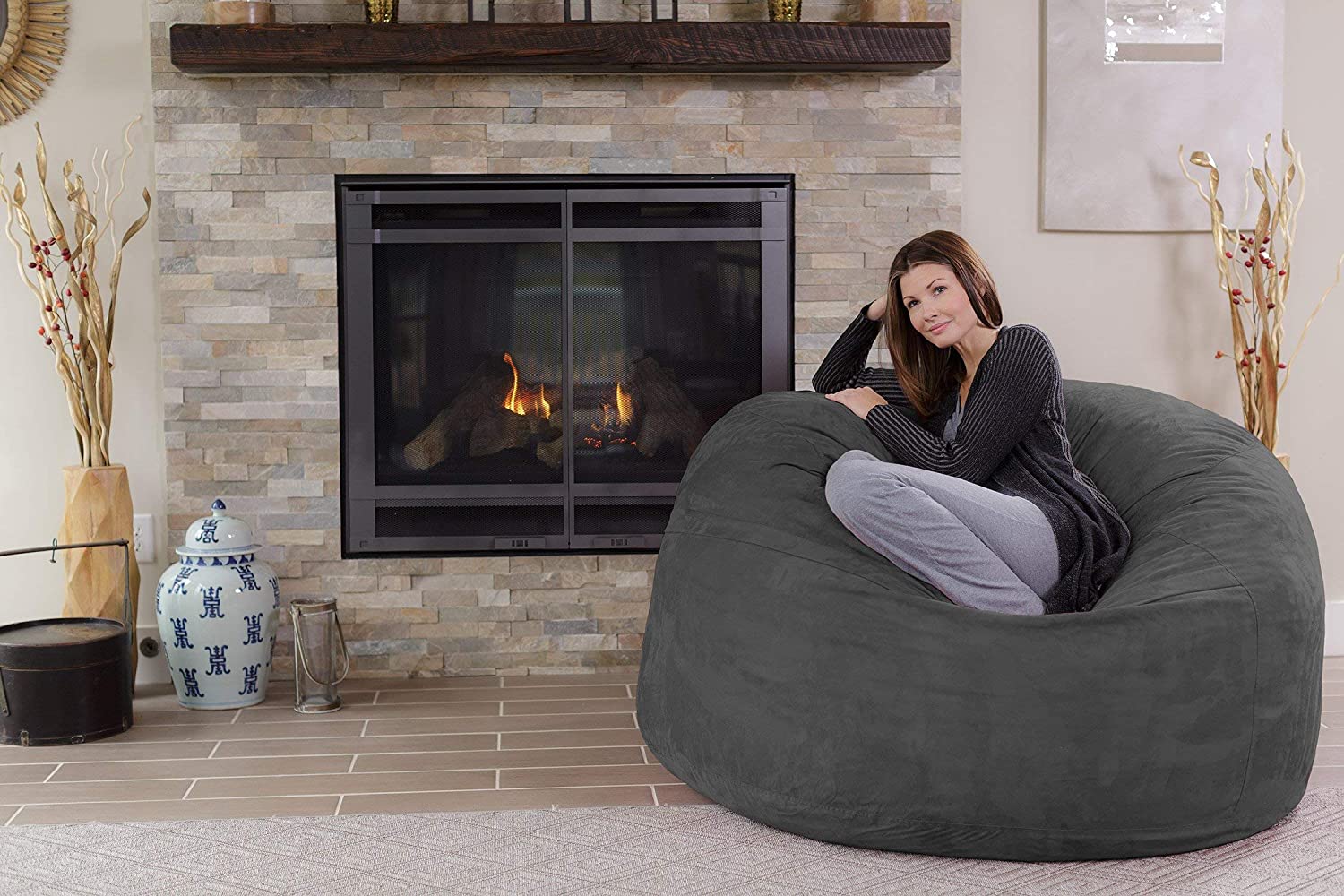 Looking to add some fun to your bedroom, dorm, or basement hangout? The Chill Sack Bean Bag Chair is your best bet. This super comfy form-fitting memory foam chair is ideal for children, teenagers, young adults, and even stressed-out adults
The Chill Sack Bean Bag Chair offers ultimate comfort as it comes covered in soft microfiber material. This cover is removable, machine washable, and highly resistant to discoloration and even stains.
This high-quality giant bean bag chair offers unmatched functionality and durability as it comes with double-stitched seams for extended use and extra strength. It always looks – and feels – brand new, bouncing back to its original shape, thanks to its shredded memory foam blend.
Pros and Cons of the Chill Sack Bean Bag Chair
What we liked
Excellent quality
Perfect price point
It is incredibly comfortable and breathable
Plenty of shredded memory foam filling that always puffs back up to its original shape after use
Soft, supple, and sensuous covers are highly resistant to discoloration and stains.
The removable double-stitched micro-suede fiber cover is machine washable and also resistant to discoloration or stains.
Ease of care and highly durable
Perfect dimension for relaxing in any room
What we didn't like
Customer service is not as responsive as expected
It comes with a chemical smell that will only fade with time
Some users would like the product to have a little more foam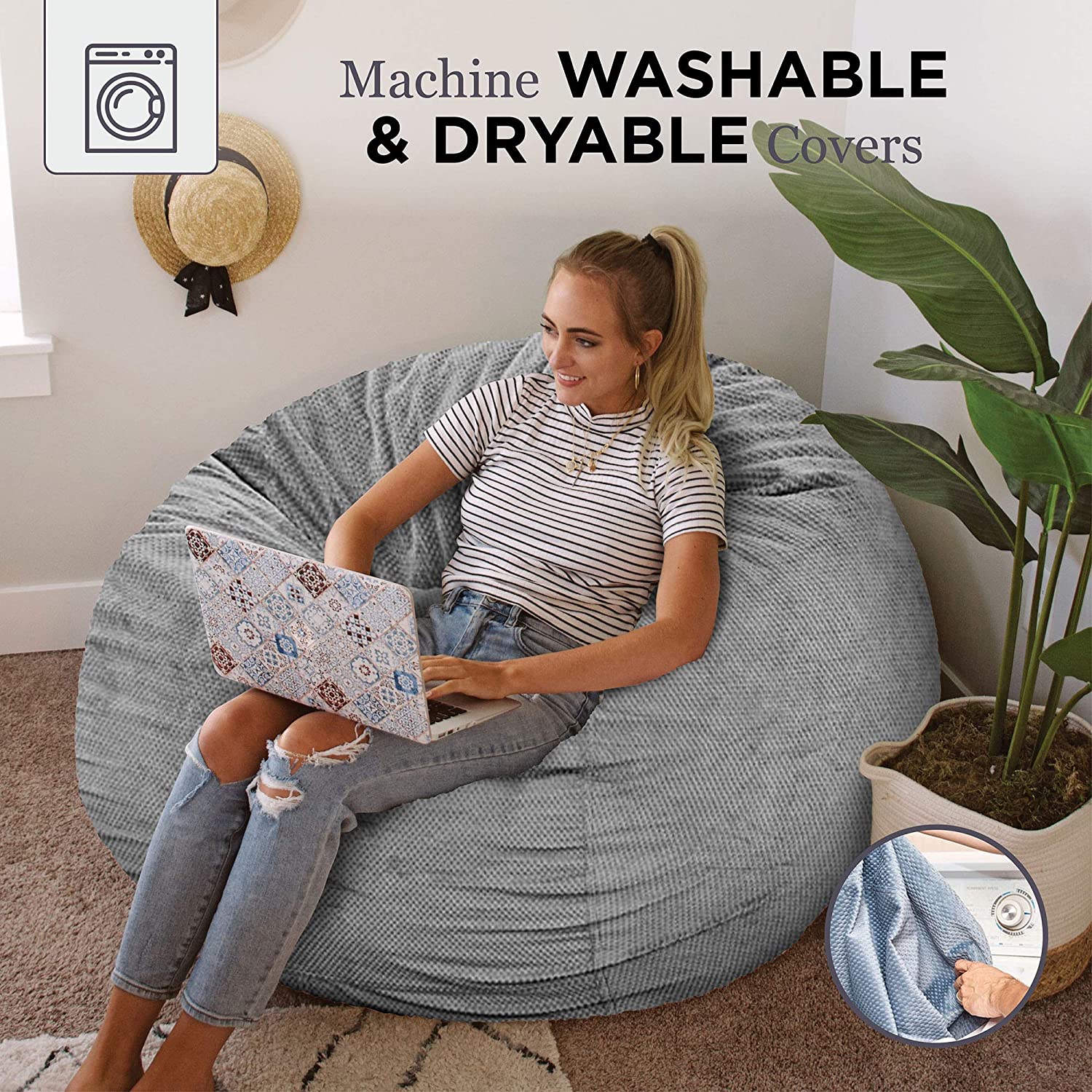 if you are having a lot of difficulty sleeping at night, it's probably because you have not used the CordaRoy's Chenille Bean Bag Chair. This giant bean bag chair is the perfect choice for children and adults. The sleeping solution and fun seating are ideal for your guest room, living room, basement, kid's room, etc.
The CordaRoy's Chenille Bean Bag Chair is convertible to a full-size bean bag bed within seconds. All you need to do is unzip its safe-lock zipper, get the cover out, and then flip the inner cushion. Fold and slide the cushion back into the cover in order to convert it to the original giant bean bag shape.
This giant bean bag chair is made of high-quality materials for your ultimate comfort. Its dimpled, super-plush microfiber cover is highly durable and will last a lifetime while maintaining its luxurious softness.
You can go for any color you like, though the charcoal black option beautifies any décor style.
The inside of this giant bean bag chair is filled with supportive and long-lasting furniture-grade foam that provides conforming comfort each time you read, watch movies, sleep, or hang out.
Pros and Cons of the CordaRoy's Chenille Bean Bag Chair
What we liked
Convertible chair, i.e., chair to bed in seconds
Comfortable foam filing
A great choice for family rooms, living rooms, entertainment rooms, etc.
Extra-long zipper for easy removal
The cover is soft and washable
Incredibly comfortable
Highly durable
100 percent polyfoam fill that never goes flat
What we didn't like
Customer care service is not impressive
You will need to give it some time to fluff
You need ample space for it, so it's not too suitable for people with small rooms or apartments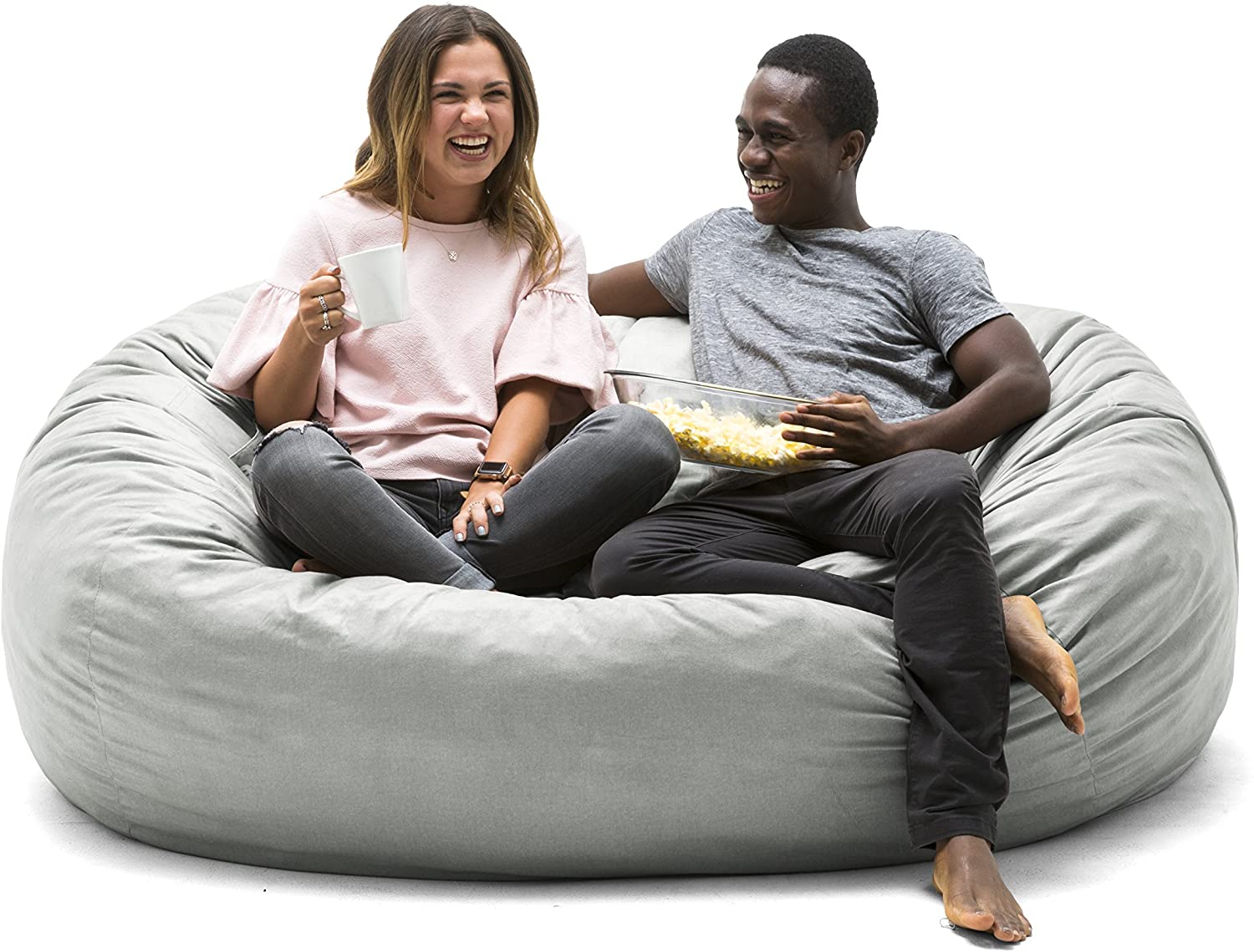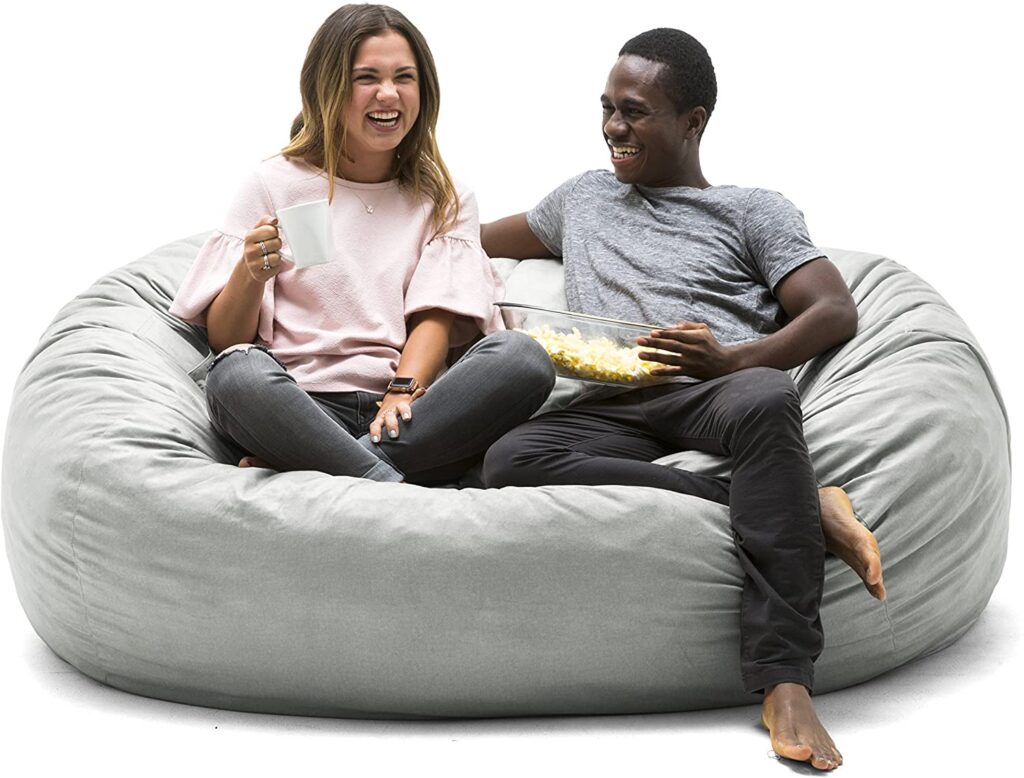 The Big Joe Fuf W/Liner is a patented giant bean bag chair that is currently making waves. It is a shredded foam-filled chair that never goes flat but will require up to 48 hours for expanding to its full glory, thanks to the homegrown technology from Grand Rapids, MI. This giant bean bag is built to last.
It has a safety-locked zipper, and its easy-to-remove – thanks to its sewn-in handles – washable cover is made of highly durable fabric. It even comes with a replacement cover, which is quite thoughtful of the product creator. The Big Joe Fuf W/Liner is created for your space if what you seek is an absurdly great comfort.
Give this giant bean bag chair a bit of time, and it will expand to its full, magnificent size within a few days.
Pros and Cons of the Big Joe Fuf W/Liner
What we liked
It never goes flat
It is incredibly cozy
Superior design without sacrificing comfort
What we didn't like
You'll need to allow it stay up to 48 hours before use to allow it expand properly before use
It requires occasional tossing around in order to redistribute its filling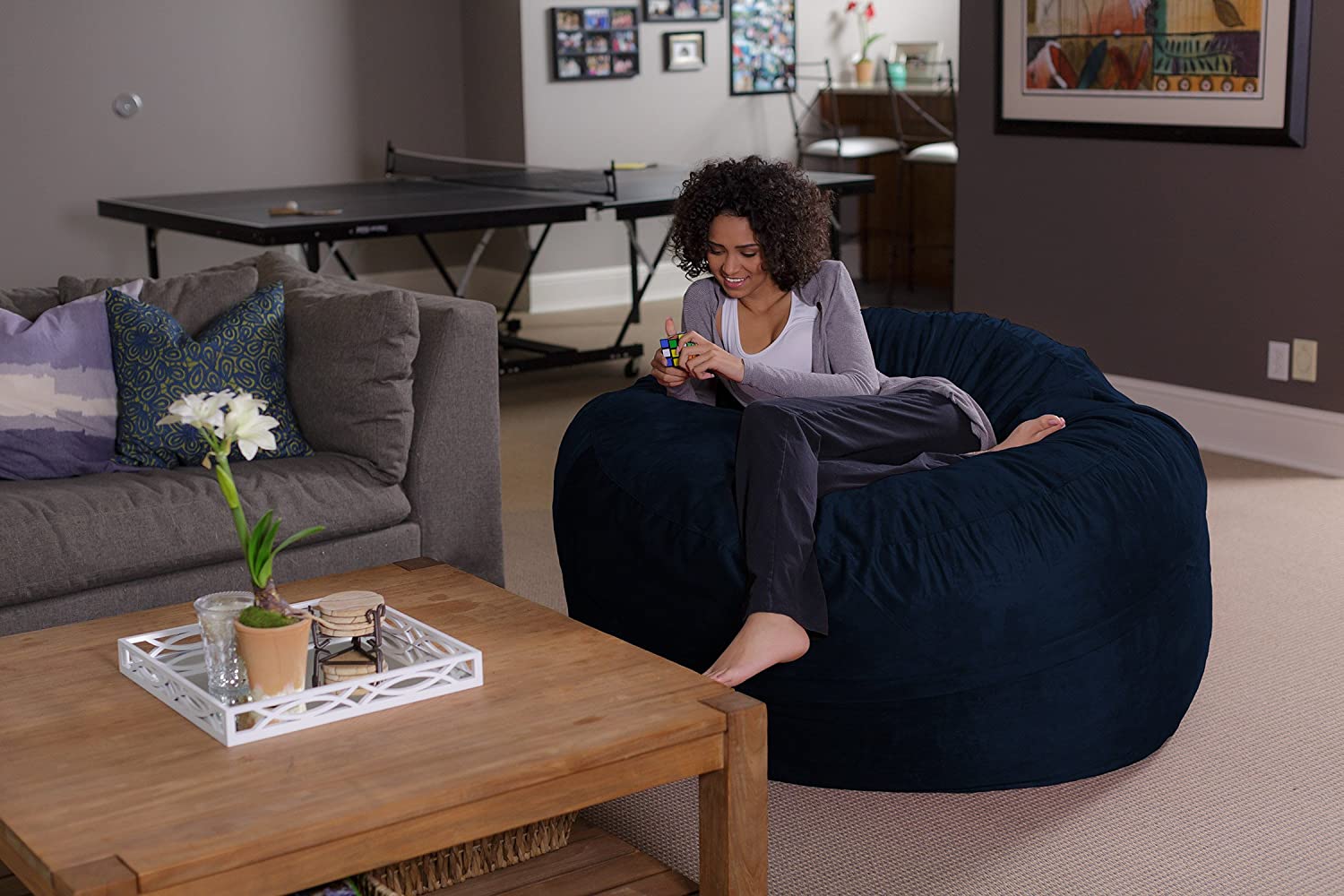 The Sofa Sack – Plush Ultra Soft Bean Bags Chair is built to last as it comes with a furniture-grade memory foam blend that delivers more comfort than other bean bags in this category
This giant bean bag – which comes equipped with double-stitched passion suede – is soft and simple, making it an excellent addition to every playroom, nursery, basement, etc.
It is easily accessible and much lighter than even some recliners. The Sofa Sack – Plush Ultra Soft Bean Bags Chair is the perfect choice for game night, reading, cuddling, or movie night.
This giant bean bag chair is available in all sizes and colors, as well as an excellent choice for classrooms, daycares, study rooms, etc.
Pros and Cons of the Sofa Sack – Plush Ultra Soft Bean Bags Chairs
What we liked
It is very comfortable
Great value for money
Affordable
Sturdy and durable cover
Built to last
What we didn't like
The inner memory foam is not CERTI-PUR US grade foam, i.e., it is a low-grade foam
It has a strong chemical smell that eventually goes away only after 48 hours
Inconsistent colors
Also read, The 5 Best Small Ottoman for Your Living Room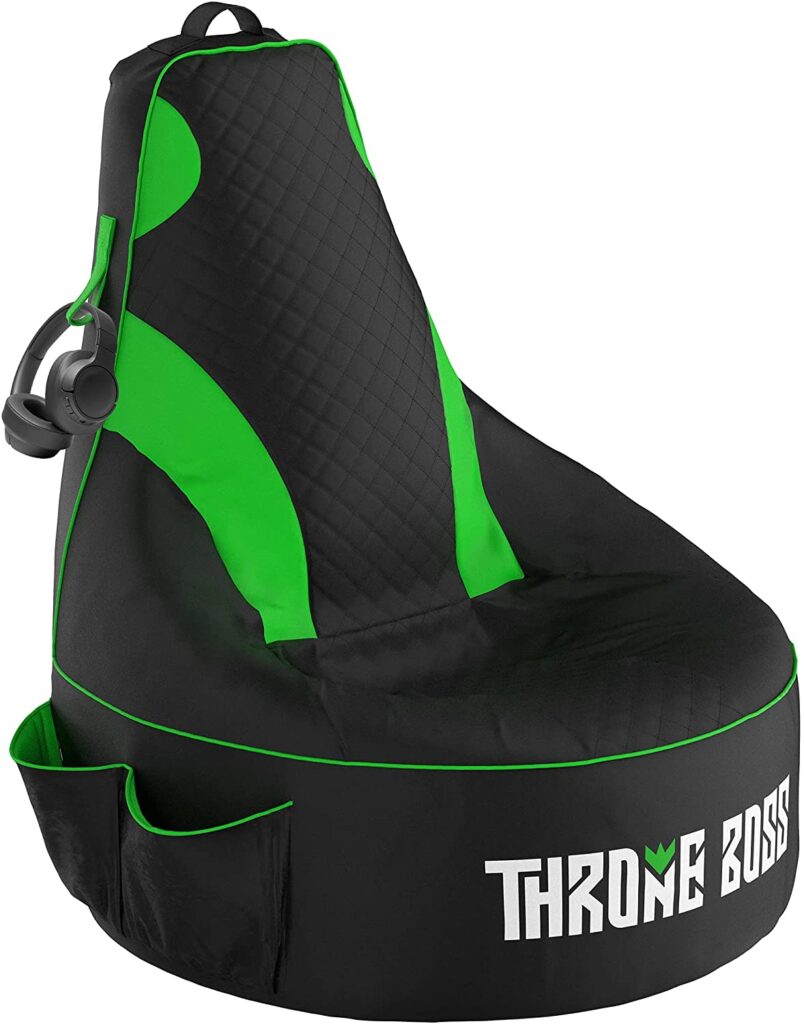 The Gaming Bean Bag Chair for Adults is just a bean bag chair cover only, i.e., it does not contain any beans or filling. That means you will have to fill it with your choice filling option. You can check out the 'Buying Guide' section to read more about filling.
However, the filling is quite easy, thanks to the built-in extended chute and the video instructions that come with this product. You may have to buy up to 300 liters of beans to fill up this Gaming Bean Bag Chair for Adults.
One thing you will never forget or doubt is the extreme comfort that this product provides. Most bean bag chairs come halfway up your back. But the Gaming Bean Bag Chair for Adults gives you extra back – up to 40 inches – and comforting neck support. That means you can sit or game for several hours without experiencing any sweating feeling.
The Gaming Bean Bag Chair for Adults is not designed only for gaming. You can use it as a floor gaming chair, comfy chair for boys or teen girls' bedroom, lounge chair for dorm or bedroom, etc.
It is made with Oxford 420D waterproof fabric, which ensures that it can be used outdoors at the poolside. It is also easy to wipe clean with only a damp cloth.
Pros and Cons of Gaming Bean Bag Chair for Adults
What we liked
Sturdy product
It offers extreme comfort
Multi-purpose use
Lots of pockets
Carry handle makes it easy to transport or move
Easy to wipe clean
Strong waterproof fabric
What we didn't like
No bean bag stuffing or filling
You'll need to buy the stuffing separately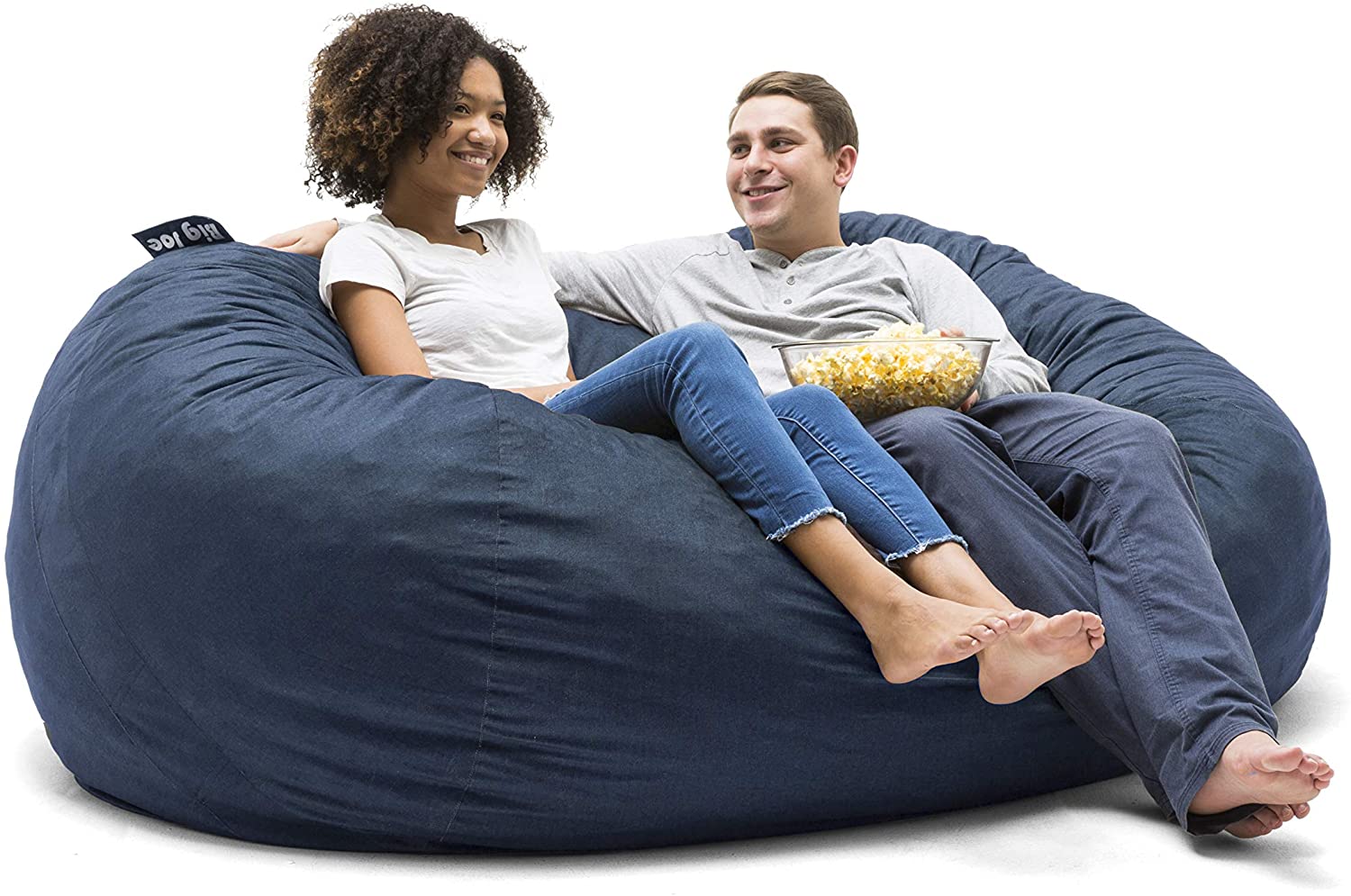 The Big Joe Lenox Fuf Foam Filled Bean Bag comes filled with patented shredded foam so that it never goes flat.
You will never need to refill the bag, thanks to the technology. All you need to do to revive your chair is by tossing it around, and its original glory is restored.
The Big Joe Lenox Fuf Foam Filled Bean Bag also showcases superior design. It has a highly durable – and very easy to spot-clean – fabric in trendy colors.
Users have described the Big Joe Lenox Fuf Foam Filled Bean Bag as the coziest or most comfortable chair in the world. It is heavier and more substantial than bean-filled chairs, offering you the best seat in any room in your home.
Pros and Cons of Big Joe Lenox Fuf Foam Filled Bean Bag
What we liked
Incredibly cozy
It never goes flat
Perfectly sized option
What we didn't like
It is huge and heavy, making it almost impossible to move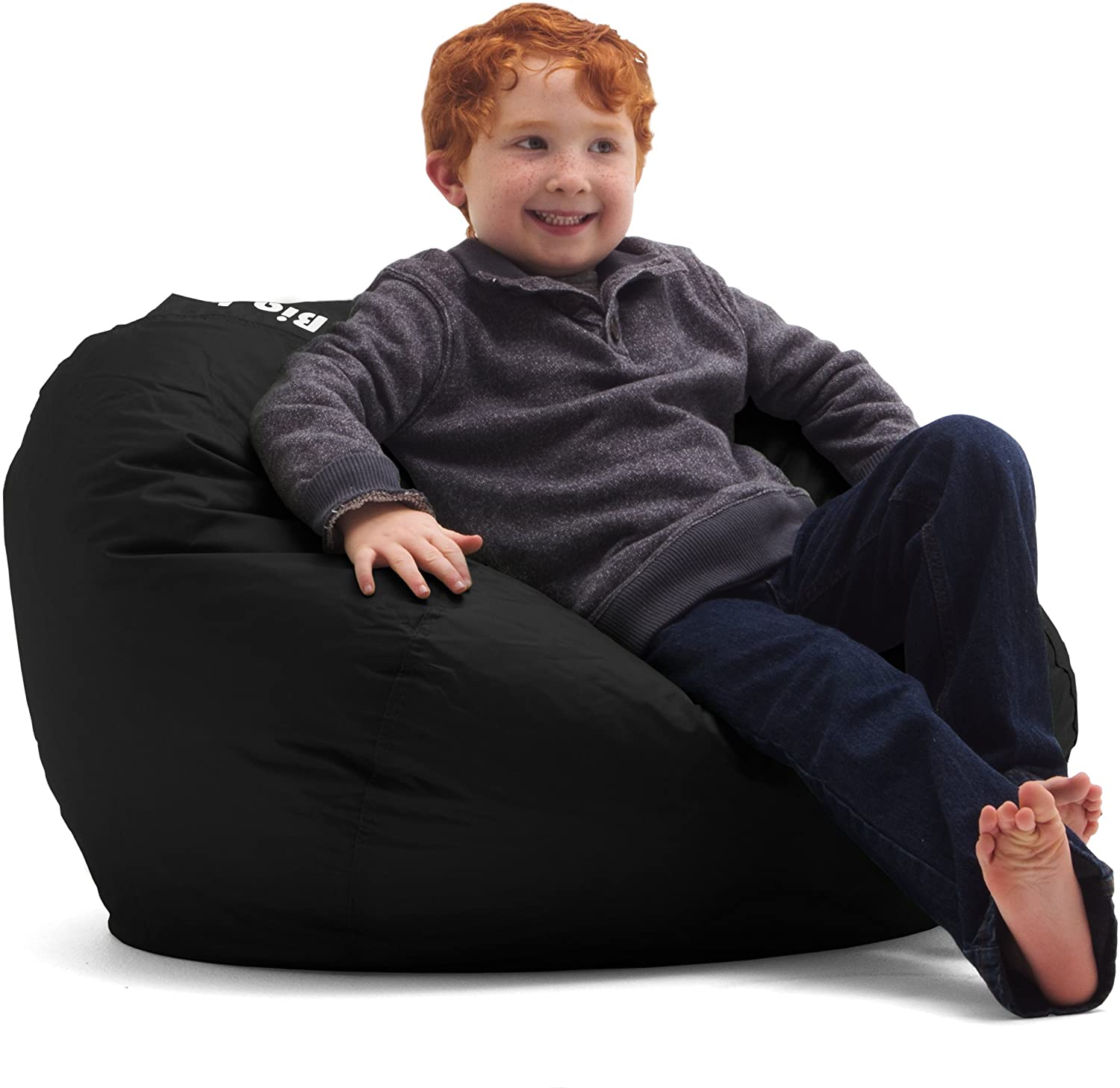 If you are looking for a classic, the Big Joe Classic Beanbag SmartMax is an excellent budget option. This giant bean bag chair is covered in stain-resistant and highly durable SmartMax fabric that can easily be spot cleaned at any time.
The Big Joe Classic Beanbag SmartMax comes filled with a unique, scientifically identified amount of fill, making it super comfy when you sit on it. This giant bean bag is designed with kids in mind, and its proportions are perfect for children.
When needed, you can always buy bean refill bags – usually sold separately – in order to give this bean bag chair a pick-me-up as all bean bags end up compressing over time.
The outside zipper pull is broken off for durability and child safety reasons. So, if you have to open the bag, you should use a paperclip to pull it open. This product comes with detailed instructions displayed on the warning label carefully attached to the Big Joe Classic Beanbag SmartMax.
Pros and Cons of the Big Joe Classic Beanbag SmartMax
What we liked
It is comfortable
The material is easy to tolerate and smooth for SPD and ASD children
The outside zipper is broken off for durability and child safety reasons
It is covered with durable, patented, stain-resistant fabric
The non-removable cover can be spot cleaned when required
What we didn't like
Some users complain that this product is not filled with enough pellets
Some users say the stitching is awful
The cover is non-removable
Read 8 Best Lay Flat Power Recliners 2021 Review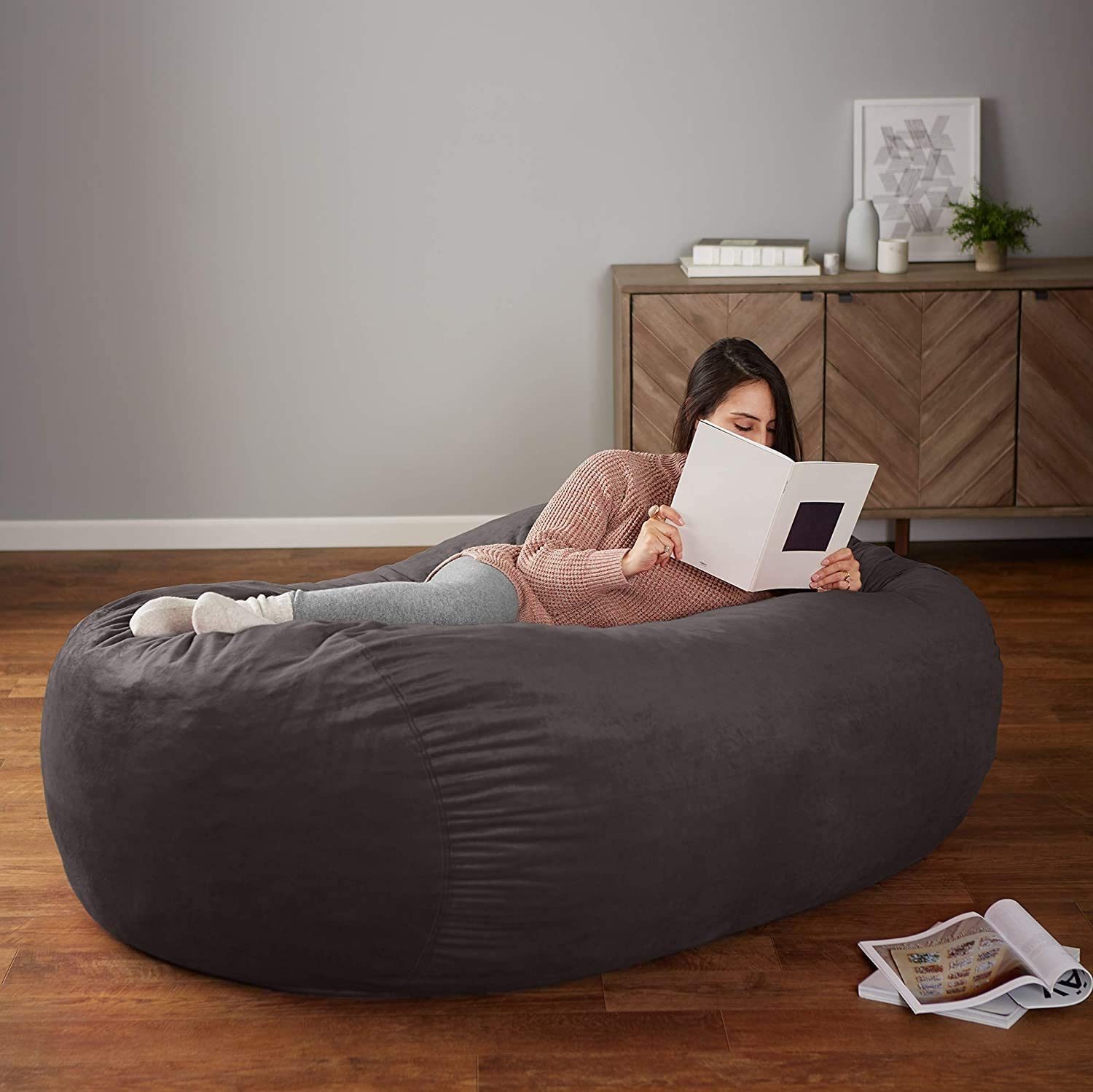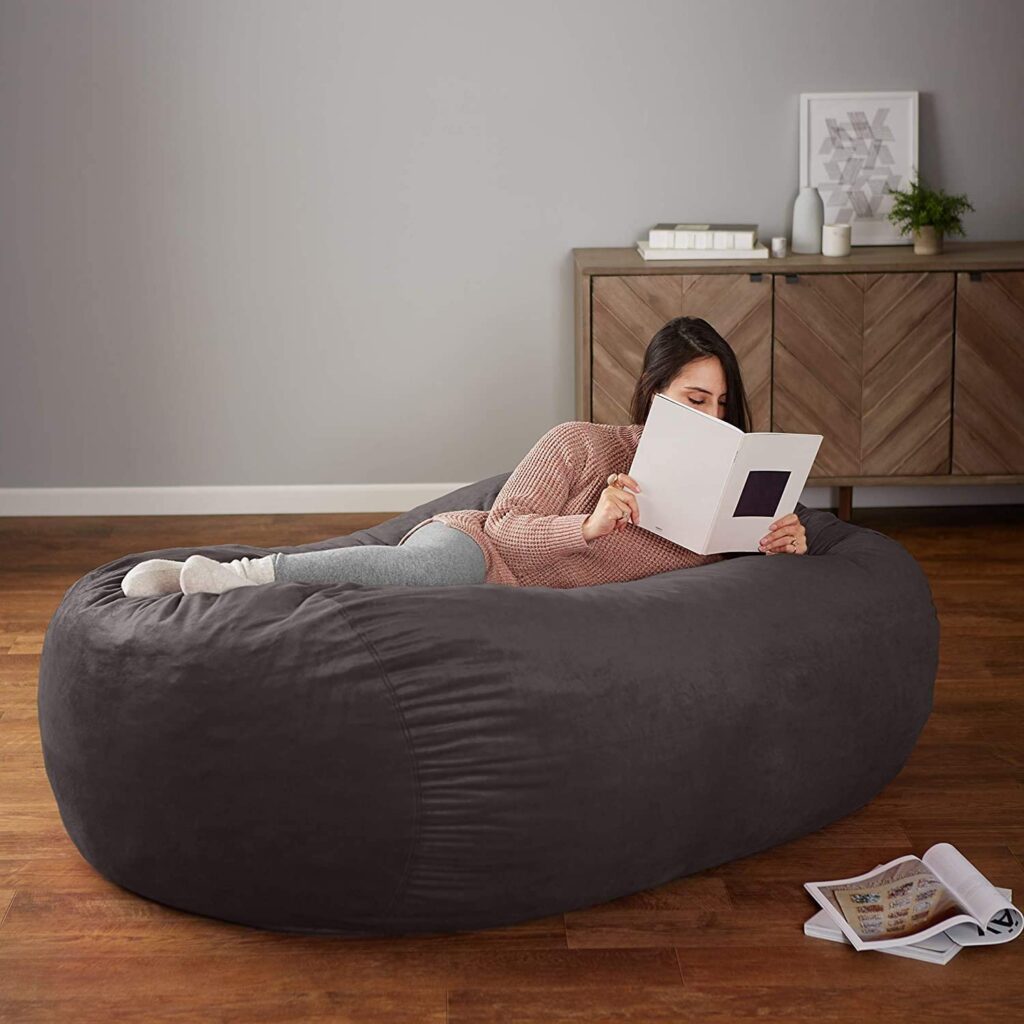 If you are looking for a microfiber bean bag lounger with an ultra-soft cover, look no further than the AmazonBasics Memory Foam Filled Bean Bag Chair. This bean bag chair is the real definition of a fun, retro design perfect for floor seating, watching movies, playing video games, and so much more.
This memory foam bean bag lounger is a cushy floor seat for both kids and adults, thanks to its sofa-style, retro bean bag design that easily conforms to the shape of your body. It is filled with soft and shredded memory foam that allows you to settle in for entertainment or work.
The AmazonBasics Memory Foam Filled Bean Bag Chair can take up space in your living room, playroom, or even your child's bedroom. It is an excellent alternative to the traditional day bed or couch. It is also built to last, thanks to its supportive structure.
Pros and Cons of the Amazon Basics Memory Foam Filled Bean Bag Chair
What we liked
It comes with an ultra-soft microfiber cover that is stain-resistant
Incredible awesome and super comfy
The excellent price point makes it affordable
It is built to last
It is aesthetically pleasing
Excellent choice for watching movies, floor seating, playing video games, etc.
What we didn't like
AmazonBasics does not cover you since replacement covers are no longer available.
AmazonBasics does not cover you if you need more filler. You will need to purchase fillers from a separate seller.
The bean bag chair doesn't ship totally full and will require additional filler in order to get the maximum dimensions.
Buying Guide: What to Consider Before Buying the Best Giant Bean Bag
Bean bag chairs are excellent modern additions to your office or home. However, choosing the ideal kind for your space and use so that it won't wear out within a short time is one of the major challenges most prospective buyers face.
You need to choose a bean bag chair that is also practical, and that is why you should focus on the following factors when searching for the best option:
Shape
The overall shape and size of your bean bag chair are the first considerations to bear in mind. The chair you choose will depend primarily on the purpose you want it for.
If your goal is to augment the furniture in your living room, the best bean bag chair option is the L-shaped or armchair design. Another excellent choice is the two-seater bean bag couch for those who want to share.
However, if the bean bag chair you are searching for is for your kid's playroom, opting for a pear-shaped, easy-to-move one with handles is the best.
Support
The amount of support a bean bag offers will vary and depends significantly on its filling. Different fillings – such as ground polystyrene foam, buckwheat grains, EPS (expanded polystyrene) beads, shredded foam, etc. – are used for bean bags.
The most popular and common choice is expanded polystyrene beads since they are inexpensive, lightweight, and easy to move around.
Polystyrene beads provide the least support because they shift easily when compressed. Shredded memory foam is another excellent option as it offers great support, though it is somewhat expensive.
However, a bean bag chair with shredded memory foam will require fluffing and rotation from time to time in order to maintain its full appearance.
Fillings
As mentioned briefly earlier, various fillings for bean bag chairs exist. Many bean bag chairs come with polystyrene filling, somewhat like a dense pellet that looks like Styrofoam. But the best option is shredded memory foam filling.
However, the shredded memory foam is off-cuts from the manufacturing of furniture, so this makes it much better for the environment. This filling also mixes excellently well with expanded polystyrene beads if what you want is a combination.

Natural grains are not so ideal as filling for bean bag chairs as they are expensive, heavy, and even attract pests easily. Ground polystyrene foam, on the other hand, goes flat and wears out quickly.
Materials
The choice of materials for bean bag chairs may have something to do with aesthetics, but that is not all. It is essential for you to look beyond beautifying your space with a bean bag chair style that looks nice. The material must be practical so that it lasts.
The two most common fabrics used for making bean bag chairs are faux leather and soft polyester.
Bean bag chairs made with faux leather are better suited for the outdoors, even though you should not leave them out in the elements. They are somewhat easier to clean, especially if you have pets or kids. Bean bag chairs made with soft polyester are good for indoors.
The ideal thing is to have a bean bag chair design with inner and outer layers. The inner layers hold the fillings or beans, while the outer layer can easily be removed for washing.
Lastly, bean bag chairs with waterproof options are perfect for use around any wet area, especially swimming pools, etc.
Stitches and Zippers
The weakest points on a bean bag chair can be found in the zippers and stitches. Therefore, search for double-stitched seams of excellent quality because they are far less likely to bust out suddenly when you sit down a bit too hard.
You should also go for a bean bag chair with an inner layer that holds the filling and a removable outer layer that you can wash from time to time. Ensure both layers have excellent stitching as well as overlocked hems that enhance their security.
As regards zippers, ensure they are concealed beneath a flap of fabric in order to prevent scratching your floor or getting damaged in some way. Outdoor bean bag chairs should have strong zippers with wide teeth that are less likely to corrode or rust.
Lastly, the zipped opening is sizable and well-positioned enough to be very practical for removing the outer cover when required.
Functionality
Your bean bag chair must suit your needs, or else it's a bad investment. A structured design is a great choice if your goal is to use the bean bag as a coach or part of your workstation. It's even much better if the bean bag chair comes with a laptop table.
But if all you want is to read a book, take a nap, watch TV, or lounge around, then what you need is a laidback, oval, or round bean bag chair. The same option is perfect for outdoor. The best choice for lounging by the poolside is the more bed-shaped, waterproof fabric design.
Size
The size of the bean bag chair is also vital and must be considered. This will depend significantly on the available space and the purpose for use.
Bean bags that serve as sofas that can hold at least 2 people are available. You can also stretch out full-length easily on such sofas. However, these bean bags will take up a lot of space.
The more structured the bean bag chair, the less spread you will enjoy or get when putting it to use as they hold their shape much better than other versions. The bean bag size you choose also dictates how much filling will be required, especially if it is not included in the package.
A bean bag chair must be filled just enough to be practical. Overfilling it may result in a sudden bust that will litter your space with the chair's filling. You don't want that to happen to you in any way, so avoid overfilling your bean bag chair.
Check out 7 Best Reclining Sectional Couches Review 2021
Conclusion
So, what are you thinking right now about the best giant bean bag chairs highlighted in this review? These are the most searched and purchased giant bean bags on Amazon available online today.
All products showcase supreme quality, brilliant craftsmanship, and exceptional designs with one goal; to provide ultimate comfort to every customer. This is why it is somewhat difficult to specify a product that is good or bad.
Therefore, your budget, purpose, or needs will help you make the right buying decision. Go through the reviews again, and buy the best giant bean bag that appeals to you!