Bar chairs or stools have become a sought-after piece of furniture for household use. For those who have a bar at home or require chairs at their kitchen counter, bar stools are exactly the right accouterment that you need. They are perfect for entertaining friends and family.
Bar chairs are very useful at home and they can help you to maximize your space. They are great for when you need an entertaining countertop or when you want to manage your limited space. So, instead of getting a dining room table and chairs, you can just get a few bar stools by your countertop. They occupy less space and you won't have to spend any extra cash on a dining table.
Whatever it is that you're outfitting for in your home, whether it is your breakfast counter, Kitchen Island, a high-top table, an indoor or outdoor bar, you will need a great bar chair that not only offers comfort but also allows you, your family and friends to sit in style.
But all bar chairs are not designed the same way. They come in different heights for bars and counters. There are some with backrests and some without. Plus, some are created with a more stylish design than others. How do you know the right kind to pick?
You don't need to go through too much trouble to find the right bar chair for your home. We've done most of the work for you. We considered some factors from design to versatility to durability before getting our eight top picks.
Continue reading to learn all about them including things to have in mind when trying to pick the right bar stools for your home.
Our 8 Top Bar Chairs for Your Homes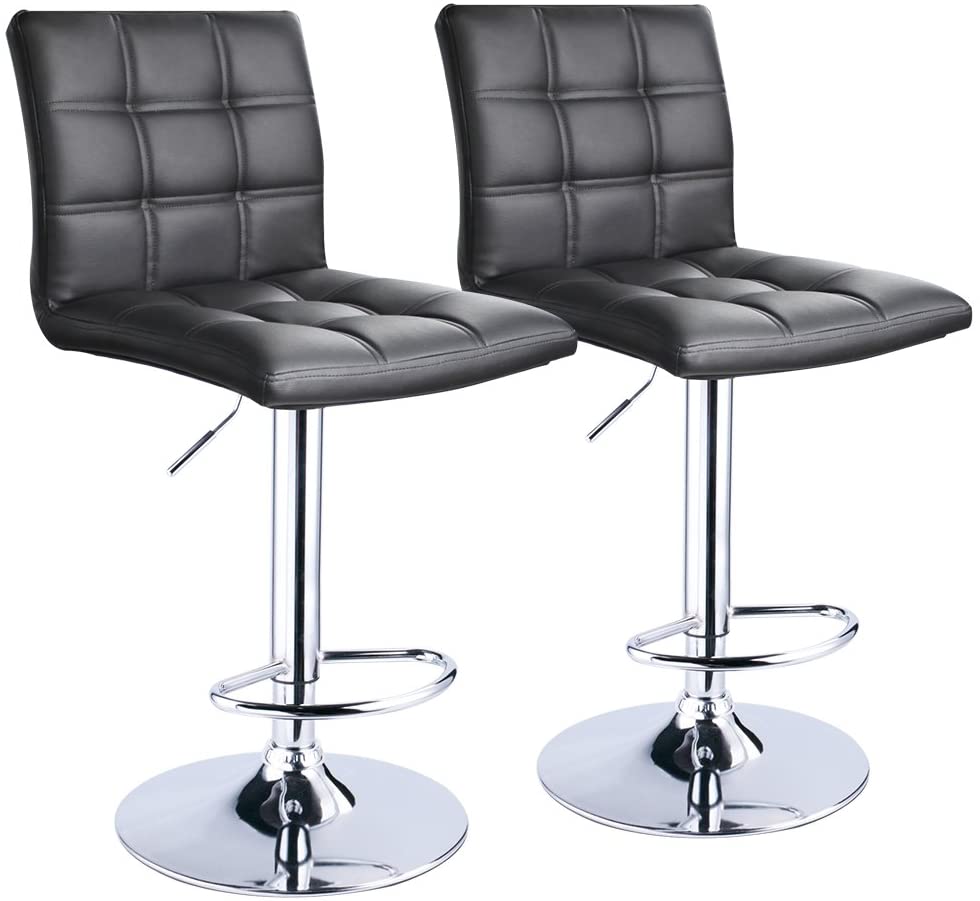 Made with the user in mind, the leopard outdoor adjustable bar stool is designed to provide comfort and luxury in your home. It has a sturdy construction and an elegant look that goes perfectly with any décor.
Its contemporary style and comfortable design deliver a comfortable sitting experience whether you're sitting in the kitchen, dining area, or at your home bar. Its quilted design finishing provides a modern chic appeal.
It is stuffed with high-density foam to ensure comfort and upholstered in faux leather which gives the stool a posh look and is wear-resistant and breathable.
Below the seat of the stool is a polished chrome base that swivels up to 360° with a footrest attached to it for users to rest their feet comfortably. The bright plating chassis has a non-slip rubber ring at the bottom that does not scratch the floor.
This stool is all about comfort and convenience accompanied by style. It comes in a set of two and has a backrest to provide the user with more support and comfort. It also includes a height-adjustable feature. With its air-lift handle, you can easily adjust the height of the stool in a smooth transition from counter to bar height at your convenience.
Technical Details
Dimensions: 16 x 15 x 43.5 inches
Weight: 14.99 pounds
Material Type: faux leather
Weight Capacity: 250 pounds
Seat Height: 31.5 inches
What We Love About It
Height adjustable seat with airlift
High-density foam
Fits a variety of occasions
Chrome base with footrest
360° swivel
It is easy to assemble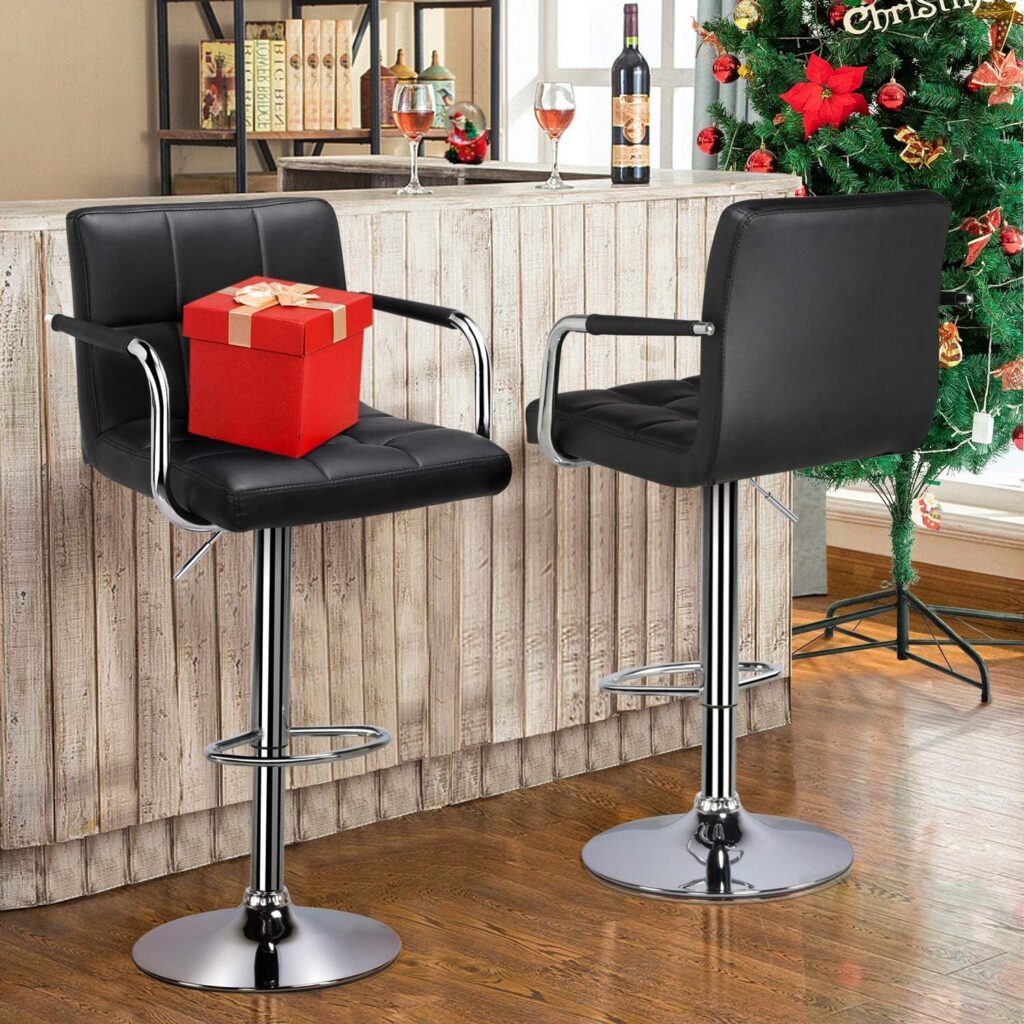 With the elegant posture of the Yaheetech bar stools, you can create a simple and yet classic atmosphere in your kitchen, dining room, or bar. This set of two bar stools has padded seats, padded back, and armrests which make them perfect for relaxation. They support long-term sitting and ensure that you are comfortable while seated.
The seats are filled with high-density sponges while the armrests have coverings made of leather for a comfortable seating experience. The counter height stools fit perfectly with your kitchen counter, and also go well with your home bar.
To provide you with extra comfort, there are footrests attached to the base where you can rest your feet conveniently. These stools have a PU leather finishing that ventilates easily, is age-resistant, wear-resistant, waterproof, and easy to maintain. In case of liquid accidentally spills on it; you can easily clean it with a damp cloth.
The stools have a sturdy leg and a bigger base that is made of plating steel which gives a shining look and better resists rust and corrosion. They also support flexibility with their 360° rotation and seat height adjustability. With the high-quality gas lift handle located under the seat, you can adjust the seat height from 55cm/21.7" to 76cm/29.9".
Technical Details
Dimensions: 20.7 x 19.5 x 36.2 inches
Weight: 42.81 pounds
Material Type: PU leather, steel, iron, and sponge
Weight Capacity: 331 pounds
Seat Height: 21.7-29.9 inches
Seat Size: 17.1 x 15 inches
What We Love About It
Height adjustable seat with high-quality gas lift
Thick foam padded seat and back
Leather-covered armrests
High-quality galvanized steel footrest
Smooth chrome-plated metal base
Bottom non-slip rubber ring
360° rotation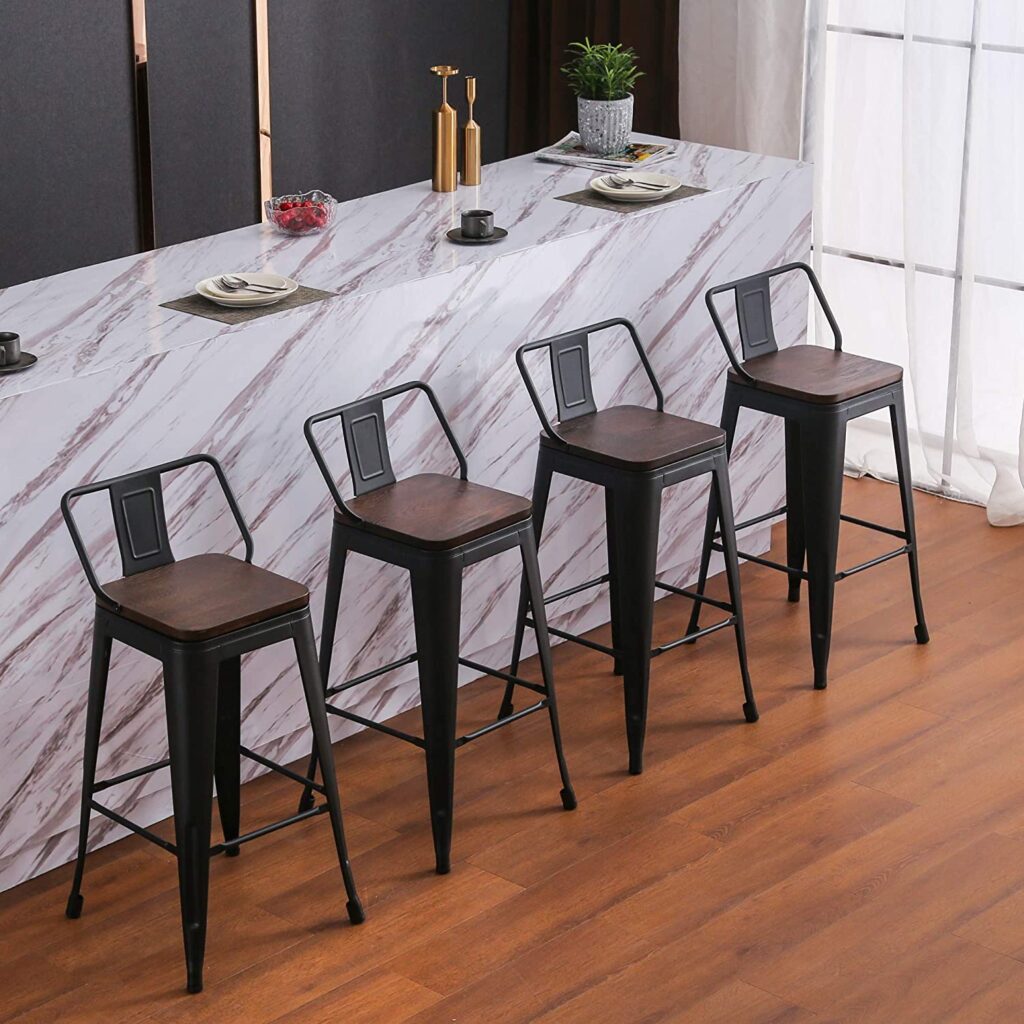 Available in a set of four, these bar stools resonate with traditional and industrial settings with their simple metal frame and wooden seats.
The Yongchuang metal bar stools adopt a modern industrial design that adds a classic yet contemporary appeal to your home wherever you decide to place the stools, whether in your dining room, Kitchen Island, breakfast bar, or home bar. The stools are also perfect for the living room, café bar, office, bistro, patio, or restaurant.
The stools come with backs that can be detached from the seat. When the stools are backless, they can be stacked to allow easy storage. The metal footrest around the stools allows you to relax your feet and gives you a comfortable foothold.
They are constructed with solid wooden seats and a top-quality lightweight metal frame with an x-brace under the seat to ensure additional support and better stability. The rubber foot caps protect the floors from damage. The wooden seats are durable and suitable for any time of the year. They are also very easy to maintain.
You can get the Yongchuang metal bar stools in a variety of colors from black to gunmetal, to matte black, silver, white, and distressed color. You also have the option of choosing from three different height options from 24", to 26" and 30" so that you can get the best height for your counter or bar table.
Technical Details
Dimensions: 15.6 x15.6 x 31 inches
Weight: 50.7 pounds
Material Type: wood, metal
Weight Capacity: 330 pounds
Seat Height: 24 inches
Seat Size: 12.2 x 12.2 inches
Backrest Height: 7 inches
What We Love About It
Solid wooden top suitable for all weather
Detachable back for stacking and easy storage
Metal footrest
Metal frame with x-brace
Rubber foot caps
Suitable for any occasion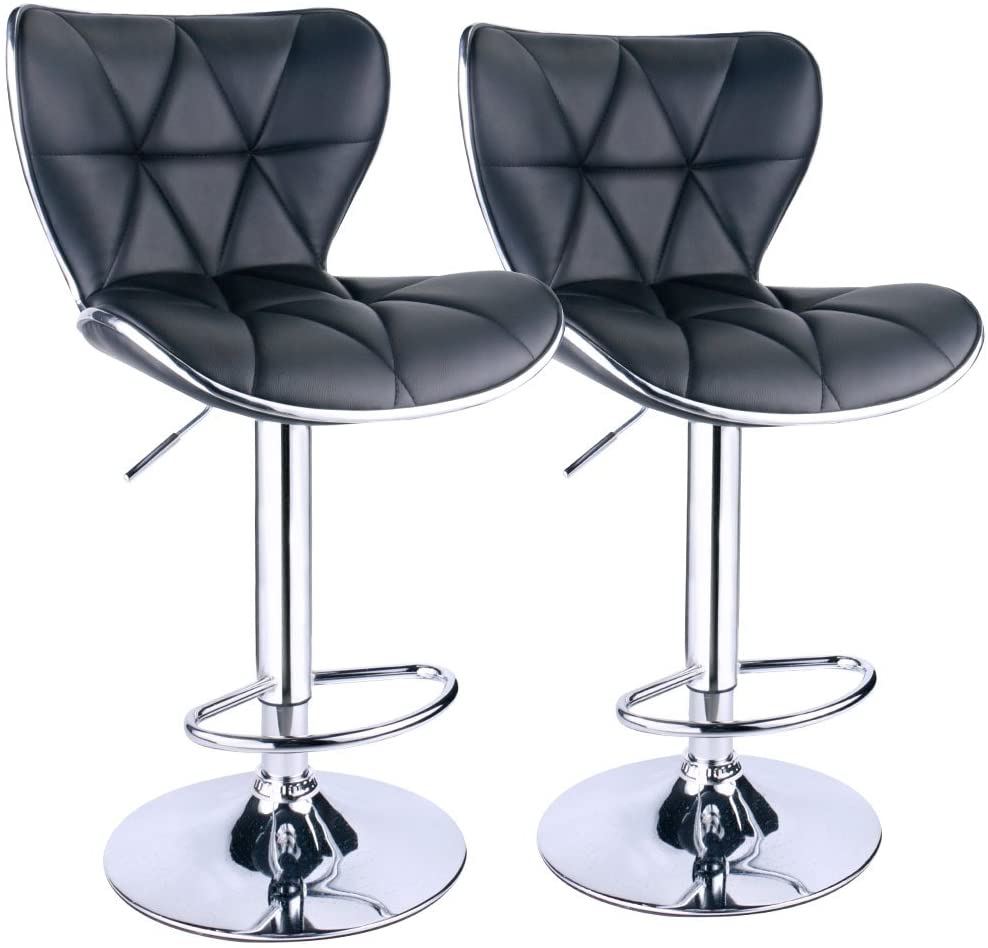 This set of two stools speaks class. The leopard shell back stools are fashionably designed and are sure to stand out anywhere they are. These stools deliver an appealing aura and allow you to sit in style and comfort.
They look and feel just right, and go perfectly with any room décor be it your dining room, kitchen, bar, office, or entertainment center. They are super comfortable and help you sit in a poised manner without the worry of discomfort. The thickly padded seats and back ensure softness and provide a comfortable sitting experience.
These stools are a perfect fit for your bar counter. Nevertheless, you have the option of adjusting the height of the seat to find the best height that meets your needs. You can do this using the air-lift handle that allows easy height adjustment.
The barstools also feature footrests that help to support your feet. They have a chrome base with a bright plating chassis that ensures sturdiness and durability. The base comes with rubber that helps to protect the floor from ruins.
Although the chairs come in a set of two, they are however sold either in one or two pieces. Shoppers have the option of choosing the quantity they want. Buyers are advised to pay attention to the quantity when purchasing the bar stools.
Technical Details
Dimensions: 17" W x 15.2" D x 24"-32.5" H
Weight: 35.2 pounds
Material Type: PU leather, plastic, metal
Weight Capacity: 250 pounds
Seat Height: 43.5 inches
What We Love About It
Adjustable seat height with air-lift
Perfect for different occasions
Padded seat and shell back
Metal footrest
Built-in swivel seat up to 360°
Chrome base with rubber protects the floor
Easy assembly
Sold in one or two pieces and a variety of colors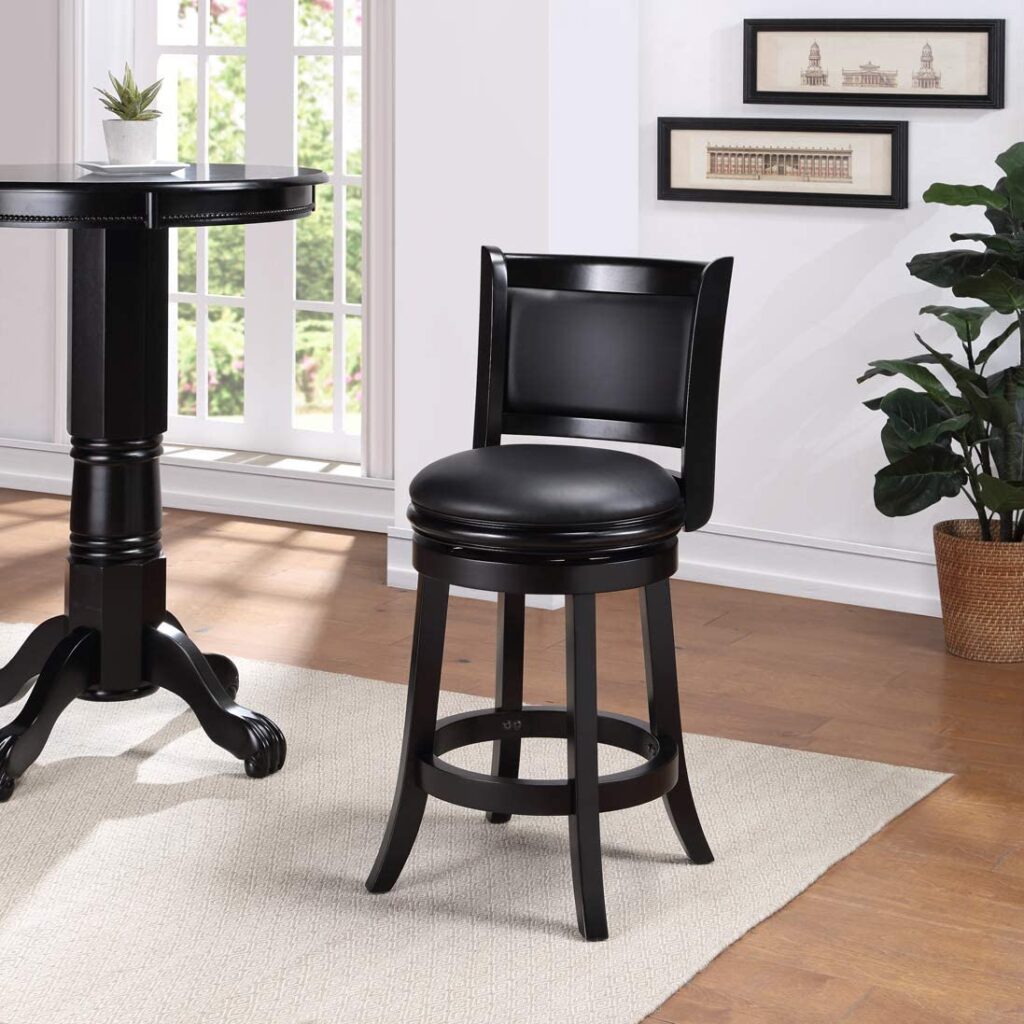 Boraam industries have been in the business of making furniture since 2001 and have a reputation for delivering high-quality furniture ergonomically designed for comfort and style, and at a reasonably affordable price.
The 24-inch bar stool has an updated classical design that looks modern and appropriate for any setting. It has a solid hardwood construction that supports everyday use.
It is one stool that offers comfort, durability, safety, as well as fashion. With its solid hardwood construction and stability stretchers on the base of the stool, it is sure to last for a long time and ensure that you get your money's worth. The stability stretchers also double as a footrest for leg support.
Filled with fire-retardant high-density foam in the seat and back, comfort and durability are ensured. The seat and contoured back are upholstered in faux leather. You can enjoy flexibility with the stool's round swivel seat that rotates up to 360°. It has a 360° steel ball-bearing swivel plate that promises durability.
The Boraam Augusta counter height swivel stool is an ideal choice for people looking for a premium look in their homes. It is great for your kitchen or dining room setup. And you don't need to worry about getting the chair to fit into your decorative style because it is available in three different colors. So you can pick the color that best suits your decor.
Technical Details
Dimensions: 18 x 19.5 x 38 inches
Weight: 25 pounds
Material Type: faux leather, hardwood
Seat Height: 24 inches
What We Love About It
High-density foam cushion
Solid hardwood construction
360° swivel seat
Durable footrest
Slightly flared legs for stability
Faux leather upholstery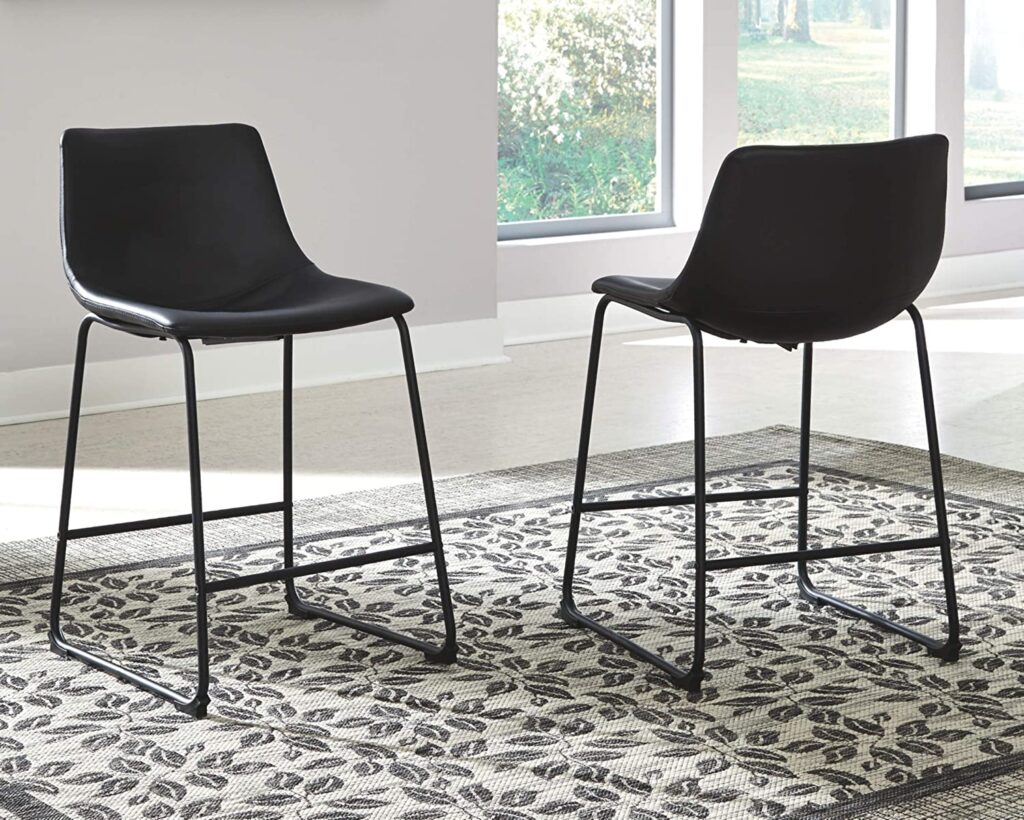 Give your home a timeless look with these 24-inch counter-height bar stools. Inspired by mid-century designs, these bar stools of counter heights add a charming appeal to the atmosphere. You can't go wrong with this set of bar stools.
Designed and manufactured by Ashley Furniture Industries, a prominent furniture-making industry that delivers quality, stylish, and affordable pieces for your homes, you can rest assured you're getting the best designs and quality for your home.
They come in a set of two with a distinctive contoured bucket seat design and a tubular metal base that is both stylish and functional. The base has a footrest to support and hold your feet. There is also a backrest that lets you sit and relax more comfortably.
The bucket seats and contoured backs are covered in French faux leather upholstery while the metal base is coated in black to give your kitchen island, breakfast bar, or dining room a cool vintage tone.
There's no need to think about how difficult it would be to assemble the stools. The package comes with an easy-to-follow instructional guide, as well as tools and hardware to make setting up the stools easy-breezy.
Technical Details
Dimensions: 19 x 19 x 35 inches
Weight: 12.54 pounds
Material Type: faux leather, metal
Seat Height: 24 inches
Footrest Height: 8 inch
What We Love About It
Contoured bucket seat with back
Tubular metal base with footrest
French faux leather upholstery
Easy-to-follow installation guide
Perfect fit for kitchen counter and dining table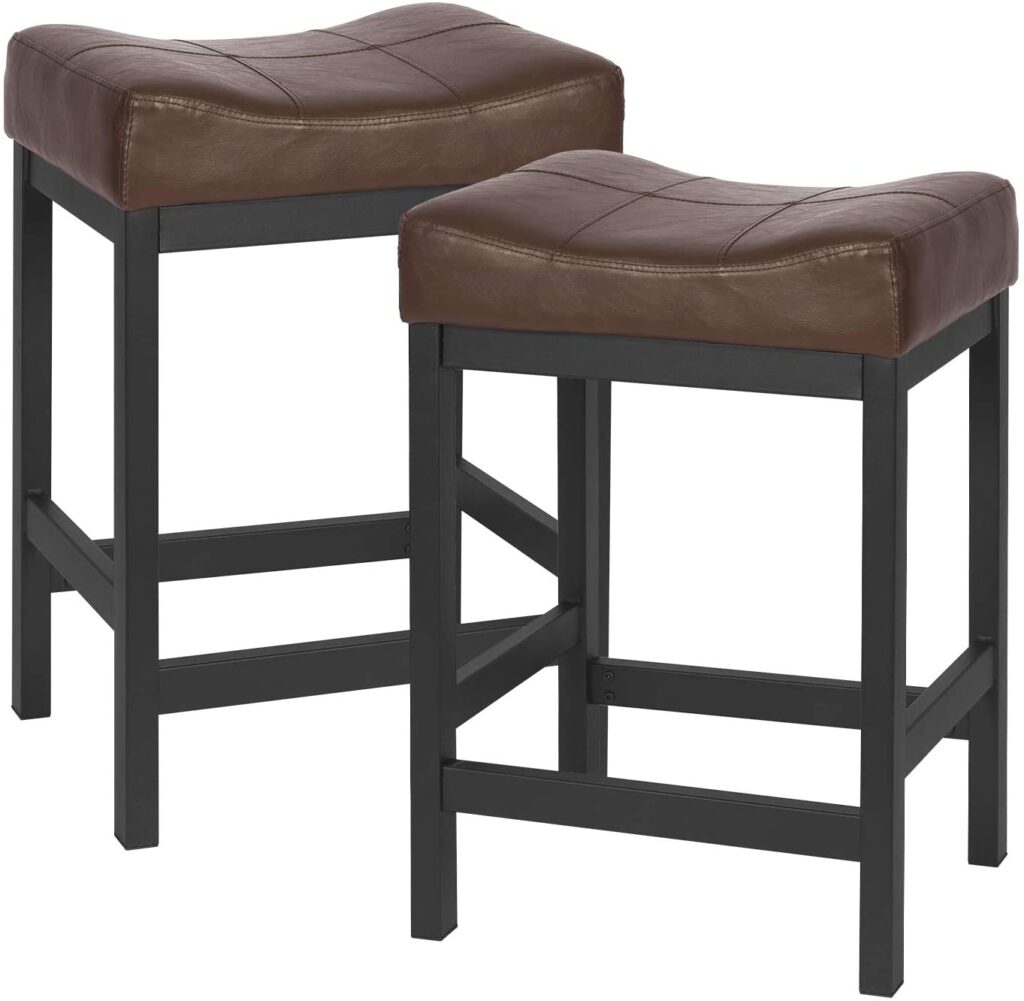 For Katdans, comfort, quality, and satisfaction are what's important. For 20 years and counting, they have manufactured top-quality furniture with unique constructions that people love to add to their homes. Among the many unique pieces is the 24 inch set of two counter-height saddle stools.
It has a unique ergonomic saddle seat, padded and topped with superior quality PU leather upholstery that supports long hours of comfort and durability. Its base is made of metal instead of wood for better stability and longer use. The foot pedals help to make the stool sturdy and give you a strong foothold.
These are versatile pieces of furniture that provide a simple, yet stylish seating arrangement to your Kitchen Island, breakfast bar, or dining room table. Plus, they're very easy to move around the house at times when you might need extra seating for your guests.
Technical Details
Dimensions: 12.5 x 18.5 x 24.75 inches
Weight: 28.3 pounds
Material Type: faux leather, metal
Seat Height: 24 inches
What We Love About It
Ergonomic foam padded saddle seat
High-quality faux leather covering
Sturdy and durable metal base
Built-in footrest
Floor protectors prevent scratch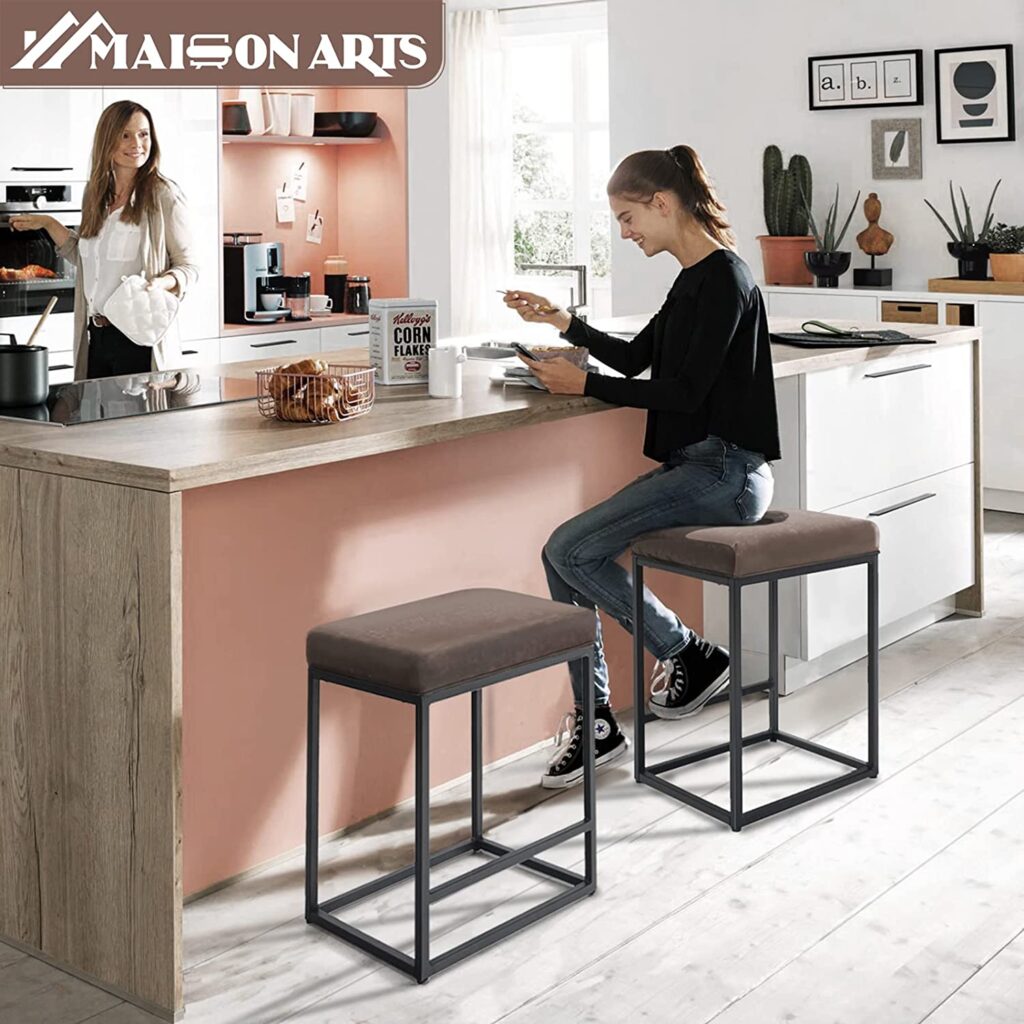 Maison arts counter height bar stools are perfect for a variety of occasions. They're an ideal choice for your kitchen counter, dining table, or home bar. They're versatile and hence can be used at homes, restaurants, bars, coffee bars, etc.
This set of two bar stools can act as a space saver for your homes as you can conveniently tuck them under the counter or bar for storage.
Stuffed with a thick and soft foam cushion, the stools are very comfortable to sit on and don't hurt on the butt. The built-in footrest ensures that your feet are supported while you're taking a seat. The backless seat of the stool has PU leather finishing that is anti-scratch, stain-resistant, and water-resistant. This makes the stools a lot easier to care for.
There's a solid metal frame with a footrest that makes the stools sturdy with the capacity to hold up to 330 pounds without fear of collapsing. The matte black powder-coated steel base is built to last and will look stunning in both modern and traditional settings.
Technical Details
Dimensions: 18.7 x 15.7 x 24 inches
Weight: 33.1 pounds
Weight Capacity: 330 pounds
Material Type: PU leather, metal
Seat Height: 24 inches
What We Love About It
Ergonomic soft foam cushion
Suitable for 34" – 40" height tables
Stable and durable metal base with a built-in footrest
Waterproof PU leather fabric is easy to clean
Anti-slip foot pads protect the floor
How to Pick the Right Bar Stools
If you're still confused about which bar stool to pick, here are a few tips to help you decide.
Choosing the Right Height
The first thing you should know is that there are counter height stools and bar height stools. You will need to know the right height that will fit your surface.
Counter height stools are usually around 24 to 27 inches high and are meant to be placed at your kitchen counter, while bar height stools are around 28 to 33 inches tall and are meant to be used at bar counters.
To know which stool will fit perfectly with your surface, you will have to measure the height of your counter. The right stool should be at least 10 inches lower.
Choosing the Right Design
Bar stools come in many different designs such as armrest or no armrest, backed or backless, swivel or no swivel. If you're looking to save space, backless bar tools will be a better choice because you can tuck them under the counter. If you're more focused on comfort, barstools with back and armrests will be most beneficial to you. A swivel stool will give you a more flexible and entertaining sitting experience.
Spacing
You may not be able to fit as many bar stools at your counter as you might think. To know the right number of stools that your space can take, you will need to give at least 10 to 12 inches between the sides of each stool. This will ensure that friends and family can sit comfortably next to each other without hitting elbows.
Choosing the Right Materials
You want quality and durability, and also easy to clean fabrics. Bar stools made of hardwood, metal, and plastic are sure to last for a long time. For upholstery, leather, vinyl, or canvas are more durable and a lot easier to take care of.