Are you trying to find some great bar chairs with backs that will take your kitchen, dining room, or bar to a whole other level? If you are, we've got exactly what you need right here!
Whether you're in the process of decorating your new kitchen or bar, or you want to revamp your existing kitchen, dining room, or bar setting, introducing new contemporary bar stools can help to transform your whole ambiance.
Bar Chairs with Backs Guarantees Comfort
One very important factor that should affect how you make your decision when shopping for bar stools is comfort. But people tend to focus a lot more on price and style rather than comfort.
Bar stools with backs are usually more comfortable than others. They provide support to the back which makes them more comfortable, especially if you or others will be spending a sufficient amount of time sitting on them.
Having a good bar stool with back support has now become essential especially with lots of people working from home and spending lengthy periods on their laptops.
This means that with a bar stool, especially one with back support, you can be sitting on your kitchen island while doing work on your laptop.
More so, you will find a bar stool with back support to be a lot more comfortable especially for those who will be spending a lot of time socializing at the bar or counter.
Bar chairs with back support can also help to alleviate backaches and reduce discomfort by encouraging good posture so that you don't slouch when you're seated. You can lean back and relax while enjoying a fun time at the bar, dining, or kitchen.
Also, since your bar stools will likely be used for eating, entertaining, working, or doing homework, you will want something comfortable, durable and fashionable as well.
Take a look at our 7 favorite bar chairs that are not only stylish but feel very comfy and offer excellent support to the back.
Our 7 Favorite Bar Chairs with Back Support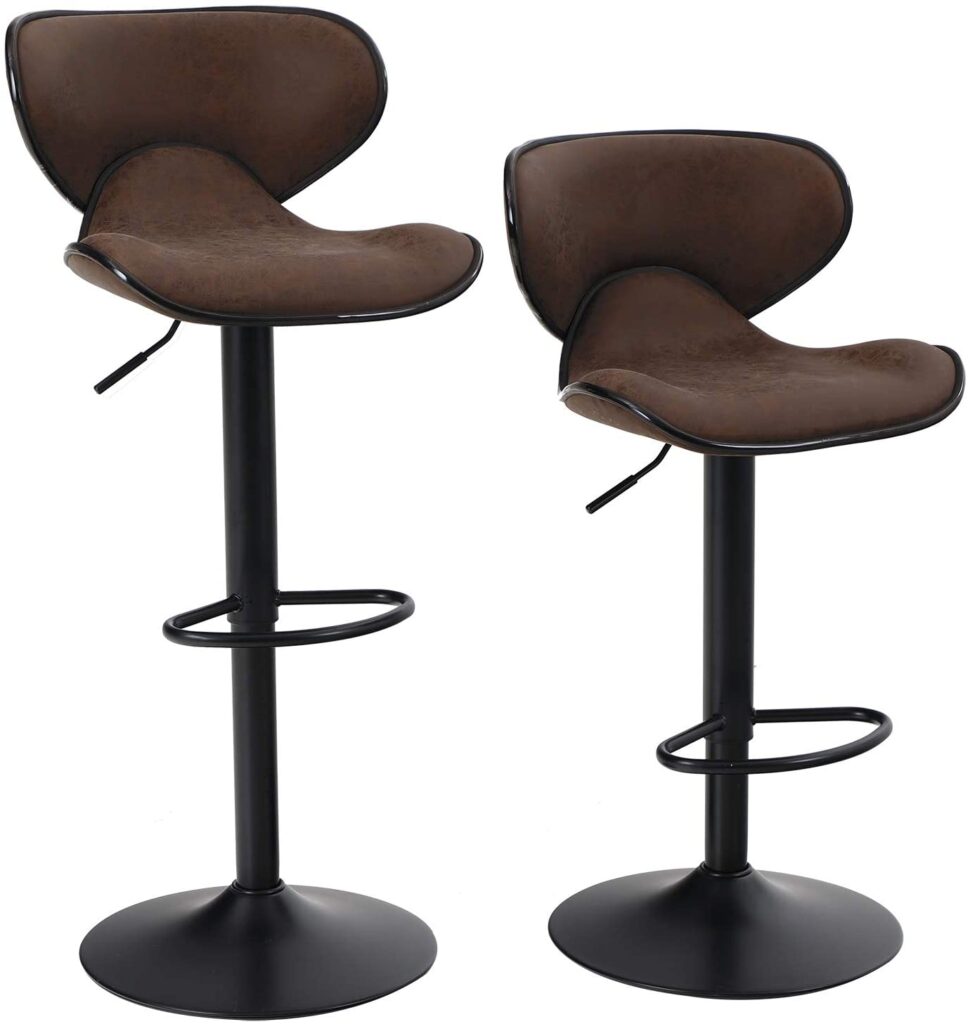 These pieces are manufactured by a brand that is dedicated to providing its customers with furniture pieces that ensure comfort and a cozy feeling, which is exactly what these counter height adjustable swivel back chairs deliver.
The ergonomic seats are tufted with high-density sponge foam to ensure comfort. They have a uniquely designed inverted triangle backrest that ensures an even distribution of support to the lumbar spine to relieve muscle tension.
The seat cushion is covered with nubuck leather that gives the stool an elegant look. The leather upholstery is soft to the touch and comfortable on the body and is better resistant to tear.
Constructed with a hydraulic airlift lever attached to the backrest, you can easily adjust the height of the seat so that you can use them for different occasions.
The stools have a sturdy base made of high-duty chrome that ensures stability and durability. Attached to the base is a rubber ring that helps prevent scratching on the floor. The chairs also support flexible movements with their 360° rotation.
Chair Specifications
Dimensions: 17 x 16 x 28 inches
Seat Material: leather, metal, chrome
Min Seat Height: 28 inches
Max Seat Height: 33 inches
Weight: 36.2 pounds
Weight Capacity: 350 pounds
Backrest Height: 16.53 inches
Advantages
High-density sponge
Triangle backrest
Counter height adjustable
360° swivel
Hydraulic airlift lever
Chromed metal base and footrest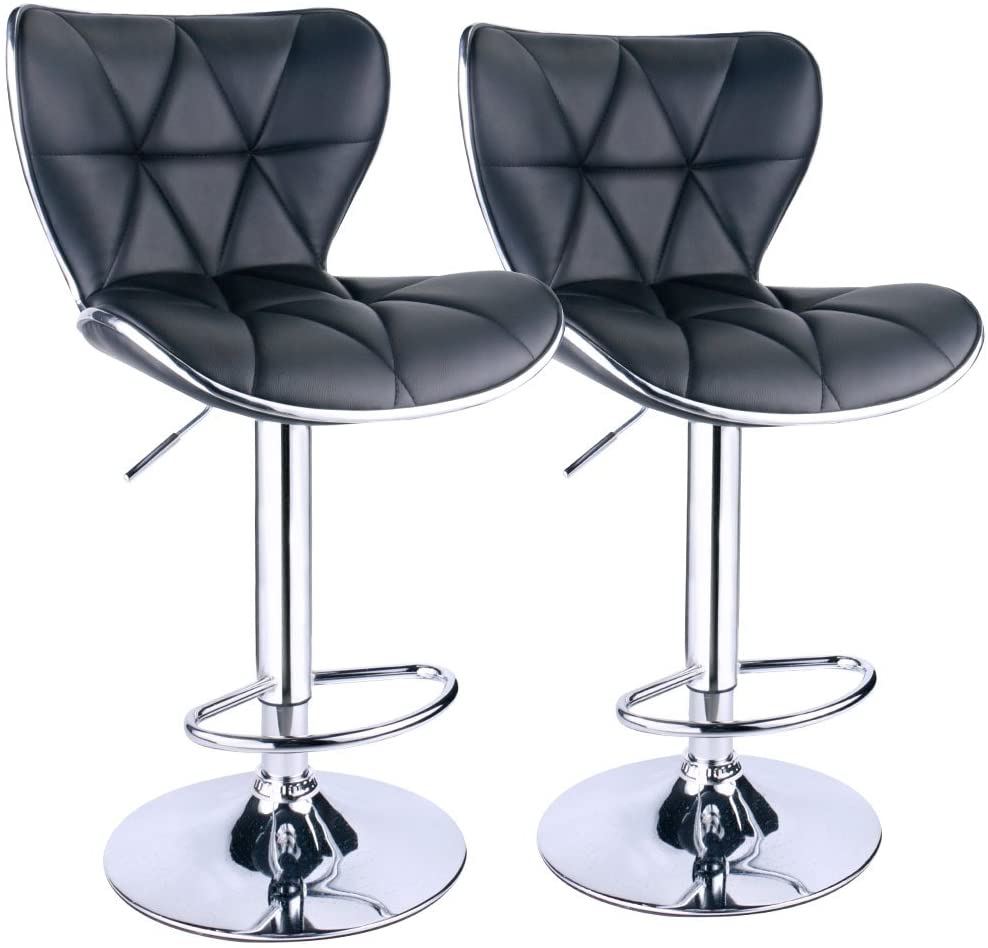 These stools come in a set of two and are fashionably designed to enable you to sit in comfort and style while adding an appealing aura to your atmosphere. They fit just rightly with any decorative style whether in your kitchen, bar, dining room, office, or entertainment center.
The seats and shell back of the stools are thickly padded with a high-density sponge for softness and a comfortable sitting experience. The seats with shell-back style support offer superb comfort to the body and let you sit in a poised posture without feeling any discomfort.
The leopard shell back bar stools make a perfect fit for your kitchen counter but you can take advantage of the airlift feature by using the airlift handle located under the seat to easily adjust the seat to a height that best meets your needs so that you can use them at the bar and other occasions.
For stability and durability, the base of the stools is made of chrome with bright plating chassis. Attached to the base is a metal footrest that ensures you have a strong foothold. Under the base is a ring rubber that helps to keep the floors protected from scratch.
You can get the stools either in one or two pieces. Shoppers are advised to pay attention to the quantity when purchasing the stools.
Chair Specifications
Dimensions: 16. 93 x 6.1 x 35.43 inches
Weight: 35.2 pounds
Material Type: PU leather, plastic, metal
Weight Capacity: 250 pounds
Seat Height: 43.5 inches
Advantages
Adjustable seat height with air-lift
Perfect for different occasions
Padded seat and shellback
Metal footrest
Built-in swivel seat up to 360°
Chrome base with rubber protects the floor
Easy assembly
Sold in one or two pieces and a variety of colors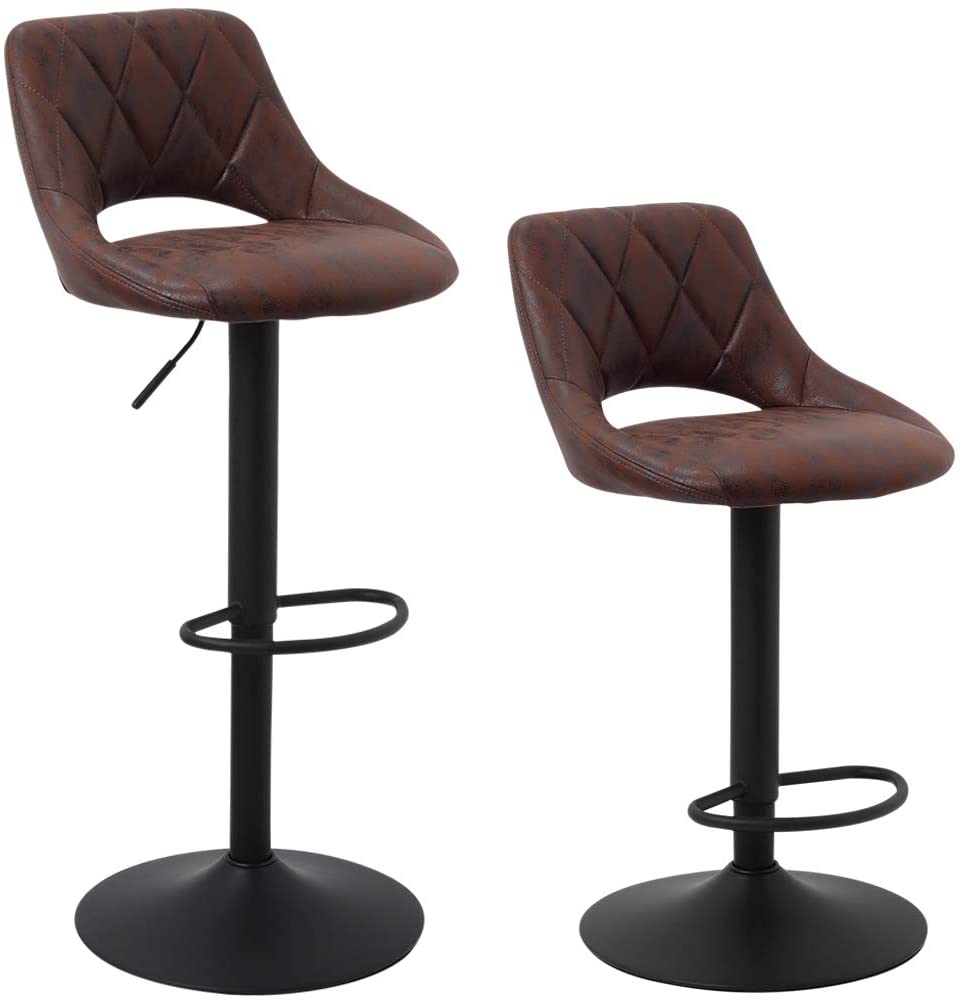 Nothing says comfortable and elegant like the Superjare set of two adjustable swivel bar stools. With the exquisite design, this stool set will make a difference in your home. They go perfectly in bars, kitchen counters, coffee shops, and other places.
These stools have a lifting mechanism that works perfectly to adjust the seat to different heights so that you can use the stools both at the counter and at the bar. By lifting the lever under the seat, you can switch to different heights ranging from 23.8" to 31.7".
Covered in a stylish cushion fabric made of unique hot-stamping cloth, the stools not only feel soft and comfortable on the body but also look elegant. And as a plus, the fabric won't wear easily.
With the stylishly designed back with a sponge cushion, you can relax and take some pressure off your lumbar spine. Also featured is the footrest that allows you to rest your feet for extra comfort, and the 360° swivel that allows you to easily switch directions and chat with friends.
Comfort is not the only thing these stools are good for. With the Superjare bar stools, you are assured of stability and durability. Check out the large base with a plastic ring attached below it to protect the floor from damage, and the stainless steel lift mechanism that can hold a maximum of 265 pounds.
Chair Specifications
Dimensions: 18.5 x 18.1 x 42.5 inches
Seat Material: unique hot-stamping cloth, metal
Min Seat Height: 23.8 inches
Max Seat Height: 33.7 inches
Weight: 34.9 pounds
Weight Capacity: 265 pounds
Advantages
Ergonomic and unique design
Comfortable seat and back support
Airlift height adjustment
Large, stable, and durable base
Built-in footrest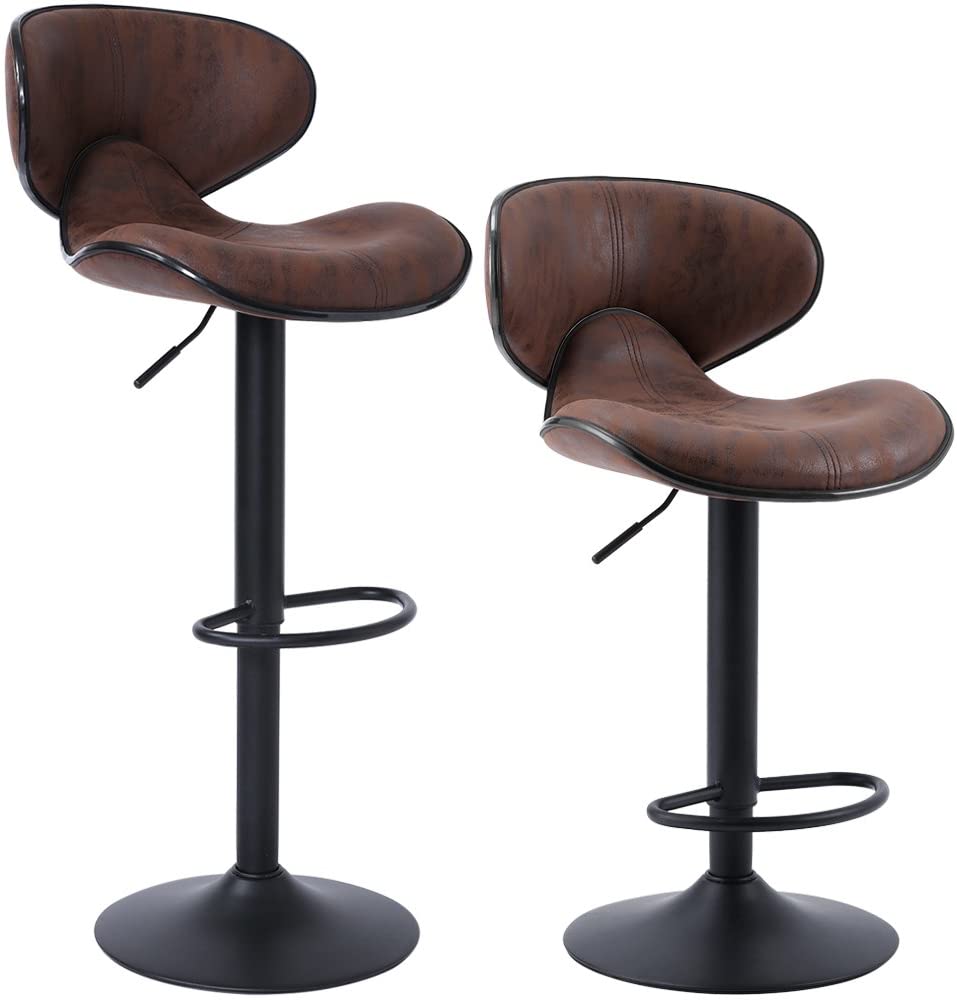 If you're looking to enhance your home with modern bar stools with back support, Superjare bar stools deliver aesthetics, fashion, and comfort all in one elegant-looking set of bar stools. They have a charming appeal that would make everyone love them. Even better, they fit perfectly both indoors and outdoors, and you can use them in kitchens, bars, counters, coffee shops, and so on.
The unique design of this bar stool set ensures that the user has comfortable back support to protect the lumbar area, which is why the seat and back are padded with a sponge. The stools also come with additional features for extra comfort and convenience.
There's a footrest for your feet to rest, a lifting mechanism that allows you to adjust the stool to different heights, as well as a 360° swivel for flexibility.
With a large stool base and a plastic ring attached, stability is ensured, and the floor is protected from scratch.
Chair Specifications
Dimensions: 18.5 x 18.1 x 42.5 inches
Seat Material: unique hot-stamping cloth, metal
Seat Height: 32.2 inches
Weight: 36.4 pounds
Weight Capacity: 350 pounds
Advantages
Height adjustable
Ergonomic design with sponge cushion
Larger and stable base
Built-in footrest
360° swivel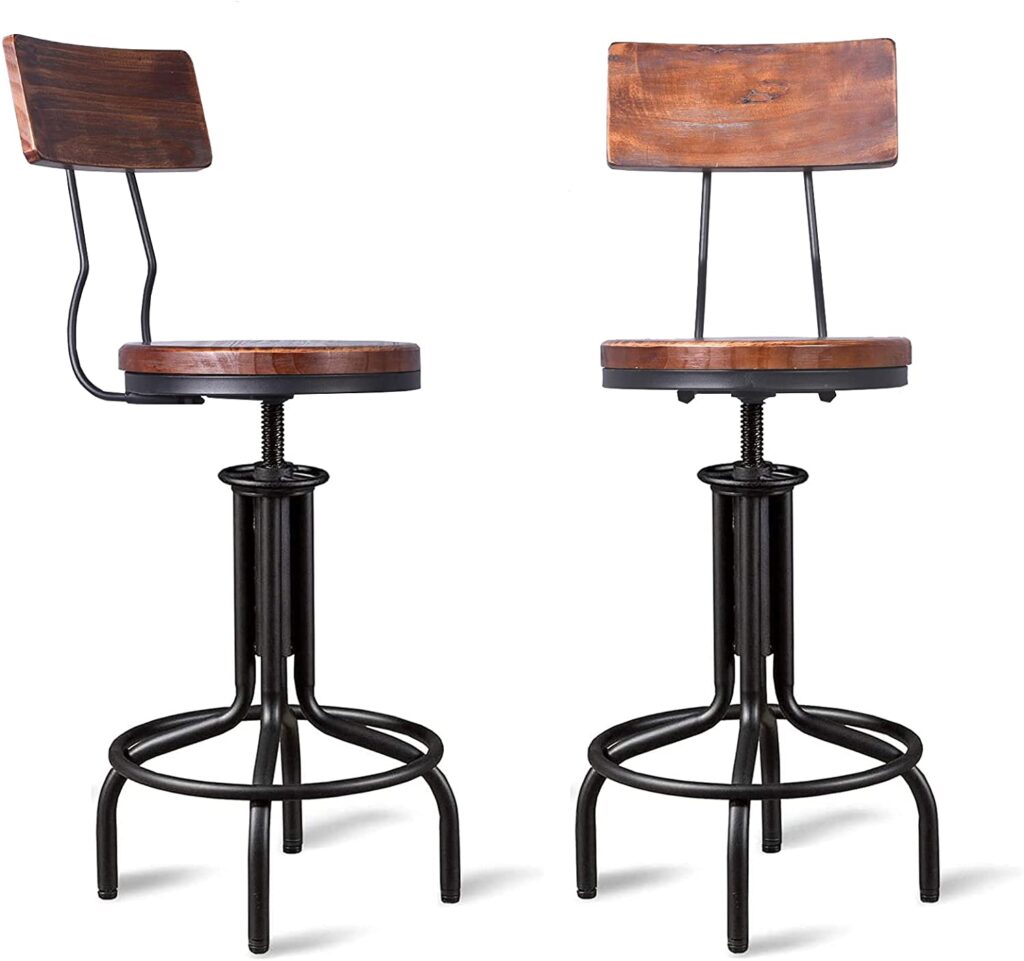 This is a unique piece with a special design that fits different occasions whether indoor or outdoor. Sold in a set of two, these fully welded industrial bar stools are a perfect fit for your homes, restaurants, or farmhouses.
Handcrafted with durable metal and wood, the fully welded stools can be installed in just one step by fitting the backrest to the seat and putting the seat top to its base.
The curved wooden backrest is crafted to perfectly fit the human body so that the user can sit comfortably while receiving ample back support. The round wooden seat is rotatable up to 360° to support an easy and swift switch in directions.
Other cool features of this stool set include height adjustability from 22" to 26" to allow the stools to be used at bar and counter heights. It also includes a footrest to allow you to relax your legs.
With the iron frame construction, the stool set is very sturdy and supports up to 440 pounds. The metal base comes with an adjustable floor protection device that prevents scratching on the floor and helps to keep the stool stable even on uneven floors. The powder-coated steel frame protects the stool from rust.
Chair Specifications
Dimensions: 21.8 x 18.5 x 17.8 inches
Seat Material: wood, metal
Seat Height: 26 inches
Weight: 41.8 pounds
Weight capacity: 440 pounds
Advantages
Height adjustable
Curved backrest
360° rotatable seat
Integrated footrest
Suitable for different occasions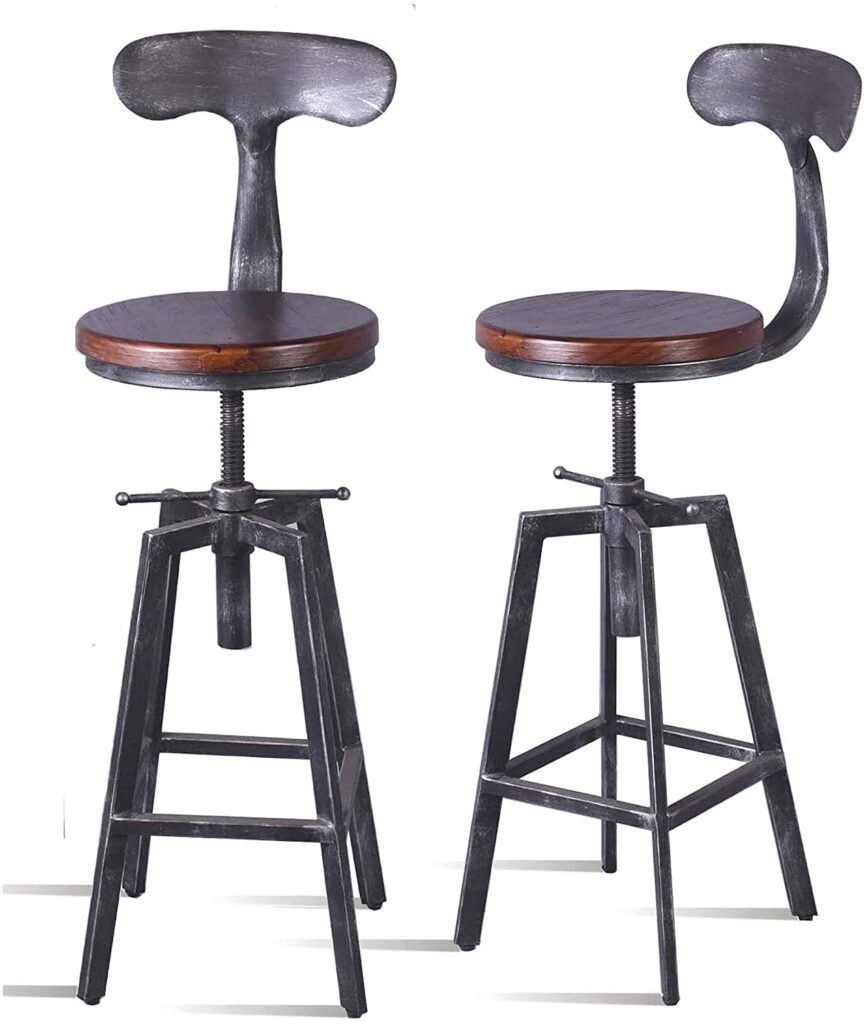 This set of bar stools may not be the most beautiful but it sure serves its purpose. When it comes to stability, comfort, and durability, these stools are a reliable and ideal choice. And they are suitable for a variety of occasions.
Gwarez adopts a stylish design that is both contemporary and classic that will match different kinds of décor. The wooden backrest is curved and sturdy and provides ample support to your back. It has an integrated footrest that provides both a sturdy and comfortable place to relax your feet.
This industrial-style bar stool set features a swivel function that allows the seat and the backrest to swivel up to 360°. Also, you can make use of the side handle to adjust the seat height from 25.6" to 31.5" to meet your different needs.
The barstools are fully welded which supports the one-step installation. The metal frame is fully coated with powder to prevent the stools from rusting. There is an adjustable foot cap for floor protection and stability even on uneven grounds.
Chair Specifications
Dimensions: 31.5 x 15.6 x 14.25 inches
Seat Material: wood, metal
Seat Height: 25.6" to 31.5"
Weight: 39 pounds
Weight capacity: 330 pounds
Advantages
Great for different occasions
High-quality wooden seat, back, and sturdy metal frame
Adjustable height
Built-in footrest
Anti-rust and anti-scratch
360° rotation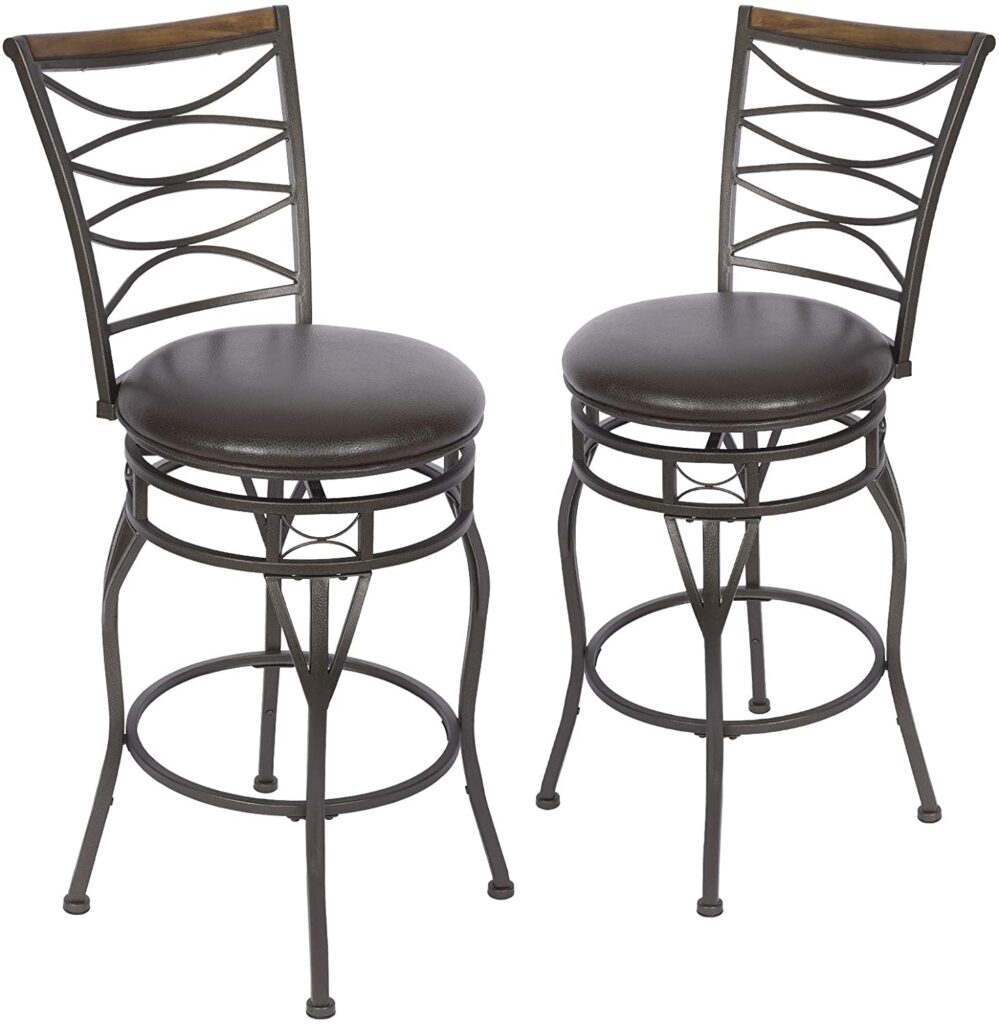 When you need a great bar chair with back support, this exquisite piece of furniture set is where your search ends. Not only does it provide comfort to the user, but it is also visually appealing. Its retro and vintage outlook will make a statement in your kitchen, bar, or dining room décor.
For comfort, it is built with a padded seat topped by faux leather upholstery, and a high-back construction made of solid wood bars. The padded seat and backrest come with a 360° swivel function, and the faux leather is very easy to maintain.
With the sturdy iron base, the stool can keep steady and accommodate a weight of up to 200-250 lbs. The stool set comes with two sizes of adjustable feet with non-slip caps that you can use to adjust them to different counter heights.
Chair Specifications
Dimensions: 22.5 x 22.5 x 38 inches
Seat Material: wood, PU leather, metal
Seat Height: 30 inches
Weight: 42.8 pounds
Weight capacity: 250 pounds
Advantages
Its exquisite design is suitable for many occasions
360° swivel seat
Padded seat and backrest
Integrated footrest
Easy-to-clean PU leather upholstery
Two sizes of adjustable feet with non-slip cap