A person is considered petite if they are 5′ 3″ or less in height. Petite has nothing to do with body weight as most people mistake it to be. Whether a person is size 4 or 15, if the person is 5'3″ or less in height, then they qualify as 'Petite.'
Lift chairs, or recliners if you like, provide the most versatile functionality among the furniture in the home. From Playing games to watching your favorite programs, relaxing after a long day's work, or sleeping, a Recliner gives you the best.
However, a typical Recliner and a lift chair have a small difference. While a traditional Recliner only reclines, a lift chair is basically a Recliner with forwarding lift capability.
To get the best out of lift chairs, you have to use the one that suits your body type and size.
As you may have known, a lift chair that's too large for you can stress your body, and one that's too small can also cause pain hence you must select the right size for you especially if you're a Petite person.
Do Lift Chairs Vary In Sizes?
Yes.
There are lift chairs for the Petite, lift chairs for the small, lift chairs for the tall, and also the 'very tall' folks.
Different models and brands of lift chairs come in different and varying sizes.
Width of the Seat:
Lift chairs for large folks come with seats as wide as 22 inches.
The medium-sized lift chairs have 20 inches seats while the smaller models for Petite individuals have 18 inches wide seats.
Lift Chair Back Height:
The back height is measured at the distance from the top of the lift chair(measured from the back), to the top of the seat.
Larger lift chairs, often have a back height measuring 29 inches.
The mid-sized lift chairs have a back height of around 25 inches to 27 inches.
For the Petite ones, their back height measures from around 24 inches at most. There may also be Petite lift chairs with a back height of 22 inches.
Seat Height:
The height of the seat is also an important measurement for classifying lift chairs according to their sizes.
The seat height is measured from the top of the seat down to the ground.
For large lift chairs, the seat height always measures around 21 inches.
Mid-sized lift chairs have a height of 20 inches while the Petite models measure 19 inches high.
With this guide, you will be able to identify a lift chair that will suit your Petite body better.
How to Choose a Lift Chair
We can rephrase this caption to "how to choose a lift chair that is right for you". Many people complain of their lift chair causing neck pains or hip pains or even back issues. This is because either they are not right for that lift chair or it is not right for them. Below are some tips for choosing the right lift chair for you.
Size
As a bulky person, if you select a lift chair that was designed for Petite people, you will not be comfortable in it. Just as people have different sizes, recliners have different sizes too.
Before paying for that lift chair, it is important to know the different measurement categories and find the one that you fall into. This will ensure that while using your chair, your body maintains the right posture and eliminate all pressure.
The size of the seat (width and height), as well as the height of the back, are very important factors to also consider when picking a lift chair that will be right for you.
Comfortability
Different models of lift chairs have different back support. The amount of support the chair is capable of will depend on the user.
For example, a regular lift chair and a tilt-lift chair have different comfort levels. A traditional Recliner and a bed-chair lift also offer varying levels of comfort to the user.
Available Space or Environmental Considerations
Traditional lift chairs or recliners need considerable space around them so they can reach their full reclining or lift distance or angle. Do you have such space in your home?
If your recliner reclines and touches the wall, in time your wall or chair or both will be ruined one way or another. In such a situation, you may need to consider lift chairs with wall gliders.
Available Budget
Your decision of lift chair is often decided ultimately by your budget or available funds. No matter how good a Recliner looks if you do not have enough to purchase it, you won't.
It is therefore important to pick a recliner that has what you need most at the available budget or you may go all out if you have a larger budget.
We have a list of some of the most affordable lift chairs that give 100% value for your money. Check the next section.
Our Top Picks of the Best Petite Lift Recliner Chair on the Market today.
These petite recliners are the ideal chair for small-stature people who also want something designed for their stature and maybe small apartment spaces. Check them out below;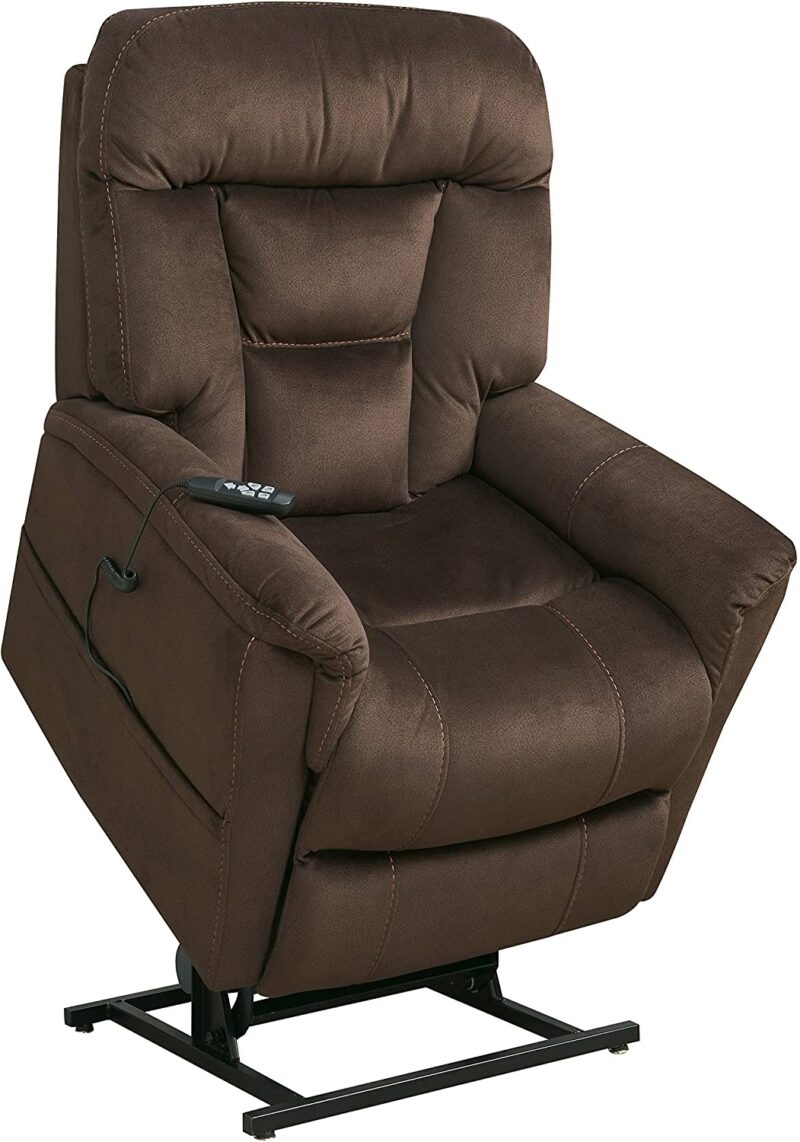 The seat of this lift chair measures 19 inches in width and this is the perfect measurement for a Petite person.
Besides the power lift properties, this chair is made of a hardwood frame and covered with a soft polyester fabric material to make it cool on the skin especially if you will be seating for prolonged hours.
The arms and seat are thickly padded and the lift chair is strong enough to support a weight of 350lbs!
The dual motor incorporates a Recliner and a lift chair and also you can move the back of the chair or the footrest independently. The chair can also recline to 170 degrees in case you want to take a short nap.
Features:
Remote control for easy maneuvering
Dual motor power lift
Polyester fabric covering
Wooden framework
Thick padded armrest and seat
What we like:
The remote control makes it easy for maneuvering the chair.
The fabric cleans easily and allows water-free cleaning.
The chair is perfect for Petite folks.
Assembly is pretty easy.
The power lift is durable.
The footrest and backrest can move independently for added options.
What we didn't like:
The motor operation might be a bit slow.
Not available in a large variety of colors
Definitely one of the most powerful and versatile recliners out there, the Irene Power House 9188 packs features that will make you crave a lift chair.
This powerful recliner isn't just a lift chair for petite or small persons but will suit bigger persons too and the best part is comfort will remain the same.
It is built sturdy with high-end materials used for the construction including a metal frame, high-density foam, and formaldehyde-free wooden frames.
This recliner supports infinite position; that is you can stretch yourself to the max to any angle of your choice which would give you maximum comfort.
Its humanist design sees a lumbar pillow for added support covering up the spacing between the backrest and seat when in a reclined position.
There are dual OKIN motors working independently, allowing you to get any position without adjusting the footrest. Also, seniors would appreciate the power lift function that allows them to stand up easily with only a button.
Features
Dual-powered motor
Infinite Positions
Comfortably upholstery
Simplistic humanistic design
Power Lift
Remote controlled
What we like
Very sturdy and well built, designed to last
Comes with a 2 years warranty
Great customer service
Easy to setup and use
Built for comfort
Great motors allow users to individually control the footrest and backrest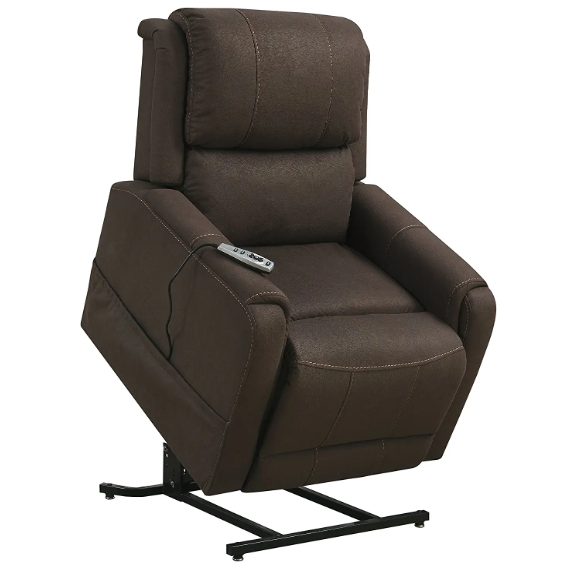 Pulaski brand seems to be a trusted name in the furniture market. This rustic style power lift is another super product for Petite people.
The hardwood frame of this lift chair is covered with faux leather and it doesn't just recline and lift, it has other functions like massaging and heating.
It needs to be connected to a power source to function but also has an extra battery pack in case there is no power.
Features:
Faux leather covering.
Heat and massage functions
Remote control
Thick back and armrest padding
What we like:
The lift chair is very comfortable and soft.
The wooden frame makes it sturdy.
The wired remote makes it easy to operate the reclining and lift functions
Extra batteries ensure you're not stuck in one position in case power goes out.
The faux leather material is attractive and easy to clean.
The chair is easy to assemble.
What we didn't like:
The footrest and the backrest do not recline independently.
Not available in a large variety of colors.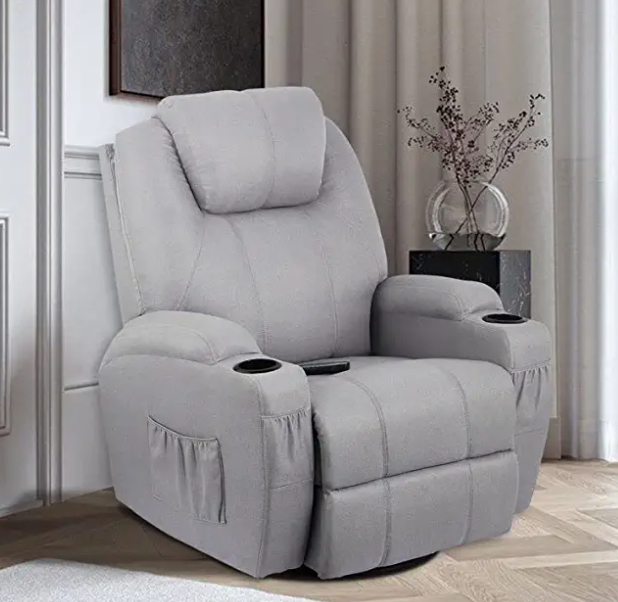 The Esright massage recliner chair is a fine lift chair that will fit petite people and elderly persons. It comes with cool five (5) relaxing functions which are vibrating, 360-degree swivel, heating, rocking, and reclining features.
Known to be a leading home furniture maker, this Esright massage recliner chair hopes to deliver the perfect furniture for your living room.
With a stylish and modern look and equipped with design features that make it a favorite sitting chair in the home, such as a cup holder, this massage chair will come in handy for people of all ages looking to relax and have a soothing massage.
Let's not forget the elegant-looking upholstery with a comfortable backrest and armrest.
Features
Multiple relaxing functions
Cup holders
Storage bags
Remote controlled
Double comfort upholstery
What we like
It's very sturdy and is well made, built to last
Comes with many functions to ease stress and help you relax better
It's very comfortable with padded rests for arms and back
Easy to assemble with all the necessary parts included with the recliner
Remote controlled to get into any function you want – heating, reclining, swivel or massaging, or just good ol' lifting.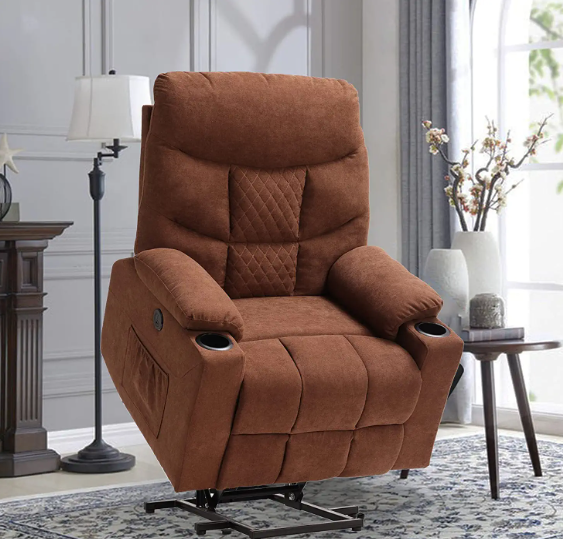 This brand may not be very popular but best believe the lift chair is worth a try. It incorporates several functions like heating, massaging, reclining, and powerlifting.
Covered with a piece of soft polyester fabric, this lever-controlled lift chair has cup holders, USB ports, and side pockets for holding small necessary stuff like magazines, CD plates, TV remotes, or newspapers.
Its thickly padded armrest and back support give maximum comfort and the material is quite easy to clean.
An easy-to-assemble perfect chair like this that comes with a 1-year warranty is what everyone needs for comfort and peace of mind.
Features:
Cup holders
Control lever
Soft breathable fabric cover
1-year warranty
Side pockets
USB ports for charging portable devices
What we like:
The chair has a powerful motor that tilts it to a semi-horizontal position in case of special needs.
The side pockets are useful for holding little things while the USB ports can be used to power devices easily.
The chair covering is easy to wipe clean.
In case you want minimal movement while relaxing or watching TV, the cup holders can hold your coffee, juice, water, or even drugs.
What we didn't like:
The control lever needs more effort to maneuver than a remote control
The chair cover material is venerable to dust.
The footrest doesn't move independently.
Final Thoughts
Lift chairs are recliners with several more functions. If you're a Petite person, you don't need a large lift chair because you'll not find comfort. It will cause you pain and discomfort instead.
Some lift chairs have adjustable height and width.
However, you need to properly measure your lift chair before paying for it. You need to know the size categories and where you fall before ordering.