Looking for a good saddle chair for your business? Read on the discover the best saddle stools and chairs you can buy on the market today.
Saddle chairs and stools have been used by professionals such as dentists and beauticians for many years.
With a focus on better posture and health, these chairs are also starting to be used in regular offices and homes.
Why a Saddle Chair?
Findings from top posture experts indicate that if you're trying to reduce the negative effects of sitting too much, you should try a saddle-shaped chair.
Using it has many benefits if you know how to use it and how to choose the best option for you.
If you're looking to improve your posture, strengthen your heart, and relieve back pain, it might be worth considering a saddle chair.
More so, if you are a medical professional, artist, or office worker, choosing an ergonomic saddle chair needs careful consideration for the sitting comfort of your clients.
This article was put together to save you the time to seize through the thousands of options of saddle chairs on the market. Instead, pick from these carefully selected, expert options which would come in handy for either home or your business need.
When choosing a saddle stool or chair, be sure that the bench or chair is;
practical to work with,
ergonomically comfortable,
very easy to set up and easy to move
But not to worry, all the saddle chairs and stools we have put together in this review are top options and have proven to be the best to suit whatever sitting needs you want a saddle chair for.
Are Saddle Chairs good for you?
Yes, they are very beneficial for you. In fact, they are some of the most beneficial sitting chairs you need; as they help you sit a lot more ergonomically, thus improving your posture.
What is the purpose of a saddle chair?
Saddle chairs main purpose is to see that you have an improved posture and strengthened spine. You get to stimulate and strengthen all your core muscles in your buttocks, back, and abdomen.
Are Saddle chairs better for your back?
Yes, they are some of the most ergonomic chairs you'll find and can help correct your posture. They help with reducing spinal pressure and will assist in no small way to relieve neck and back pain.
O

ur Best 5 Saddle Chairs and Stools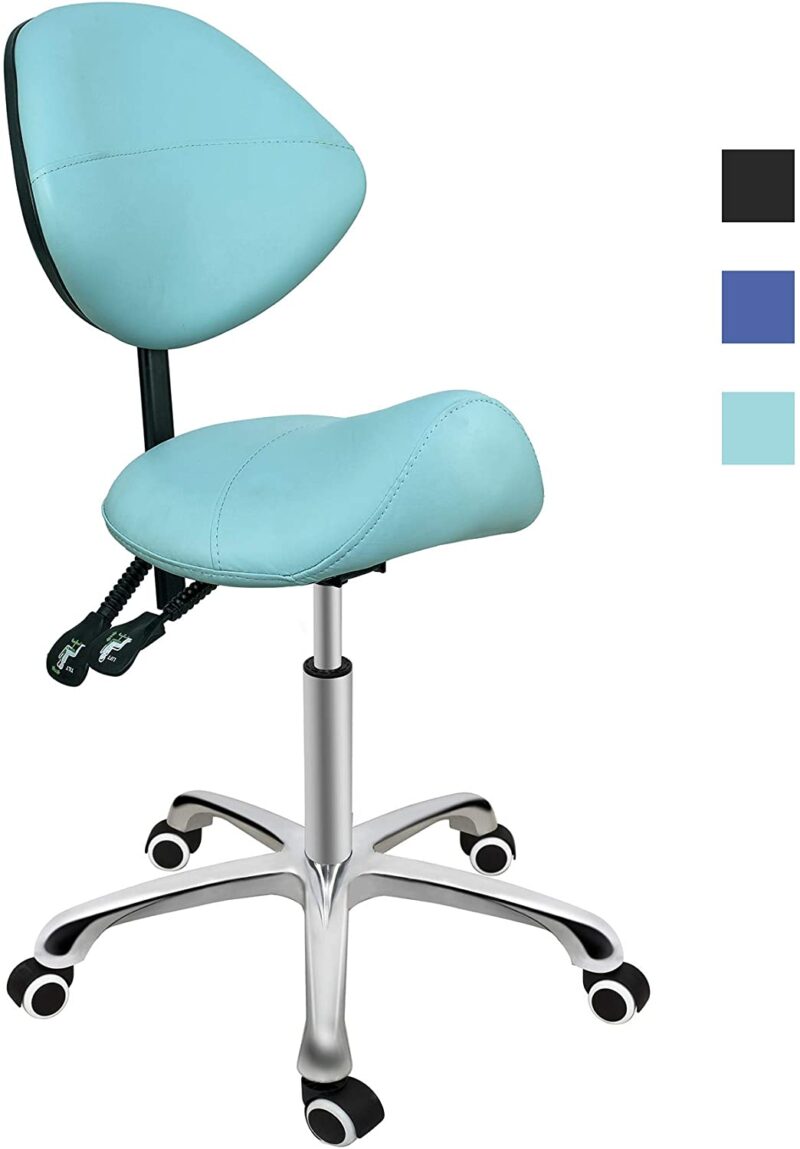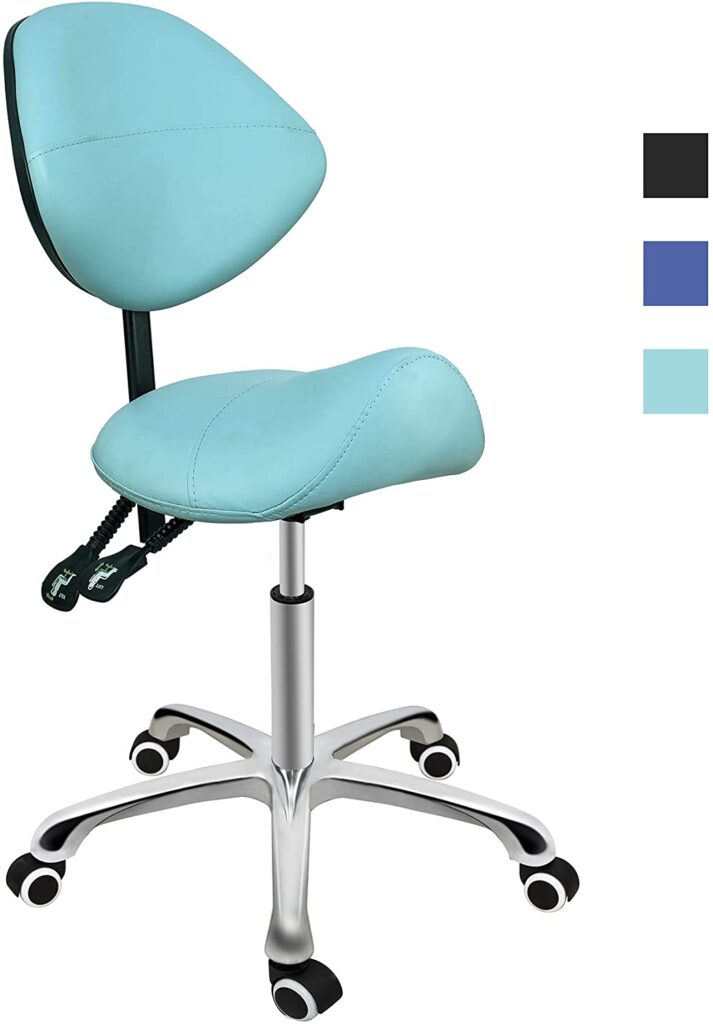 One of our favorite saddle chairs is this Grace & Grace professional option that comes with a flexible and durable saddle seat. The metal base and frame make it extremely stable, while the comfortable seat remains pleasant even when sitting for long periods of time.
The Grace & Grace Series of saddles are designed for extra comfort to relieve back and spine stress and pain. This series of ergonomic saddles are designed to be used all day for greater comfort.
With the Grace & Grace Saddle, you get to sit in a natural body position, allowing for a more even distribution of weight, and helps relieve stress, backache, and rotation.
This saddle has comfortable cushions made of tough new sponge, covered with thicker first-class PVC leather, elegant stitching also on the underside of the seat. Much better than recycled foam chairs
It has a strong and durable metal base and textured screws that allow a load capacity of up to 400 pounds
360-degree swivel bearing, hydraulic lift height adjustable seat, durable stylish reinforced nylon wheels for quiet and smooth movement on all floors without scratching
An explosion-proof plate mounted under the pillow ensures safety. There's also the benefit of easy, tool-free installation.
Pros and Cons of Grace & Grace Professional Saddle Stool Series with Backrest
What we liked
Supports up to 400 pounds.
One-year warranty.
Available in different colors.
Anti-exploding plate under the cushion.
High-density memory foam filling.
Stable and easy to assemble.
What we didn't like
Not ideal for people with existing pain issues.
You need to be careful when using it on uneven or broken surfaces as the product can get damaged.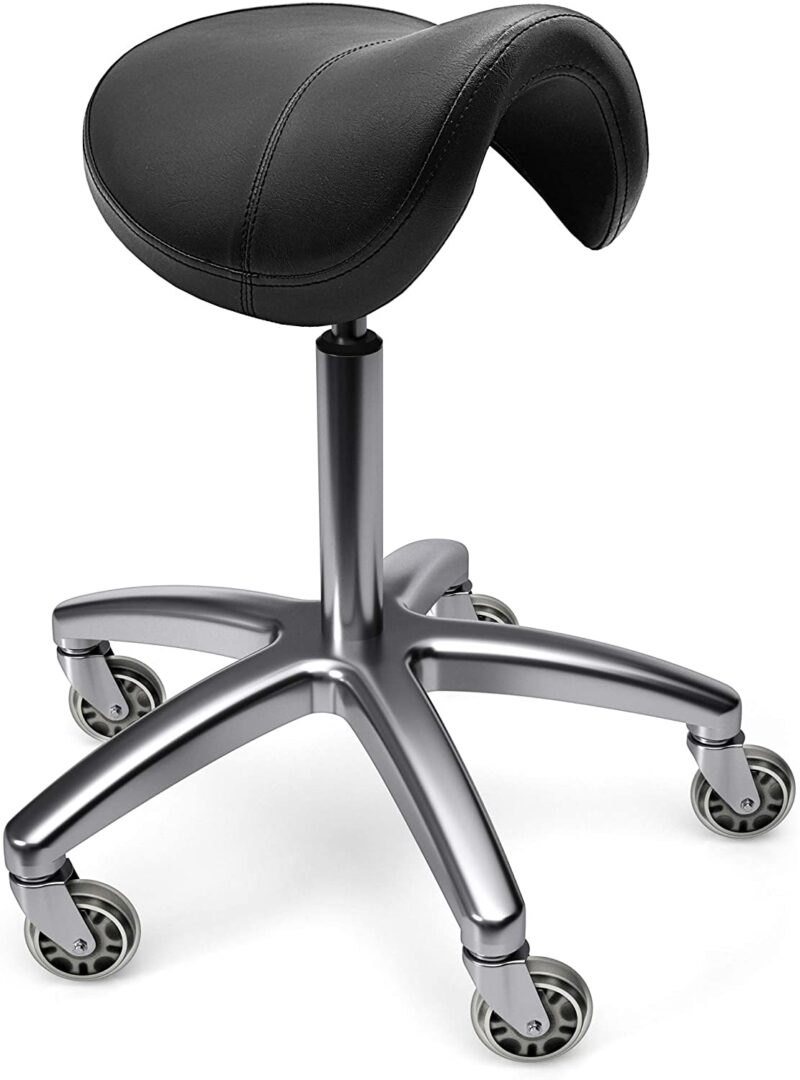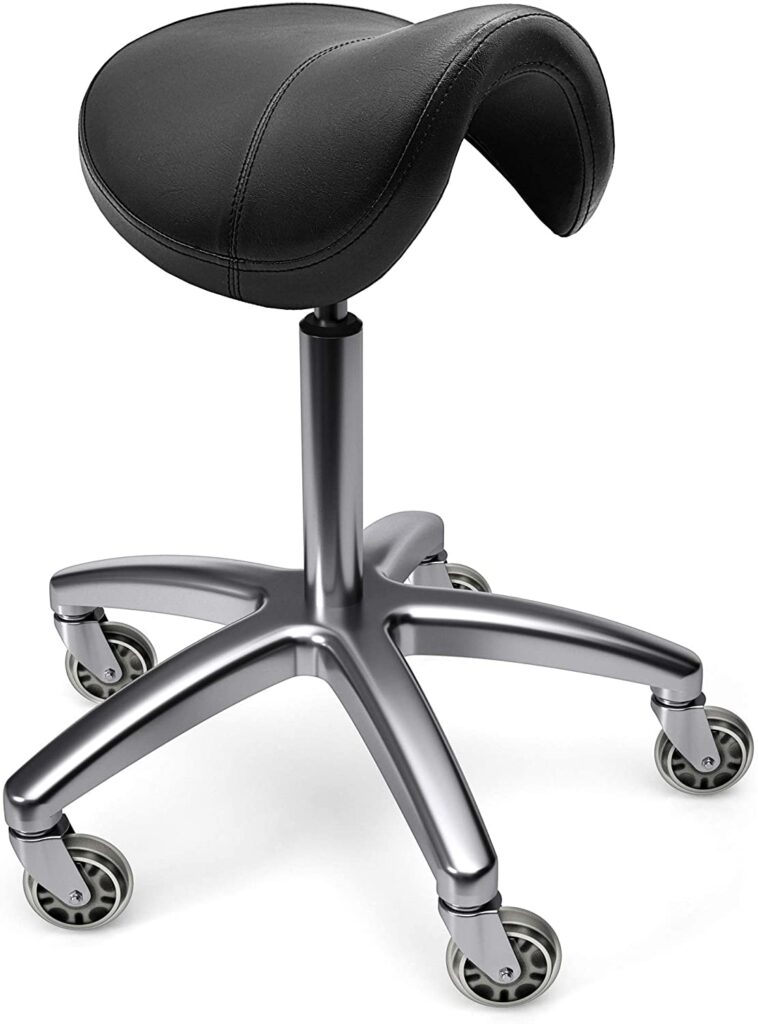 The TASALON ergonomically-designed saddle seat stool helps to keep you comfortable even after hours of work. This is in part thanks to thick, soft padding and comfy "saddle" style design.
The Tasalon saddle chair features ultra-smooth 3-inch glide wheels, which will not only allow you to move around your workstation without making noise but also prevent annoying scratches on your floor.
It is the ideal stool for busy professional environments; an adjustable stool with wheels will allow multiple professionals to use it without any hassle. It has a superior-quality chrome gas lift mechanism that will allow you to adjust its height range of 24″ to 32″
Designed to handle the wear and tear of a high-traffic hair salon, beauty salon, massage parlor, or spa, this rolling salon chair will give you more bang for your buck and allow you to use it for years to come.
Tasalon offers a full refund in case you are not 100% satisfied, making this chair simply irresistible for business owners needing a high-quality ergonomic saddle stool.
Pros and Cons of Tasalon Ergonomic Saddle Stool
What we like
Strong metal base
Adjustable Height Lift
Whisper Glide Wheels
Ultra-Versatile Saddle Chair
What we didn't like
You would probably need to correct the adjustment lever, as it's said to be at the wrong direction.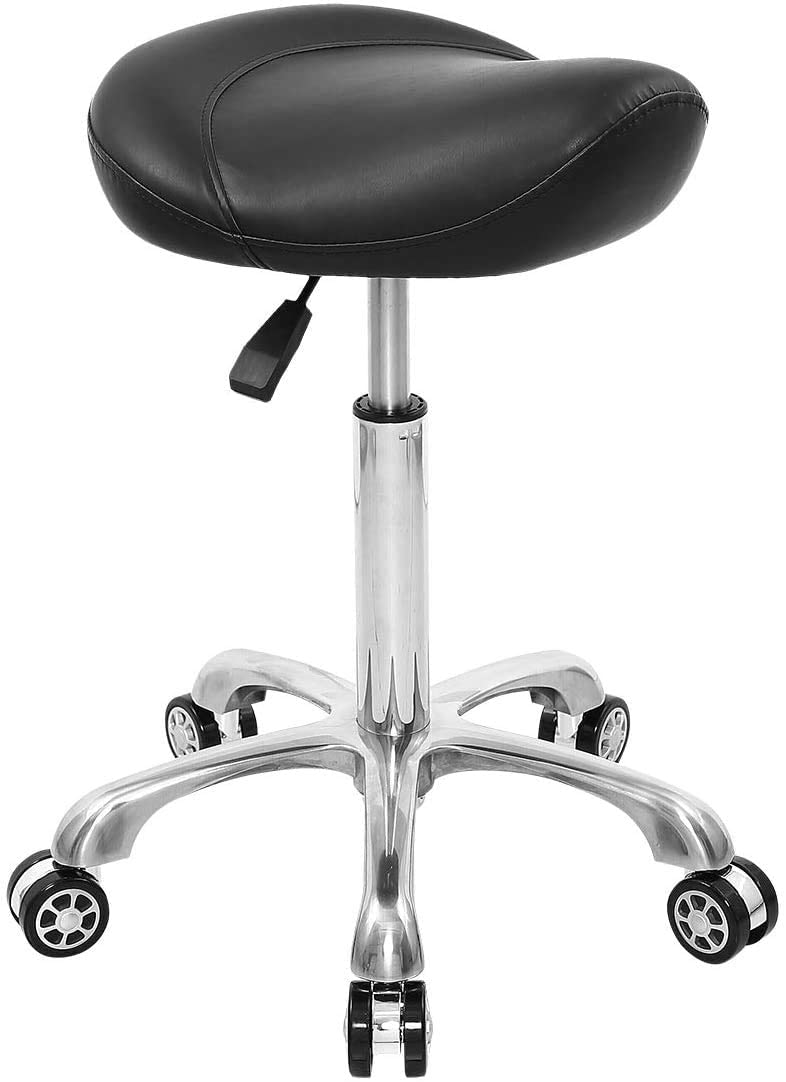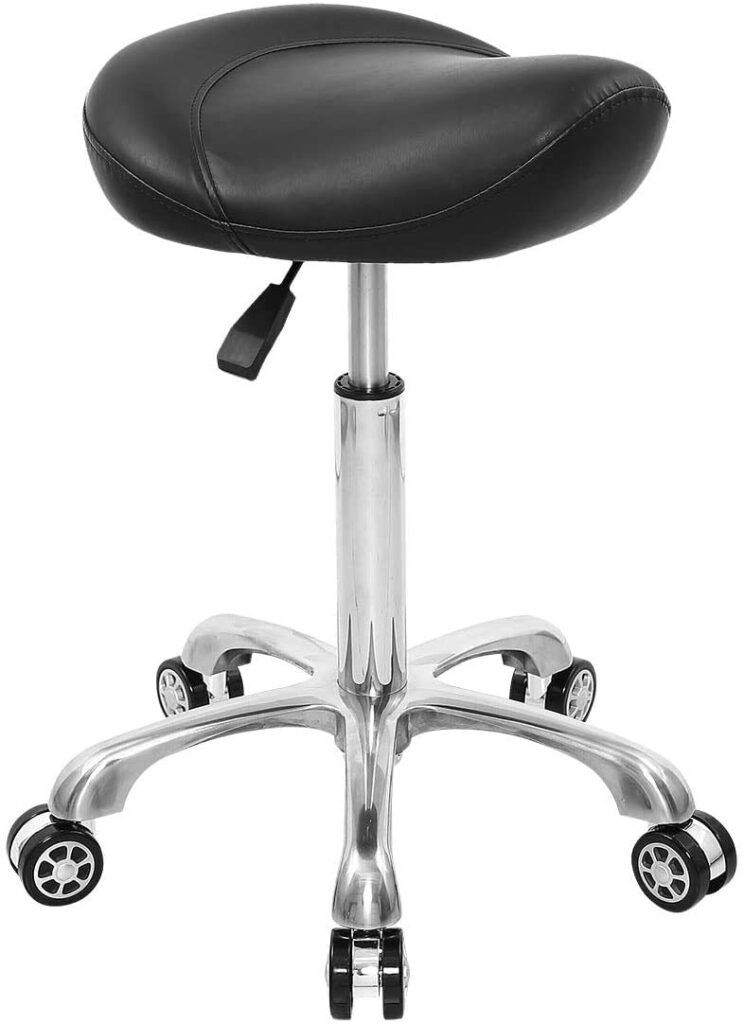 This affordable saddle chair features a simple design with contoured cushioning to provide comfort and stability. As the name suggests, it also makes your life easier with its ergonomic design, to be used all day for better comfort.
The concave cushion design naturally wraps around the lower back and hips to provide you with a more comfortable experience. It also helps keep your body at the natural position, ease pain and stress on the back and spine.
This Easy Life saddle stool is available in 3 colors (black, gray and white), so you can find what fits your workplace or home.
It's important to mention that this saddle stool rotates 360 degrees and you can adjust the seat height from 22.4 to 30.3 inches controlled by a hydraulic lift. Adjustments are made through a smooth pneumatic system.
It has a similar design to some of the other benches. It also has a chrome finish. There's a maximum carrying capacity of 350lb, making it suitable for most people.
The nylon-reinforced twin wheels are great for smooth movement and stability. Easy to install in just 2 steps, with easy to use manual included.
This saddle chair will make a great furniture addition to both home and business, and as such, you can purchase it to use at different places whether your home, salon or spa studio according to your needs.
Pros and Cons of Easy Life Saddle Stool
What we like:
Supportive
Color option
Smooth pneumatic adjustment
Strong metal base
High-quality finishing
Height adjustable, 360-degree
What we didn't like:
Low-quality wheels
Upholstery may discolor over time
May roll too easily on hard surfaces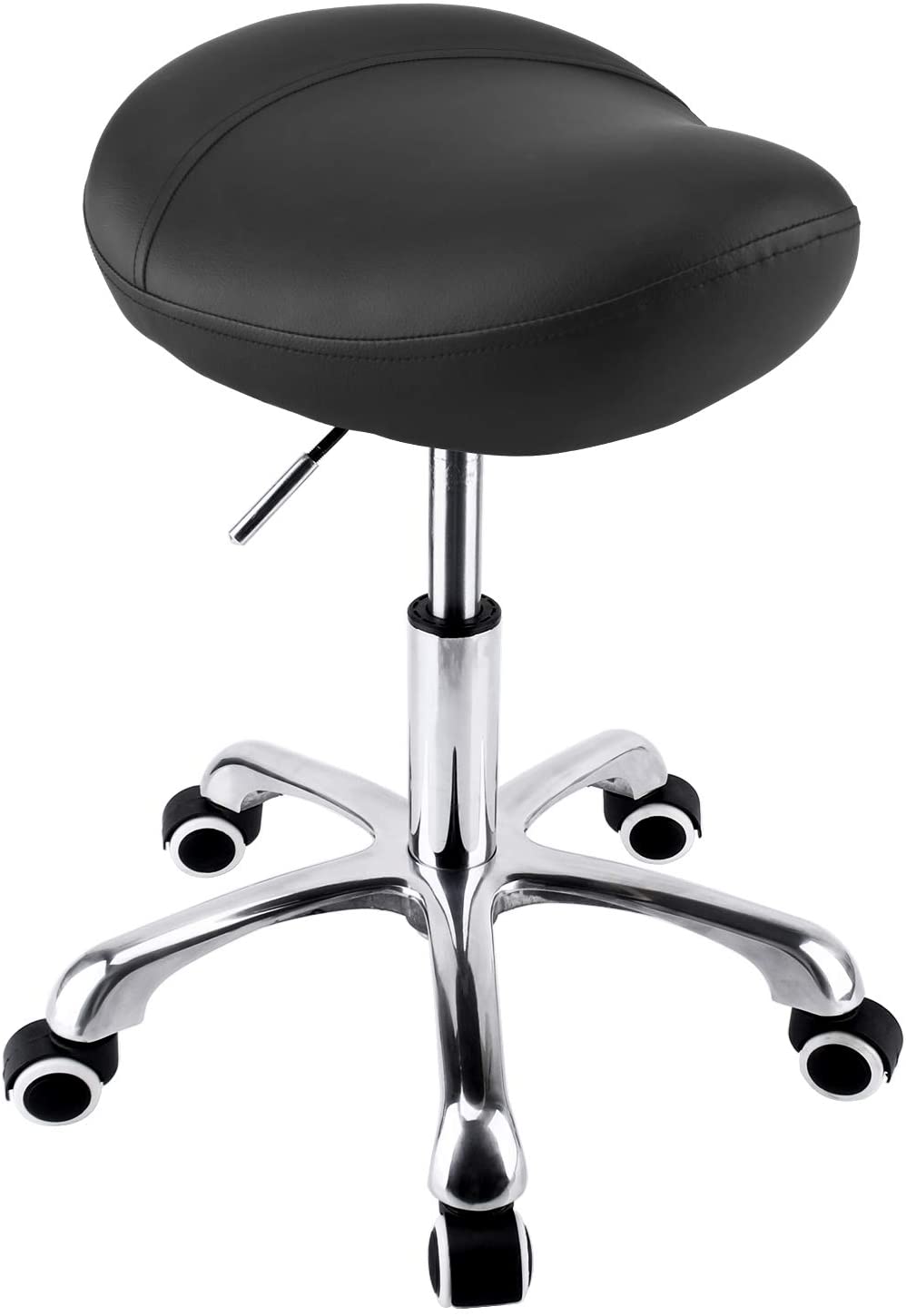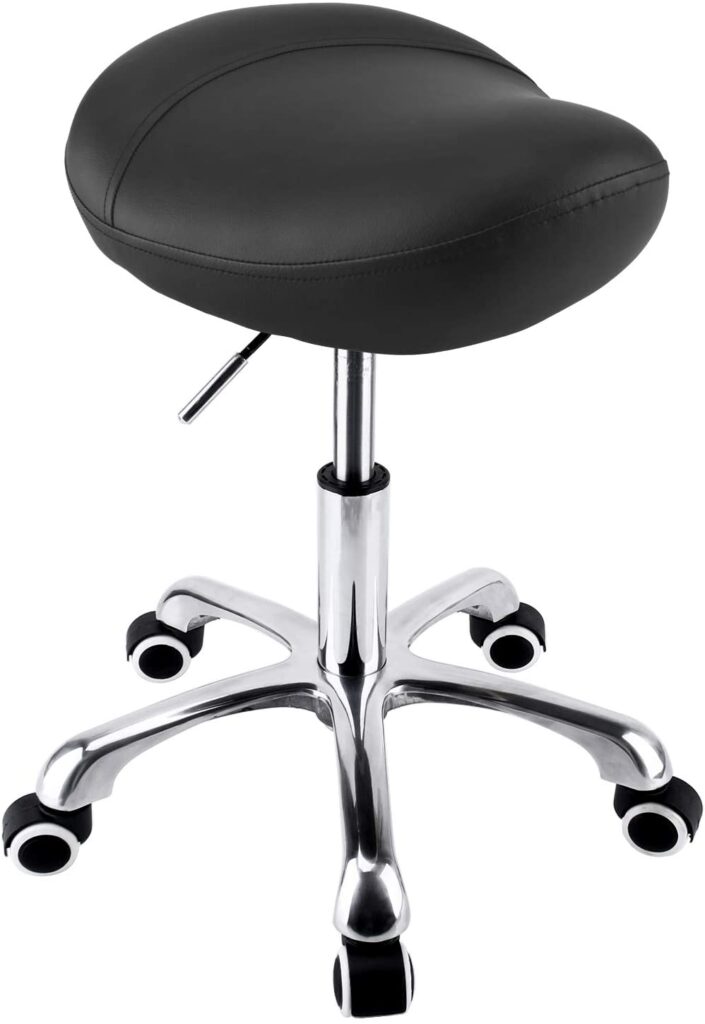 This Swivel rolling stool is designed to be ergonomic and providing extra comfort on your back and spine, comfortable for long time sitting.
The Geboor horse saddle stool cushion is made from molded foam, providing memory foam effect, and covered with PU leather which is shower proof, oil and scratch resistance.
The hydraulic saddle stool has durable metal base, durable stylish reinforced 2″update nylon casters for the noise-free movement, easy to roll on the hard floor. It has a weight capacity of 300lbs.
This Saddle chair rolling stool is a good helper for people who perform bodywork in seated position since this stool will reduce fatigue and make flexible movement.
The seat height can be adjusted by hydraulic lift between 19.7″ to 25.2″ making it ideal for salons, barbers, tattoo shops, beauticians, doctor offices and home use.
For extra security, the Geboor Hydraulic Saddle Stool has included an anti-exploding plate attached under the cushion.
The well built and sturdy construction makes the stool widely used in different commercial areas like science laboratory, dental clinic, hospital office, etc
Pros and Cons of Geboor Hydraulic Saddle Stool
What we like:
Firm design
Easy an simple tool free assembly of products
Stable base for hard flooring surface
Lightweight
What we didn't like:
Not suitable for tall people.
May wobble
Low quality caster wheels.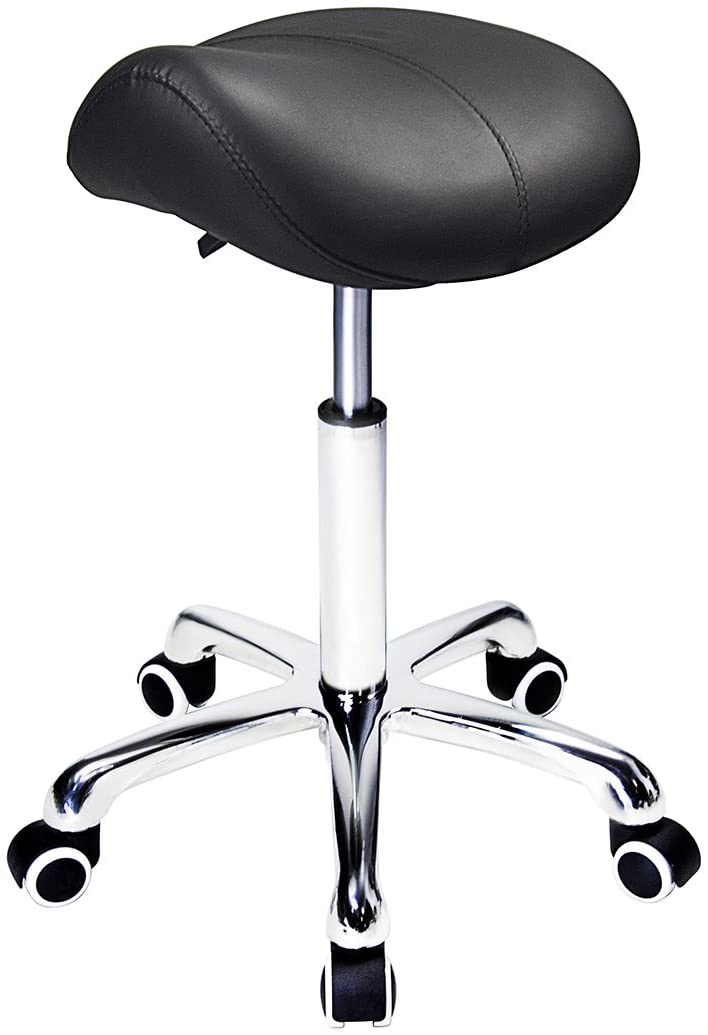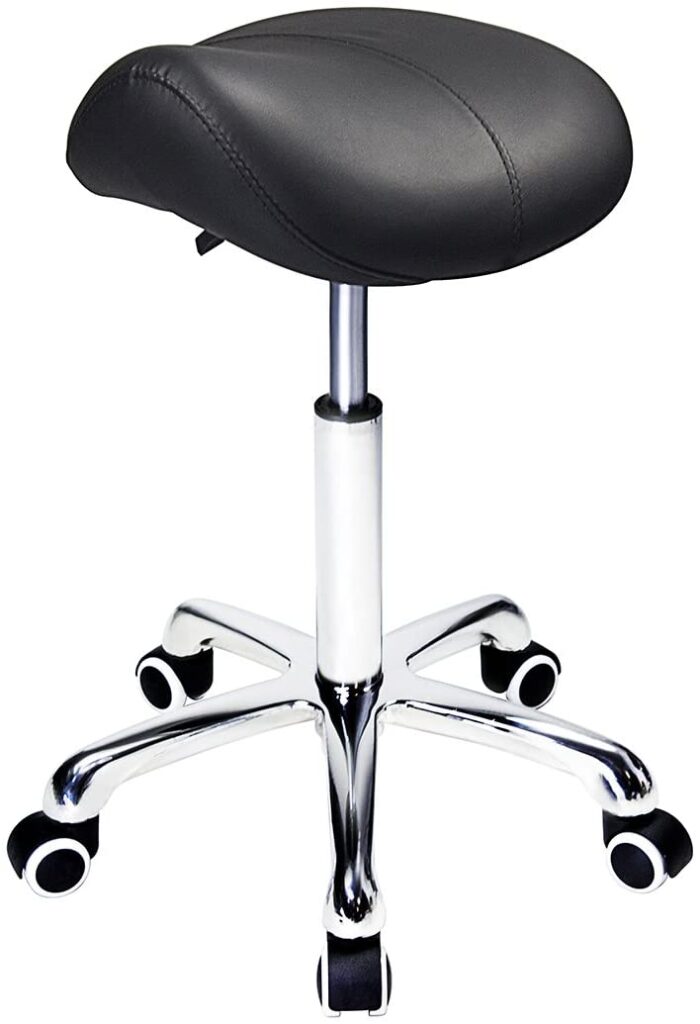 This is another Grace & Grace Saddle stool that offers comfortable sitting. The Grace & Grace professional saddle stool comes with a cushion made from brand new dense sponge and covered with premier thicker PVC leather.
This stool has an elegant stitching even for the bottom side of the seat giving it a premium feel with a minimal look. Much better than the recycled wasted foam seat.
For the build and functionality, this saddle stool is made with a heavy-duty sturdy metal base and structured screw that has a load bearing capacity of 400lbs. So, if you're on the lookout for a product that offers great stability and support for most users, you're in luck.
This high performance metal base comes with a 360-degree rotate pad, seat height adjusted by hydraulic lift, durable stylish reinforced nylon casters for quiet smooth movement on all flooring without scratches
Additionally, this stool has anti-exploding plate attached under the cushion guarantying maximum safety.
Like most other saddle tools on the market, this product requires no tools to assemble all you need to do is follow the instructions in the pack.
This model has been designed to keep you comfortable and prevent you from developing pains, but the firmness of the seat means it may not be ideal for people who already have back problems.
The one year warranty that this saddle stool comes with gives you time to put it to good use. If you realize that this stool does not offer the support you need, it is possible to return it.
Anyone looking for comfort and an affordable saddle seat that has been created to last should definitely look into this stool a trial.
Pros and Cons of Grace & Grace Professional Saddle Stool Series
What we like:
Heavy duty sturdy metal base.
Allows weight capacity of 400lbs
Adjustable height with hydraulic lift.
One year warranty
High density memory foam filling
What we didn't like:
Wheels work loose on carpet
Not for long period sitting
Bad for people with back problems
Read: Best Chair for Lash Artists in 2022 – Review and Buying Guide
Final thoughts on saddle stools
Saddle stools are a great choice for supporting active sitting and maintaining a healthy and ergonomic posture while working, Saddle stools with wheels can do even more to make regular sitting movements easier on your body.
When you first try saddle sitting, it may be tiring on your body unless you already have a strong core and upright posture.
Some manufacturers recommend starting with one to two hours of saddle stool use and gradually increasing this over several weeks. Once you have enough strength in the core abs and back muscles, you will be able to hold your body upright with less effort and saddle sitting should become more natural and enjoyable.
Now, you can easily choose the best saddle stool or chair, for your office or home. Keeping in mind that you will need a comfortable chair that can provide maximum comfort for a long time, we have provided you a list of the best options available.
If you've found a saddle stool you like in the list, follow click the title or image to check it on Amazon and see what other users are saying, then you can purchase it if you feel it's what you need.