Are you a little taller than average and need a good nursery glider for tall parents and not just the typical gliders and rocking chairs suited for average height parents?
Are you looking for comfortable ways of cuddling your baby to sleep? Are you tired of carrying your little one because they prefer constant motion? Worry no more; any of the best nursery gliders for tall parents I'll review below is what you need!
Rock Your Baby to Sleep Easily with a Sturdy Nursery Glider…
Babies are born with that innate desire to crave motion, the closeness of their mothers or caregivers as well as the feeling of being carried.
However, a time will come when the baby starts to feel heavy in your arms, especially if you have been on your feet or walking to and fro.
The easy way out is to get an excellent addition to your nursery by purchasing a rocker glider chair.
Gliders are beneficial and provide a fantastic way of delivering that comforting and necessary motion and closeness to your baby without wearing you out.
An impressive glider can make a considerable difference in your daily routine with a baby. What is more, not all gliders are perfect for you, especially if you are a tall person.
In this definitive guide, therefore, you will discover the best glider for tall parents. I'll detail what we like and what we didn't like as well as the factors to consider when shopping for the best nursery glider for tall parents.
But first…
How Do Gliders Work?
A glider works more like a swing than a rocking chair.
It is essentially a chair connected to a stationary or fixed base using a system or combination of bars and suspension that allows the chair to move with no difficulties above the base.
The result is a chair that ends up swinging back and forth in a motion that simulates that of a rocking chair.
The most significant difference in the movements of a glider and an actual rocking chair is that gliders are relatively smoother and do not tip as much as rocking chairs.
A nursery glider moves forward and back in unison and without hassles.
How safe are Gliders?
Gliders are very safe, and experts allege that they are even more reliable than rocking chairs.
It is easy for little hands and feet to get caught up beneath the base of the chair if it is rocking while your baby is moving around on the ground. But this is not an issue with gliders since its base stays in place.
You shouldn't leave your little darling in a glider alone or allow them to sleep off right there if you are not holding them in the chair.
Napping with your baby in the glider is a bad idea and should, therefore, be avoided for the safety of the baby.
Best Nursery Glider for Tall Parents
Storkcraft Custom Hoop Glider and Ottoman are constructed of solid wood, built to last for several years.
The glider is spacious and comes with padded armrests for additional comfort, thereby preventing your body from feeling the hard, wooden parts.
The armrests of the Storkcraft Custom Hoop Glider and Ottoman have pockets on the sides. You can utilize these pockets by storing your baby books, baby toys, and other small items that you prefer having within easy reach.
The glider also has a thick and comfy cushion as well as a foot resting place. This can come in handy when you snuggle your little one to sleep.
The back of the chair and the cushion is very easy to clean. Your glider will continue to look bright and beautiful all through the year.
Assembling the glider out-of-the-box is a walk in the park, and it also features small wheels that facilitate forward and backward chair movements.
It is available in a wide variety of colors and finishes – i.e., chevron patterns or swirls and solid colors – meaning that you can choose any glider that matches the décor of your nursery.
What we liked
Easy to assemble
Super comfortable for tall parents
Deep side pockets on armrests ensure baby items are within easy reach
Cleaning is incredibly easy
Available in beautiful and plush colors
Gliding ottoman
What we didn't like
This is an impressive, traditional-looking glider that is incredibly comfortable, convenient, and pocket-friendly.
The clean and modern design of this remarkable glider makes it a desirable option for short moms. The DaVinci Olive Upholstered Swivel Glider fits well with any décor and stands out from other gliders because of its swivel feature.
Gliding back and forth is sometimes not good enough to calm a fussy baby, and that is why the swivel feature comes into play.
The swivel motion of this glider gives users a lot of freedom when it comes to moving the glider. You can rock the glider back and forth or turn it side to side. The motions of this swivel glider are easy and smooth.
The stunning DaVinci Olive Swivel Glider comes with a clean and modern ottoman, bearing the same design as the glider itself.
One challenge is this ottoman is stationary; some stools are designed to glide just the same ways as their bigger counterparts do. This shouldn't be a problem, though a few may find this factor somewhat irritating.
This high-quality glider also comes with a special pillow that offers excellent lumbar support. This pillow is the perfect shape, size, and its firmness supports the lower back correctly.
Having a pillow is commendable as it will certainly be beneficial for moms or dads who have no choice but to rock their little ones all through the night.
The pillow is the added feature that prevents your body from getting sore by providing optimal support, thereby reducing stress.
What we liked
Features an attractive and sleek modern design
Swivel motion gives users more versatility and freedom
The extra pillow provides optimal lumbar support for your lower back
Includes a fully upholstered ottoman
Multiple color options are available for different decors
What we didn't like
Ottoman is stationary i.e., doesn't glide
Pricey when compared to other products or options
The DaVinci Olive Swivel Glider is highly attractive, comfortable, super sleek, and well-constructed.
Do you want a glider for your nursery, but don't have enough room to accommodate a large one? Then this glider is the best option for you.
The Delta Children Nursery Glider may be primarily designed for small spaces and short moms, but it is tremendous on versatility and comfort.
It comes with a 360-degree swivel feature that allows users to turn any direction they desire.
Three color options of this glider are available, meaning that you can go for anyone that fits the décor of your nursery.
The colors are not abrupt but very simple; therefore, they should be easy to coordinate or align with any nursery décor users may have.
The Delta Children Nursery Glider has a sturdy build that assures you of its durability and longevity. It is lightweight and easy to move, especially if you relocate. If you prefer a footrest, you can purchase a matching ottoman as well.
What we liked
Highly durable steel mechanisms that ensure ultra-quiet movements
Thickly padded armrests
An excellent choice for small spaces and great for both tall and short moms
Cushions are removable for easy cleaning
Ultra-quiet gentle glide motion
What we didn't like
Some buyers claim the material used was not as durable as expected
225-pound weight limit
This is a high-quality but simple swivel glider that takes a little room without sacrificing functionality and convenience.
Storkcraft Tuscany – Best Nursery Glider for Short Moms
The Storkcraft Tuscany is a nice-looking glider with microsuede fabric that enhances its look for many years to come.
If you have a small stature, you should know that there are only so many gliders for short moms out there. This glider is one of the few ones on the market that are perfect for short moms.
The Storkcraft Tuscany Glider is shorter than most recliners on the market and features a lumbar support pillow.
The cushion can be set between your lower back and the inner backrest of the chair, thereby providing better back support.
The extra space caused by this pillow keeps you somewhat closer to the front of the glider. This makes it incredibly easier for short moms to get up and down from the chair.
Storkcraft Tuscany comes in five different wood finishes: white, black, and cherry, which give you additional options of what color upholstery you want. Upholstery colors come in blue, pink, brown, grey, and so on.
What we liked
Lumbar support offers optimal support for lower backs
An excellent choice for short moms
Classic sleigh design that fits any style
Includes ottoman that glides along with its bigger counterpart
Tons of wood finish options and color options available, thus making this product a highly customized choice.
What we didn't like
Cushions tend to flatten when used extensively for a few years
This glider is much more comfortable to use by petite or short moms, thanks to its customizable feature.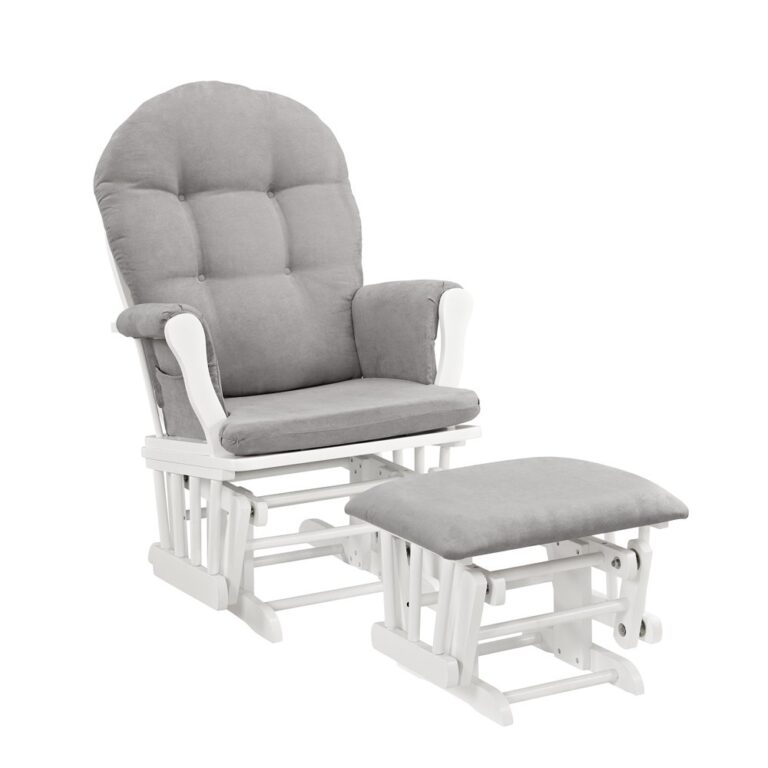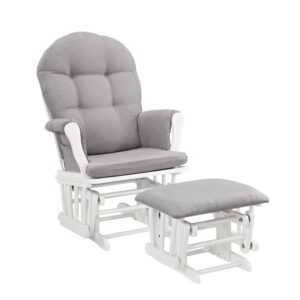 Are you on a tight budget, but need to get your hands on a comfortable glider without sacrificing quality and convenience? Then, get your hands on the Windsor Glider and Ottoman.
The Windsor Glider and Ottoman may look simple, but it is a high-quality, pocket-friendly option. It has that traditional glider look and timeless design that befits any décor and nursery.
This Windsor Glider comes with a variety of upholstery colors and different finishes that will appeal to your theme or specific taste.
This glider and ottoman set make a sharp and vivid impression the first time you set eyes on it.
It comes with removable cushions, making it easy to efficiently spot clean anytime there is a mess to clean up. It may be a little squeaky, but the noise should be negligible.
What we liked
Extremely affordable price which works great with anyone on a budget
Comes with side pockets for convenient storage
Includes gliding ottoman that moves along with the seat
Classic design that fits any décor
Multiple color options that go well with any nursery
What we didn't like
Squeaking noise may be uncomfortable to some people
The Windsor Glider and Ottoman set may not be the fanciest glider on the market, but it looks beautiful and convenient.
Glider Buyers Guide – Things to Consider When Shopping for a Glider
Picking a glider that is ideal for your baby can be overwhelming. This is because you need to consider your stature as well if you want to make the best use of the nursery furniture.
So, what's the size of your budget? What's your weight and height? These are some of the questions that should be running through your mind as you shop for the best glider for tall parents.
On that note, here are some of the features you should consider:
Glider vs. Rocker
Do you crave maximum nursing comfort? Then go for a reclining glider for your little angel's nursery. A glider allows you to make forward and backward motions or movements while your feet remain lifted.
Furthermore, the best gliders have padded armrests and feature a thick and extremely comfortable cushion for sitting on. But then again, you will need additional cushioning in a nursery rocker, or else you may feel uncomfortable within a short time.
Low Back vs. High Back
Tall moms should go with gliders with high backs while short moms should opt for low-backed gliders. Both gliders for short moms or tall parents may not take up a lot of space depending on construction.
But low backs tend to be more space-friendly. With the right glider for your baby's nursery, you will be comfortable when feeding your little angel late at night or resting.
Sturdy Construction
The best glider should be constructed with strong and durable materials so that they can withstand any weight.
If you plan to have more babies, you need a well-constructed and lasting glider that supports all your needs.
This will prevent you from spending a lot of money purchasing a new glider each time you have a baby.
Comfortable with Paddled Armrests
Gliders should be comfortable, that is why it is recommended that you get one that makes you and your baby comfortable.
The glider you choose should allow you to stretch your legs while feeding your little one or rest your head on the padded headrest while you read a book.
Comfortable gliders should have padded arms so that you can rest easy. It can be irritating for you and your baby to feel the hard, wooden construction when resting. A padded armrest will keep you and your baby calm and comfortable.
Wash-ability
Babies are messy; they sprinkle milk on the chair or burp and throw up some of the food they have consumed. You may accidentally spill some fluids on the chair as well when feeding your little one.
The best glider is wipe-able and washable, so go for one that comes with a removable cover. This will enable you to separate the cover from the glider for washing.
Cost
The cost range of a glider depends primarily on its construction as well as the materials it is crafted from. Some of them are very pocket-friendly, while a few can be pretty expensive.
However, take note that you should only go for a glider that lies within your budget, especially if the glider provides the needed comfort for your baby.
Quietness
It is super-important to get a glider that doesn't produce squeaking sounds or noise when in use. There shouldn't be any sound while gliding, and even if there is any noise at all, it should be negligible.
A few gliders may become noisy after being used for some time, and you may need to lubricate those metallic gliding parts that squeak in order to eliminate the noise.
Lumbar Support
A few moms desire more support on their backs, especially if they always experience discomfort when sitting or resting. This is why you must consider obtaining a glider that comes with additional lumbar support.
If you can get your hands on memory foam, it is perfect for extra support.
Conclusion
Gliders are pieces of furniture that come in handy when moms need to take a breather with their little angels.
The products discussed herein can help put your little one to sleep and are useful to have in your nursery.
So, you can choose to go online on Amazon and purchase any of our recommended gliders for tall parents like you or you can get check out other options.