Your kids deserve the same sitting comfort and style you do, maybe even more than you. To help you get them that comfort, a kid's ottoman chair may just be what you need.
Today, I've decided to put together a list of the five (5) best kids' ottoman chairs available on the market. So, if you want a sturdy kid's ottoman for your children, this is the list for you.
But What are Kids Ottoman
Kids Ottomans are smaller versions of regular Ottomans you can use as a décor for your kid's room or even a nursery.
Ottoman is furniture that typically doesn't have backs or arms. But, they can have the finest upholstery done and can be used as a low couch. Depending on the style, you may get one with hollow storage space.
You can use these cushioned seats as footstool or table as they are multipurpose and brings out the shine of the room where they are placed. The Ottoman furniture gets its name from its root origin, the Ottoman Empire in Turkey.
What are the Best Kids Ottoman
We have carefully selected the best 5 kids Ottoman chairs taking cognizance of various users' feedback and commentary on these kids' furniture.
Top 5 Kids Ottoman 2023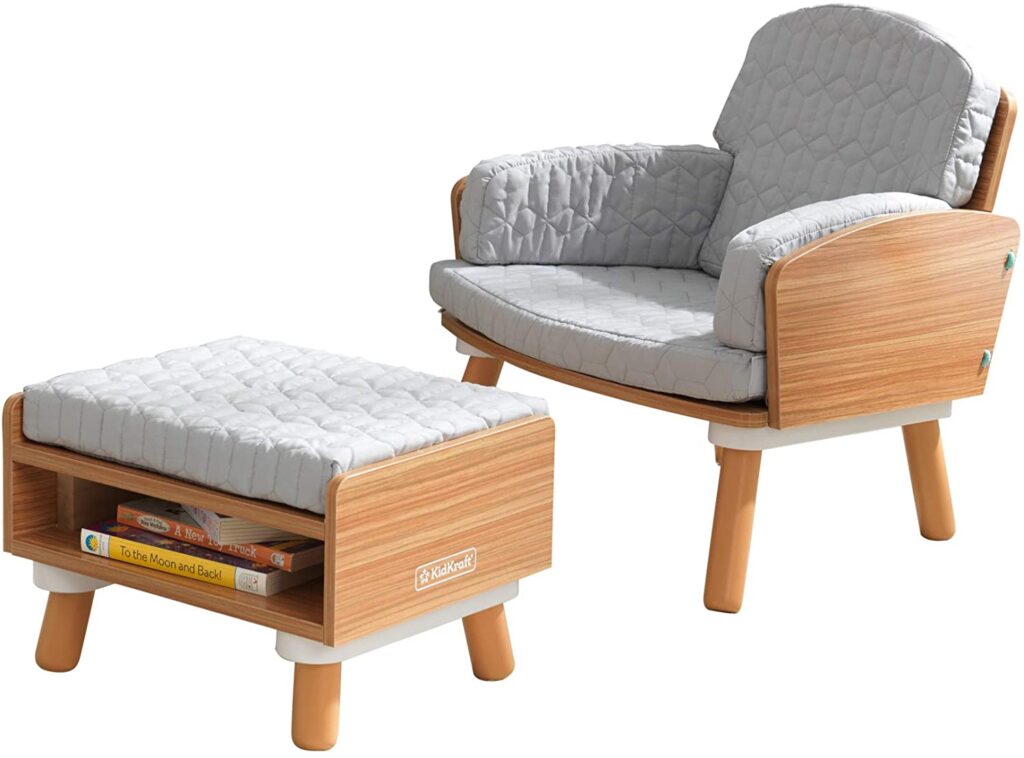 First on the list is the KidKraft reading chair and Ottoman. It's incredibly beautiful mid-century furniture every kid would love. Made of high-quality wood and quilted cushions, this ottoman has seen kids become more eager to read when seated on it.
It has right-sized kids Ottoman with storage that's cleverly put in place. Your kids can access their favorite books and small-sized toys tucked in the ottoman easily, as it's open storage that's accessible from both sides.
If you love mid-century style furniture, this little chair and ottoman for your kids would definitely impress you.
Interestingly, this Ottoman and chair are angled so you can be sure your kids will get that perfect lounging mode. The cushions are comfortable to sit on and it also has an elastic strap you can use to hold up books, accessories and more if the storage on the ottoman isn't enough.
Installation is a breeze, thanks to easy-to-understand EZ Kraft assembly instructions.
Why You Should Go for the KidKraft Reading Chair and Ottoman
It's very easy to install
Comes as a mid-century furniture that depicts a high taste in style
Made to be comfortable to sit on
Ottoman for kids with storage included
It's very sturdy, made with natural wood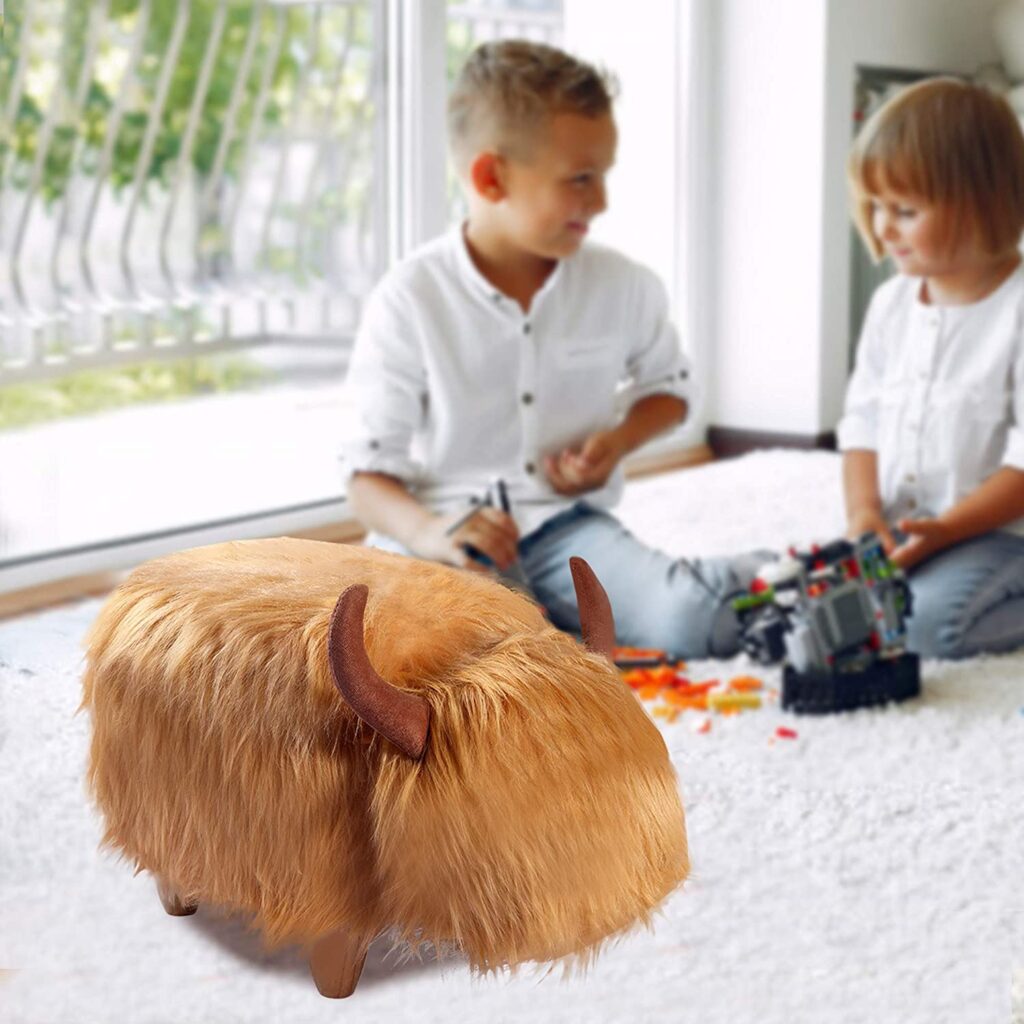 Give your kids the cuddly MacGregor Highland Cow Ottoman from GIA and watch their faces lit up. This kid-friendly ottoman with storage is made of plush padded material and high-quality fabric. It's also made of sturdy natural wooden legs.
Originally designed for kids, parents are snatching this up for themselves because asides from the pouf aesthetics which is adorable, it also has a great storage area.
While it won't serve as a coffee table, I'm sure you'd love this piece of art giving your home a redefined shine you didn't even know it had.
This Gia kids ottoman has a built-in storage area.
If you or your kids love Shaun the Sheep, of course, it's not negotiable that you should get this Ottoman, or is it?
Why You Should Go for the MacGregor Highland Cow Ottoman from Gia
A cute, kid-friendly fur cow that's sure to lighten your mood
You can use it as a small chair or a footrest
Has storage space
Made of natural wood, plush padded material and high-quality fabric
Can be assembled easily.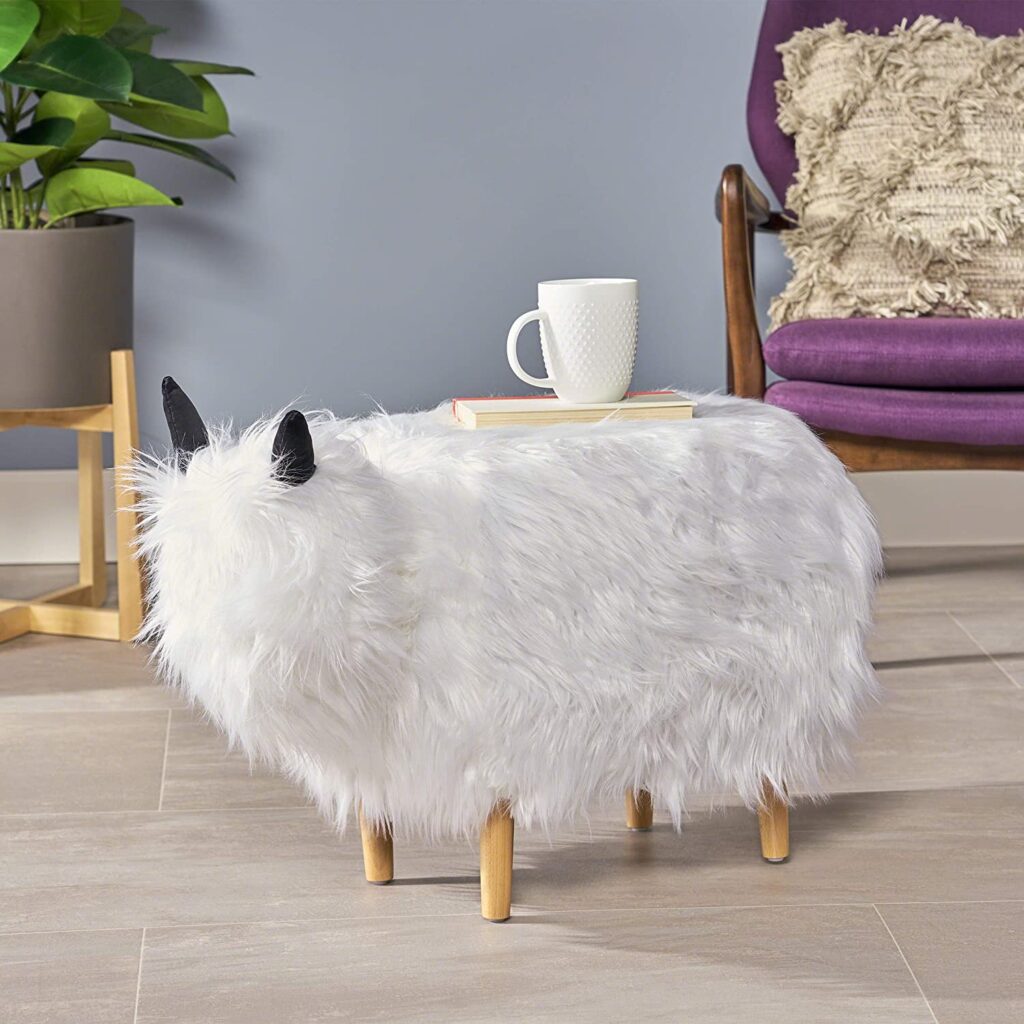 Looking for a new addition to your family? Maybe this Furry Yak can fit in. You can choose to spice up your kid's room with the Christopher Knight furry yak and give them a new play companion.
Whether you are looking for a new play toy or a decorative art piece for your kid's room, this Ottoman will suffice and keep your child company.
This fuzzy yak is pretty sturdy and made of several materials including faux fur and rubberwood. It does require a bit of assembly but the effort is well worth it when you consider the joy you're surely going to get from this ottoman.
Why You Should Go for the Christopher Knight Furry Yak Ottoman
A beautiful furniture and can be used as piece of art in your living room or as a toy addition for your kids room.
Very sturdily made with quality materials
Your kids will love you for it, because it's a huge stuffed animal
Can be used a footrest, a stool or just an art piece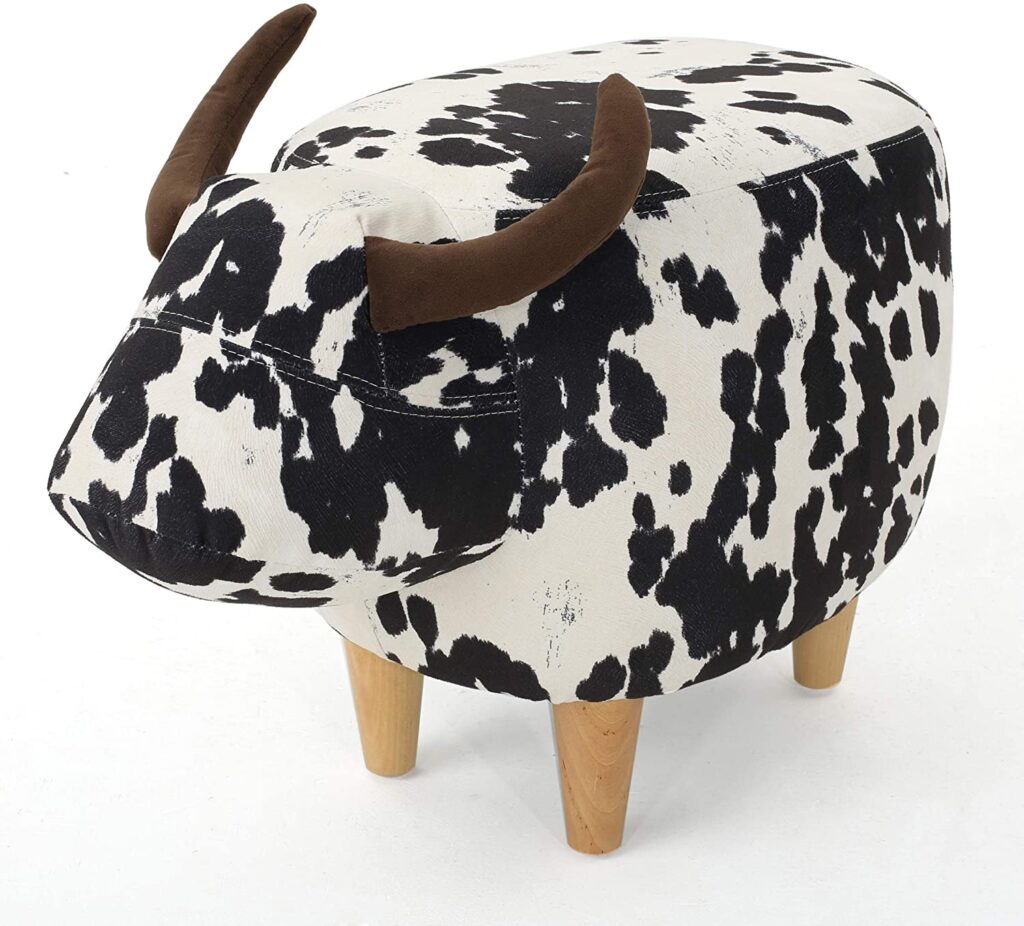 Want a Moo-tabulous ottoman for your kids or even yourself as footrest? This Bessie patterned Cow ottoman from Christopher Knight is a great option.
Kids loved their stuffed animals, think of this as a bigger stuffed animal for your kids. It will serve its purpose of augmenting the beauty of the home with clean black and white colors.
Assembly is pretty easy and you'd be done with it in minutes. This Christopher Knight Cow ottoman is sturdy and most people agree that it's the right size of furniture everyone would love. Your kids would especially appreciate having a 'stuffed' cow company in their room, so what say you?
Why You Should Go for the Christopher Knight Cow Ottoman
Perfect size of footstool if you need it as one
It's aesthetically pleasing and would spice up your home interior
Kids love their stuffed animals; this is a bigger stuffed animal
It's easy to assembly
Made of quality materials and is very durable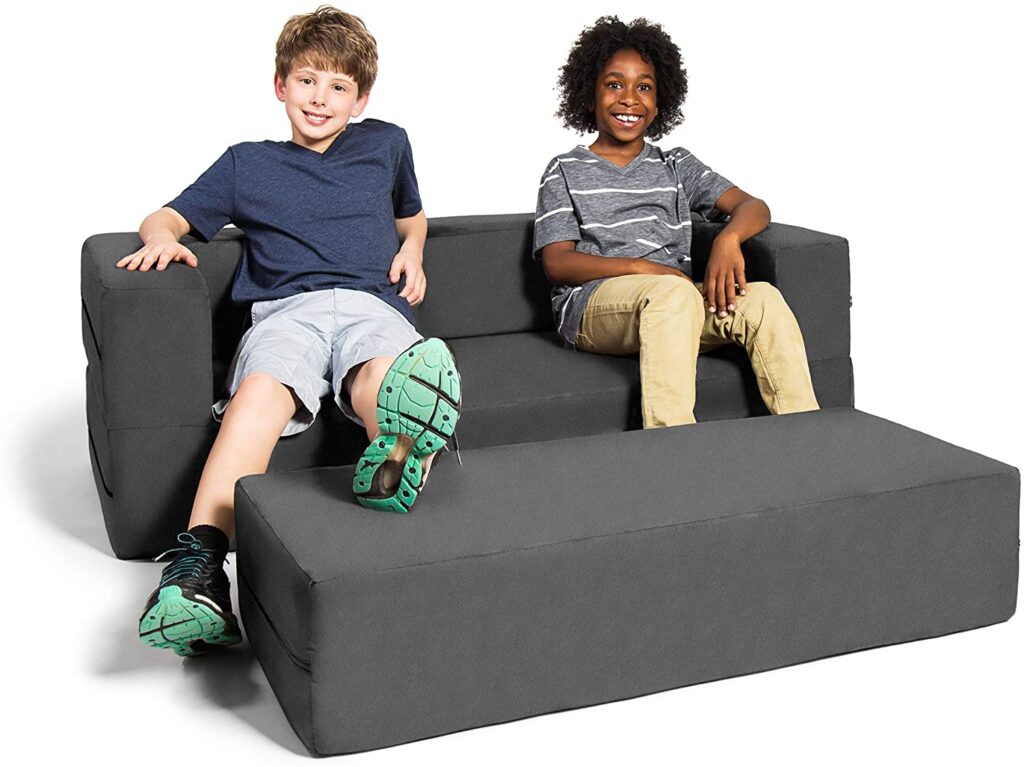 This is a pricey kids' chair and costs as much as some budget recliners, but you can't go wrong with this, especially if you have rough kids.
The Jaxx Zipline sofa is an innovative kids-sized convertible sofa that comes with a bench and crash pad, so you're getting 3-in-1 furniture for your home.
Made of highly durable upholstery which is machine washable, you can maintain the 'cleanliness is next to godliness' mantra.
This made in USA sofa gets you three seating positions. You can achieve this by stacking the ottoman in the seat. The result is a seating bench you can relax on.
Why You Should Go for the Jaxx Zipline Sofa with Large Ottoman
Three in one furniture
Very sturdily built, can be best for rough kids
You can stack the chair with the ottoman to make a bench.