Is your wheelchair uncomfortable? You have probably considered getting a new one instead of taking another look at your wheelchair cushion. It's true those who use wheelchairs consistently have a high risk of developing sitting-related pressure and pain points.
A handy cushion can help alleviate some of this pain and pressure. But do you identify such cushions, you ask? You are currently on the right page if you are in the market for the best cushions for a wheelchair.
This review highlights the top 5 best cushions for wheelchairs that you should consider. But before then, let's find out what a wheelchair cushion is. We will also look at the types of cushions for wheelchairs in the market today.
What is a Wheelchair Seat Cushion?
A wheelchair cushion refers to a removable cushion primarily designed to be placed on top of an already existing wheelchair seat. It is used to provide additional comfort and pressure relief to the user.
Trying to remain as comfortable as possible is a real struggle for those who use wheelchairs for extended periods. This increases the risk of pressure sores and causes discomfort and pain.
The best cushion for wheelchairs assists in evenly distributing your weight across it. When this happens, it relieves pressure and enhances comfort. The cushion also promotes a better-seated and safer posture.
A good wheelchair cushion can be particularly beneficial to nearly every type of wheelchair user.
Types of Cushions
Here is a list of the type of cushions you need to know about:
Gel Cushion
Gel cushions are exclusively made of gel, while others are layered with foam. Gels have a cooling effect on the skin and are often recommended for wheelchair users that live in warmer climates.
Hybrid Cushion
Hybrid cushions combine 2 or more materials that work seamlessly together to create a highly superior cushion. This type of cushion is designed to fulfill more than one specific need.
Hybrid cushions can be easily layered on top of one another – such as the PURAP Seat Cushion for Wheelchairs – or fused or integrated like the Everlasting Comfort Memory Foam Seat Cushion.
Memory Foam Cushion
Memory foam cushions are known for their innate ability to mold into your shape excellently. This is a good thing for short-term comfort. However, this type of cushion cannot offer enough support when used for extended periods.
At times, some manufacturers layer memory foam cushions with molded foam or gel in order to create a much more compact product.
Liquid/Air Cushion
The Liquid/air cushion is a type of damper or padding that comes with cells filled with air, liquid, or a combination of both.
You can easily adjust this type of cushion until it reaches the level of firmness you desire. This is possible by letting air out of the cushion or by pumping in more air. Liquid/air cushions usually come with a pump in the package.
Molded Foam Cushion
The molded foam cushion is generally comfortable and supportive for most wheelchair users. Most people say this type of foam feels incredibly comfortable. If you are lightweight, this could be a bonus.
However, this type of foam has a downside: it tends to go flat in less than 6 months. But the good thing is that it can regain its size after a while.
Therefore, if you opt for a molded foam cushion, make sure you purchase at least 2 at a time. This way, you can switch to the other one when the first one goes flat. Store the flat molded foam cushion with the zipper open, and it will eventually expand to its original size.
This is an excellent feature of molded foam cushions that most wheelchair users don't know about. Most users tend to throw the foam cushions away as soon as they go flat instead of storing them.
You may be somewhat surprised to discover that some companies use high-density molded foam that can be easily shaped to follow the body curves of the user.
Top 5 Best Cushions for Wheelchairs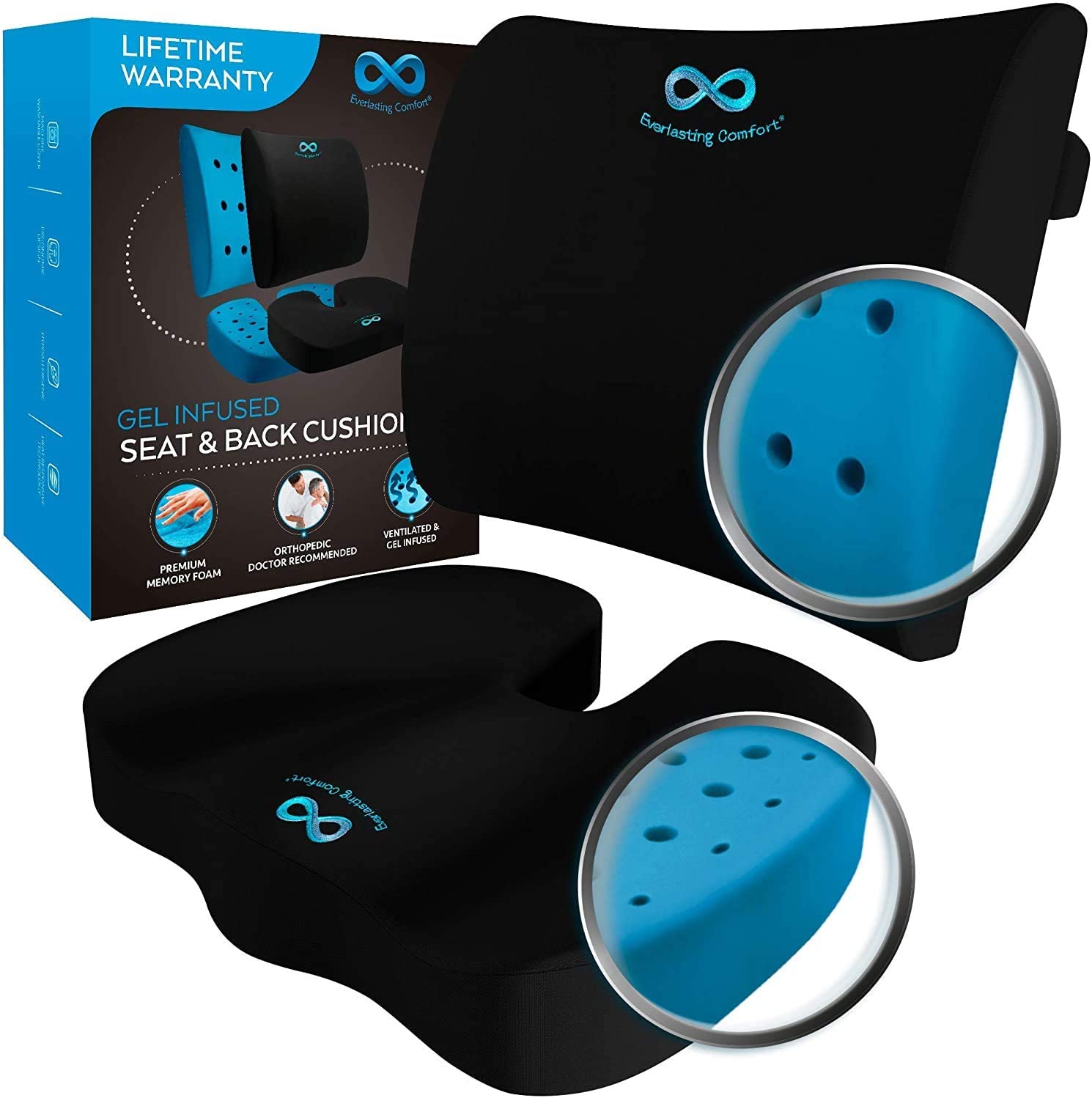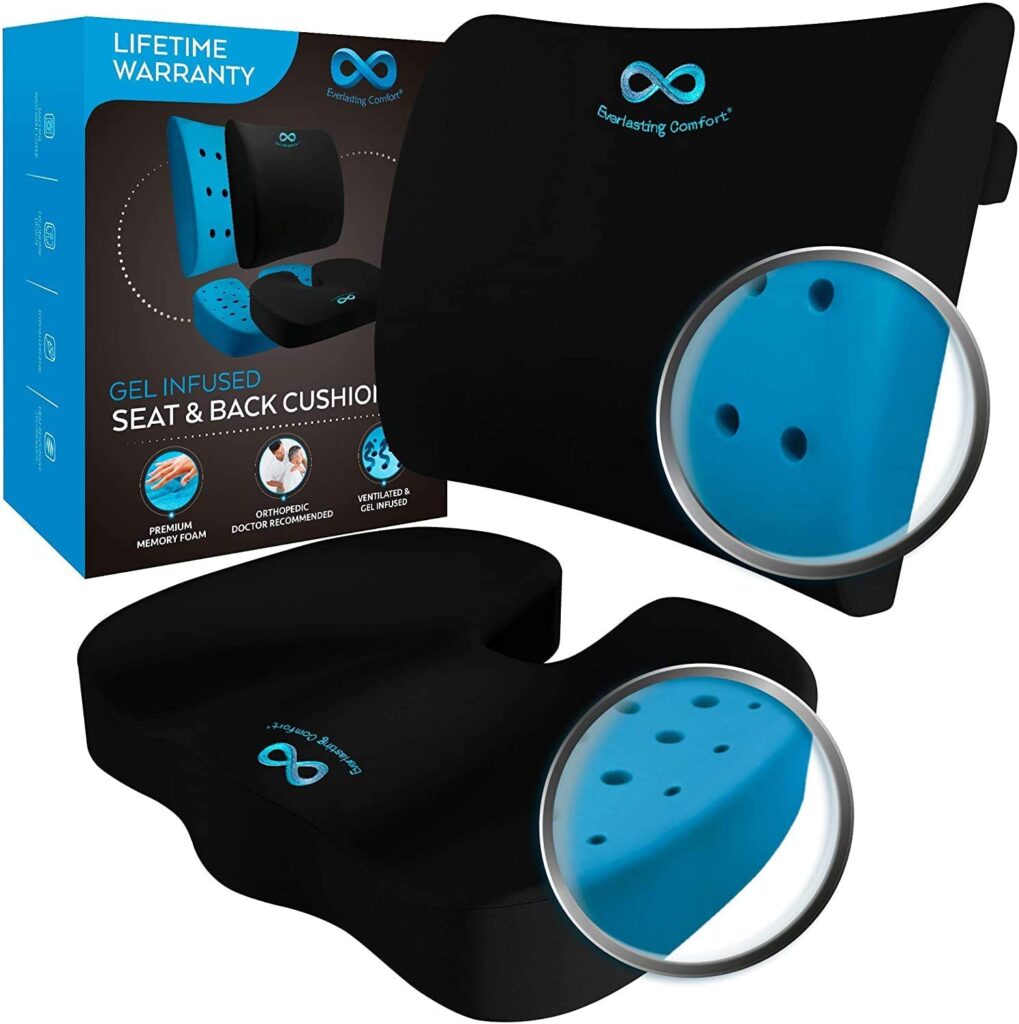 Many users have referred to the Everlasting Comfort Memory Foam Seat Cushion as a 'lifesaver.'
They are not too far from the truth because this cushion for a wheelchair helps eliminate lingering tailbone pain. It puts an instant end to your back pain, thanks to its premium ventilated gel-infused memory foam.
The Everlasting Comfort Memory Foam Seat Cushion features heat-responsive technology that readily adjusts to the curves of your body for much better support.
Ventilation holes strategically positioned in the memory foam of the gel seat cushion allow air to circulate throughout without trapping heat. This means you can sit comfortably and cool for hours.
This product guarantees that you will no longer sit down with nagging back pain. You won't have to sit hunched over in pain as the Everlasting Comfort Memory Foam Seat Cushion offers pressure relief.
What we like
Excellent product that alleviates bedsores
It provides firm support for those with multiple back injuries
Extra lumbar support enables you to sit straight for extended periods
Firm and super comfy
It features an innovative heat-responsive technology
It never loses its shape
Machine washable removable seat and back cushion covers
It is known to eliminate severe back pain instantly
What we didn't like
It is not too suitable for some individuals when driving
It is not too useful for anything else besides a wheelchair
Read: Best Coccyx Cushion to Ease Tailbone Pain in 2021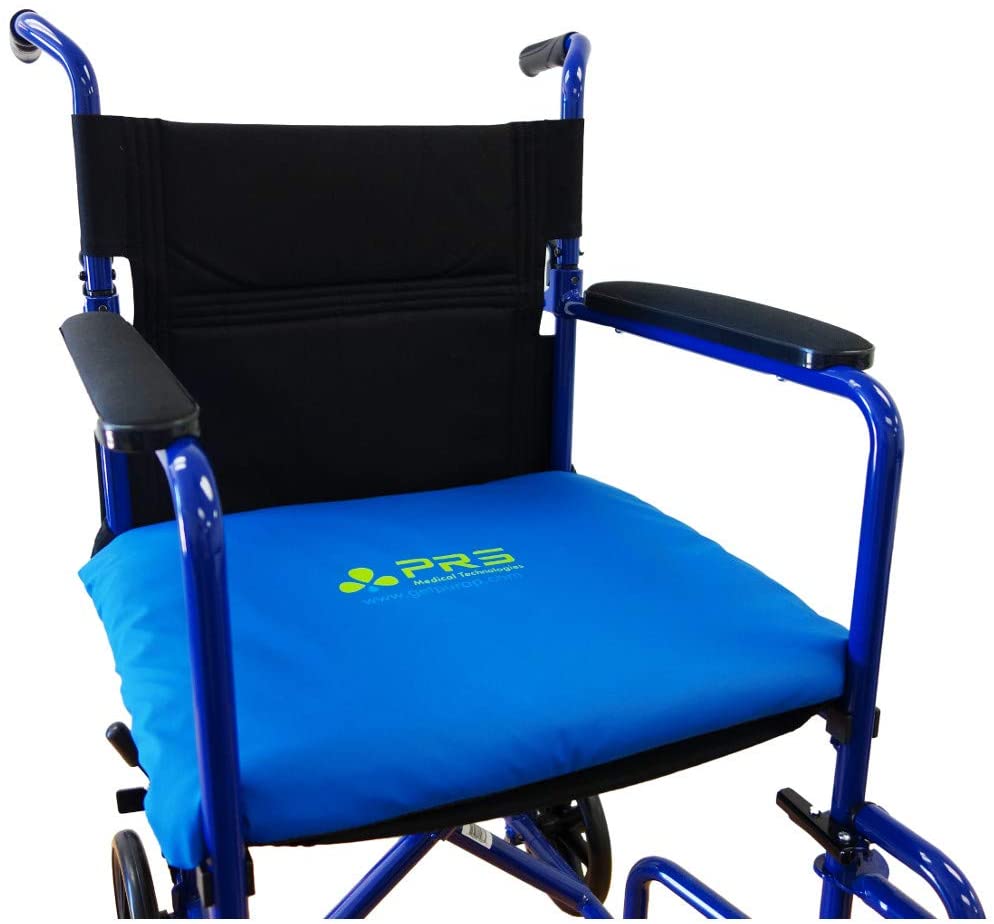 Sitting on a gel cushion or foam makes you experience the sensation of 'sinking in,' which offers almost instant relief. However, the cushions tend to push back against your buttocks and create high-pressure hotspots.
This is not the case with the PURAP Seat Cushion for wheelchairs. You will not sink in when sitting on it. Although the fluid upper layer may feel somewhat firm, the cushion is designed to significantly increase the support area without any compression.
The PURAP Seat Cushion efficiently dissipates the pressure away from your body laterally and never pushes back against your buttocks. This cushion for wheelchairs helps heal advanced stage stores efficiently and eliminates high-pressure hotspots responsible for creating bedsores.
The PURAP Seat Cushion features clinically tested 3D flotation technology developed in California and has published clinical data. It is known to outperform foam and gel cushions.
What we like
It provides instant relief from pressure sores
It assists in healing sores that develop on the buttocks due to prolonged sitting
It helps in preventing the shearing and tearing of the delicate and fragile skin of the elderly
Exceptional customer service
It is easy to use
Comfortable and non-slip cushion
Excellent choice for alleviating pressure points
What we didn't like
It is somewhat more expensive than other cushions in its class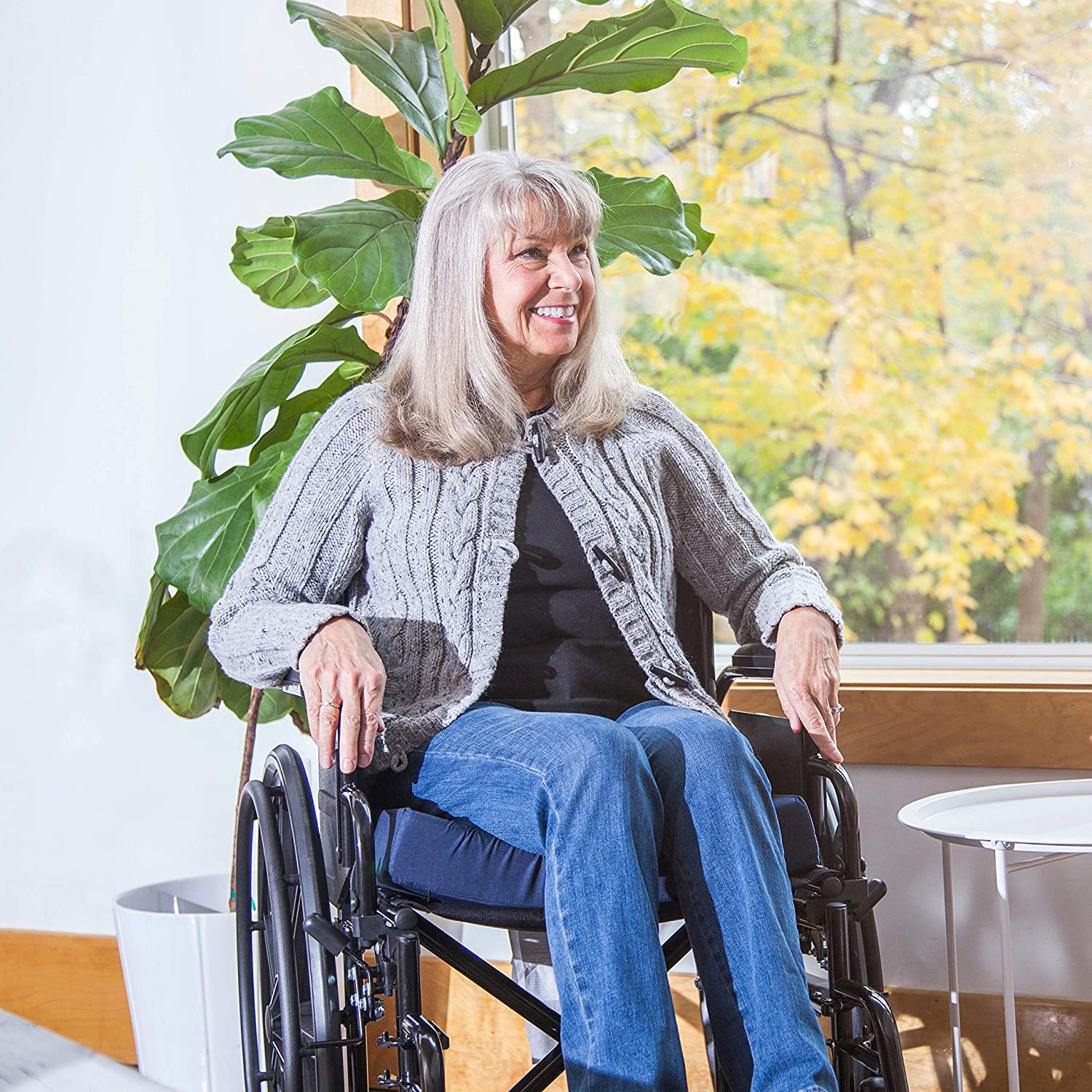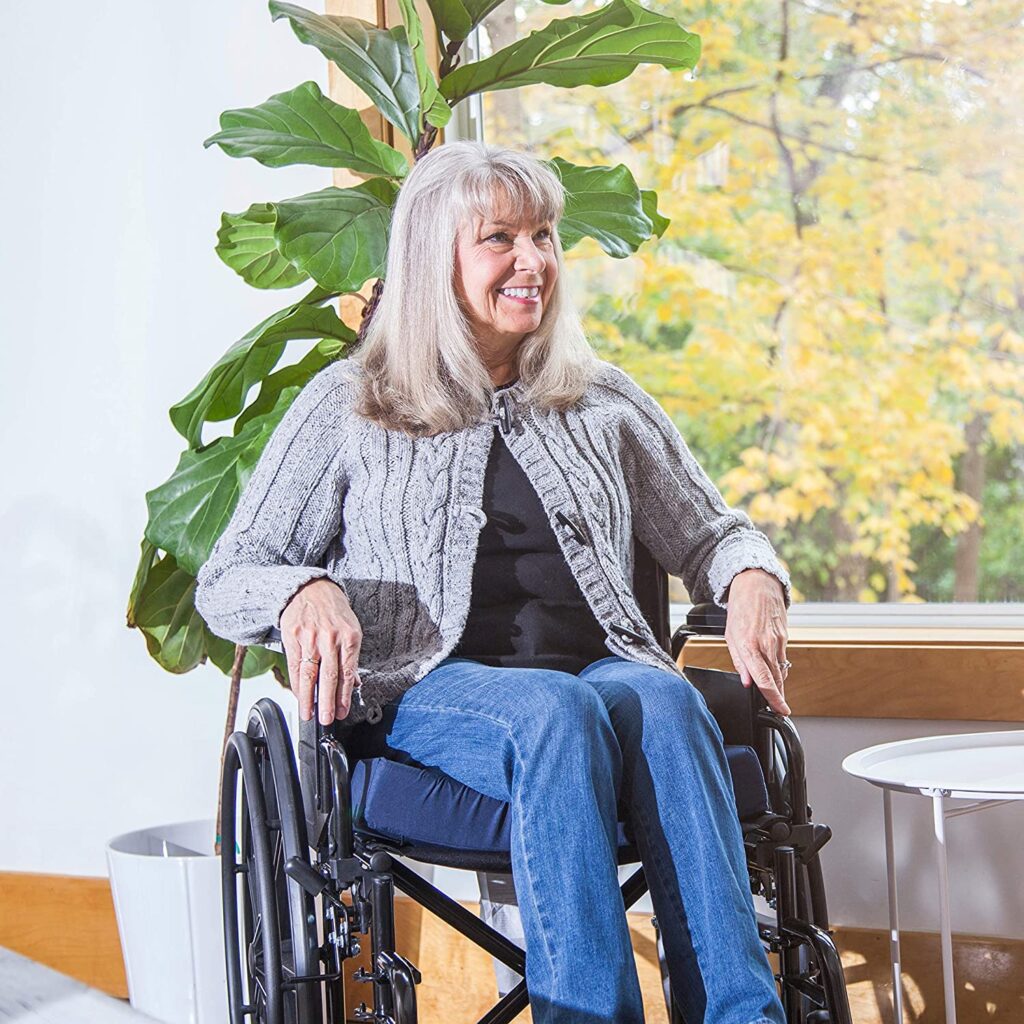 The DMI Seat Cushion for wheelchairs is designed to increase your comfort, support, and even height when seated in the moveable chair.
It aids good posture and helps with the natural curve of your spine by offloading pressure on your spinal discs and evenly distributing your weight.
The DMI Seat Cushion features an ergonomic design that assists with increasing blood flow. It also helps minimize pain in your lower back, tailbone, shoulders, and even legs.
This firm and durable cushion for wheelchairs are supportive and lightweight enough to carry when traveling to another location. It is constructed with high-density foam that will not crumble or crack.
What we like
High-quality product
Super comfy
It provides just enough support so that you don't get 'bed sore' when using it
What we didn't like
Its cheap fabric and smelly foam may be off-putting
It looks like an ordinary cushion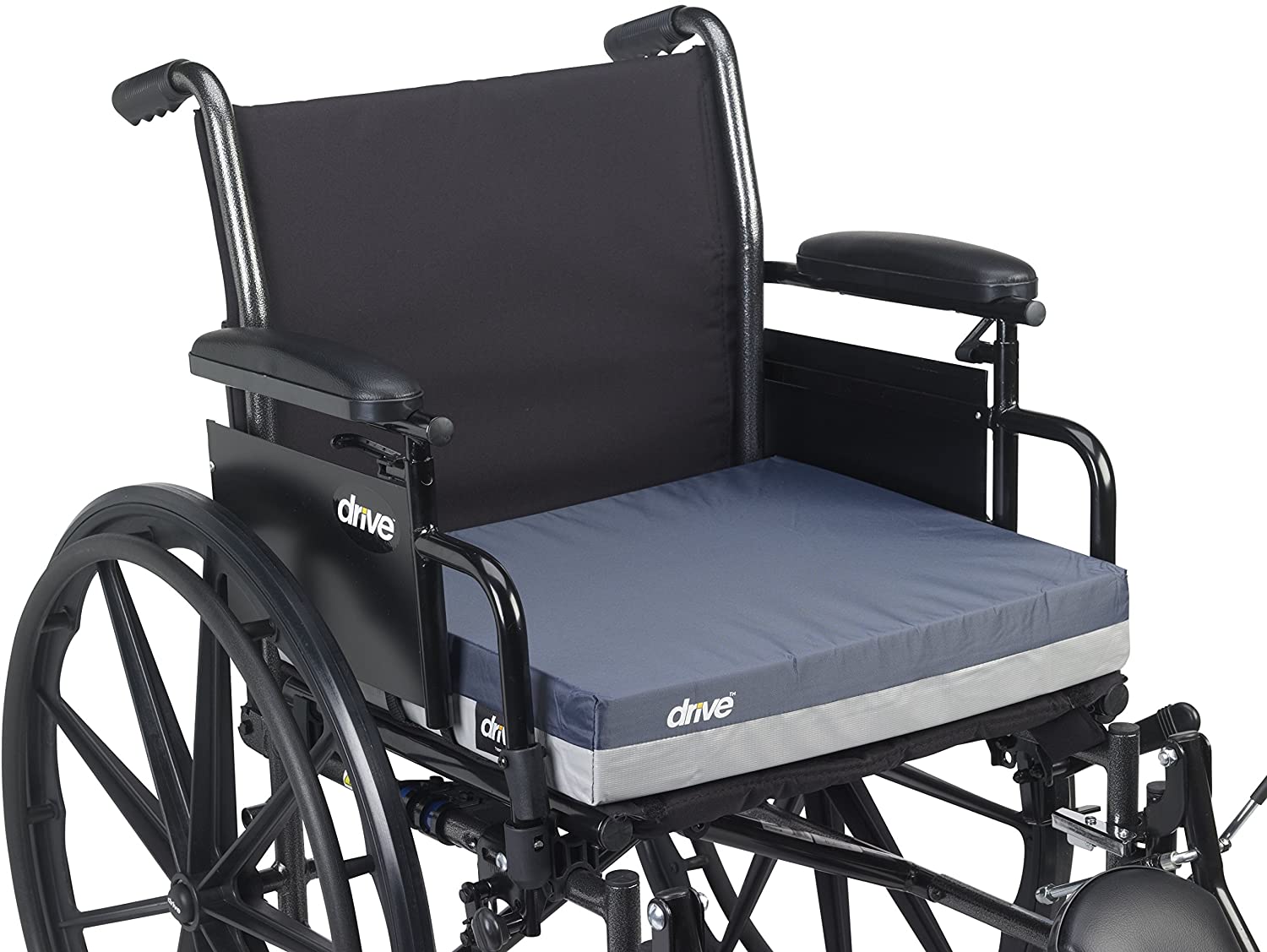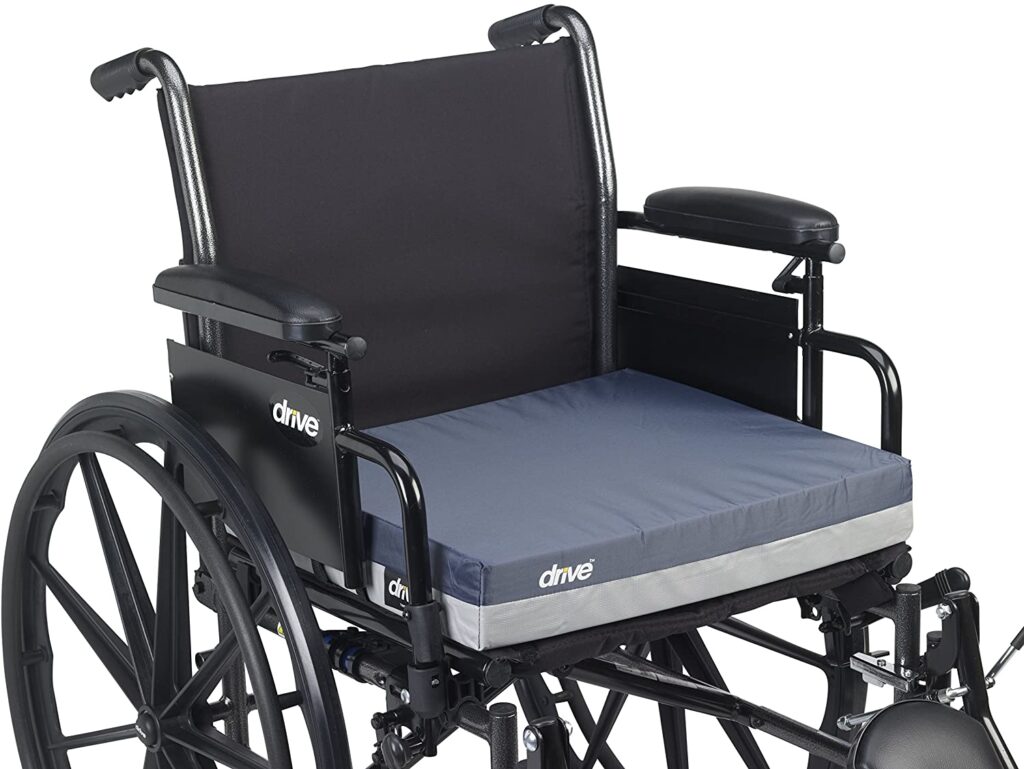 The Drive Medical Wheelchair Seat Cushion is pressure-reducing. It is primarily designed to help in the management, prevention, and treatment of pressure ulcers. It features a viscous gel bladder that provides highly optimized pressure reduction, comfort, and support.
The Drive Medical Wheelchair Seat Cushion also features a fire-retardant polyurethane foam shell. It has a removable and replaceable water-resistant cover as well as a non-slip vinyl base, which ensures your safety.
The top of this wheelchair cushion's cover is nylon coated with urethane that is vapor permeable, low shear, and water-resistant. This makes the v Drive Medical Wheelchair Seat Cushion one of the best cushions for standard wheelchairs.
What we like
High-quality cushion
Excellent backup cushion for a wheelchair
Water-resistant
An ideal choice for those not prone to pressure sores
Super comfy
What we didn't like
It is somewhat heavy, though this may be due to the material used in making the cushion
Complaints of shifting gel which eventually makes the cushion uncomfortable for prolonged use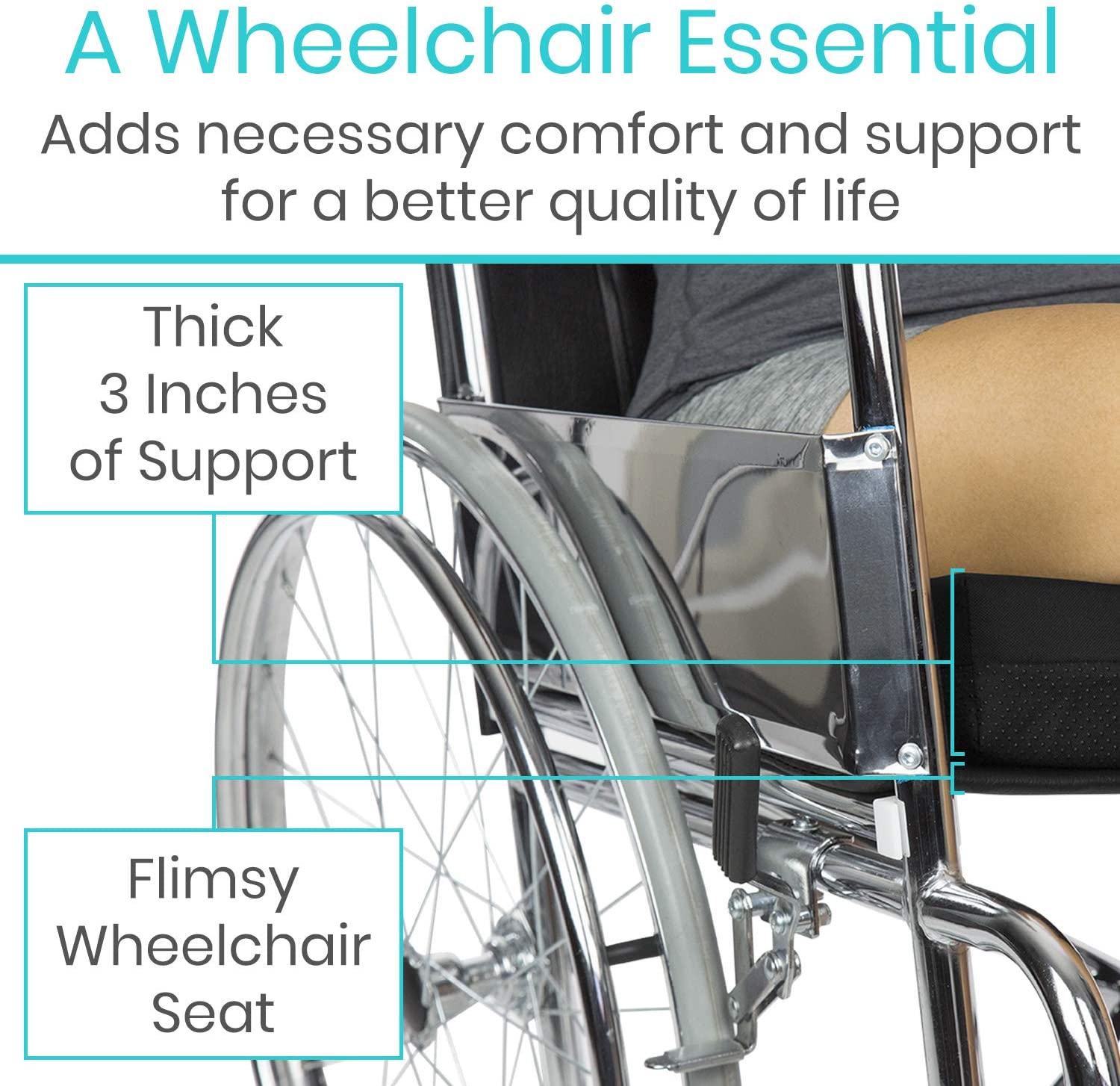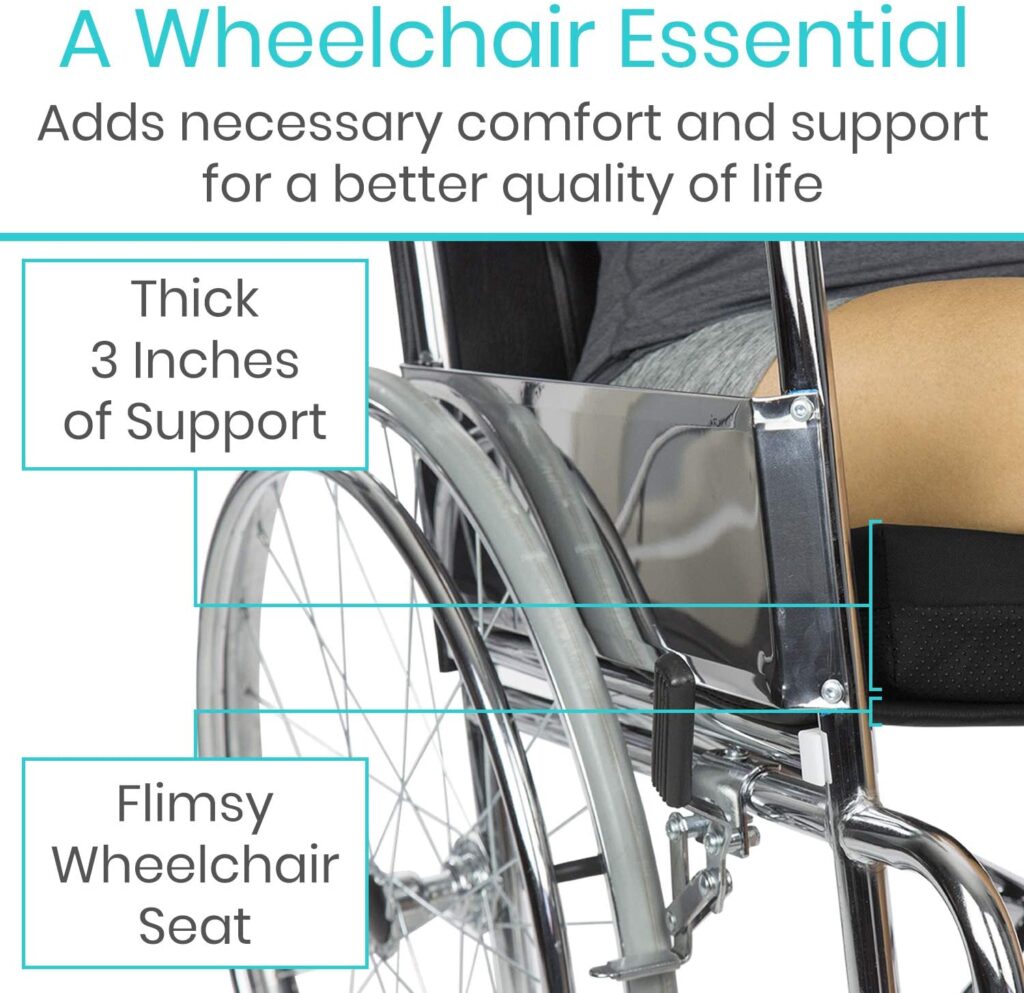 The Vive Wheelchair Cushion is one of the best cushions for a wheelchair as it offers up to 4 layers of profound supportive comfort as follows:
It comes with a waterproof seal that ensures the non-intrusion of fluids into the foam
The machine-washable and removable cover is waterproof, soft, and luxurious to the touch
The supportive and comfortable foam never flattens under your weight as it provides all-day comfort
It features a liquid gel interior for an even distribution of pressure and comfort
The Vive Wheelchair Cushion is an optimal size, i.e., it is perfectly designed to fit most standard wheelchairs. It is portable, convenient, and a must-have for anyone who sits for several hours per day.
What we like
It is an exceptional wheelchair cushion
It provides immense pressure relief
The cushion is waterproof, so you don't have to worry about spills, wear and tear, etc.
Excellent value for money
Its liquid gel core allows the cushion to distribute pressure across its contact surface evenly
It has a machine-washable, removable, water-resistant, soft, and luxurious cover
It comes with a 60-day unconditional guarantee
What we didn't like
The gel in the cushion moves around and bulges up between the legs
Read: The 5 Best Small Ottoman for Your Living Room
Buying Guide: Factors You Should Consider Before You Buy the Best Cushions for Your Wheelchair
Level of Comfort
The level of comfort you seek will determine the type of wheelchair cushion you want to buy. Check out the section that discusses the 'Type of Wheelchair Cushions' to help you make a better decision.
You may like firmer seats, while other wheelchair users prefer softer ones because they have sensitive skin. It is in your best interest to find the ideal option for you.
User Needs
Why do you need a wheelchair cushion? Have you suffered injuries in the past or pressure sores, or have delicate skin? If you have experienced any of these, you need to go for a wheelchair cushion that provides maximum or excellent pressure relief.
On the one hand, air and gel wheelchair cushions are well suited for those at medium-to-higher risks of pressure injuries. This group of wheelchair users spends extended periods in a seated position on the moveable chair.
But on the other hand, foam wheelchair cushions are more suitable for users who want to minimize the risk of pressure sores. This group of users usually employ wheelchairs for limited periods throughout the day.
What if you or the wheelchair user has impaired sitting balance? This is another important consideration. If you stoop or find it challenging to maintain a proper seated posture, you may want to go for a wheelchair cushion that offers additional support.
This type of wheelchair cushion is designed to prevent users from sliding out of that wheelchair. Therefore, go through the wide range of positioning wheelchair cushions available as they range from wedge, contoured to pommel cushions.
Weight Capacity
Make sure you go for a wheelchair pressure cushion that is highly suitable for your weight. Standard wheelchair cushions usually have weight capacities that reach up to 250 lbs.'
If you are a bariatric user, opt for bariatric wheelchair cushions capable of supporting weights up to 750 lbs. Do not exceed the advertised weight capacity. If you do, the wheelchair cushion will lose its shape and become inadequate in providing the needed support and pressure relief.
This ends up increasing the overall risk of pressure injuries, which is something you should avoid at all costs.
Wheelchair Dimension
Wheelchairs are available or come in a wide variety of sizes, depending on the overall weight or size of the user. This means you should only go for a wheelchair cushion that shares the same size as a specific seat.
Therefore, before you buy any of the best cushions for wheelchairs, ensure you carefully measure the inside dimensions of your wheelchair's seat. This includes the depth and width. This gives you an excellent idea of the type of wheelchair cushion you should purchase.
The wheelchair cushion needs to fit snugly onto the movable chair seat. It shouldn't be too big as this could be too dangerous for you.
Considering the thickness of the cushion is also essential. Most wheelchair cushions showcase thickness from 2 inches to 4 inches. The greater the thickness of the wheelchair cushion, the greater the seat-to-floor height.
If the wheelchair cushion is too thick, you may find it difficult to fit under a countertop or table. The ideal wheelchair cushion should allow you to rest your feet comfortably on the movable chair's footrest. You shouldn't experience any difficulty operating the wheelchair.
Cushion Base and Cover
It is also important to consider the type of base and cover used for the wheelchair cushion. Opt for one with these features:
Slip-resistant base
A wheelchair cushion with a slip-resistant base helps to maximize safety. This feature ensures the cushion remains in place. It will also prevent you from sliding right out of your wheelchair, especially when traversing bumpy or uneven floors or surfaces.
Water-resistant cover
Going for a wheelchair cushion with a water-resistant cover is highly recommended. You can easily wipe such cushions clean using a damp cloth in case of a spill. The cover also protects the wheelchair cushion from spillages of any form, which is highly beneficial for incontinent users.
Some wheelchair cushion covers also undergo treatment with odor protective and anti-microbial coating. This helps to minimize infections and germs.
Conclusion
Understanding the overall needs of the user is the #1 factor that determines the type of wheelchair cushion that will be highly beneficial for you. The top 5 best cushions for a wheelchair have been carefully reviewed and compiled to help minimize the stress you will undergo in your search for the best product online.
Prevent – or management – of pressure sores are also crucial. The wheelchair cushion you buy must be appropriate, safe, and easy for you or the user.