Looking for a soul seat for meditation or other activities? Check out the best cross-legged chairs on the market today.
Do you belong to the category of people that quickly get bored using typical office chairs? Perhaps, using such chairs has made your legs sore time and again, and all you need is an ultra-comfortable chair that allows you to sit cross-legged.
If that's you, congratulations! You are not alone, and you are not the odd one out. You may be pleasantly surprised that some great cross-legged office chairs are available. You can use any of these chairs – depending on your budget – and have fun with them while you cruise through the day's work at your office.
Many people using regular chairs sit with the wrong posture, and they end up with severe back pain, sciatica, and muscle strain. It's never a good idea to keep using medication for a problem you can quickly solve by switching chairs and sitting cross-legged for most of the day.
What is Soul Seat aka Cross-Legged Chairs?
Soul seats or Cross-legged chairs are designed in such a way that allows you to sit cross-legged and comfortably while effectively supporting your back. Many cross-legged chairs are armless and somewhat higher off the ground than regular chairs.
The primary benefit of using cross-legged chairs is that it helps increase focus and alertness while opening the hips comfortably. They are typically used as meditation chairs in the office too.
We have gone to the trouble of compiling the top 5 cross-legged chairs for you. We have also highlighted the features you should watch out for when shopping for the best cross-legged chairs.
The Benefits of Using Cross-Legged Chairs
These days, more people spend a lot of time in seated positions at home and office. Maintaining the correct and ideal sitting posture and ergonomics is currently the primary goal of the chair-making industry.
This is why brands strive to create comfortable and suitable chairs to meet the needs and preferences of users, especially for workplaces or home use.
Sitting cross-legged is not really a new thing. But enjoying that comfortable posture in the office is a new thing. These are the benefits you will enjoy when you get your hands on a cross-legged chair that meets your requirements or preferences:
It supports your core muscle growth.
It naturally enhances flexibility in your hips, knees, and ankles.
It helps promote the correct and natural curvature for your upper and lower back. This stabilizes the pelvis and lower back area.
Some people claim that when you sit cross-legged while eating, it helps indigestion. No clinical study backs up this claim when writing this review.
Sitting cross-legged on a suitable chair promotes peace of mind and allows you to focus much better on your work.
As you can see, these benefits are more than enough to inform you that cross-legged chairs are here to stay.
Top 5 Cross-Legged Chairs Reviews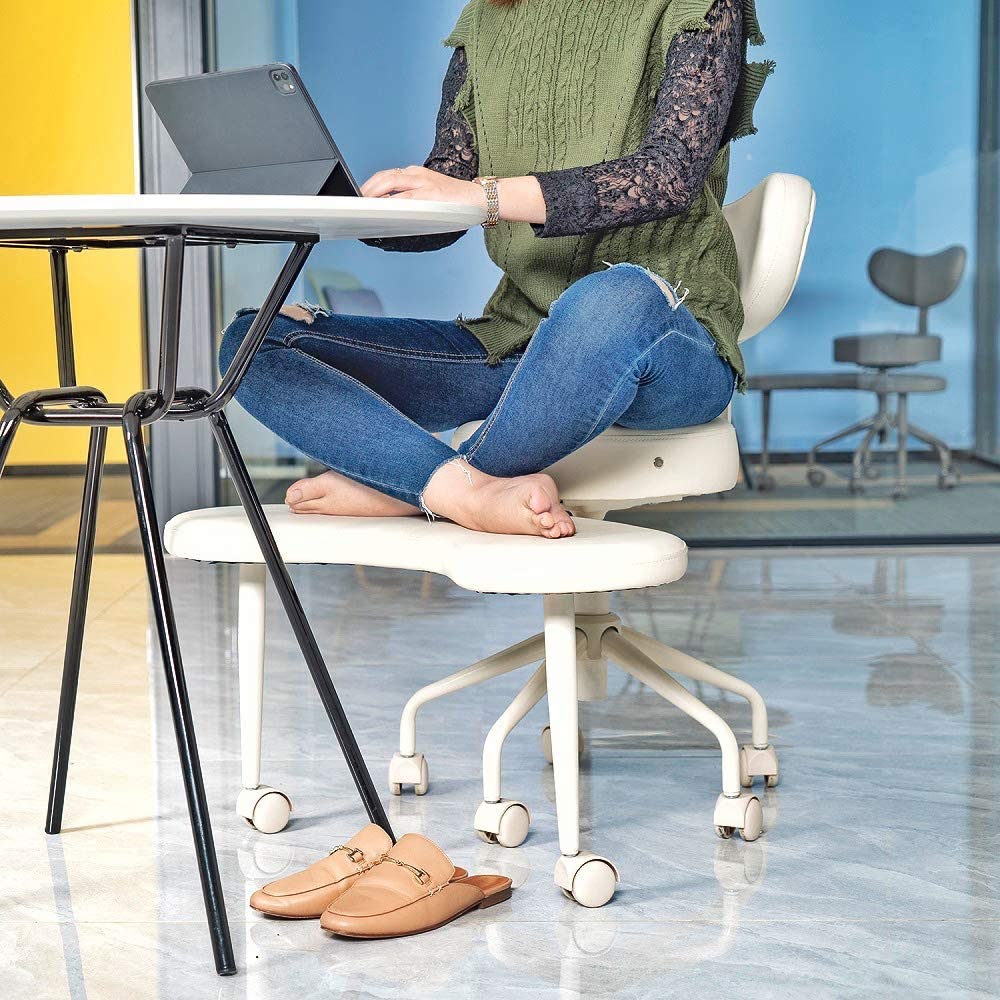 The Pipersong Meditation Chair is a padded footstool covered in high-quality 1.5-inch-thick foam. It is undoubtedly the best cross-legged chair for those who don't like sitting typically. It swivels up to 360 degrees and never numbs your back, no matter how long you sit behind your office desk.
Most chairs are ergonomic, and the Pipersong Meditation Chair is not left out, even though it is not a typical office chair. It comes with an intelligently-engineered, crescent-shaped back support that perfectly supports your back at a comfortable angle of 120 degrees.
The back support of the Pipersong Meditation Chair also prevents you from falling over backward as you swivel or switch positions from time to time. The cushion is at least 4 inches high and soft enough to effectively pad your hips if you remain seated for an extended period.
The Pipersong Meditation Chair is not designed for office use only. You can use it to play your favorite video games, watch TV, meditate, etc.
What We Like
Comfortable
Awe-inspiring and versatile design
Flexible seating
Available in a wide range of colors
Highly durable
What We Didn't Like
Somewhat stiff to sit on
Not too ideal for tall individuals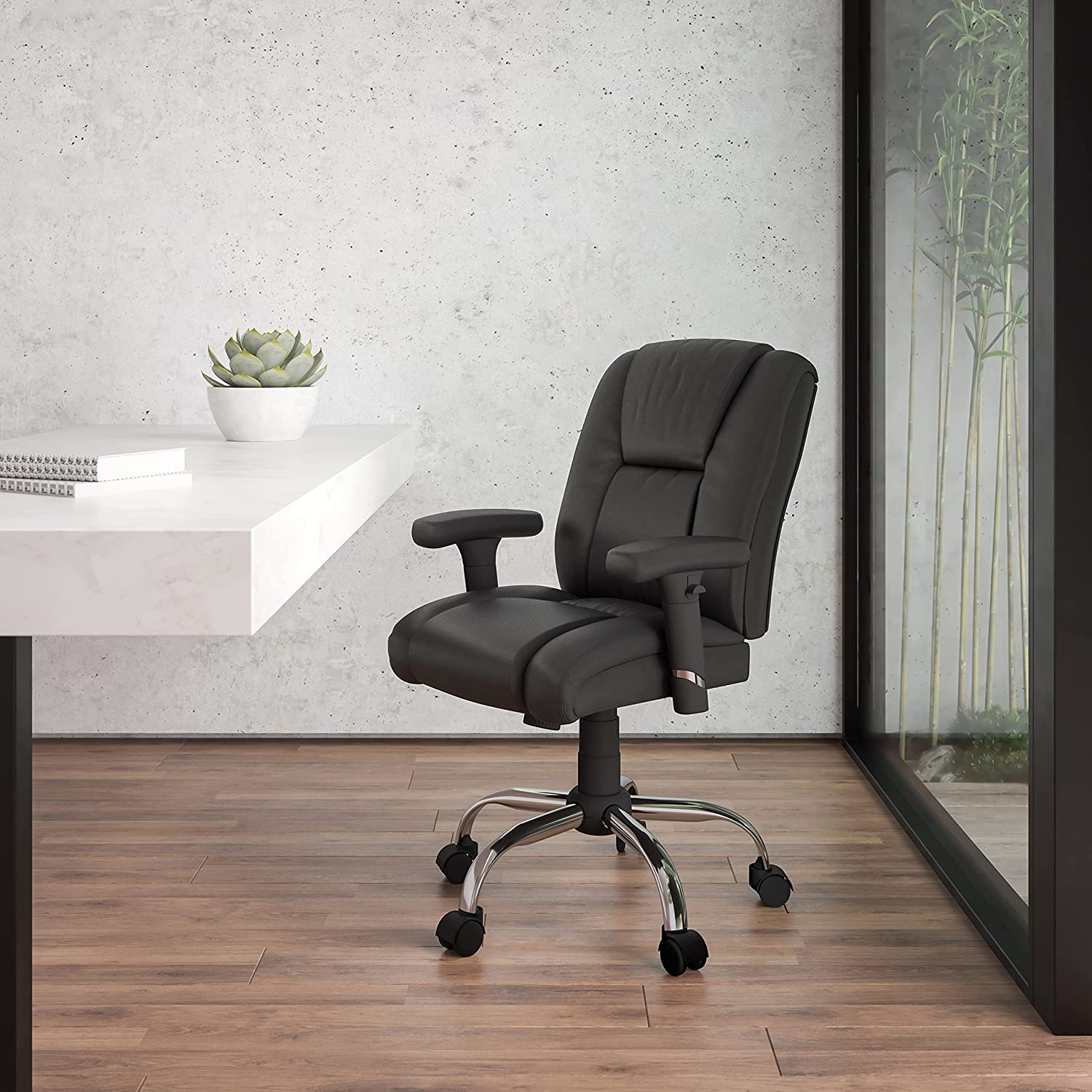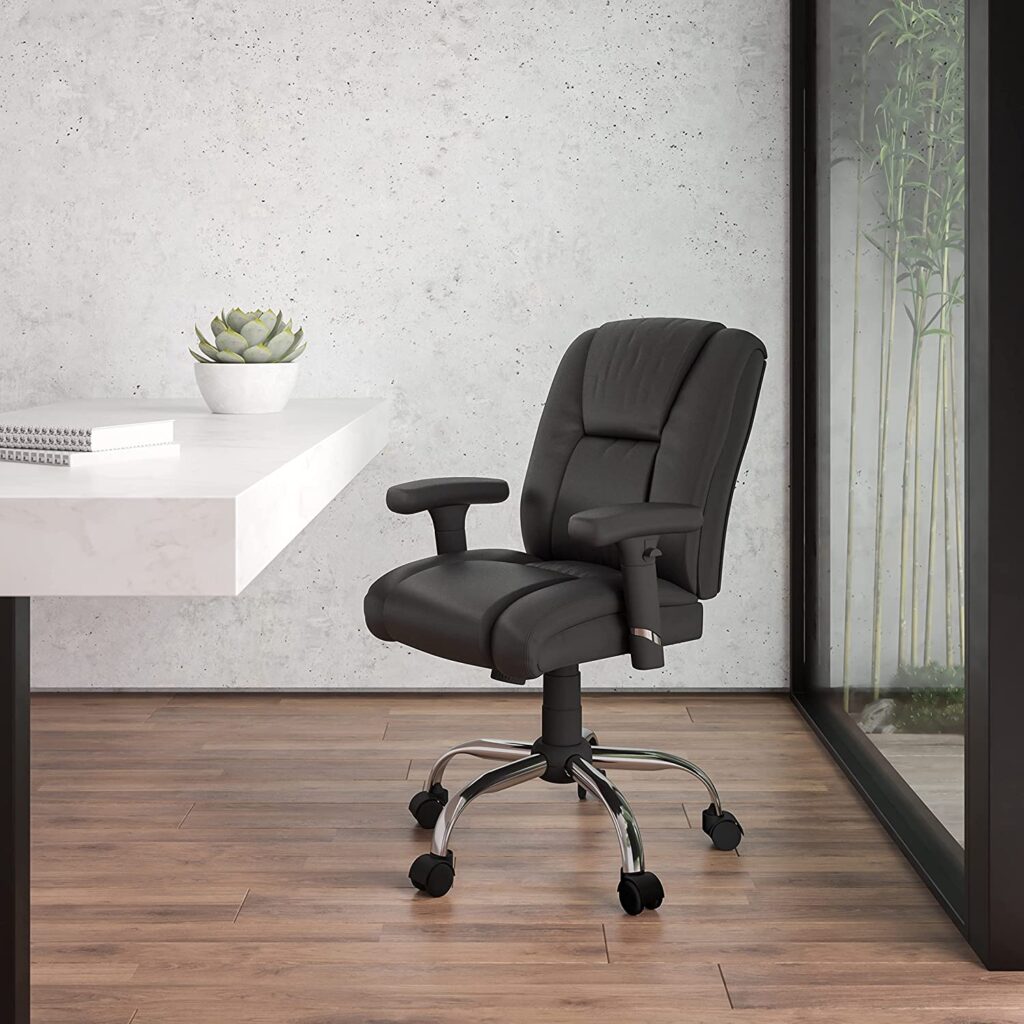 The Flash Furniture Hercules Series is primarily designed for workaholics and those who enjoy sitting and reading for prolonged periods. The Flash Furniture Hercules chair comes with a wide seating and comfortable-looking cushion that prevents you from feeling distressed no matter how long you remain seated.
This cross-legged chair looks durable as it can hold the bulky weight of users who weigh as much as 400 pounds. But what makes the Flash Furniture Hercules Series more appealing are the adjustable features it comes with.
The Flash Furniture Hercules Series is undoubtedly the best cross-legged chair for tall individuals who desire comfortable seating. It has a high-back design that is observably higher than typical office chairs but provides adequate support to your upper lumbar area.
The soft and broad high-back design holds your lower back in a perfect position. The front waterfall design of the seating area prevents pressure from building on your upper leg area. Its tilt lock mechanism allows you to lock the chair to the position you desire
What We Like
Covered in top-quality leather
Tilt lock mechanism
Adjustable height
Excellent choice for bulky individuals
High-end comfort
Incredibly elegant
What We Didn't Like
Inadequate back support
Questionable leather quality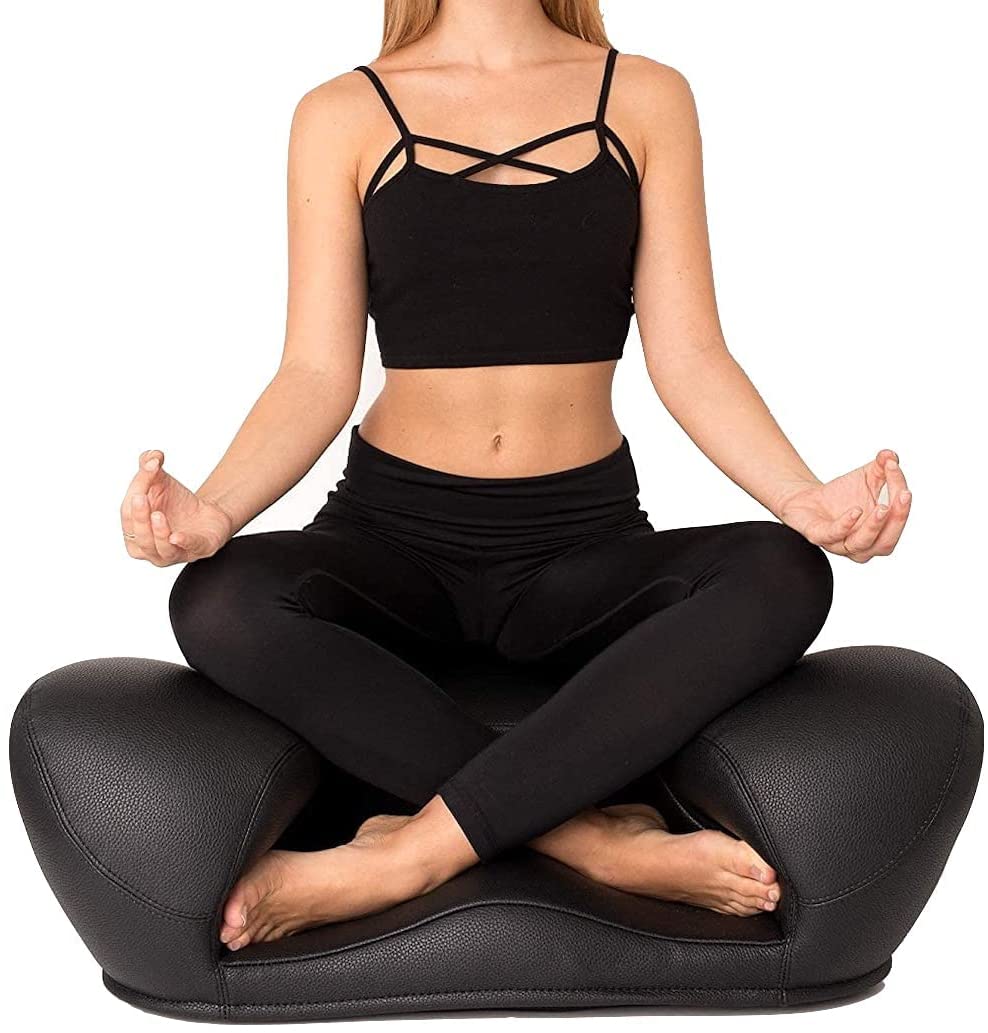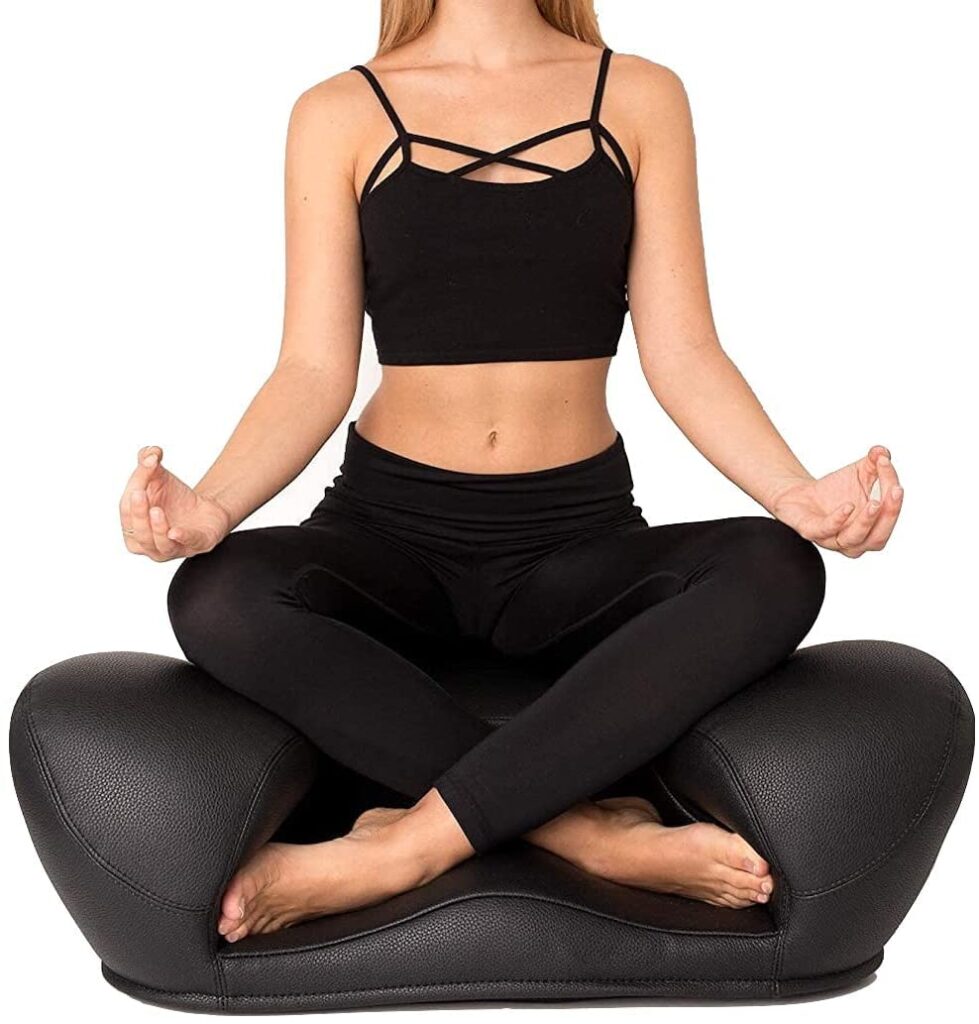 The Alexia Meditation Seat is the perfect choice for you if you love meditation and yoga. This atypical seat comes with a uniquely designed posture-engraved structure that allows you to sit for extended periods without your toes or feet going numb.
The ergonomically designed Alexia Meditation Seat provides unbridled support to your hip bone, back, shoulders, and even feet. If you love sitting cross-legged and reading for hours on end, or simply meditating, the Alexia Meditation Seat is for you.
The Alexia Meditation Seat may lack the traditional back support, and it more than makes up for it by significantly improving your spinal posture. It relaxes your spine and takes excellent care of your lower back.
Moreover, the Alexia Meditation Seat keeps your body's weight away from the vertebrae, making it far less stressed for a good while. This cross-legged chair helps correct your posture or the way you sit from lousy to straight.
What We Like
Uniquely handcrafted design
Incredibly lightweight
Carved footrest
Efficiently corrects your spinal posture
Relieves the vertebrae by lifting off extra muscle tension
An ideal choice for yoga and meditation
What We Didn't Like
Too costly
Not ideal for traveling
Read: Best Mesh Gaming Chair Reviews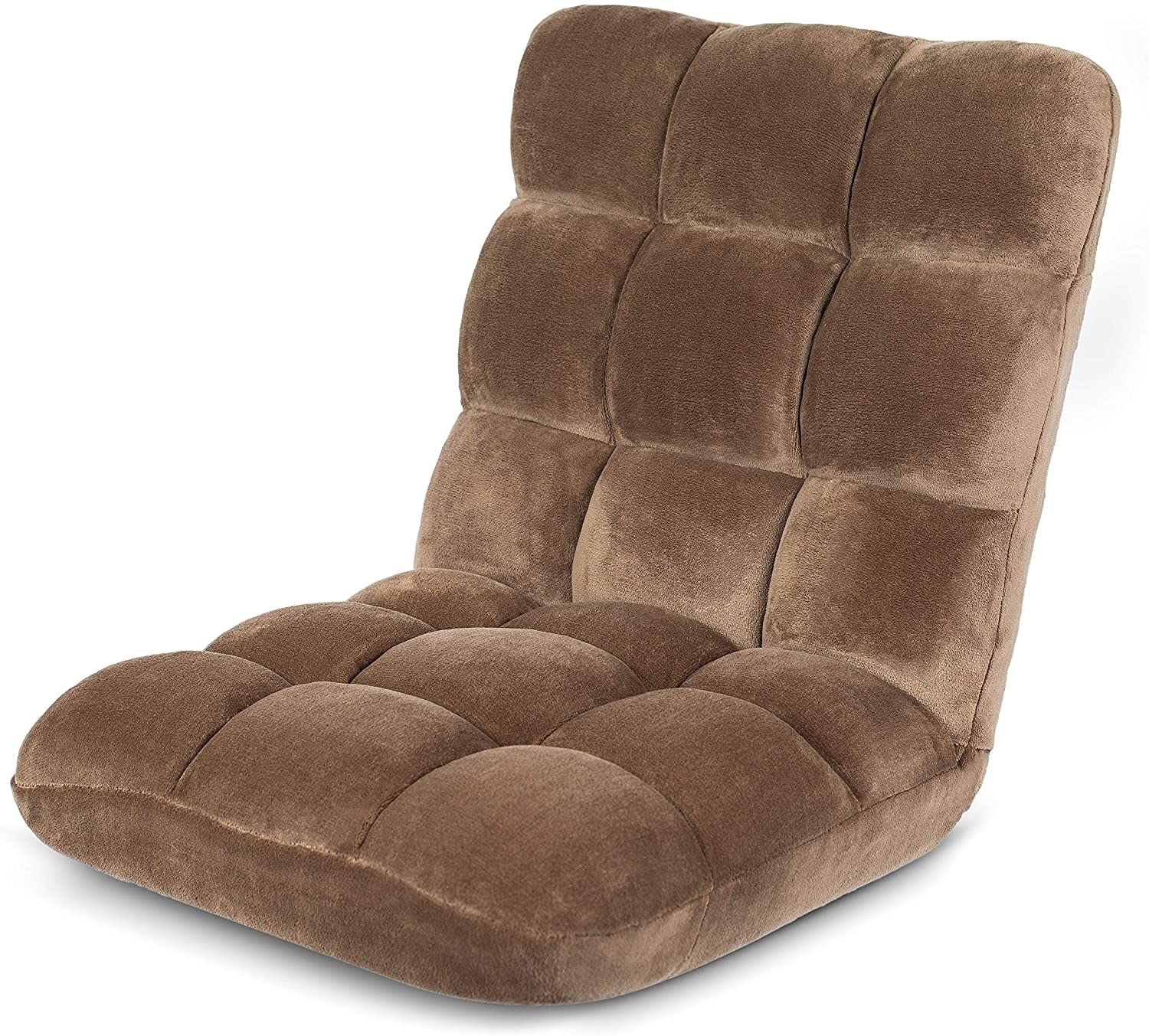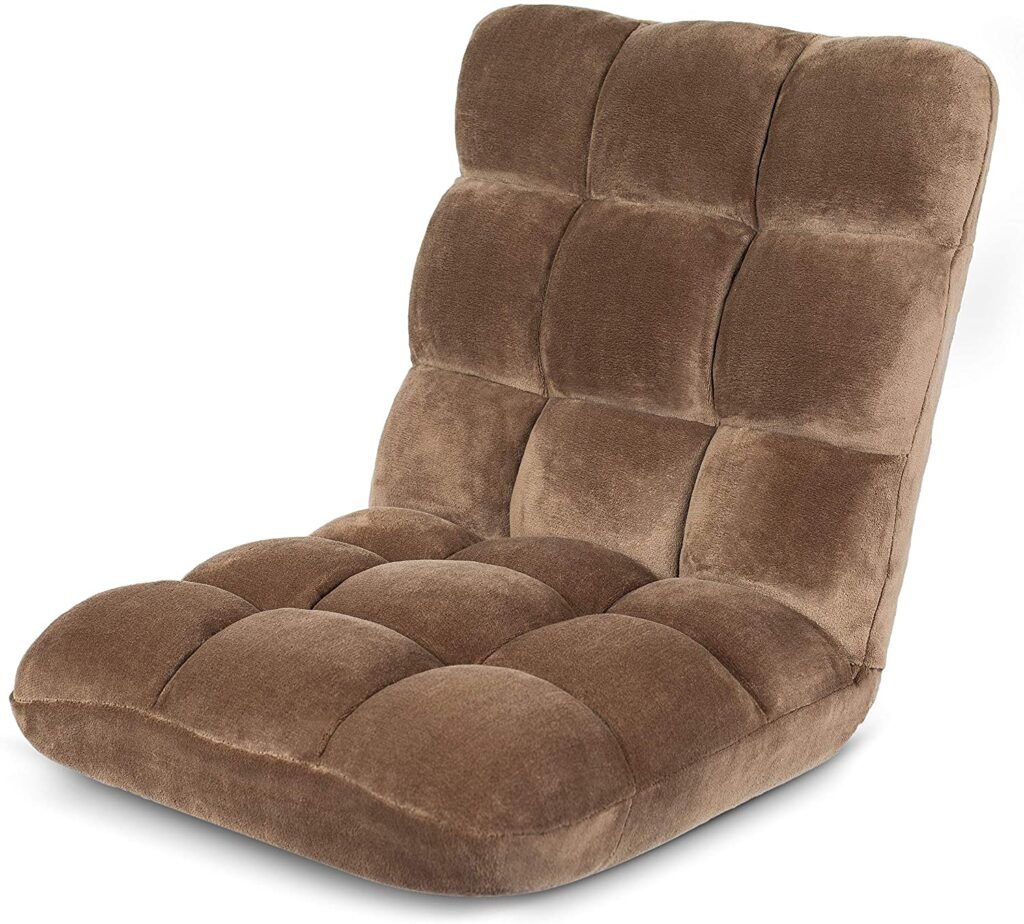 If you ever decide to spice up your home office, the BIRDROCK HOME Memory Foam Floor Chair is one of the best options you should consider. This cross-legged chair provides nothing but comfort right from the floor. It comes fully assembled, with comfortable back support, memory foam, as well as adjustable positions.
The BIRDROCK HOME Memory Foam Floor Chair is also the ideal choice for anyone who wants to take a break from home office work to do some video gaming. Hitting high scores in your favorite video games won't be a problem when sitting comfortably and cross-legged on this unique chair.
What We Like
No need for assembling as it is delivered fully assembled
Adjustable and comfortable
Provides excellent support
An excellent choice for gaming
Easy storage
What We Didn't Like
Manufacturer warranty is about 30 days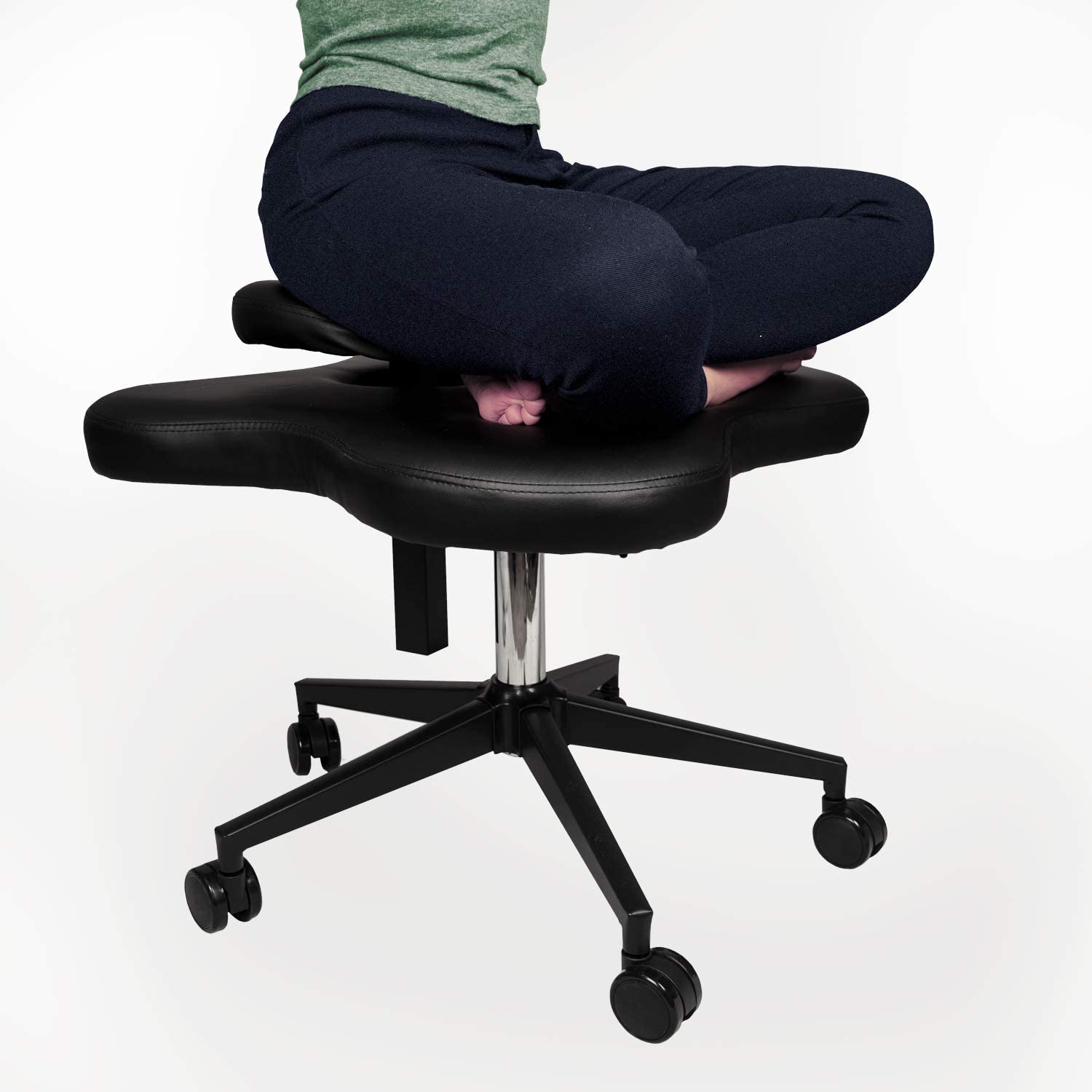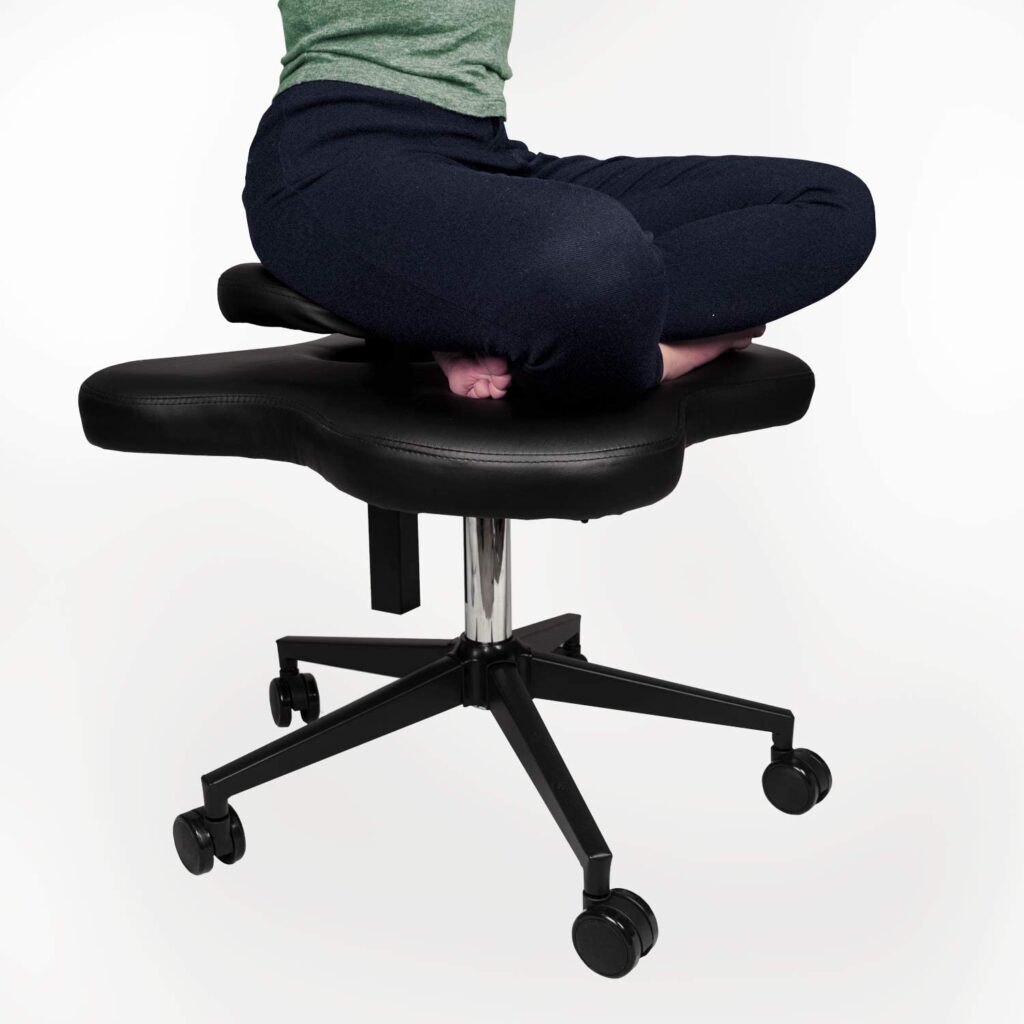 The Toppay Cross-legged Chair is a 2-level design item that allows you to sit cross-legged, on your knees, or with folded legs with zero discomfort. You can even alter your posture at any time without feeling uncomfortable. This makes you more relaxed while you spend hours working behind your desk.
Both platforms of the Toppay Cross-legged Chair come with adjustable heights. The lower platform can be adjusted from 16 inches to 20 inches high, while the upper platform can be raised 6 inches higher than the lower one.
The Toppay Cross-legged Chair has a swivel base as well as high-quality casters that adequately support weights up to 350 pounds. It is the perfect chair for fitness enthusiasts, yoga lovers, and people with leg and lower back pains.
What We Like
Offers optimal comfort
Easy to assemble
Works incredibly well with adjustable desks
Relieves lower back/hip pain
What We Didn't Like
The top seat has a hard edge on the platform since no memory foam wraps over the edge
Buying Guide: Features to Consider When Shopping for the Best Cross Legged Chairs
A cross-legged chair may be unique, but it can only be worth the money and trouble if it is very comfortable and comes with features that meet your preferences and needs. This is why it is crucial to watch out for the following features when shopping for the best cross-legged chairs on the market today:
Your comfort should be your #1 objective when shopping for a suitable cross-legged chair. It should be comfortable enough without disturbing your legs, buttocks, and knees. Go for a cross-legged chair with thick layers of padding.
It makes sense to go for a cross-legged chair that helps prevent the consequences of prolonged sitting. Your choice of a cross-legged chair should have nothing less than excellent lumbar support.
Inadequate lumbar support often strains the lower spine structures and a slouched posture. This doesn't do well with your overall posture.
But proper lumbar support will help maintain the ideal inward curve of your lower back.
In most cases, the overall design of the backrest of cross-legged chairs determines the quality of its lumbar support. This is why you should go for cross-legged chairs with 12 inches to 19 inches, as they provide superb lumbar support.
It is often time-consuming and bothersome when sitting in a cross-legged chair. But you won't face this challenge if you use a cross-legged chair with a swivel base that rotates 360 degrees at all times.
Most cross-legged chairs don't lack the height adjustment feature. This allows both tall and short individuals to enjoy using the chair without discomfort.
However, finding a cross-legged chair with adjustable heights can be somewhat complicated. In this case, opt for a cross-legged chair with the correct height measurements suitable for you.
In most cases, cross-legged chairs with a seat height from 16 inches to 21 inches above the ground are ideal for most users. This allows you to access your desk without sitting rigidly or straining by bending.
Good cross-legged chairs don't come with armrests. When you are seated, your knees will protrude outward, which can be a challenge.
Therefore, go for a cross-legged chair with very small or no armrests. This prevents you from bumping your knees into them each time you try to get up.
Everyone wants chairs with incredibly soft and cloudy cushions for proper relaxation. But this is a mistake if this is what you focus on in your search for the best cross-legged chair.
Chairs with thick cushions allow you to sink when you sit, making you slightly imbalanced. You need a cross-legged chair with a depth of up to 19 inches and width not more than 22inches from the front seat.
These measurements prevent your knees from extending too far away from the chair. You will also be in no danger of falling off.
Conclusion
Do not be forced to go for expensive options in your search for the best cross-legged chair. As long as you are 100 percent sure that a specific cross-legged chair is suitable enough for your needs or preference, go for it.
But make sure you consider the features highlighted above. This ensures your prolonged comfort and enjoyment as you use your soul seat for any activity you desire.