If you're in the market for a chair to ease your mobility as a disabled person, there are quite a few options. In this post, we'll look at some of the best disability chairs with wheels you can purchase today.
No matter who you are, nothing can guarantee that you wouldn't be in a situation where you may need special care. You may need special mobility chairs to help you move around the house with ease so you can at least do some things for yourself.
There are several disability chairs but the ones on wheels serve a purpose that the other stagnant recliners can't.
A disability chair with wheels can quickly become very important in the life of a victim of disability because of mainly the mobility it offers.
Most people become disabled temporarily or permanently due to an accident or illness. Easy chores may quickly become difficult as well as turn completely impossible.
However, you must take your life back and master how to handle yourself once again with a mobility chair.
Besides helping you become mobile again, mobility chairs with wheels can help reinvigorate your zest for living.
What are the different types of disability wheelchairs?
Simple wheelchairs are gradually going out of style. These days especially in the last half-century, we now see a lot of electric-powered wheelchairs and even some are built with recliner functions.
We are going to list the different types of disability chairs with wheels that we know of.
Manual Disability Wheelchairs
As the name implies, manual disability-wheeled chairs are user-controlled. They can move forwards, backward, and even sideways when the user grabs and maneuvers the levers attached to some of the wheels. These manual wheelchairs have back handles and can be pushed by a third party.
These manual wheelchairs although of great use and very portable can become problematic especially if the user isn't strong enough to handle the levers for prolonged hours.
Just that single design flaw can lead to severe pains and discomfort for the user. Also, a manual wheelchair without reclining properties can cause other health issues since the user won't be standing for a while.
Electric-Powered Disability Chair with Wheels
Electric and battery-powered wheelchairs are a shift from their manual counterpart.
Apart from being too heavy and less portable, motor-powered disability chairs seem to have eliminated the fatigue that comes with operating a manual wheelchair. The user can absolutely move around with ease just by special controls or a joystick attached to the chair.
Pediatric Wheel Chair
Disability chairs in the pediatric category are mainly targeted at disabled children. These types of wheelchairs are built with features just like a child would like.
They are solely for helping these kids get used to using these chairs (in the case of permanent disability) and improving their social confidence when they are out with their peers.
Sports Wheel Chairs
Disabled people who engage in sports like rugby, basketball, racing, and even tennis have special kind of wheeled chairs that helps them function in this sport properly.
The birth of wheelchair sports has brought a new page and great opportunities into the lives of most permanently disabled folks.
Take the basketball wheelchair as an example. It is slanted and specially attached with large and small tires to help the user maintain balance and prevent injury while playing the sport.
Positioning Disability Chair
As the name implies, these types of disability chairs can help users position themselves however they want.
These electrically powered chairs can recline, tilt forwards to a standing position, lower and raise your legs as well as help you tilt in space. Some folks that have impaired movements can testify that this chair is a lifesaver.
Illnesses like ulcers, poor circulation, wounds, and sores can also benefit from this chair because it helps to alleviate these conditions.
What Type Of Wheelchair Is Easiest To Push?
If you own a wheelchair, as a disabled person your life should become much easier, not more difficult. You or the caregiver responsible for moving your chair should be able to push the machine around with ease.
Not all wheelchairs are easy to move around, that is why we have made research and found out some of the characteristics of wheelchairs that are often easy to move around. Here are a few of the characteristics:
Lightweight
a heavy-duty wheelchair becomes a huge challenge if you must push it around – not just for you but a caregiver too. This means if you want a wheelchair that can be pushed around easily by your caregiver or yourself, you must opt for one that is lightweight.
Most lightweight wheelchairs are made from materials like aluminum. Most of these modern lightweight wheelchairs are pretty hard-wearing and tough and can support up to 18 stone!
Self-Powered, Large-Wheeled Wheelchairs
Those large wheels are there for a reason – to help the user maneuver uneven roads or ramps comfortably. These chairs also have back handles, in case the user might need extra support.
Small-Wheeled Transit Wheelchairs
These types of wheelchairs are built especially for users who have a paid caregiver or family around them every day.
The small wheels ensure that the machine can maneuver small spaces and it is also very portable and foldable in case the user wants to board a car for long-distance travels.
With the above details, you can figure out that a smaller-sized chair with wheels for disabled persons which can be moved on its own without assistance from a caregiver is the best option to go for. Now, let's take a look at some of the choices you can go for today.
Our Top Picks on Mobility Chairs for the Disabled
If you or your loved one needs a mobility chair with wheels, the best way to get the best buy is to make broad research. However, we have decided to make the research for you and save you all the trouble.
We have made a list of the top disability chair with wheels that your money can buy. You can scrutinize the list and pick one that covers your important needs.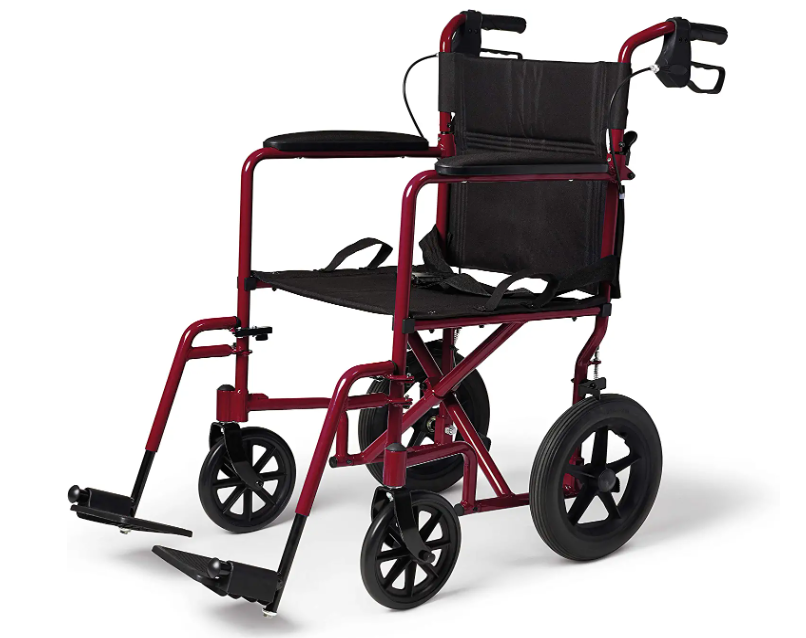 The manufacturers of this handicap chair with wheels had the outdoors in mind when they were making it. The large 12inches wheels are excellent when traversing ramps or irregular surfaces outdoors.
Despite being lightweight, the Medline Foldable Chair is very durable and sturdy and can support a weight of as much as 300lbs!
In case you would need to move from chair to car, this machine is foldable and can be packed into a tiny bag or stored away in a small place for easy transportation.
Features:
Back handles
Handbrake for locking the rear wheel
12-inch wheels
Detachable footrests
Armrests
Secure seat belt
Aluminum frame material
Pros:
Very easy to push. Back handles make it easy to request support from a caregiver or passerby.
Handbrake for control of the movement of the wheelchair.
Easy to collapse and load onto a car or store away.
12-inch tires for traversing uneven grounds.
Sturdiness allows the chair to support a weight of up to 300lbs.
Great customer service from the manufacturer.
Cons:
The occupant of the chair cannot use it alone without support from a caregiver.
The brakes may snap on time if the occupant is a bulky person.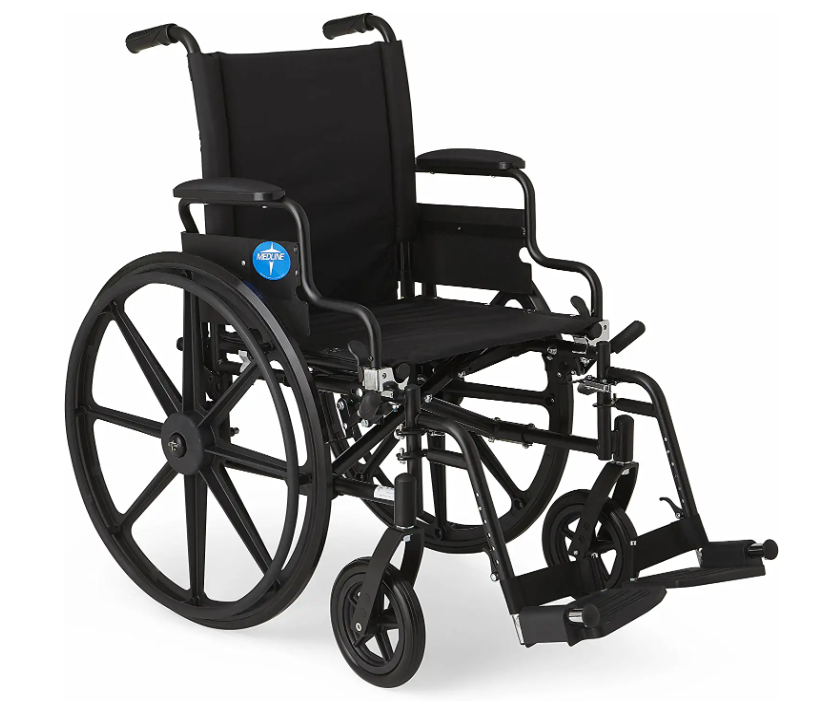 The Medline Premium flip-back chair with wheels for the disabled is a sturdy, high-quality, and powerful wheelchair built for comfort and relaxation.
The large swing-away legs with quick-release axles make removal straightforward (tool-free) and carriage easy when traveling. Our best attribute of this is that it's built to last, thanks high-end tig-welded frame, and breathable nylon upholstery which you can add padding to for more comfort.
Also, the leg rest of this chair makes it a real game changer because it can be raised and lowered to comfort.
Thinking about the tires while traversing uneven and rough surfaces? Do not worry because the chair is equipped with Anti-Flat tires that can stand any type of rough surface hence you'd save money on maintenance.
With an adjustable seat height, the chair can support a weight of up to 300lbs!
Overall, this wheelchair is made from lightweight build material that ensures that your chair is portable while comfortable, and supports your weight.
Features:
Elevating footrest
Nylon upholstery
Adjustable seat, back, and armrest for additional comfort
Pros:
The footrest can be adjusted for added comfort and increased body circulation.
Can support a weight of up to 300lbs.
Seats are available in different widths so there are options to pick from.
Lightweight and portable.
Premium material build and very sturdy
Cons:
The pricing is a little on the high side, but then again, for premium comfort, you'd expect to spend more. Also, there are payment plans available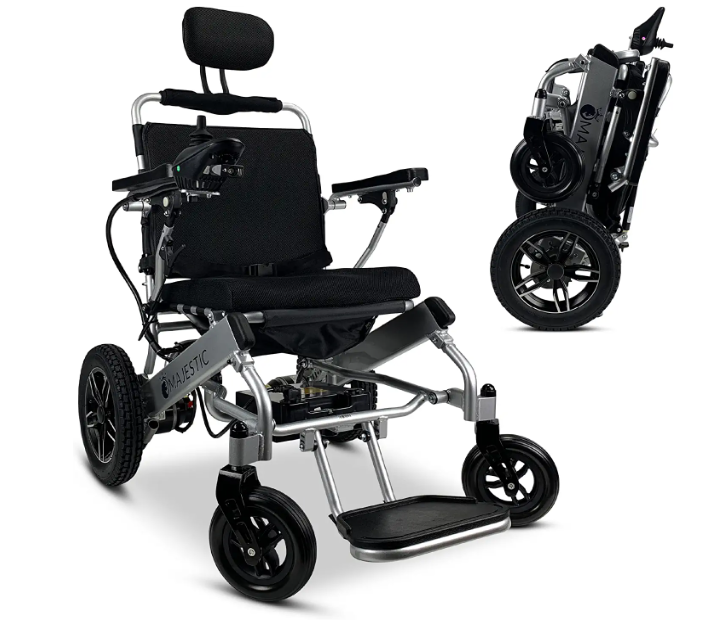 If you've got the budget to spare on an even more powerful wheelchair that would give you the freedom you need, then you should consider the Shenzen reclining electric chair.
This powerful wheelchair possesses both simple and complex properties. Despite looking badass, this wheelchair is simple and can be transported in a car because it is collapsible.
The sturdy and durable chair hardly needs any maintenance and is about 49 pounds that's excluding the battery weight. It is electrically powered and can be used on any type of terrain including ramps, grass, field, bumpy roads, snowy grounds, and even muddy places.
You can purchase this product without fear because the manufacturers give stable and efficient customer service and a 30-day return policy in case you do not like your purchase.
Feature-wise, it has a 500W electric motor that powers it and a button controlled to get folded or sprout and ready to move any location. The best part is that it's airline approved, so if you're planning on a vacation with your loved ones, you won't have any issues with your flight.
Features:
500W Motor
Quality mats on the seat
One switch folding
Carbon steel frame
12 AH battery
Adjustable speed
Reclining backrest
Pros:
The chairs have a speed of up to 4mph
The chair is very comfortable
Can be opened and folded easily.
The battery is very long-lasting and takes just 6 hours to fully charge.
A great gift to a loved one
Can be operated by a single person
The reclining property makes it easy to relax in this comfortable chair
Cons:
The chair is very heavy
One may need to switch to manual operation when the battery dies out
A highly sensitive joystick that may need some level of mastering to use properly.
Final Thoughts
Finally, your needs will be the deal breaker in your decision on a disability chair with wheels. You must, however, endeavor to check properly the specs of each of the options before making your decision.
Whether you're going to be the occupant of a wheelchair or a caregiver, you have to read this article thoroughly to understand what your needs are and make your final decision.
With the right chair with wheels for disabled persons, you'd take away a lot of stress when it comes to mobility. This list will help you make an informed buying decision.