If you or some dear to you suffers any form of disability and you'd like to get a recliner that would not be an inconvenience, then this article on the best recliner chairs for disabled persons will guide you.
Intro: Making Life Easier for Persons with Disability
Disabled people need lots of special care to cushion the physical and mental challenges they go through living their lives. One can be permanently disabled from birth, or temporarily disabled by an accident or even health complications.
Whatever the case of disability, there may be huge effects on a person's ability to relax. Constant pains can hamper comfort and relaxation and that is why most people invest heavily in things like recliners.
Whether it is just for a simple watching of your favorite TV programs, or sleeping after long working hours, recliners have proven to be of immense help. Recliner manufacturers are constantly making research to improve their products and add features for those with special needs.
In the recliner market today, many manufacturers showcase products – most try to swindle you of your hard-earned cash with huge promises on products that may not live up to your expectation. That is why you should make research before splashing your cash on a recliner.
Some recliners suit some people better than others, so if you have a disability or a loved one that is disabled, you might be wondering which will be the best buy. This article is designed to help you as you read through.
Your Recliner Chair Is Supposed to Have Features That Best Handle Your Disability Needs
Disabled people are already in so much pain and need only machines that work perfectly and smoothly with just the touch of a button. This is why the top option of recliners are those that are typically button controlled to relieve manual interactions.
Many persons living with disability appreciate the versatility of lay flat recliners which can switch positions without hassle. You know, one that can easily be put into comfortable positions by just a lever pull as well as one that is made of soft material that caresses the body nicely.
How Is A Recliner Chair of Any Good to A Disabled Individual?
Disabled folks have a hard time changing sitting positions without pain and discomfort – recliner chairs to the rescue.
A disabled person can change position and find a most suitably comfortable spot with ease when on a recliner chair. A 180° body reclining or leg extension without any pain is possible with a recliner chair. This alone is a life-changer for disabled people!
According to a woman from Pennsylvania, Katie – "My dad used to fall off his chair and it was difficult to change seating positions. After I got him a recliner chair, I didn't have to worry much over his comfort anymore because he could maneuver his positions by simply pushing a button."
"I had suffered rheumatoid arthritis and had to lay in bed all day, every day. I had a walker that I could only use when in a full standing position but I needed someone who could bear the bulk of my weight to get me to that position. I'm happy about this recliner lift chair that was just delivered to me. It gets me to a standing position by the simple push of a button, and from there I can get on with my walker." This testimony was brought forward by a Texas woman, Sandra.
Another important aspect of a recliner chair for disabled folks is the level of comfort and support it offers.
What to Look Out for When Picking A Recliner for A Disabled Person
Are you permanently or temporarily disabled or you're looking for a recliner chair that will best suit your loved one that has mobility issues? There are a few things to look out for when buying such an item.
Head and Back Support:
For the back, it is important to note that not all backs are structured the same way. A good reclining chair must have a well-padded lumbar support area and a curve that suits the user's spine shape.
For the head support, it is as important as the back. According to Julie Jennings who is a therapist, "Our heads are very heavy and with time our necks weaken. If the back doesn't get proper support, it will significantly affect the head's proper positioning and this can lead to the body doing more extra work, thereby causing fatigue."
Footrest:
If you or a loved one suffers a disability, especially one that is related to the body's circulatory system, there can be great benefits if you buy a recliner chair that has a movable footrest. A movable footrest and not those footstools.
Height of the seat:
People often pay little or no attention to how low or high a recliner seat is. Truth is if the seat is high, it will be easier to transmit from a sitting to a standing position for possible movement. Ensure that the height of the seat is built properly so that your knee would make a right angle with your feet lying flat on the floor.
Armrests:
To be comfortable when using a recliner chair whether disabled or not, the armrests have to be properly fitted. If the armrests are too low or high, it can put the shoulders in an uncomfortable position, affecting the neck and rib cage thereby causing more problems over time for the user.
The 4 Best Recliner Chairs for Disabled Adults: Our Top Recommendations
A great way to find out the best recliners for a disabled person is to hear from people who have already bought and what they are saying about these products. With that said, we have made a list of some of the best recliners for disabled people and we hope it helps you find what you need.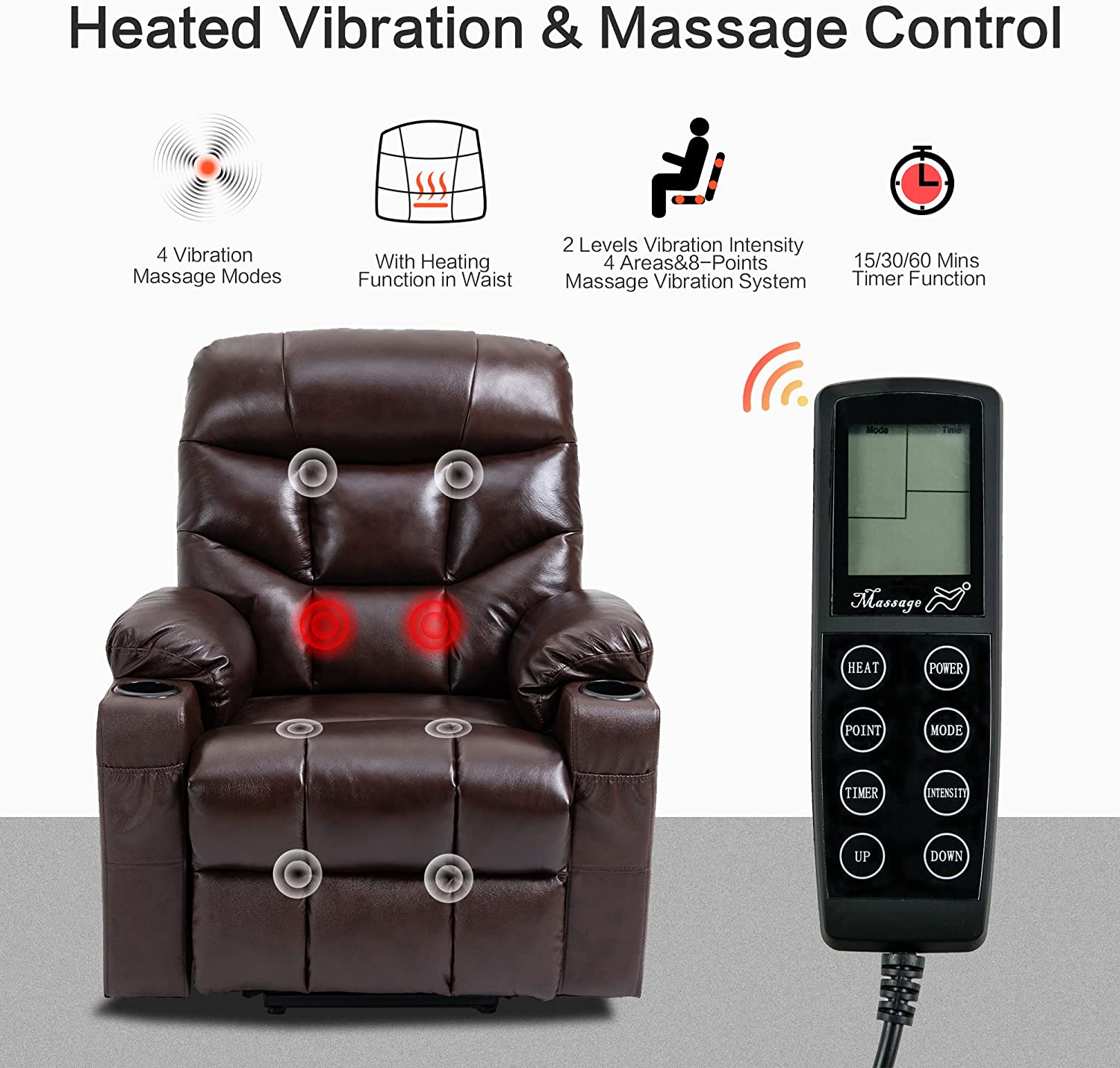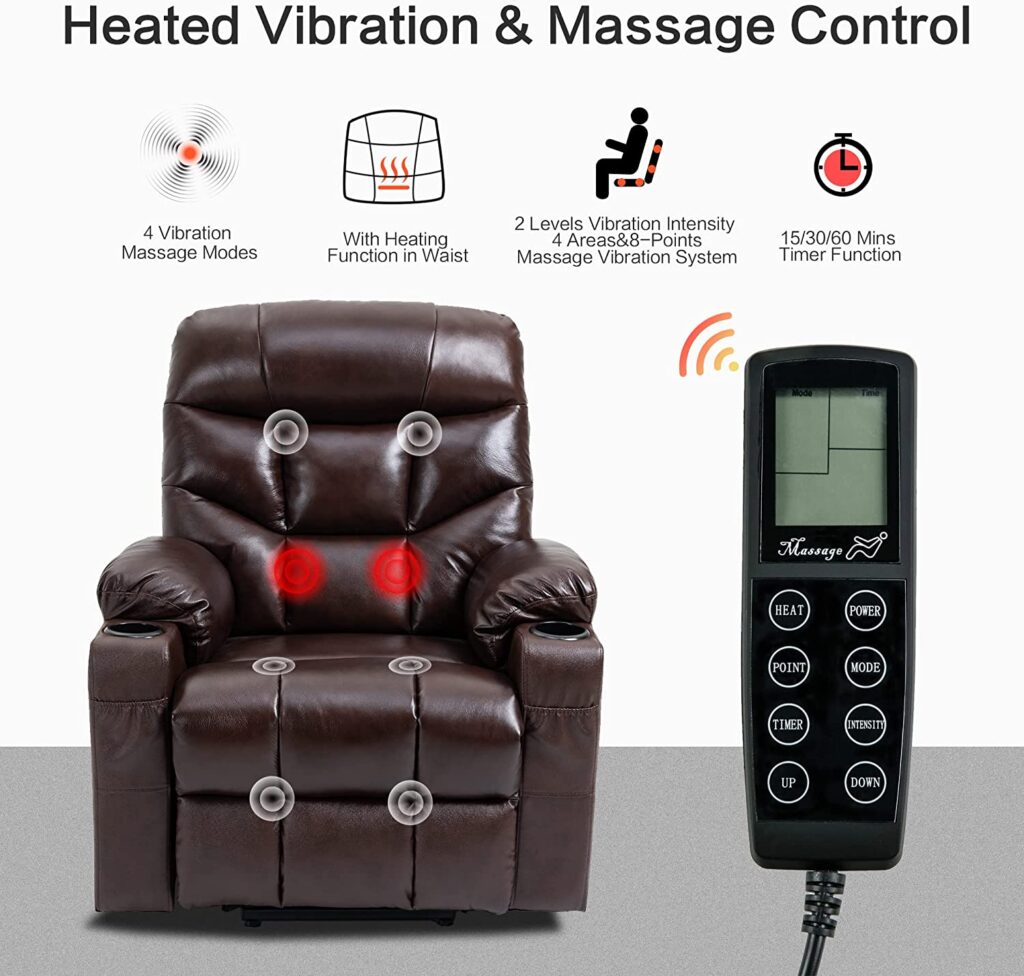 Our first recommendation is this power lift from Hanherry. It's worth mentioning that this recliner isn't always available for purchase either online or offline, so if you stumble on it at any time, you're obviously in luck.
That said, the Hanherry Power Lift reclining chair is designed for people having a hard time with mobility whether an elderly or disabled person. So, if whoever will need this recliner happens to fall under any of the above categories, you should consider it.
This Recliner is made from durable materials that ensure your recliner looks good for long as well as a powerful motor for easy rising and maneuvering.
Besides freeing the body of a lot of pain, this Hanherry brand recliner has massage features that are powered with simple remote control. The featured cup holders and USB charging ports are to ensure that you do not need to want to move around – you can watch tv, charge your devices as well as enjoy hot coffee on your couch!
Let's take a quick peek at the features of this recommendable recliner.
Features:
A UL actuator-powered recliner chair for smooth lifting and tilting of the chair.
8 back and lumbar massage points with triple modes.
Leather upholstery
Cup holders and side USB Ports
Pros:
UL actuator ensures that the chair has enough power to raise your full body weight to a horizontal position without any pain.
Cup holders and side pouch ensure you have almost everything you need at arm's reach – whether coffee, books, remote control, or even a snack.
The leather cover of the recliner was engineered to look neat for a longer time and can be easily cleaned by a swipe with a clean cloth.
This sturdy recliner can hold up to 330lbs of weight and with an extendable footrest to cater to tall people.
Cons:
Assembly of this recliner is relatively easy and may require special tools.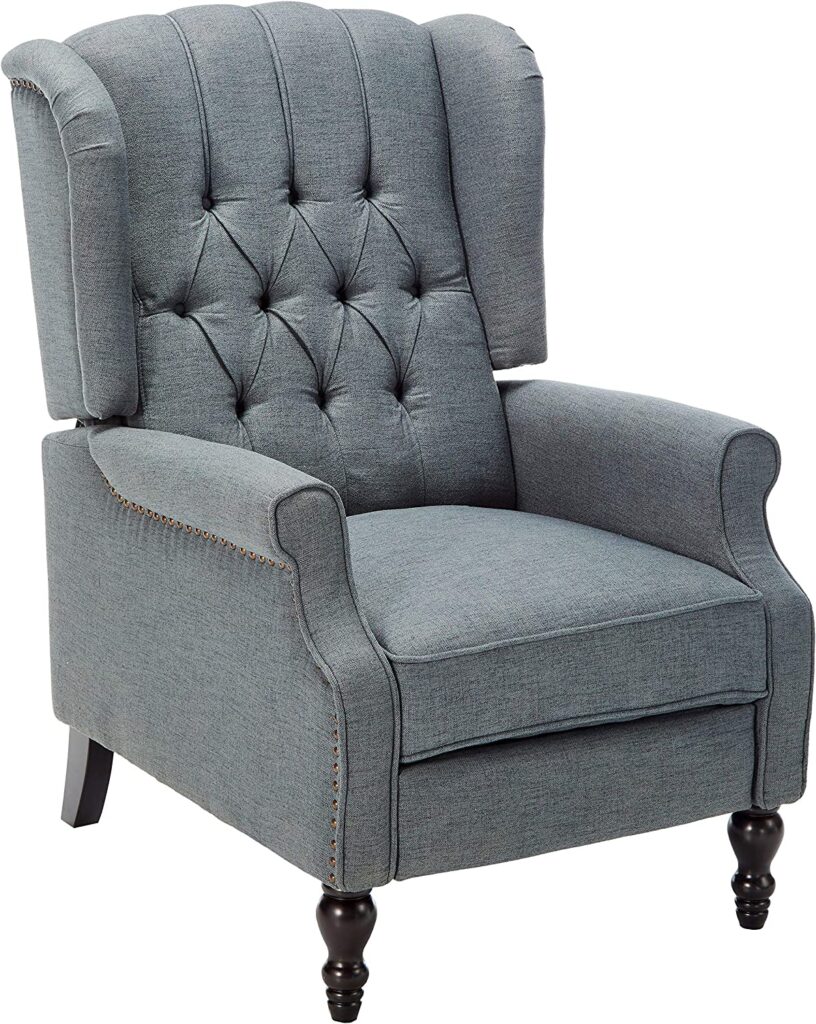 This is more of a budget recliner sofa without those special features, but it's super comfy and makes relaxing fun, thus featuring in the list.
The mere antique design and comfortability that this recliner from Christopher Knight Home packs is enough to buy anyone over. There is hardly a better way to describe it than awesome!
The recliner features a high-power wingback that stretches out to almost 180° as well as nicely concealed footrests that can be raised or lowered according to your body's needs and can also support a weight of up to 70lbs.
Asides from support, this recliner chair adds color to your room and blends in easily with home furniture.
Features:
Heavily padded seats
Sturdy build with strong legs to support bulky folks
Extensible footrest and powerful back for support of your head and back.
Antique classic look – a total beauty!
Pros:
The recliner gives good value for your money as it provides full body and head support, especially to disabled folks.
Can fit nicely even in a small space.
Padded seats give comfort and reduce pain from long sitting.
Very easy to assemble.
Cons:
The footrest and backrest don't move independently.
Dirt may easily collect on the chair covering over time and dim its beauty.
May not be suitable for very tall folks.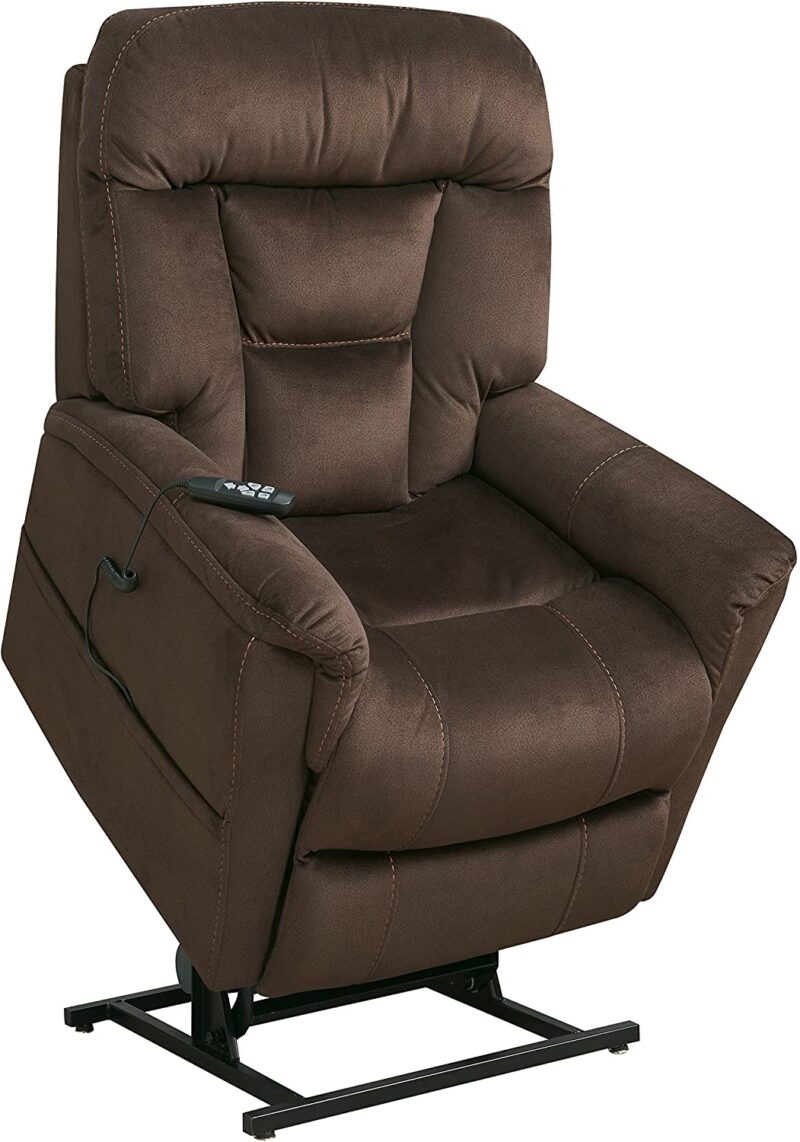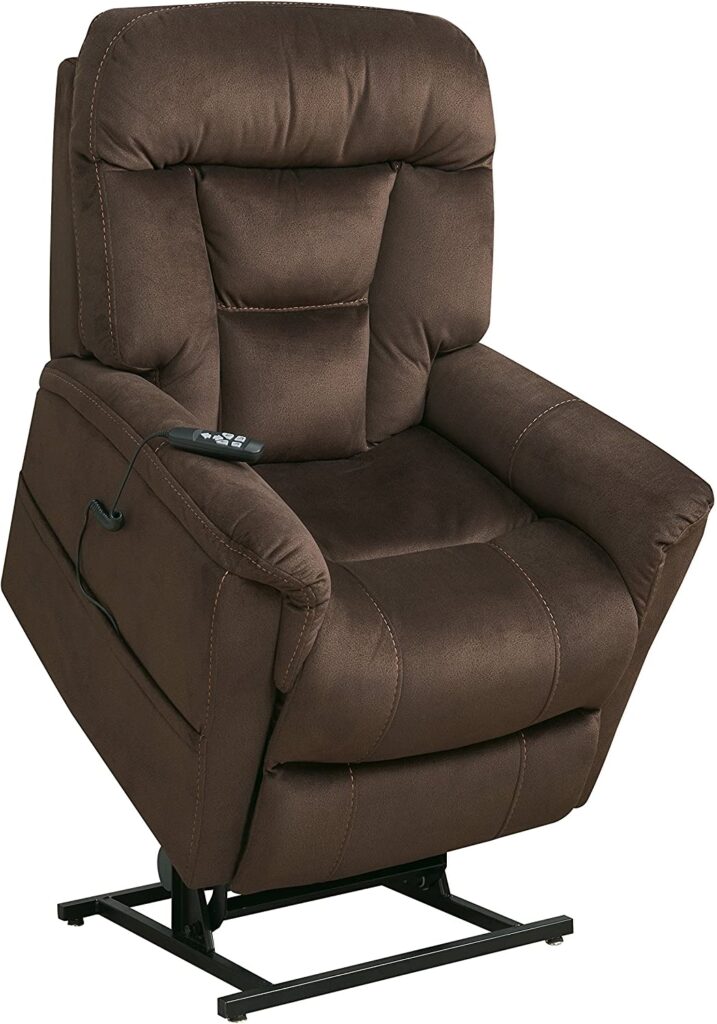 Whether disabled or elderly, the pains you experience from trying to move around can be greatly reduced if you have a recliner like this one.
The Pulaski double motor lift chair is overstuffed, big, and soft plus it is powered by a dual motor which means you can move your backrest and footrest independently.
If you're on the marker for a powerful reclining chair that serves, this dual-motor lift packs enough strength to support and lift a weight of up to 350lbs to a full standing/horizontal position if necessary.
For easy maneuvering, the recliner has a wired remote control attached to the side. It is also covered with polyester to ensure that your chair doesn't retain water after cleaning.
Features:
Wooden frame
Dual-motor for independent movement
Wired remote control
Non-water retaining cover fabric
Thick arm and backrest padding
Pros:
Very easy to assemble
Pocket-friendly recliner if you're on a budget
Thick padding provides a great cushion for your body and the soft polyester cover ensures you're dry all day long.
Can support a large weight of up to 350lbs.
Cons:
Doesn't have side pockets for holding stuff you might not be able to reach easily.
The cord attached to the remote might be a nagging problem.
Not suitable for very tall persons.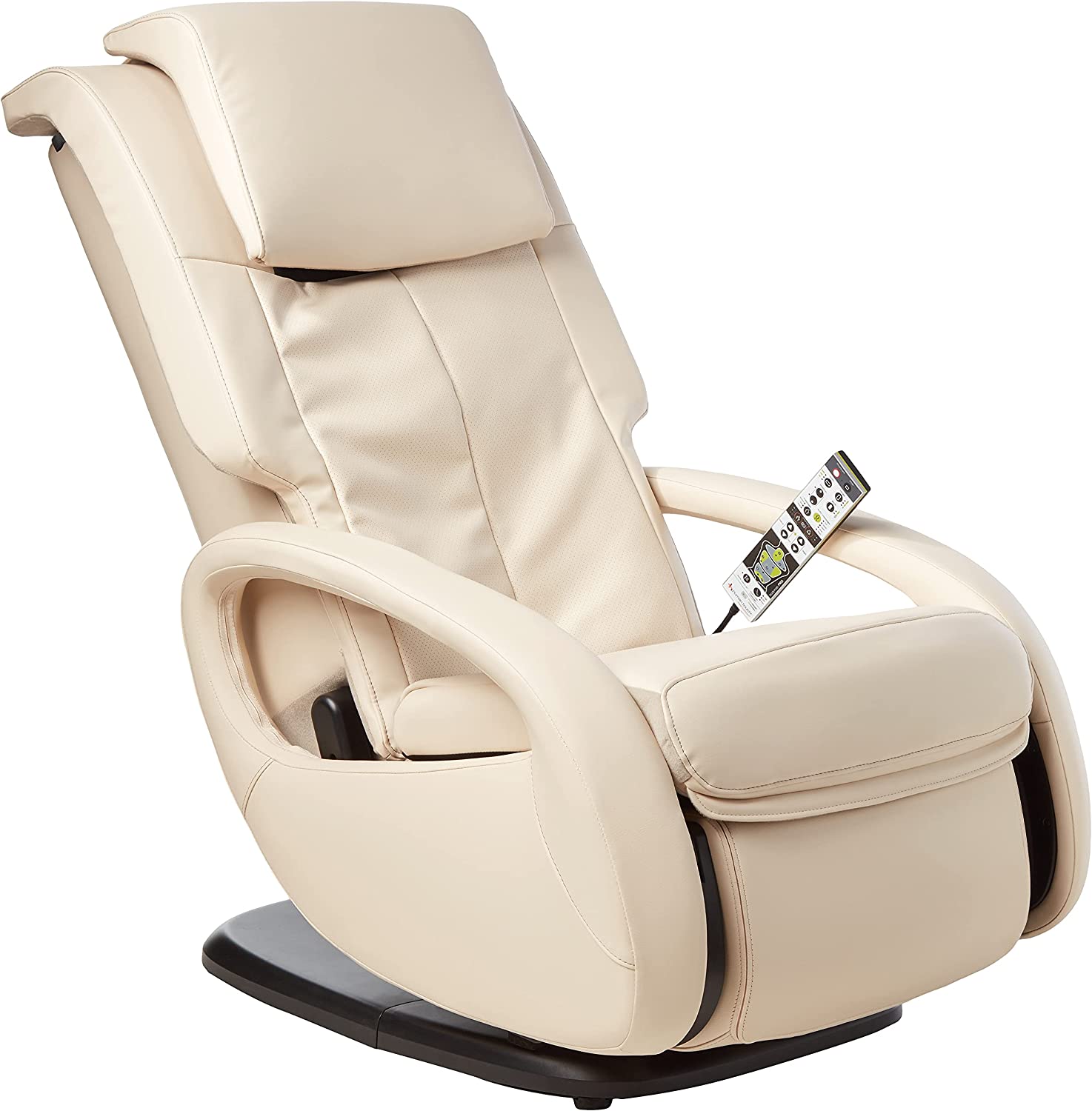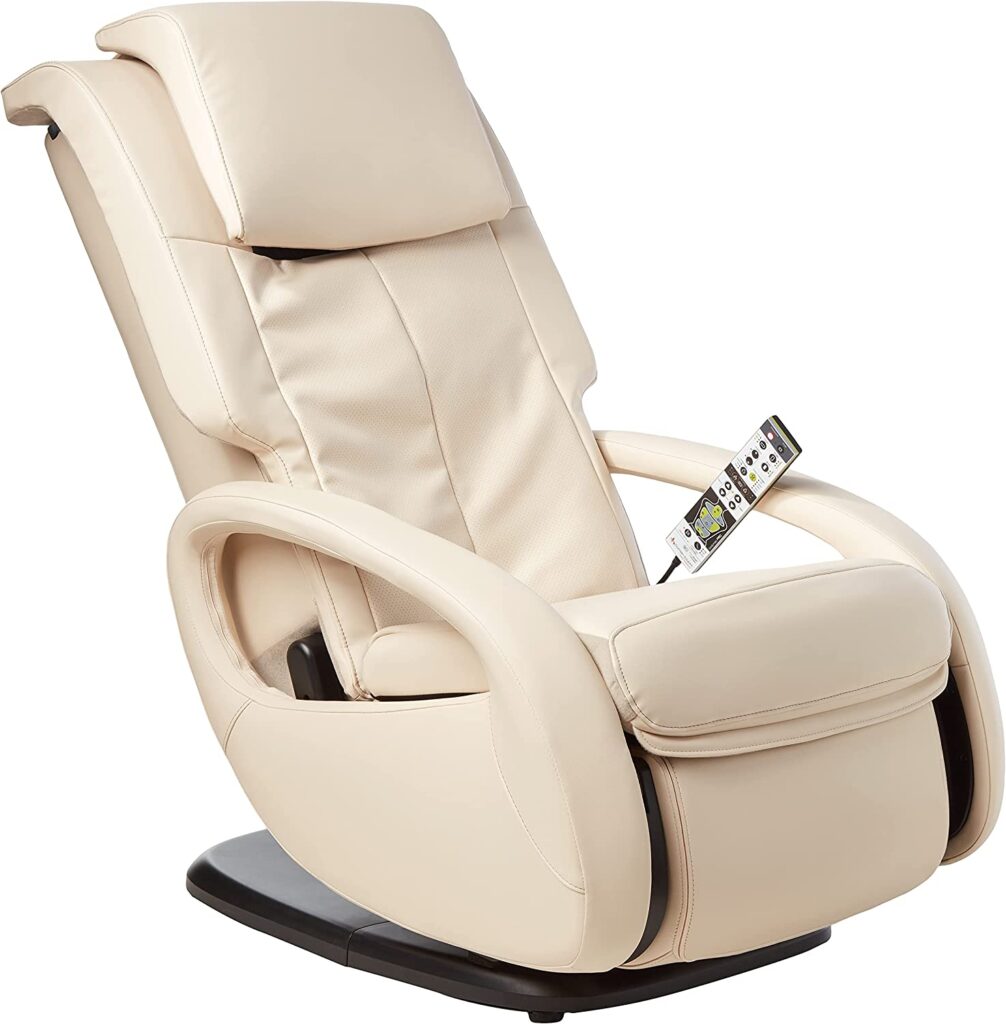 Some people call the Human Touch 7.1 recliner massage chair a robot chair and they're not wrong. This hi-tech massage chair is designed to cater to your stress levels with 5 auto-massage programs.
It uses a CIRQLATION tech to massage calves and makes blood circulation from the foot to the core more seamless and optimized. This in turn improves your vitality and general wellbeing.
If you're disabled you'd want a rejuvenating body massage, right? This state-of-the-art massage chair gives you a full body therapy that perfectly soothes muscle pains. With the BodyMap PRO feature of the Human Touch recliner, you can focus on a particular area and let the massage chair work its magic and get you much more relieved.
The Human Touch full-body massage recliner will make for a perfect business chair if you like. Use it to provide full body massage and earn a living while also getting your money's worth.
Features
BodyMap PRO allows you to target a part for extensive massage
CIRQLATION TECHNOLOGY powered by Figure-Eight tech massages calves following a wave-like upward motion prompting optimized blood circulation
3D orbital system for therapeutic massage
Pros
Powerful reclining massage chair that works for both elderly and disabled persons
Provides extensive and soothing massage with tech that allows it to focus on your pressure points
This state-of-the-art design massage chair can also be used for business and earn you cash to pay for it.
There are five (5) auto-massage programs to deliver full, lower, upper, sleep and relax massage and the best part is you can customize your experience.
Cons
It's a great recliner but it comes with heavy pricing.
Final Thoughts
Being disabled or having someone with special needs can be very draining for all the parties involved both physically and mentally.
It would be of great relief if for once you could either not worry about falling from trying to stand up or experience pains because you want to reposition your body or that of a disabled loved one.
With a recliner, especially the ones we reviewed here, you can enjoy having or give comfort as the case may be.
A good recliner chair isn't one that one breaks the bank to buy but one that suits the needs for which it was bought.