If you have a small home bar, or you are planning to set up a bar business what better fitting furniture than a leather bar stool?
You see, bar stools have re-emerged as trendy for in-home and outdoor bars these days. It won't be a bad idea to throw in this new trend for that bar setup you're working on, you know for added special effects, right?
After all, leather bar stools not only make a statement in bars but also on our home's kitchen counter or bar. A leather bar stool can grab attention easily in the kitchen area.
Not only that, these versatile products can become useful anywhere they are needed asides from the bar or kitchen.
Some of the best leather bar stools add a new look and feel to your living space – from colors to style to finish and space.
What is the trend in bar Stools?
Bar stools are quite common today in pubs, restaurants, and even clubs. They are also common in most homes but do you know how much a specially-made bar stool can augment the physical aesthetics of your home?
Let's show you some of the new bar stool trends and why they easily blend into any available space.
Outdoors
Have a bar space on your patio for an outdoor activity or gathering. The trendy thing these days in outdoor patio gatherings is using bar Stools made of strong materials like aluminum or resin wicker and then using them with an outdoor bar or a patio table that's balcony-high.
Industrial Bar Stools
For a gritty masculine look capped with sophistication and style, industrial bar Stools go well with different industrial furniture designs to give off that industry-clean and simple yet very complex look.
Scandinavian Style Bar Stools
With a simple minimalist color scheme, composition, and pure natural build materials, the Scandinavian-style bar stools give off a unique look and feel that add to the aura of your living space. They have the seats covered with a cotton and linen blend as well as look simple and deliver optimal functions.
The Farmhouse Style Bar Stools
Though this style looks rustic, it is becoming more popular, especially for people who prioritize honed design; no wonder lots of people with cabin homes flaunt this bar stool trend. Besides the romantically rustic look, the natural wooden feel grabs attention instantaneously.
Modern Mid-Century Style Bar Stools
More homes are incorporating the mid-century style design and it's only natural that the same ideas are spilling onto the bar Stools choices.
Most have curved lines, dowel bases, and seats sculptured in tribute to Eames.
Grainy Finish
This is a favorite bar stool in this trend. The finish of wood grains, slab seats, and carefully finished edges gives off the natural look that blends with any interior or outdoor style.
If you want to have a more modern look, beautifully colored leather seats with shiny wooden finishes and shiny metal frames would be the way to go.
If you'd prefer the rustic style, distressed or unfinished wooden finishes would go just nicely.
Translucent Bar Stools
Most modern looks are given off by translucent bar Stools. The legs and seats are made of acrylic materials.
This translucent furniture is good for the eyes because there's minimal consumption of visual space, especially if the bar Stools are placed in small spaces.
How Do I Choose a Comfortable Bar Stool?
Bar Stools make a statement in your living space, bar, or kitchen. However, knowing how to pick a suitable bar stool for your living space can be really helpful. It will help you save money on buying the wrong Stools thereby having to re-buy and it will also suit your living space.
There are several considerations you must make so you can add the perfect leather bar stool to your living space. Read on.
Efficiency and Minimization
Leather Bar Stools can be used in the tiniest of spaces and can create a unique tone and look for the other parts of the room.
Whether your leather bar stool has a wooden or metal frame, the slim leather structure makes it stylish and able to blend in easily.
Leather Bar Stools stay quietly involved in the makeover of your personal space and project without affecting the available space. You just need to do a couple of arrangements from time to time to keep the look spicy.
Space
Leather Bar Stools were made for contemporary kitchen or home spaces. They can blend easily and not alter the original outlook while adding the 'urban' feel to your kitchen, bar, or living space as the case may be.
If you have white kitchen counters, for example, a leather-draped bar stool (black precisely) will bring contrast while refocusing the attention on the lighter colors of the kitchen. This is what is known as a modern kitchen!
A Fanciful Finish
For leather bar stools, the available finishing is vast. Large wooden bases against metallic slim frames, acrylic materials, amazing colors as well as the vast availability of finish materials.
Whatever your choice of a leather bar stool, it should be one that you fancy. Some folks will prefer the bar chairs for added comfort, but you cannot downplay the sweet charm that leather bar stools bring to the mix!
Read: Top 8 Best Bar Chairs for Home You Can Buy [2022 Reviews]
Our Top Picks for Best Leather Bar Stools
If you're reading this, you're probably in search of a leather bar stool that will be worth the investment.
There are thousands of leather bar Stools you can choose from but we have made some research and picked out a few of these stools that you will never regret paying for. Check them out below.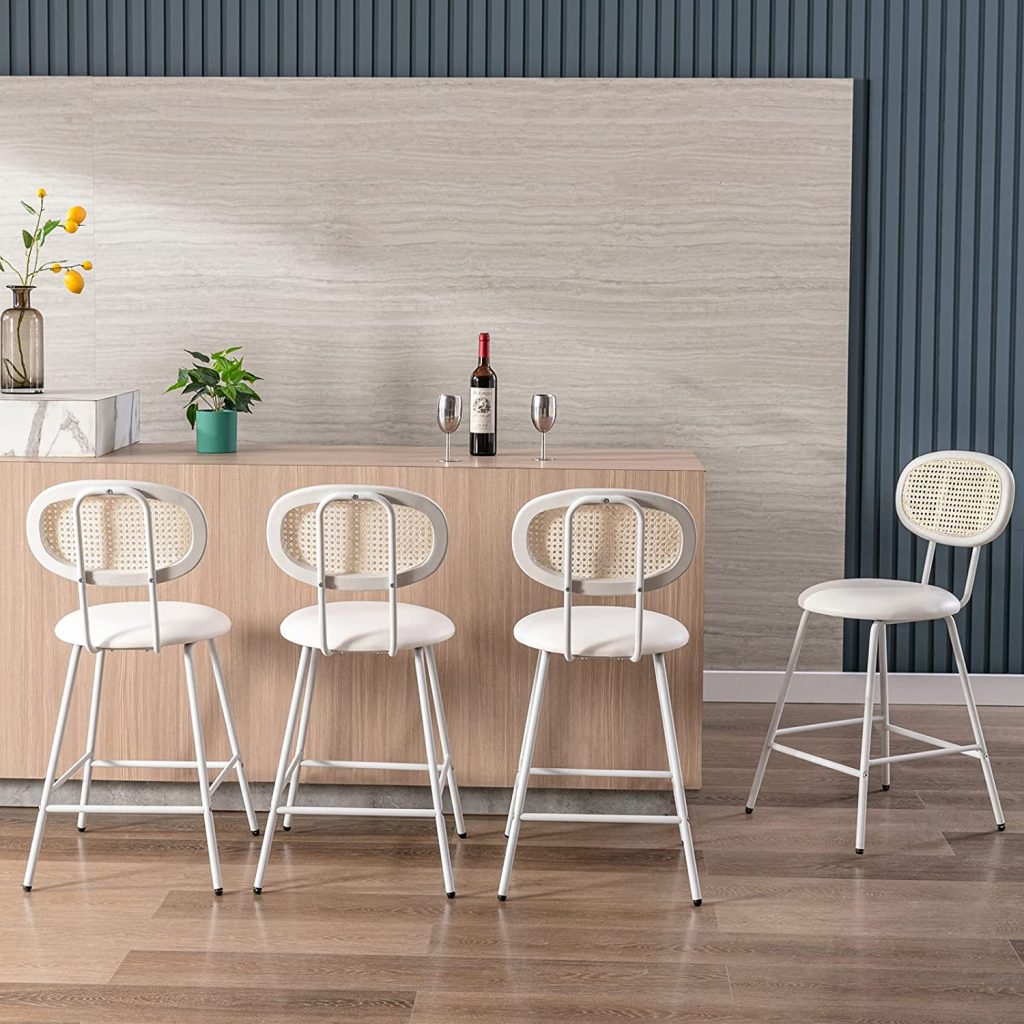 If you're looking for leather bar stools set of 4 which is perfect for an average family, this Soohow faux leather set of 4 bar stools will fit just fine. For less than 300 dollars in pricing, you'll get four sleek-looking and well-designed bar stools.
Each chair is about 24" in height and can withstand up to 250 pounds of weight. We are sure you'll love the premium materials used for the manufacture from the sturdy metal frame to the beautiful all-natural woven rattan cane.
This Soohoo set of 4 leather bar stools is made to beautify any setting, giving it a vintage look that's complete with touches of sleek modern finishes.
Product Specs
16.1" x 16.1" x 36.6"
Rattan material
Rubberwood frame
250 lbs carrying capacity
Pros
This set of 4 leather bar stools is made with quality materials from the metal frame to the rattan backrest and cushioned seat with PU leather and 28D foam for durability and added softness.
The chair set comes with complete instructions which would make you conveniently assemble it.
Has premium materials that are designed to last long
It's perfect for vintage lovers looking to incorporate classic designs in homes or businesses.
Can be used both indoors and outdoors (undercover)
Cons
A few complaints about noise while seating but the overall sturdy nature of the chairs makes them a solid option still.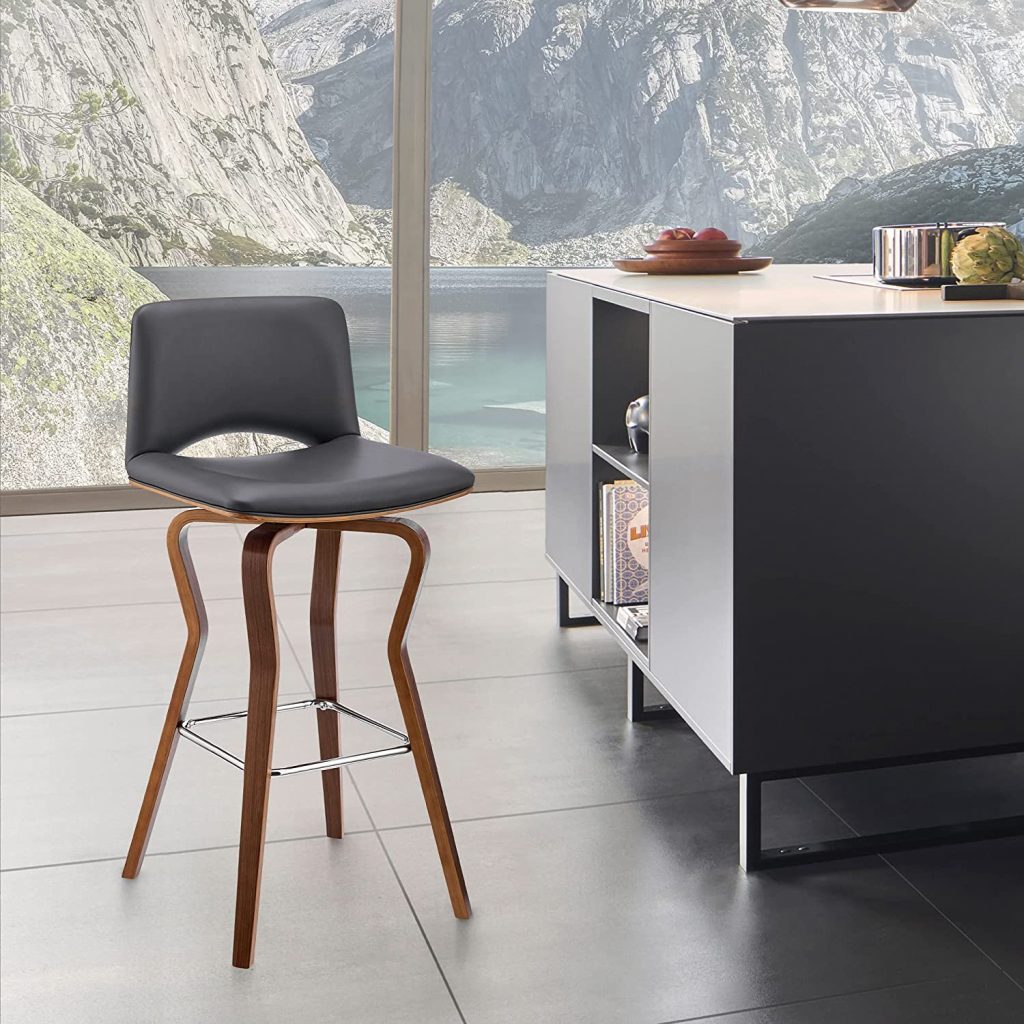 This faux leather bar stool with 360 degrees swivel capability is built to be sturdy – obviously from the walnut wood frame.
It comes in different heights whether for the kitchen island or a pub, peninsula, or bar table.
No matter the color scheme of your indoor or outdoor furniture, you can find a suitable match for this swivel bar Stool. The frame of this bar stool is sturdy enough to hold any weight up to 250lbs.
Product Specs
Dimensions: 19″ x 18″ x 36″ and those are for depth, width, and height respectively.
Walnut wood frame
Seat cover: PU leather
Swivel
Pros
Very modern and classy look.
Walnut wood is very durable
Easy assembly
Available in different seat heights and different colors
The swivel function adds a lot of flexibility for maximum mobility
Cons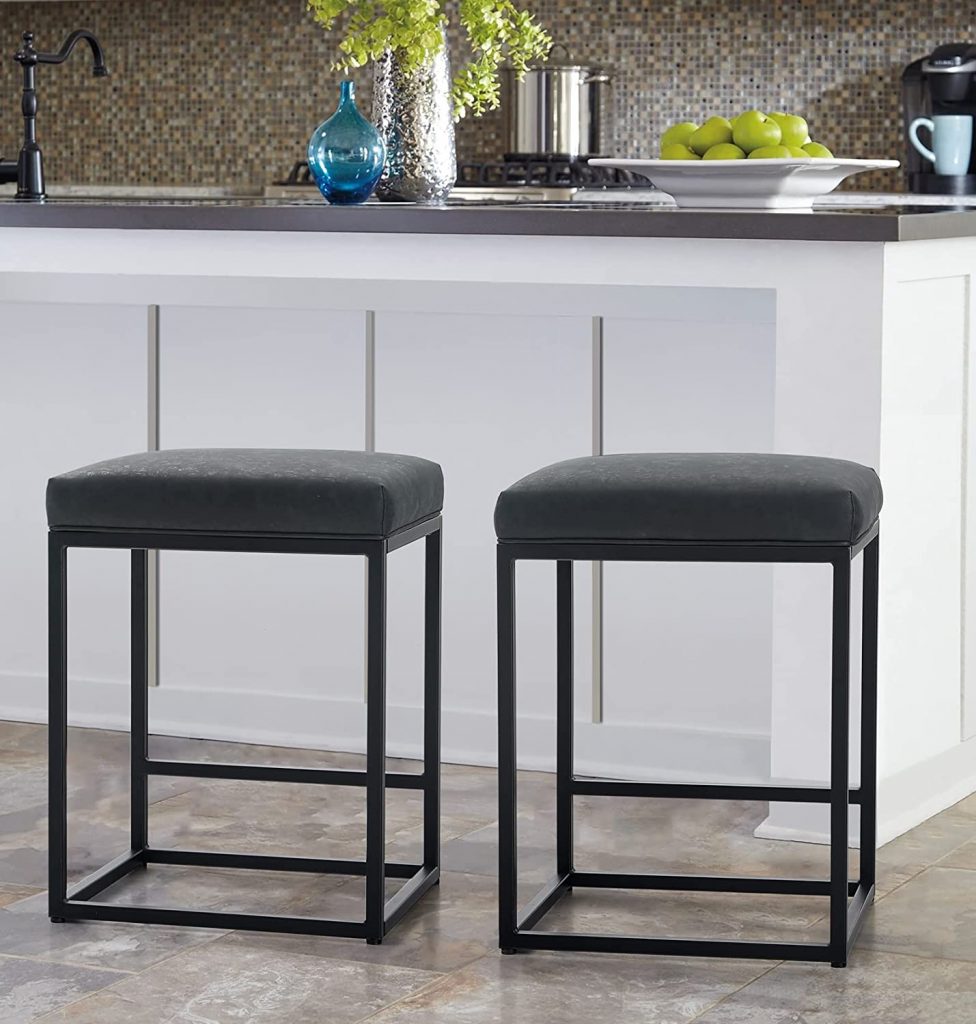 One thing about this bar stool is that it is simple and does the job while being comfortable to sit on, thanks to its thick leather-covered cushion, as well as its clean design.
It comes in a set of 2 and adds color to the bar or kitchen space. The bar stool has a steel frame with an attachment where you can comfortably rest your feet. There are also non-slip 'floor protectors' that help to avoid gliding as well.
This bar stool is very easy to maintain and clean plus it is water resistant so you'd have absolutely nothing to worry about in your seat.
Besides being quite sturdy, this seat can support up to 330lbs! So if you're a minimalist but have an eye for a little bit of style and maximum efficiency, this bar stool is the way to go!
Product Specs
Metal frame with non-slip floor protectors
Waterproof covering, PU leather
Dimensions: 15.7″ x 18.7″ x 24″ for length, width and height respectively.
Rectangular shape
Footrest
Pros
Minimalist design
Thick padded seat for comfort
Footrest helps to relieve pressure on the legs for additional comfort
The anti-skid base ensures safety for both you and the floor
Cons
Might be short for some folks
The metal frame is thin and might break if a bulky person sits on it.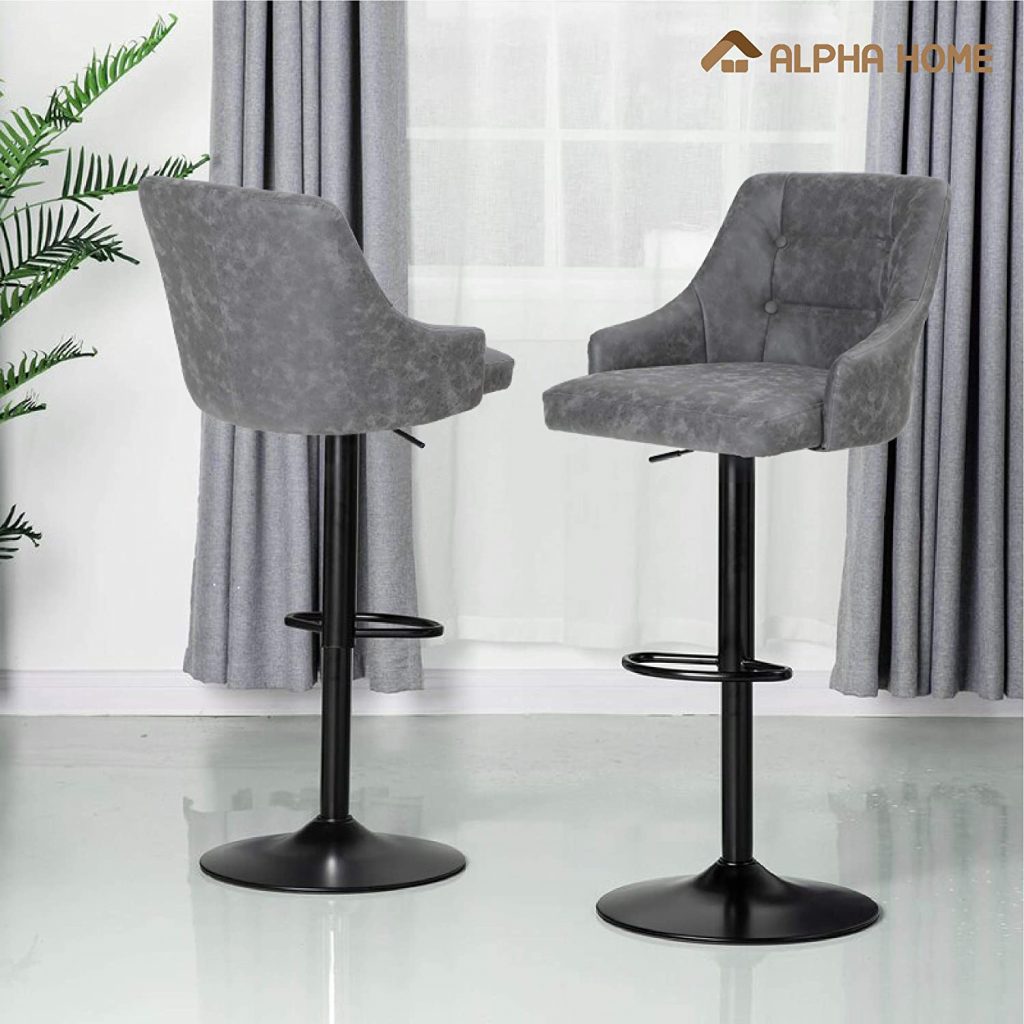 Serious technology and improvement are hitting the furniture industry and this bar stool seals that statement. Covered in durable PU leather and padded with thick soft foam, the Alpha Home bar stool can give you the comfort of a premium chair!
It has an adjustment lever just under the seat where you can adjust the seat height to your taste. It also allows you maximum mobility as you can rotate the seat 360 degrees in case you need to say hi to someone behind without leaving your seat.
The round, stable metal base ensures your bar stool doesn't tilt and the stable pedal provides support for your legs.
In case you would be sitting for a while, this stool has waist support to help reduce some of the pressure that may pile up on your spine from prolonged sitting. What more can you require from a bar stool?
Product Specs
Dimensions: 16″ x 18.89″ x 46.06″ for depth, width and height respectively.
Metal frame
PU leather seat cover
Waist support
360 degrees swivel
Height adjustment lever
Stability footrest
Pros
The oversized seat provides excellent support and comfort while you're seated at your bar or kitchen space
The chair is quite easy to assemble on your own
Adjustable height gives you a lot of flexibility plus the lever makes it easy to maneuver
Durable metal frame and leather covering for a longer-lasting use
Has armrests and a footrest for added comfort
Cons
This bar stool isn't built for too-bulky folks, else the bar on the bottom will snap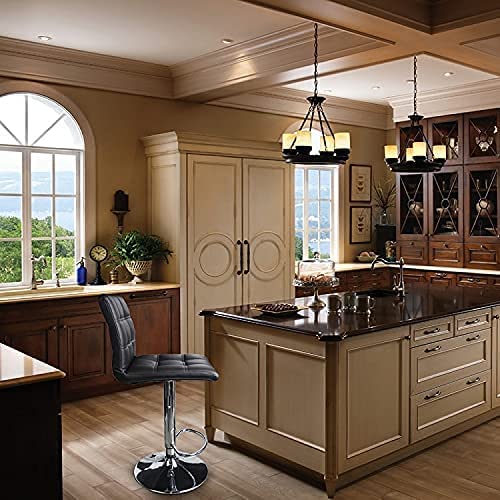 This bar stool is covered with leather and comes in a set of two. It goes perfectly well with bar and kitchen spaces.
We liked its swivel and height adjustment capabilities a lot since it gives us the flexibility to be able to use it with different counter heights but we also loved the stability and comfort the seat gives.
It comes in a vast color range and adds style to your kitchen and dining or bar space respectively.
The adjustment lever provides easy maneuverability and the footrest makes for additional comfort.
Product Specs
Dimensions: 16″ x 15″ x 24 to 31.5 " for width, depth and adjustable height respectively.
Padded seat with high-density foam
Footrest and stable base
Adjustable height
Swivel capabilities
Pros
The steel base has a non-slip ring so the seat is stable and the floor is secured
A breathable and anti-aging seat cover that is easy to clean and maintain
Adjustable seat height for flexibility
360-degree swivel for maximum mobility
Easy assembly
Modern design
Cons
Final Thoughts
Leather bar stools have been the trend for a while and it doesn't look like they will be going out of fashion anytime soon.
They provide a chic look to your kitchen and bar space as well as for your outdoor gatherings.
There are hundreds of bar stools in the market but the ones we picked to cover a lot of types and brands and are some of the best you can buy.
We advise that you make detailed research to find what suits your needs before spending your cash on any bar stool.