The upholstery of the interior of your truck is fragile and needs extra protection from seat covers – especially leather seat covers.
Maybe you want to upgrade the interior upholstery of your old truck or you want to be proactive in protecting your new truck's seats, quality seat covers are the best way to go. However, the trick lies in your knowledge of truck seat covers and which to avoid or purchase. That is why we have pieced this article together from our in-depth research of seat covers.
Our research deductions are gotten from data from industries like Popular Mechanics and Forbes Wheels. We also reached out to a handful of experienced truck drivers for their thoughts and this article sums it all up. Enjoy!
Why You Need a Seat Cover for Your Truck
A seat cover you decide to install depends on what you need. Sometimes people install seat covers to upgrade or change the interior looks of their trucks. Some install seat covers in their trucks to just protect the original upholstery or interior. Here is an outline of the reasons why some people need seat covers for their trucks.
Keeping the original upholstery from fading caused by exposure to sunlight
Making the seats feel cool in temperate weather or region
Preserving the truck's resale value
Keeping the truck upholstery from damage due to crumbs, debris, spills, pet hair, stains, and even pet hair
How Do You Select a Seat Cover?
Whether you own a truck or a tiny little sedan, there is always a need for seat covers as we have listed above.
However, you shouldn't just get a seat cover because you want to. Not all seat covers will suit all purposes. So it is important to familiarize yourself with how to pick seat covers so that you don't waste your hard-earned money. Here are things to consider before picking a seat cover.
Installation
It will be foolhardy to purchase a seat cover that you cannot install in your truck or car. Some seat covers need simple installation. Some are difficult to install.
Seat covers that are easy to install attract more buyers than the ones that aren't. They have a one-button installation and you can be done in seconds.
Fabric
Leather, neoprene, polyester, and vinyl are some of the most popular materials seat covers are made of.
What you should purchase is a seat cover made from materials that you prefer in areas of durability, esthetics, and ease of washing.
Color
The color of your truck interior and the blend with your truck's overall beauty can go a long way in influencing the color of the seat cover that you will buy.
You may want to maintain the OEM (Original Equipment Manufacturer) look and hence buy a seat cover from a brand that has a large array of colors to pick from.
Special Feature
Seat covers these days do more than just cover the seat. Some have special features like easy stain wipe-off, handy organization, one-button easy fit, original seat control support, and most importantly some manufacturers give a cash-back warranty for life!
Read: How Do You Clean Leather Furniture Naturally? 2022 Tips
Is Seat Covers Good For Leather Seats?
Leather looks quite luxurious. Everyone likes it. We want to show our leather interior off, but then, you know that after a while your leather seats might be ruined and hence your next step would be a seat cover.
There are several threats to leather seats as highlighted above and maintaining them is quite tasking. You must be up and doing and extra vigilant to keep your leather seats looking good for a long time.
However, to avoid the stress of maintenance of leather seats, it is advisable to get a proper seat cover. With this, you can rest assured that you will not have to worry much about the threats to your leather seat.
However, for some reason, a seat cover might harm your truck's leather seats.
Dye damage:
Your seat cover might have a wet dye and this can bleed through and contaminate your leather seat after it's been fitted for a while.
Slipperiness:
Seats made of leather are more slippery than the ones made of cloth. So your seat cover might slip out of place more often.
Damage from the seat cover's seams:
Seat covers are sewn and have side seams. With continual usage, these seams might push or dig into the leather seat and cause wear.
On the brighter side, these little shortfalls are not enough to discourage you from brightening up your truck's interior upholstery or purchasing a seat cover to protect your luxurious leather seats.
Our Top Picks for Best Leather Seat Covers for Trucks
Now we have outlined how to pick a seat cover for your truck's leather seats and the reasons why they are good or bad for the seat.
From our wide research, we have made a few picks and these are our top seat covers that suit leather seats. So if you want to buy one for your truck, any of these should be worth every penny.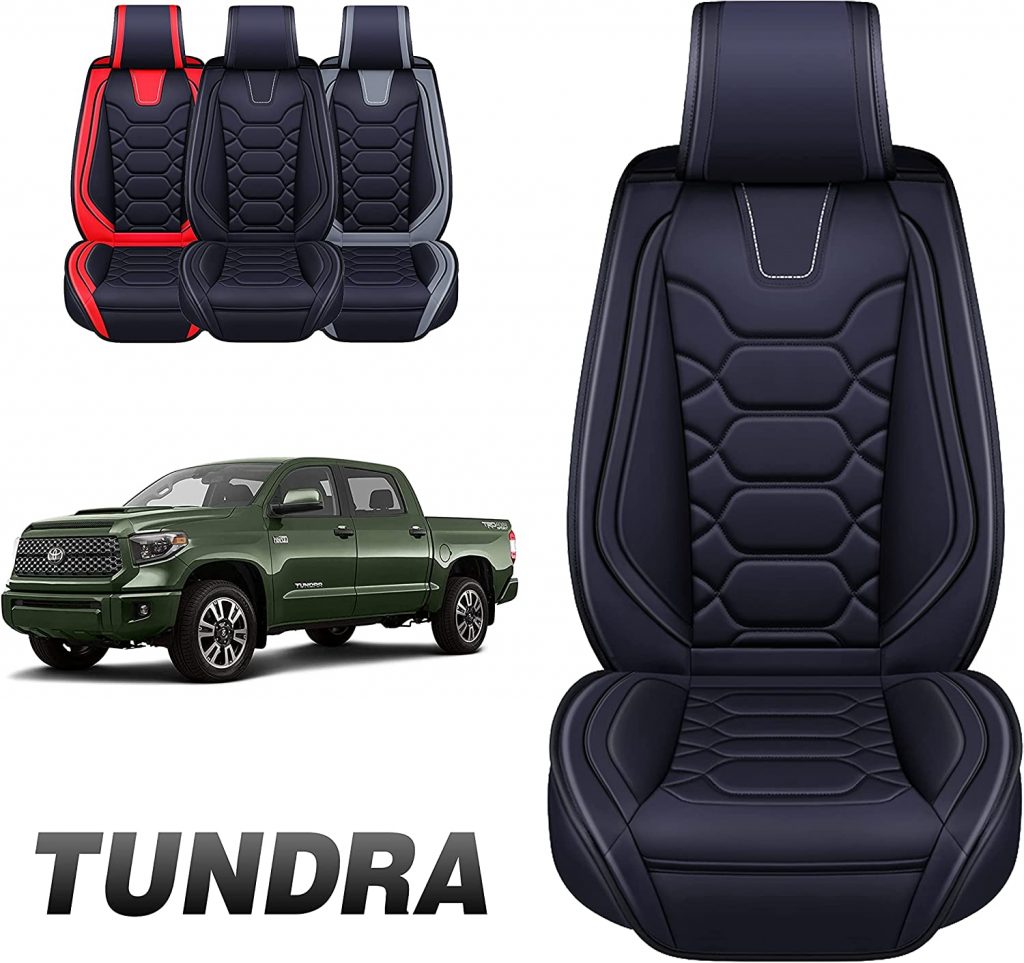 The Oasis Tundra 2007-2022 fit seat cover was made specifically for Tundra trucks. The faux leather seat cover is lightweight (about 7 pounds) and perfectly fits on tundra front seats. It is solid and can also elongate especially if your truck has reclining seats.
The seat cover is thick and solid, and a very quick fit. With this seat cover, do not expect loose areas or bagging.
Product Details
Weight: 7 pounds
Manufacturer: OASIS AUTO
Dimensions: 24 x 22 x 4 inches
Use: front seat
Pros
Easy installation and perfect fit
Thick durable and lightweight faux leather seat cover
Available in different colors
Easy to clean
Cons
Was made for tundra trucks and may not fit every other truck
Fits just the front seat
Not waterproof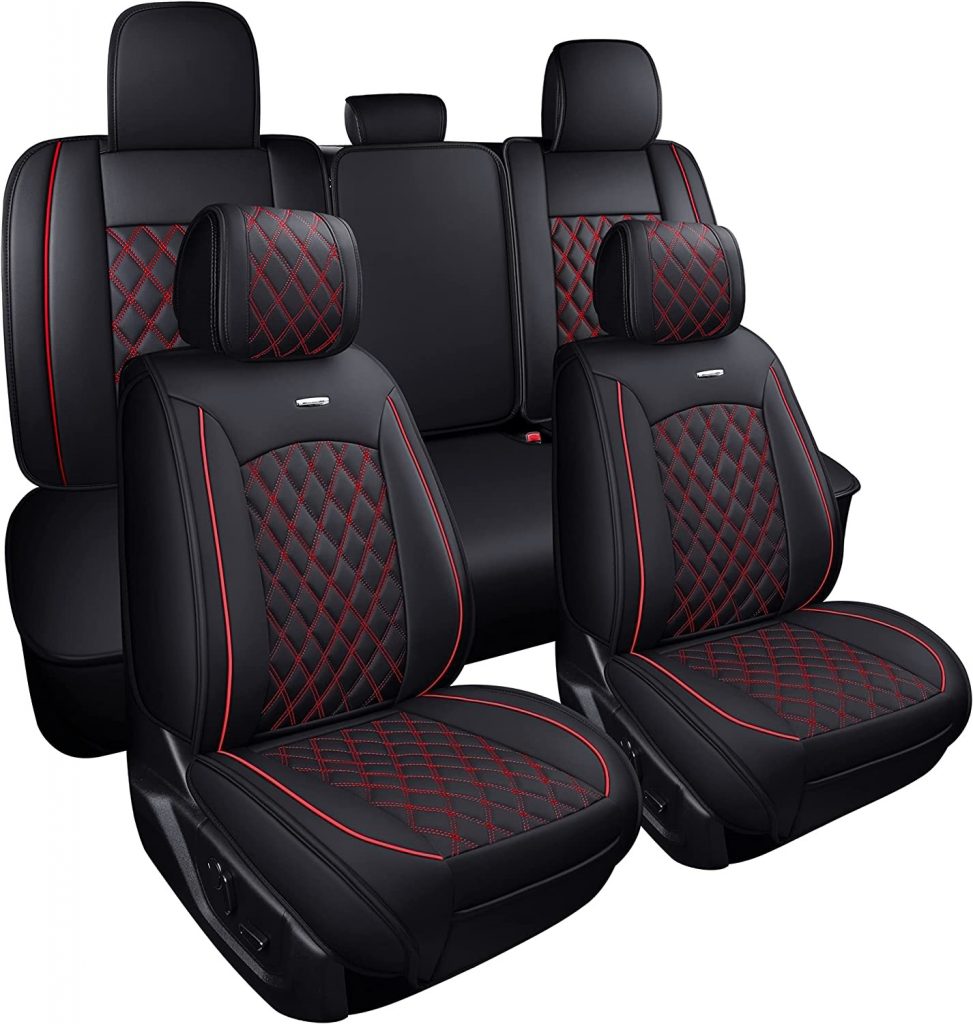 This seat cover is perfect especially if you own the F-series Ford pickup truck. It comes in either a 2-piece or full 5-piece set with covers to the rear seat of the truck. It may also come in various material or blend including leather, polypropylene, cotton, or faux leather.
The high-quality seat cover is soft and thick, with PP cotton and sponge padding for all-around comfort.
Unlike most others, this seat cover is waterproof and very easy to wipe clean without fear of scratching the button or causing wear to the surface.
This seat cover is also built to create space at the sides of your truck's seat so that there won't be any impediments in case the airbags need to pop out suddenly.
Product Details
Weighs 15.13 pounds
Dimensions: 26.5 x 23 x 6 inches
Use: front seat but rear seat can be purchased in full set
Manufacturer: AIERXUAN
Installation manual available
Honest customer service.
Pros
The seat is customized to fit f150 (2009 to 2021), and f250 to 450(2017 to 2021).
The seat cover is wrinkle-resistant, waterproof, and wear-resistant.
Easy to wipe clean with a damp cloth.
Cool seat cover and doesn't affect the original heat level of the seats
Installation manual for an easy fix
Compatible with seat belts and airbags
Comes in 2pcs and 5pcs set for front and back seats respectively.
Cons
Not universal, customized for mostly Ford trucks.
Prone to slipping and hence would work best with a silicone non-slip interior.
Not available in many colors.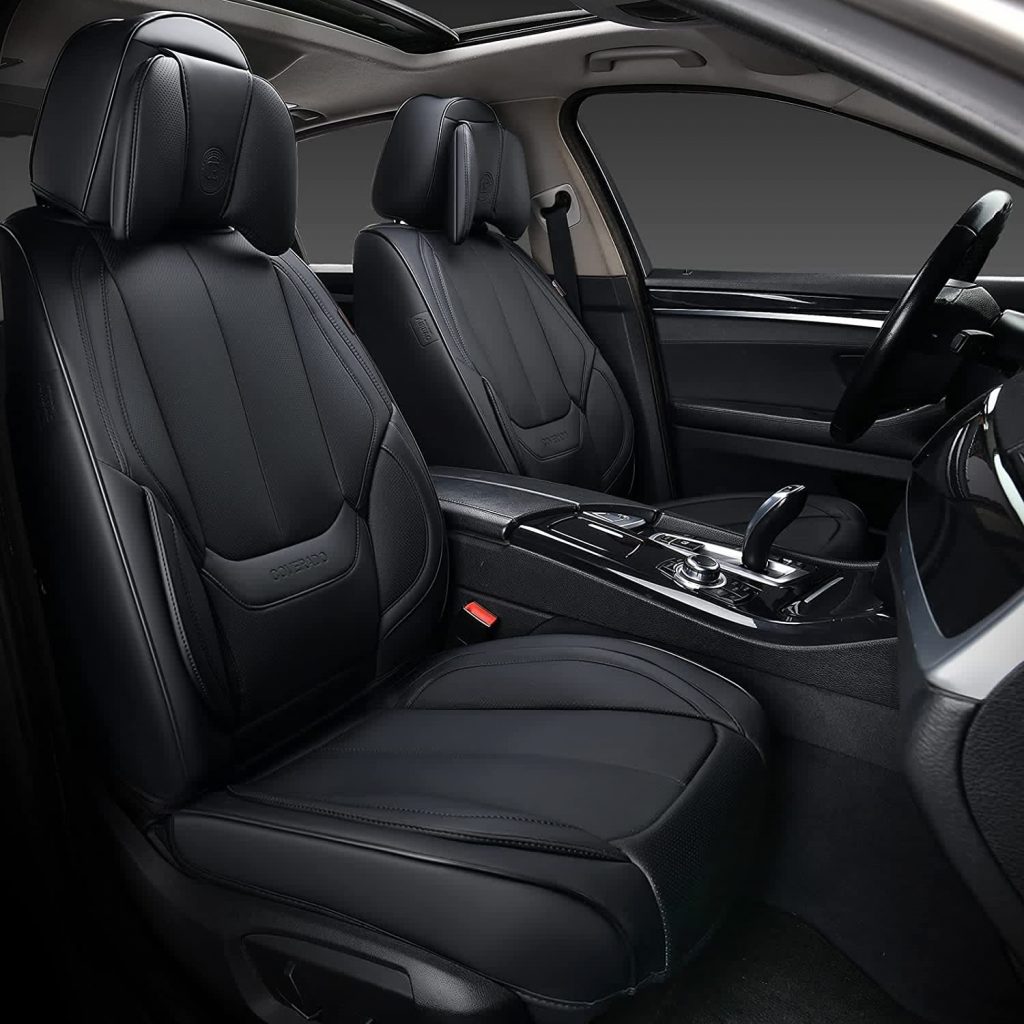 Luxuriously designed, this universal seat cover is made of Nappa leather and comes in 5 pcs pack for both the front and back interior of your truck.
Unlike the previous ones we talked about, this seat cover suits most trucks and not just a particular type. It is engineered to not hinder the normal seat functions like seat belts, airbags, or armrests and it comes with a headrest so you can define your comfort.
Nappa leather is breathable and almost doesn't fade – which means you can easily fit this cover on your truck and maintain the beauty and functionality of your seat for several years to come!
Product Details
Manufacturer: Coverado
Use: front and rear
Dimensions : 27.7 x 23 x 9.3 inches
Weight: 19.36 pounds
Headrests
Pros
Highly waterproof,wear proof, scratch proof, and anti-UV ray protection
Comes in front and rear covers
Built to fit in with every type of truck interior
Stylish and available in many colors
High-quality Nappa leather provides excellent protection from sunlight and stains.
Easy to install
Engineered to help maintain your truck's functionality
Headrests for additional comfort
1-year warranty
Cons
Installing the rear seat cover might be challenging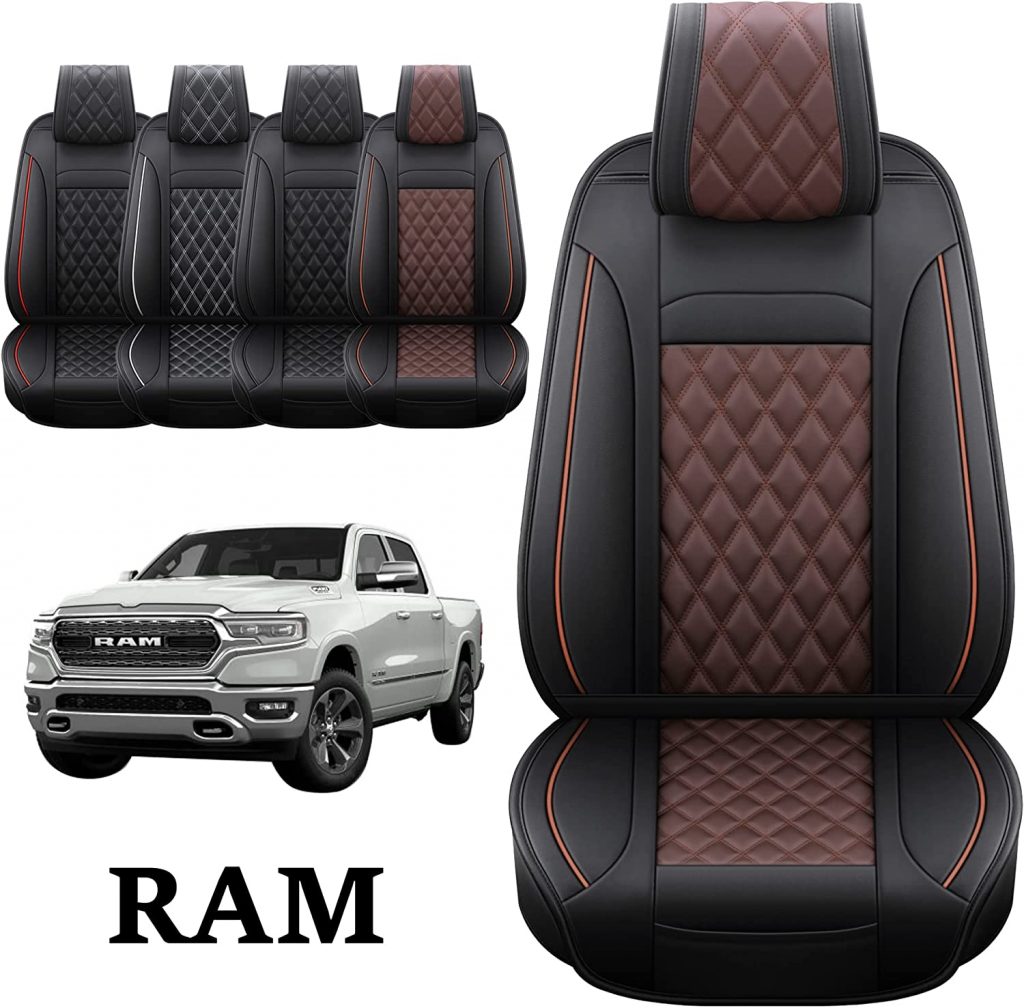 This top-quality seat cover features a thick foam layer and PU leather covering that is easy to wipe and doesn't collect stains.
Besides protecting your leather seat, this seat cover beautifies your truck's interior and brings a new shine to the look.
It comes in a 2pcs pack and is only available for the front seat – something a few people may frown at but the front seat protection and beauty overshadows the whole interior.
This seat cover not only satisfies pick-up trucks but also fits in cars, cabs (quad, regular or mega), and Dodge RAM from 2009 – 2022 models.
Product Details
Dimensions: 26.2 x 23.2 x 6.8 inches
Usage: Front seat
Manufacturer: WMX (China).
Weight:15.32 pounds
Headrest covers x2
Pros
Can fit a variety of trucks, cars, and cabs easily.
Quality PU leather ensures durability
Easy to wipe clean
Airbags, cup holders, and safety belts are compatible.
Comes with a beautiful zipper design
Easy to install and also has a headrest cover for top to bottom beauty
Cons
Does not have covers for the rear seat
Final Thoughts
Seat covers are beautiful but, it's not just about the aesthetics, these are necessities for truckers looking to keep that truck leather seats in topnotch condition.
If you want your leather seats to look brand new for a very long time, it is important to ensure that they are protected from scratches, dirt, stains, and damaging sun rays. Seat covers are the way to go.
For anyone who has an eye for quality leather seat cover for a truck, this guide will be a powerful resource. We have reviewed four top options of the best leather seat covers for trucks whether it's a tundra truck or a Tacoma or even Ford F series, these leather seat covers will fit just right.