If you are going to bring a recliner into your home, it must be one that fits, both aesthetically and in size. This is why choosing the best apartment-size recliners is very important before committing to investing in any of this furniture.
Recliners are a great addition to our home furniture and general decor but if you get one that doesn't fit your apartment space, you may have to return it or sacrifice the uniformity of your home interior look.
Why go through so much hassle when you can easily read through this article and make a quick choice of an apartment-size recliner sofa that will perfectly suit your apartment?
We have made a list of some of the best apartment size recliners – whether you need a manual or electric-powered recliner, a swivel, or a massage seat, there's something for everyone. The best part is, these modern recliners for small spaces will redefine your home look.
Now let's get down to business.
How to Pick Suitable Apartment Size Recliners
Recliners come in different types and sizes, different functions, and different features. One that suits Mr. Jerry may not be what Miss Joanne is looking for. That is why it is advisable to know what you're buying before ordering it.
Before you pick a recliner for your apartment, there are a number of considerations to make. Whether you are looking for small recliners for your bedroom or wall-hugger recliners for small spaces to tuck in your living room, you'd have to check for:
Availability of Space
Forget what you see from the screen of your smartphone or tablet, a recliner is much bigger than that in real life. Most of these recliners need space behind them because when they recline they extend backward.
Before anybody buys a recliner, they must have envisioned the exact spot to place the chair. To know the amount of space you need before your recliner is delivered, you need to measure your available furniture as well as the whole of the room and also the size of your apartment.
Your doorways should also be measured so you will know the size of the Recliner that can get in.
When fully inside, most recliners will need some space from the wall to allow for a backward tilt. It is advisable to leave 10 inches at least as an allowance.
In case you intend to use your recliner with a coffee table, the foot of the Recliner should have at least 10 inches of space also from the table for allowance when reclining.
You can take measurements as well as photos of your apartment and share it with the vendor in case you're making a custom order. This way you will not only buy a recliner that fits but also one with a color that suits your home interior decor.
Right Material or Fabric
From cotton to leather and nylon, recliners have different material covers. The material you should choose will depend on your needs. If you have kids or pets, you should select a fabric that is stain-resistant, soft on the skin, and tough to withstand wear.
You may also pick a leather fabric that's tough and easy to maintain, just that you may have to pay more for it.
Features
Some recliners rock, some swivel, and some have both swivel and rock features. If you suffer from insomnia, the rocker might be very useful in helping you sleep off. Also as a nursing mother, the rocker function comforts both you and the baby.
The swivel? You have maximum mobility as you can face any direction in seconds without moving the chair from its resting spot.
Other features include a wall-hugger, 180 degrees recline position, and electrical power operation.
Wall-huggers are excellent for a small room and space. With this feature, you can sit in a straight posture for easy getting up. Some wall-huggers have lift capabilities which are excellent for users with bad knees – to help them stand up out of the chair easily.
The electrical-powered feature helps the recliner to be maneuvered with just the touch of a button while the 180 degrees reclining is good for people who use their Recliner as both a chair and bed.
Everything boils down to you and what your needs are!
Size of the Recliner
For folks that are more than 6'3 feet tall, there are recliners that suit their size as well as the Petite 5'4 feet individuals. When shopping for a Recliner, you should consider the person's size. Small recliners should be 35 inches wide. A large Recliner is often 50 inches wide at least while a medium one ranges between 40 to 45 inches.
Our Recommendations for Best Apartment-sized recliners
Below is our top picks for Apartment-sized recliners and we hope it saves you the stress of ransacking numerous products in search of one that fits.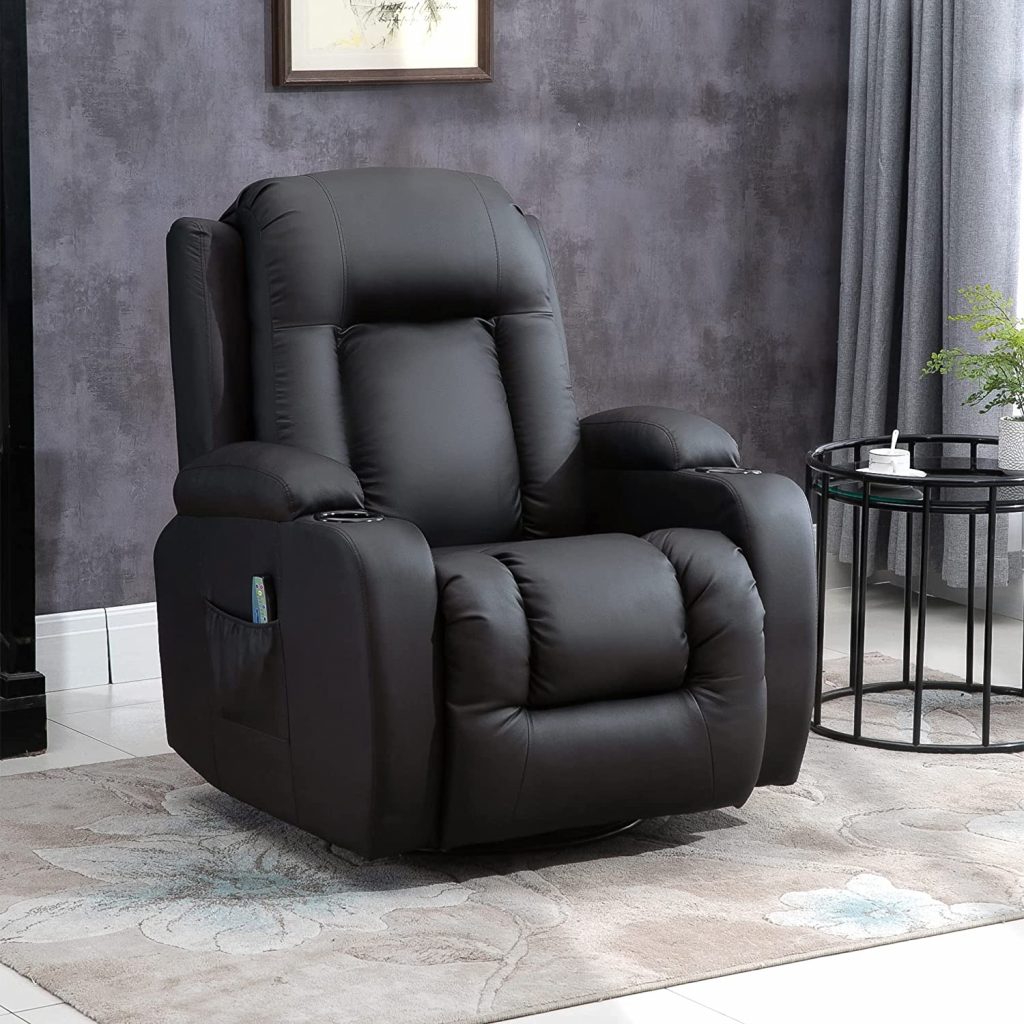 Comfort doesn't get any better than this – and with a little need for space! The HOMCOM Recliner packs a lot of functions in one like heating, massaging, vibration, reclining, and swiveling.
The frame is made of steel alloy that can support a large weight and the chair provides excellent lumbar support, thanks to the thick padding at the back and seat.
While being able to blend carefully into your home decor, you can make this chair your go-to relaxation spot in the house after a hard day's work. To soothe the aches from work pressures, the heating function of the chair makes it more useful.
Want to watch TV after reading? The chair has a side pouch where you can store your magazines, pens, drinks, and other petty items and if you feel like sleeping, you can recline to 150 degrees! Unbeatable, this one.
Features
Side pockets
Remote control
8-node massage function plus heating function
150 degrees recline
Thickly padded seats
Faux leather covering
Alloy steel frame
Footrest and elevation
Pros
This chair is great for limited space
Heating and massage functions help to soothe pains and make you relax better
The faux leather covering is easy to clean and maintain and can stand wear.
Thick padding provides enough lumbar support
Can support the weight of up to 300lbs
Remote control makes operation very easy
The swivel function makes for maximum mobility
Cons
Not recommended for tall folks
The footrest may be too stiff, especially for disabled folks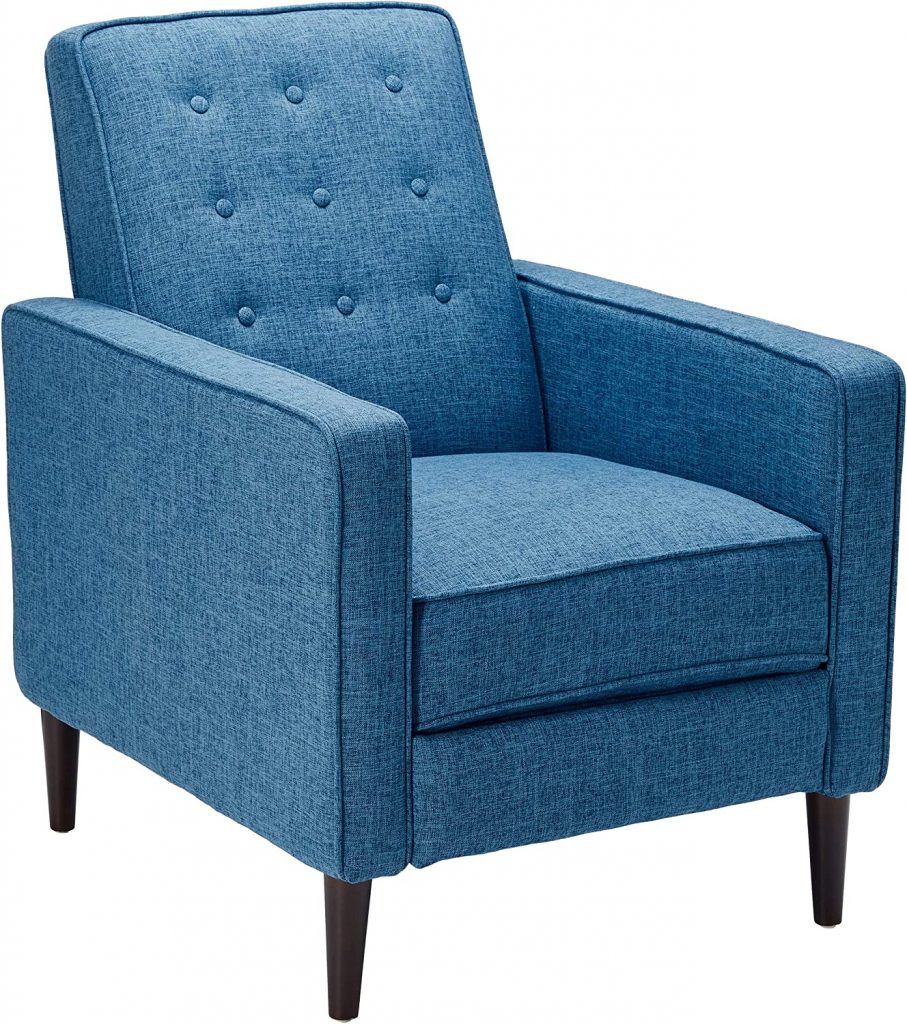 If you're looking for wall-hugger recliners for small spaces, the GDFStudio modern recliner should come to mind. It looks like those small recliner chairs on IKEA, but this is a sturdier version with premium wood.
This Recliner has legs of Birch-wood, which makes it stand sturdily and firmly, with its well-crafted shape and polyester covering material.
It has a modern-styled look and can support weights as heavy as 300lbs. If you have limited apartment space, this chair is highly recommendable.
It is thickly padded and will quietly sit there amongst your furniture, waiting to be reclined.
This is a great chair to relax in after a long day at work.
Features
Birchwood feet and general wooden Frame
Classic look
Soft padded seats and raised armrests
Moveable footrest
150 degrees reclination
Polyester material
Pros
The Recliner has a charming look and can fit in limited space.
It is sturdy and can support up to 300 lbs
Is available in a vast array of colors
Very easy to assemble
Footrest for better relaxation and circulation
Can fit tall folks
Cons
The Footrest needs to be manually activated hence it's not recommendable for handicapped or old people
The chair has a narrow width and seat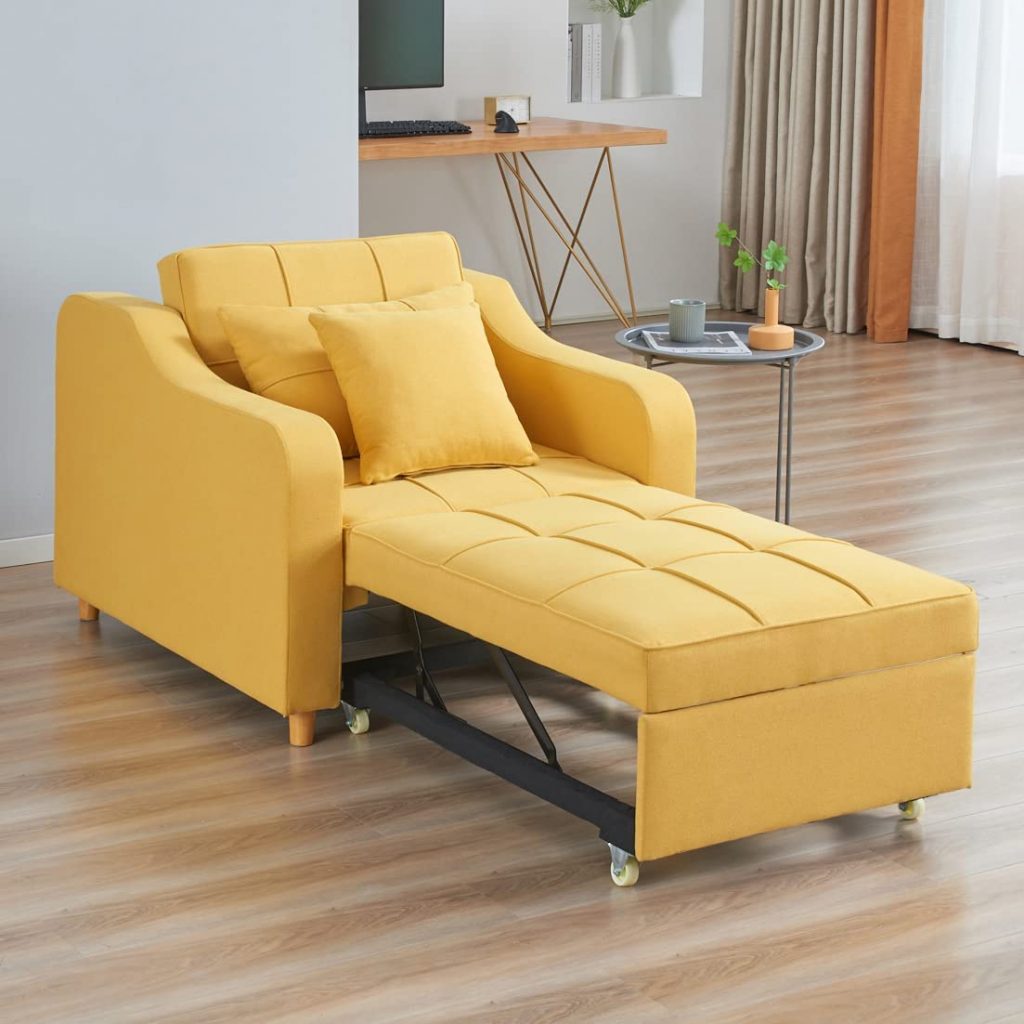 Versatility is one thing that makes any product sell fast and have great reviews.
This versatile product can be a Recliner, a chair, and a bed at the same time. It comes with a thickly padded frame, soft comfortable memory foam, and covers. If you own a small apartment with limited space, this chair is perfect for you!
It also features 2 extra soft pillows for added options and comfort. The linen fabric is breathable and easy to clean while the durability of the chair is ensured by the steel frame.
Whether you want to use this chair in a dorm, studio, apartment or living room, this chair is a great fit for each of your options.
Features
3 levels of adjustable chair length
Feet recline
3-in-1 functions – bed, lounge, and armchair
Thick padding and linen cover material
2 extra pillows
Steel frame
Pros
Converting the chair to its 3 different forms is easy just by pulling a lever.
The linen fabric cover is breathable and cool on the skin and allows prolonged use
Can support up to 350lbs
Extra pillows for flexibility
Can use a small space.
Sturdy metal frame for longevity
Cons
Foot casters that roll on floor surfaces may cause wear after a while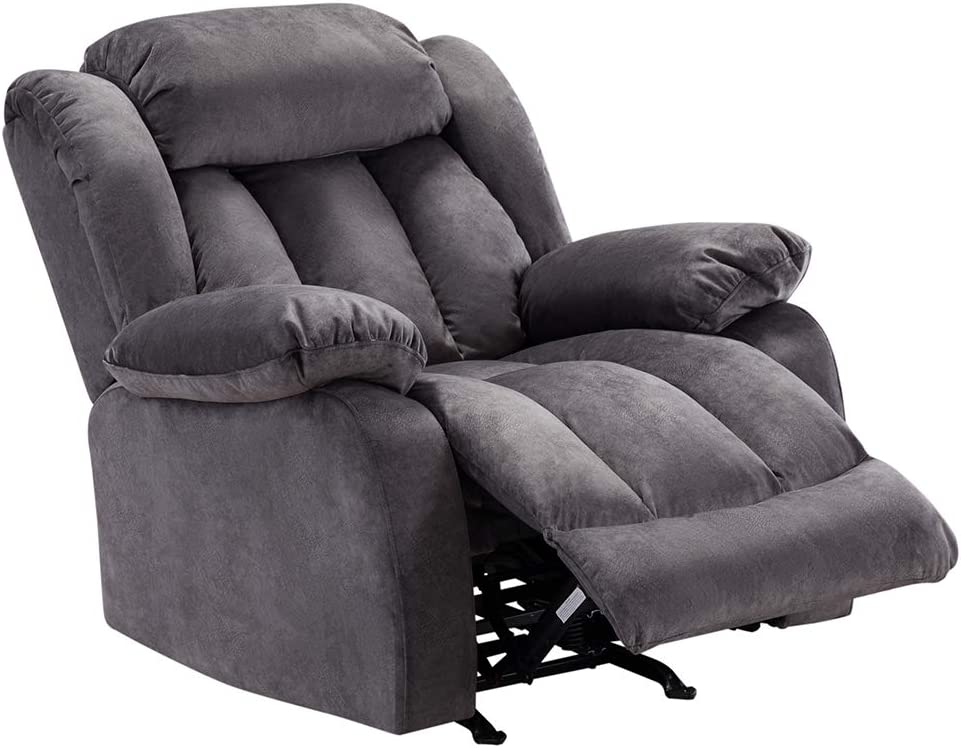 What we really liked about this Recliner isn't just the well padded armrests that give ultimate comfort, but mostly the fact that it blends quietly into the home upholstery and doesn't take up much space.
This Recliner is medium-sized measuring 38.9 inches in width and with its modern look and tough navy-grade fabric, you can rest assured that you have a gem on your hands!
This Recliner can rock you to comfort and can recline as far back as 145 degrees if you just want to kick back and relax.
Features
Pull-lever for operation
Steel frame
Rocker
Comfortable LVL wood frame for added durability
Thickly padded seats
Pros
Easy assembly
Steel frame for durability
Rocking function to comfort mom and baby when needed
Supports up to 300 pounds of weight
Thick padding on armrests and pillows for comfort
Navy-grade fabric glows grey in the dark
Cons
The product is relatively new in the market
Remote-controlled recliners are easier to maneuver
Final Thoughts
Buying a Recliner is one of the hardest things to do especially if you're a novice about how to buy and what's good, that's why this research is very important. The recliners we listed has perfect features and can fit easily into your apartment especially if you have limited space.
When you identify what your needs are, you can pick one that suits you the most.
Recliners have been useful to both healthy and sick people and the manufacturers keep improving them.