Want to set up your backyard with a fire pit and need only the best chairs for fire pit on the market? Read on!
We went through some top fire pit chairs and have settled for these six (6) options we feel are the most comfortable for outdoor relaxing in the warmth of your fire pit.
If you have a modest backyard and want to spend ample time in it enjoying the serenity, you might want to look into having a fire pit built.
With a fire pit, you can enjoy the outdoors while warmth and in the company of those that matter most to you, all you need is to get chairs around the fire pit.
In today's post, I'll be reviewing the best chairs for fire pit for comfy outdoor relaxation. These chairs are some of the most sort-after with top reviews from shoppers around the world from eCommerce giants like Amazon.
But first, why a fire pit?
A fire pit makes for a great relaxation spot in your backyard. You can enjoy the warmth in the company of a loved one or alone with your book or phone in hand.
If you have a large family, you can make this spot the perfect family bonding space. It can also serve as a guest reception spot.
By the way, if you're not very conversant with what a fire pit is, let's just say it's a pit you dig up in your backyard or setup with stones. However, these days, you can buy an already made fire pit online and set it up on your patio.
You can enjoy your fire pit in a lot of ways, whether you want to keep warm in an outdoor romantic setting or you want to prepare some outdoor food. And of course, you need a chair to sit on.
Top Fire Pit Chairs for Comfy Outdoor Relaxing
You are here because you are considering getting a few chairs for the fire pit and you want nothing short of the best. You're in luck as we have compiled highly ranked and recommended bestsellers on this list.
These seats will make your bonfire a favorite spot for you and your family whether in your backyard or deck. Read on, and let's help you pick out the best chairs for your fire pit.
Top 6 Best Chairs for fire Pit 2022 Review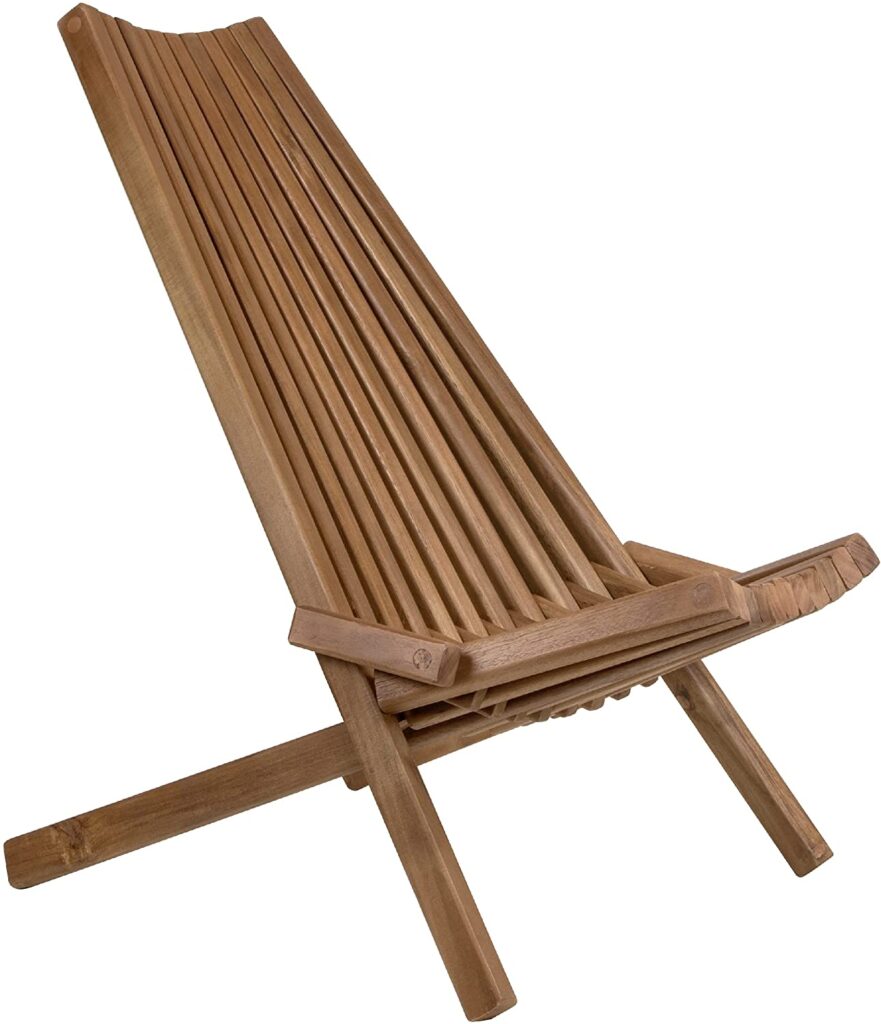 This is one premium outdoor chair you would appreciate. Made from 100% FSC certified Acacia wood, the CleverMade Tamarack folding chair doesn't require assembling, as it comes ready to use.
This folding chair is stylish and premium with a vintage look. Mount a few of these chairs in round your fire pit and you have the perfect outdoor location to meet up with friends.
As you'd expect from a fire pit chair, the CleverMade Tamarack chair sits low and are very ergonomic with a high backrest for well-deserved comfort.
To use these chairs, you simply open them and setup. When you're done, close them. You can move them with ease to wherever you have your fire pit or want to relax, whether on a patio or your backyard.
Weighing just about 18 lbs, this comfy chair has a carrying capacity of up to 250 lbs. If you want a sturdy, lightweight chair that will compliment your space – whether indoor or outdoor fire pit, you should definitely check out this lounger.
What we like
Premium stylish design
Comfortable low seating position.
Made of sturdy Acacia hardwood.
Lightweight and compact. Makes it easy to carry.
It doesn't require assembly. Just unfold it and you're good to go.
Compliments your environment whether a deck or your backyard.
Great fold design and incredibly ergonomic and comfortable.
What we don't like
Finish wears off over the years. Although, this can be remedied with oil finish.
A little pricey at over 200 bucks
There are a few complaints that it's below an Adirondack low.
Read more: Best Lawn Chairs for Big Guys 2022 Review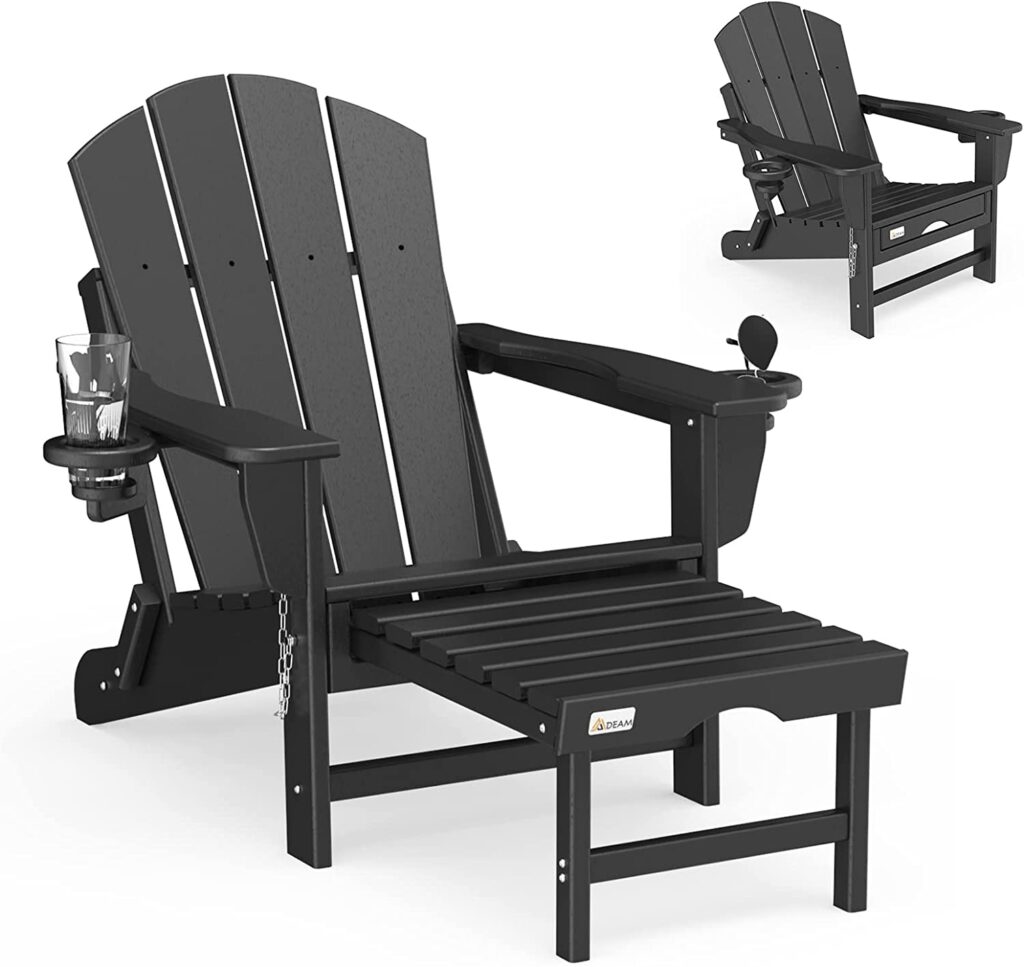 This is another top fire pit chair I really like, and it's an Adirondack (you know, those popular outdoor chairs).
The Mdeam folding Adirondack chair is an all-season chair that you can use in any weather, thanks to PE material. Its polyethylene material with stainless steel finish gives it a distinct look while being environmentally friendly with no-fade and no-crack properties.
If you're looking for an outdoor chair for relaxation, you'll love this fire pit chair as it has a retractable ottoman design built-in. With this, you can relax your whole body with proper support for your legs.
Although the setup takes a bit of time, you get all the detailed instructions to get your chair up in less than 30 minutes.
The MDEAM Adirondack chair was designed to be comfortable, sturdy, waterproof, and versatile. So, if you're looking for an outdoor chair that ticks all the points, you should definitely look towards this chair.
What we like
Made of sturdy, all-season PE material that is environmentally friendly than many others.
It's highly versatile and can be used for different outdoor activities and in different environments.
Comes with an ottoman for your leg's comfort.
Foldable design for ease of carriage.
There are cupholders built into the chairs
Solid customer service with lifetime guarantee
What we didn't like
Chairs are heavy. Although, it has its perks, especially if you plan to leave them outside after use.
Pricey if you don't have 200+ bucks sitting around.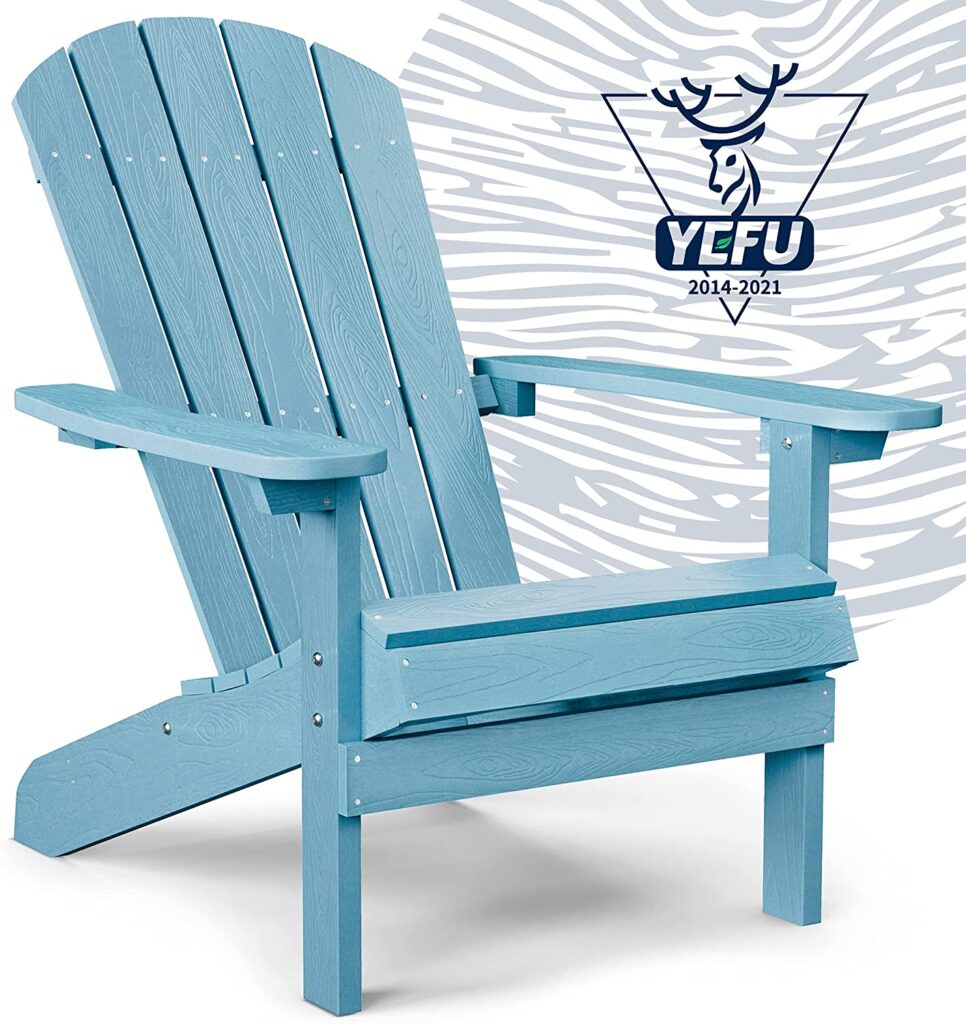 Another outdoor chair for your fire pit is the YEFU Adirondack all-weather chair that takes semblance to the MDEAM chair above.
This chair is made by a reputable brand with strong after-sales service and designed to save you money in the long term.
The chair is made of tough YEFU-WOOD which is actually plastic that is tough and meant to withstand pressure. It has a carrying capacity of 350 lbs and a petite weight of just 30 lbs for its sheer heavy-duty strength.
Whether you want a chair for your fire pit or you just want an easy-to-move outdoor chair, this Adirondack chair should definitely be considered.
This ergonomically designed chair promises comfort and relaxation for when you want to stay out and enjoy nature. Its curved and long back relieves you of fatigue and spinal pressure while you sit deeper thanks to 103° elevation.
While there are no cup holders, you can still place your cups and other items on the armrests which are pretty wide.
One thing most people don't like to do is spend time on the installation of items, and this Adirondack fire pit chair was made to be less stressful as it comes with an ease of assembling design. Within 15 minutes you should have your chair set up with instructions and tools made available with your purchase.
What we like
Assembly made easy with instructions and setup tools provided.
It's made by a team of repute with high-experience in delivering high-quality products.
Comfortable sitting is sure, thanks to 103° elevation that allows you sit deeper and elevated back for relieving fatigue and spinal pressure.
It's foldable and can be used at different locations, it's not a must you mount and keep it at your fire pit
Heavy duty carrying capacity of up to 400 lbs is nice as it can sit heavy and even obese people
It's made with high-quality mater that is also very sturdy, yet lightweight.
What we dislike
There's really nothing not to like about this Adirondack chair, unless you feel sub-200 bucks is pricey.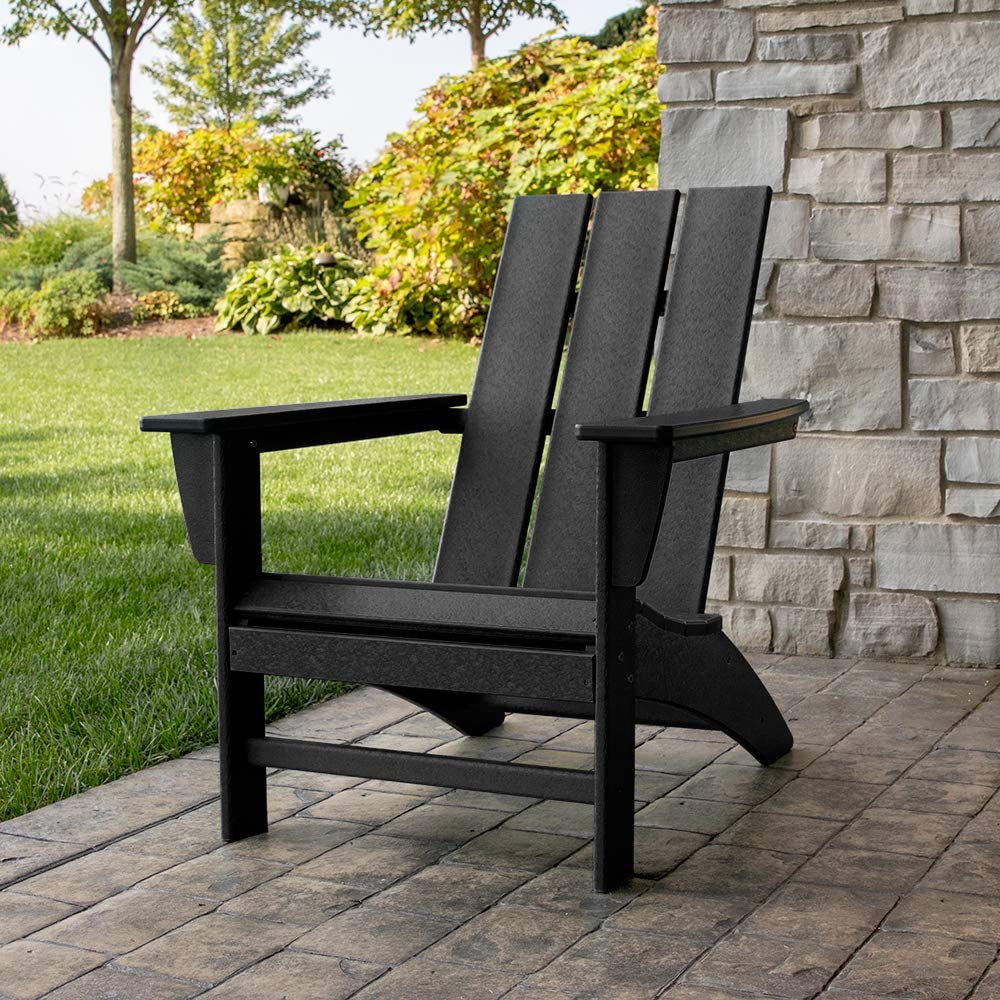 Again, we have another Adirondack outdoor chair. The thing is, Adirondack chairs make for great outdoor seats if you plan to spend a while soaking up nature. This POLYWOOD Adirondack chair is no different.
Like the other Adirondack chairs reviewed above, you get a sturdy chair if you opt for this. And it can withstand different weather conditions and environmental stressors.
It's also a contoured deep seating chair that promises maximum comfort while relaxing outdoors.
If you're curious about maintenance, this outdoor chair while being an all-weather chair doesn't necessarily need maintenance as the material it's made of keeps it in top-notch condition, so you don't need to worry about painting or waterproofing.
Assemblage like other Adirondack chairs on the list is pretty easy. It comes with a clear instructional manual and tip-top quality hardware for stress-free assembling.
What we like
Made for all weather conditions
Pretty easy maintenance
Makes seating comfortable with its contoured deep seat, high back and armrests.
Easy assembling
Sleek looking design, yet very sturdy
Comes in multiple colors
Made of high-quality POLYWOOD material
What we dislike
It's stationary and doesn't fold
Smaller than many Adirondack chairs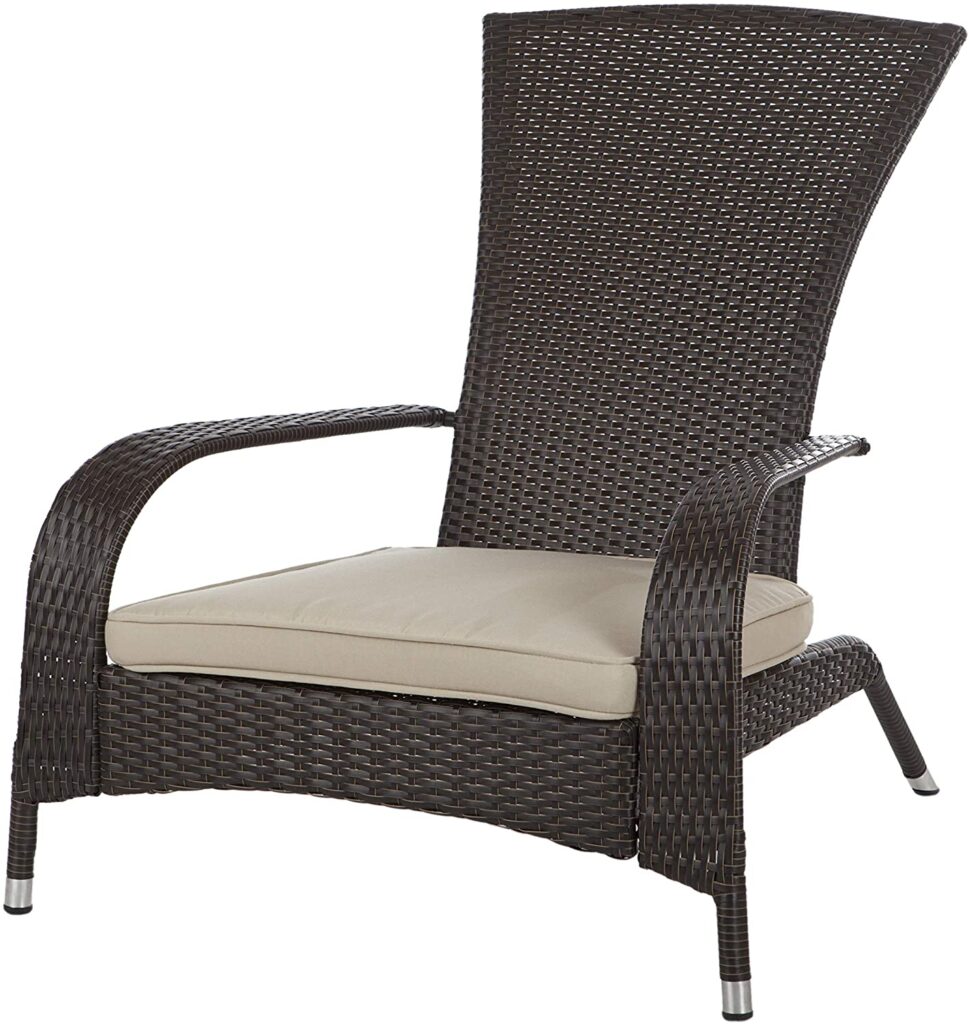 This is a great relaxing chair I really like. Although it may not pass for a fire pit chair, it's still perfect for enjoying a nice time outdoor.
So, what's to like about this outdoor chair? There's a cushion for extra comfort. It comes in beige color and makes sitting on your butt for hours less inconvenient.
Unlike the other chairs we have talked about above, this outdoor chair is made of wicker which is essentially plastic, woven around a tubular steel frame. Thanks to mocha finishing, you can use this chair in all weather.
Maintenance isn't going to be a problem either as it doesn't easily stain. Also, the wicker material takes years to break down. It's also very lightweight and you can move it to wherever you want to stay, whether on a deck, patio, or in your backyard around your fire pit.
Thanks to its Adirondack design, you can actually relax a lot better after a stressful day. Just sit back and rest your back on the high backrest.
What we like
Made to be comfortable and allow you sit for longer hours, thanks to a comfy cushion
It's a versatile outdoor chair and can be used in different settings, whether on a deck, patio or backyard.
Low maintenance
Perfect for all weather relaxation
What we dislike
Not many buyers are exactly satisfied with this product.
For its price, can be made a lot better and durable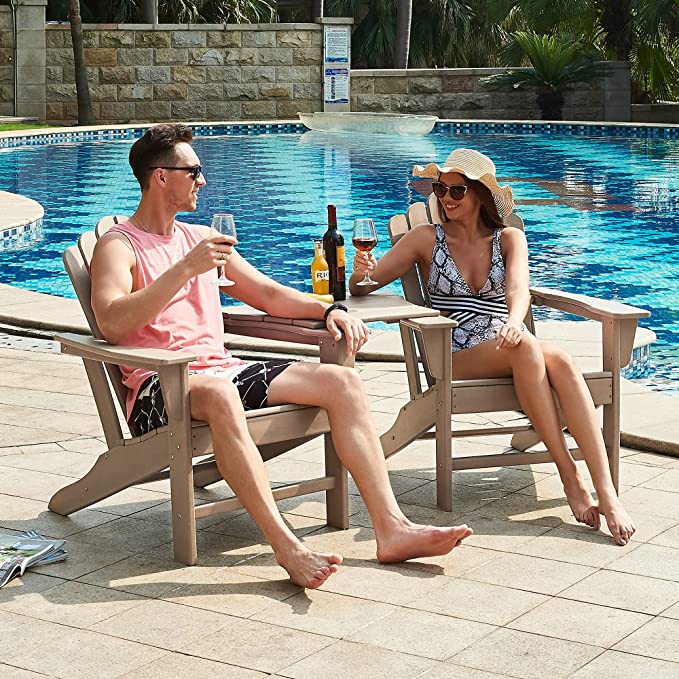 On the off chance that you're the sort to relax around in the sun on an excellent summer day, this Adirondack seat set of three is perfect for you. The ergonomic design with large seating and high back help make the seat a delight to sit in.
Furthermore, when you need more comfort after cleaning your garden, yard, or open-air deck, an Adirondack seat set of 3 is exactly what you want!
With its shell shape back and enormous seat, you can have a decent rest while basking in your garden's charm. The wide armrests and tall backrest make this cozy seat ideal for your open-air poolside, lawn, or garden.
Adirondack seats are put up with solid virgin high-density polyethylene (HDPE hard plastic) material with wood grain finish which endures a wide range of climates including warm sun, harsh winters, freezing rain, salt spray, and strong coastal winds.
At the same time, it is waterproof and impervious to stains and destructive substances, so it is perfectly simple to clean.
It adopts a classical style that mixes in with other open-air furniture impeccably. The wood grain finishing in slate gray attracts attention at any place it stays. Regardless of whether put in your yard, deck, poolside, or any screen porch, this outside chair will most likely light up your surroundings with other furniture pieces. It is equally fitting for indoors.
With clear directions and essential hardware provided, the assembly system is really simple. You can pick from five fashionable colors to blend and match your open-air deck style. These deck seats can deliver relaxation and comfort to your outside life in a fashionable manner.
What We Like
Classic design matches with any outdoor furniture
Large seating and high back for comfort
High-quality materials resistant to water and corrosion
Comes in five modish colors
What We Dislike
The chair price is on the high side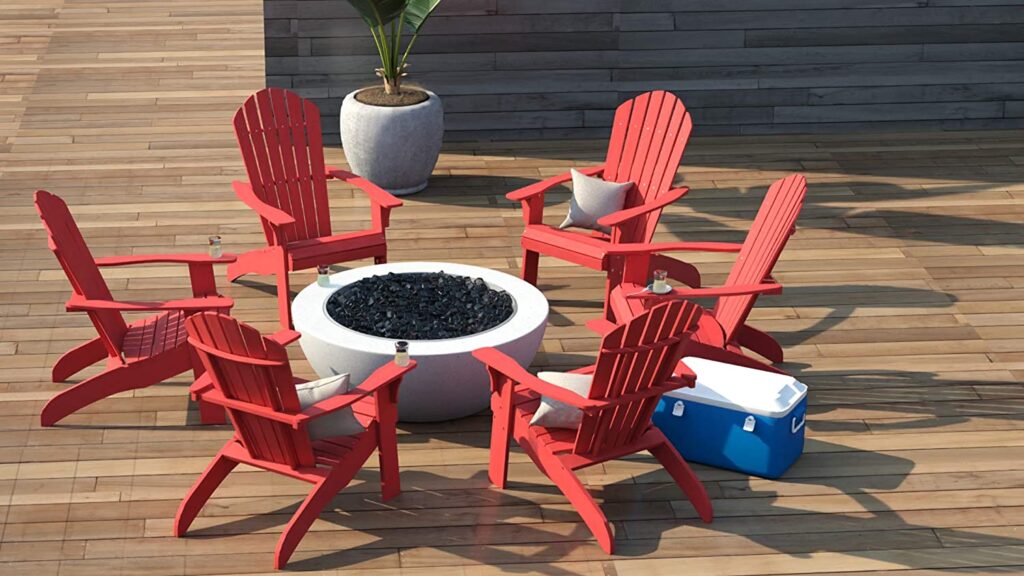 Polyteak is a brand that is committed to assembling furniture items that look a lot better while offering durability and simple maintenance.
Their furniture is intended for all-year outdoor use, no matter the environment. With the combination of marine-grade stainless steel equipment, UV color shade inhibitors, and weather-resistant material, Polyteak furniture can endure a wide range of severe climates without needing to store it.
This is what you should expect when you go for Polyteak's King Collection XL Adirondack Chair.
The King Collection XL Adirondack Chair embraces a traditional ergonomic design that fits any outdoor condition and appeal. It includes a 6 slat-Back that fans into a bent top with wide padded armrests.
The seat is heavy-duty, tough, made for day-by-day use, and is resilient during strict weather conditions, with a maximum weight limit of 350 lbs. It utilizes construction-grade stainless steel equipment to resist corrosion and strength.
Polyteak's unique mix of HIPS/PS recyclable plastic gives an authentic finish that mirrors the look and excellence of genuine teak wood with an imbued color immersion for simple maintenance should any surface scrapes and scratches happen. With just a little soap and water, you will be able to keep up with the excellent appearance.
The furniture is intended to be delightful and hassle-free. The chair is delivered partially assembled out of the box and just requires very little time and work to set up. The average time for assembly is no more than 25 minutes and it incorporates all vital hardware.
What We Like
Premium material for all-weather
Easy assembly in less than 25 minutes
Low maintenance
Reliable service department
What We Don't Like
Read: Best Bar Chairs with Backs 2022 Review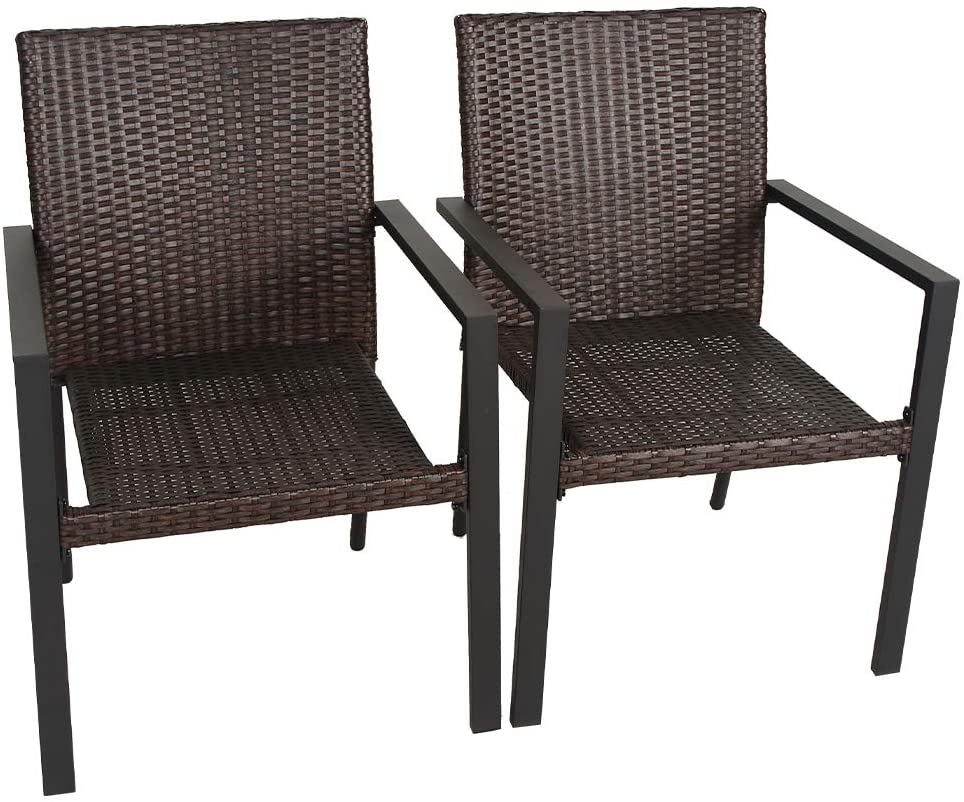 This is another wicker chair for the outdoors that may make a great addition to your fire pit. This chair set is made of polyethylene rattan that is environmentally friendly, promotes ease of cleanup, and has a smooth surface for relaxing.
One thing a lot of users have noted with the Bali wicker chair is the assemblage is a hassle. Although it isn't evident all the time, it's a problem all the same as lots of reviews seem to agree with it.
The chairs look nice and make for great savings – but remember, cheaper are not always better.
This is a two-set chair pack, for the price, I don't see it lasting a lot of years outdoors and you should also avoid this chair if you are on the bulky side.
What we like
Outdoor chair, great for fire pit, patio, backyard and generally taking in nature.
Convenient and easy cleaning
Ergonomic design
Stackable, so you can save space when you want to store
Cheap
What we dislike
Not very sturdy and won't carry a heavy person
Assembling is problematic for a lot of users