Not all chairs will help maintain your sitting posture. For that, you'll need an ergonomic chair with a lot of thought put in to see the right curves, height, padding, and more used in the manufacturing process.
This is one place high back office chairs tend to do well. They are built for productivity and rest. You want to have a chair so you can fall back to relax your lumbar and make blood flow through your body easier.
Today, I'll be looking at some of the best high back office chairs on the market you can splash your cash on and get good value for money.
Are High Back Chairs Better for Posture?
Yes, high back chairs tend to benefit you posture-wise as most often than not, they prevent slouching which causes bad posture and worse still neck and back pain.
So, getting a high-back chair with a good headrest will be beneficial for your posture.
Is High Back Chair Good for Back Pain?
If you're worried about back pain and looking into high-back chairs, you'll find that these types of office chairs are designed to correct sitting posture as well as stop or prevent neck and back pains.
A good high-back office chair should have great back support, so you can spend long hours sitting without slouching or slumping.
What are the Most Comfortable High Back Office Chair Available?
The most comfortable high back office chairs available include:
Sihoo Ergonomic High Back Office Chair – Best Ergonomic Office Chair
Defy Desk Ergonomic Office Chair – Best Executive High Back Chair
Choosing the Best Ergonomic High Back Office Chair
With the vast amount of options out there, it can be hard to choose the one that would meet all your expectations. So, I have selected the six best high back office chairs you should consider when shopping for a new computer chair for your office or home.
Check out our top picks below.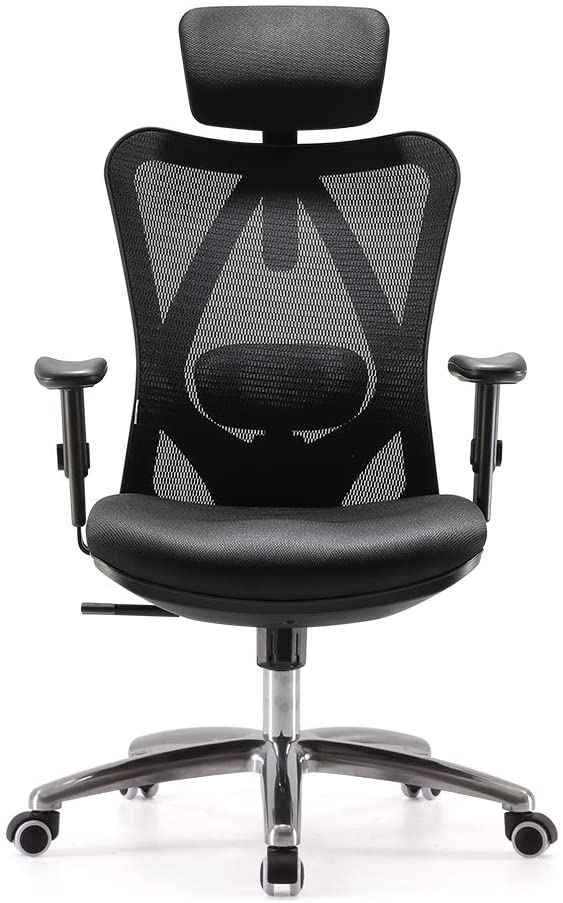 If you're on the market for a reliable ergonomic high-back chair, your first option would be to take a look at the Sihoo M18 office chair.
This sleek-looking piece of furniture exudes ease and relaxation. Folks who spend long hours on their chairs would enjoy this ergonomic chair as you'd definitely find the perfect sitting position tailored for your comfort.
The Sihoo M18 ergonomic high back office chair comes with a very comfy padded seat. This seat has a W-shape ensuring central sitting. More so, the seat's front edge uses a waterfall design to keep pressure off your legs if you would be seating for long hours.
For its pricing, the Sihoo high back chair packs a lot of worthy features including a metal base. It also has a premium backrest with breathable mesh fabric ensuring you experience comfortable and cool sitting all through.
It's worth mentioning that this high back chair has multiple ergonomic adjustable capabilities for maximum comfort while sitting. You can adjust the headrest, adjust the height, adjust back support, adjust stepless seat height, and adjust the tilt and armrests.
If you are wondering about setup/assembly, this Sihoo ergonomic high back chair won't stress you. It comes with everything you need to set up and be done with. Assembly won't take a full 10 minutes as there's everything you need and it comes almost ready for use.
Overall, the Sihoo ergonomic office chair is number one on the market at the moment especially as it fits a wide array of setups. You'll also enjoy an iron-clad three-year warranty on this product to show you the level of truth they have of the M18 sihoo chair.
What we like
Professional look, yet very fashionable
Fits a wide variety of setup and can be used at home or office.
Very budget-friendly yet cost effective
Comes with lots of adjustability options from headrests to height
Comfortable to sit on for lengthy periods
Sturdily built and designed to last.
What we dislike
The armrest can be better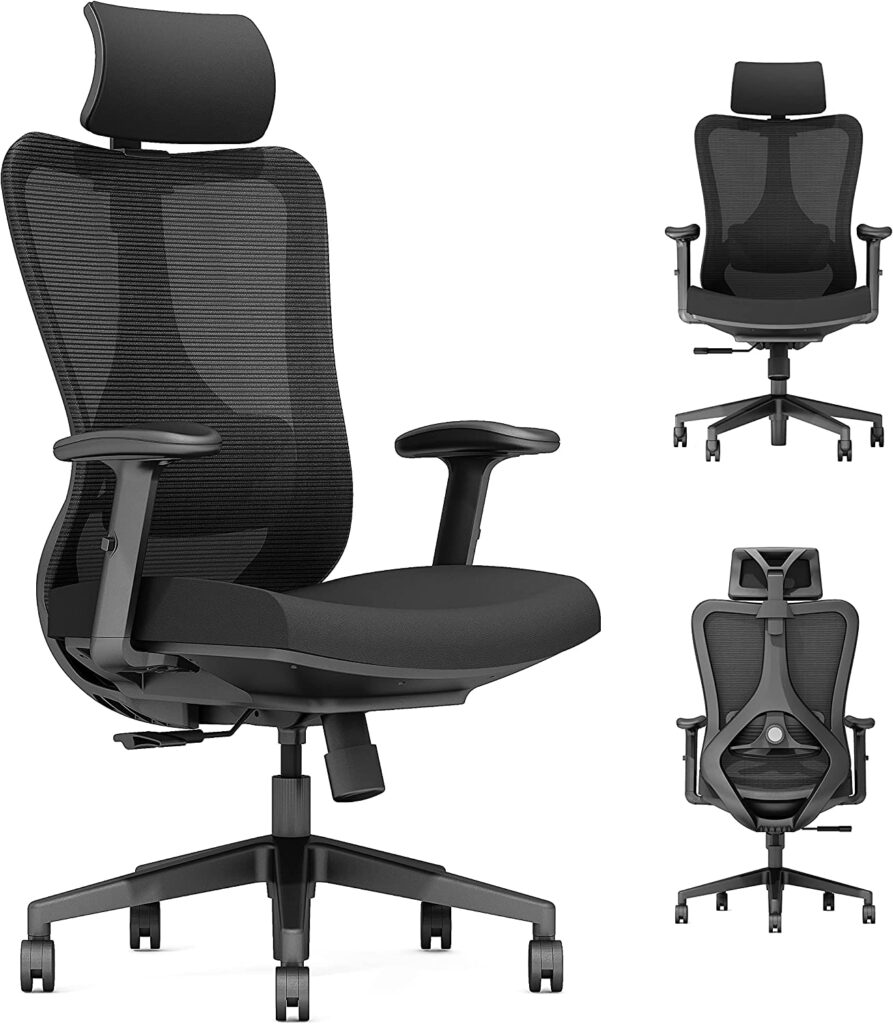 The Defy Desk Ergonomic office chair is a premium-looking high-back desk chair made from top-of-the-line materials. This ergonomic chair is very versatile and can be used for just about any activity from studying to gaming.
One of the key points of the Defy high back office chair is the S-shaped waterfall dreamer designer that is an anti-slouch and back pain feature that ensures that your body is in an upright position to reduce stress on the spine, hips, and neck.
This executive high back chair is fully adjustable for maximum comfort, allowing you to tilt the backrest back or sit straight from 90 degrees to 130 degrees. A chair's base says a lot about its efficacy and the Defy Desk has a break-proof BIFMA base.
The double padded seat cushion chair has a height adjuster which makes it easy to use with almost any desk.
Asides the premium construction that makes this really comfortable to use, the Defy high back chair brings fun with its caster wheels, as you can bolt across the room while sitting and spin a smooth 360 degree thanks to swivel casters which makes it move swiftly.
The lumbar support is adjustable which makes it fit the curvature and depth of an individual spinal shape just like the arm rest is also adjustable to support your forearm and wrist as you work to avoid work related injuries by reducing stress on your shoulders, arm and wrists.
Conclusively, the Defy Desk office chair is a premium made high back office chair that delivers class and comfort. As long as you don't go over the 300 lbs weight limit, the stellar and sturdy construction of this desk chair is built to last.
What We Like
Great for fixing posture and curbing back and neck pain
Can carry weights up to 300lbs
Has a rocking pressure adjustor
Adjustable head rest
Height can be adjustable.
What We Didn't Like
The swivel castors has no guarantee
The swivel castors make some noise while in motion.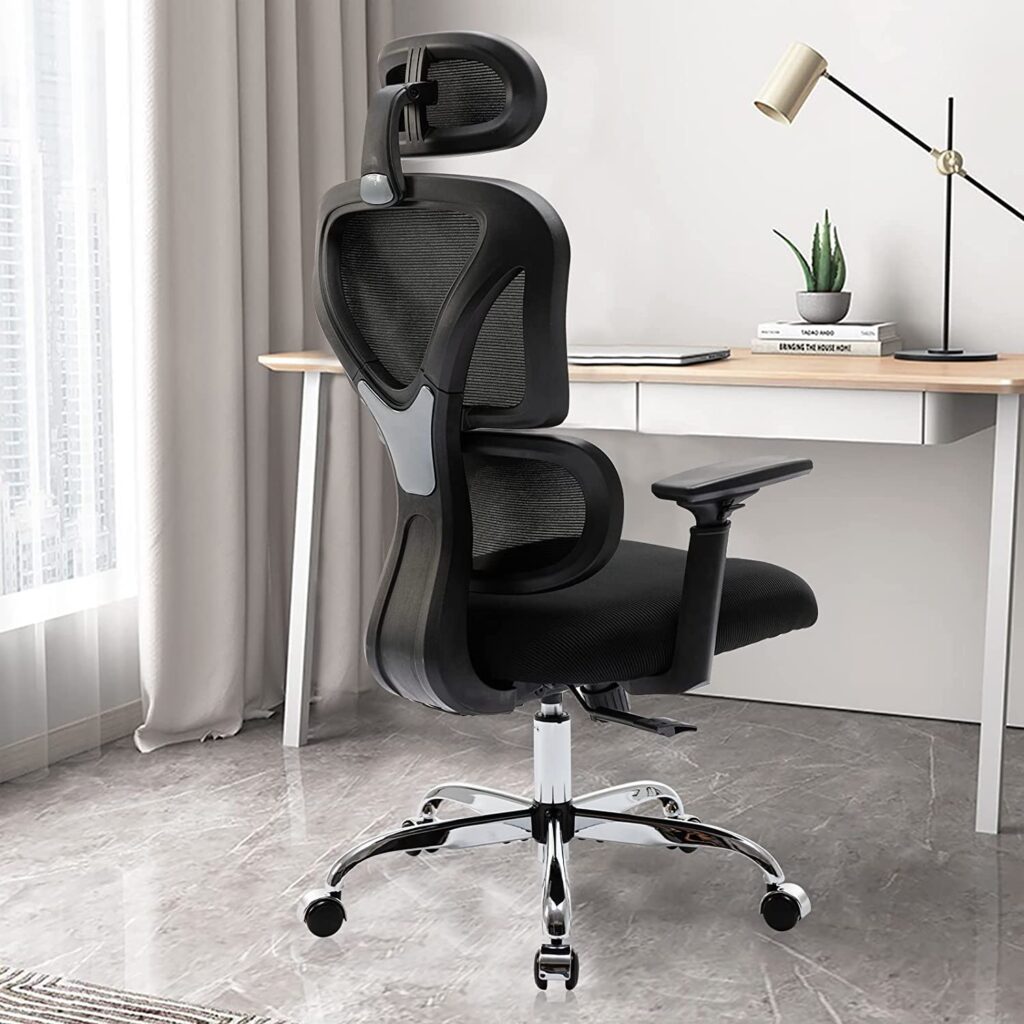 This ergonomic high back office chair from Kerdom is a fancy looking quality ergonomic chair that costs a couple of hundred bucks but will save you countless hours to a chiropractor.
As an ergonomic chair, the KERDOM high back chair promises comfort while working and it focuses on that by supporting four important parts of your body – head, hands, back and buttocks.
Seating is comfortable on this chair thanks to high-quality yet soft cushions that lets you fall back and enjoy a relaxed sitting experience perfect for improved productivity.
Like said earlier, this Kerdom chair aims to protect your waist and back and back and keep you from visiting chiropractor or other health offices, and as such, it comes with a unique segmented backrest.
If you are curious about the flexibility and recline ability of this chair, you'll be pleased to know that it does have a rocking function which allows the backrest move from 90 degree to 130 degree.
It has a Y-shaped backrest and also a 3D adjustable armrest that rotates left and right along with contributing to good body alignment; it helps relax the muscles in your shoulders, neck, arms and hands.
Its armrest has the before and after adjustment with the up and down adjustment alongside a thick breathable cushion. There's the benefit of seat height adjustability wherein you can raise lower the chair 10CM alongside an adjustable headrest which automatically adjusts itself when the seat position is adjusted.
For assembly, it does take a bit of getting a hang off to properly setup, which take you some 30 minutes, but once you do figure it out, that's done. There's a good support team always ready to help you out should you encounter any problem with this chair.
Overall, the design and cost of this high back chair makes it a good option for people looking for comfortable high back chairs (without armrests). Durable materials, fine product finish and good customer service are some of the key benefits you'll get with this chair.
What We Like
The segmented backrest
Quality seat cushion for sitting long hours
Height can be adjustable
Have good swivel casters
Comes with 3D detachable arm design, so if you don't like armrests, you can get put it away.
What We Didn't Like
No adjustable lumbar support
There's no tilt tension.
Takes a bit of time to assemble and get it ready to use
Final Thoughts
Just like public utilities are beneficial to communities, you'll find that high-back office chairs improves your posture and also helps you become more productive at the office. So, are they recommended? The answer should be obvious already.
This post covers the best high-back office chairs on the market, so be sure to make the right call on a new comfy ergonomic chair for your office.