There's hardly any other furniture in the home more fabulous than a hanging chair. It acts as a chair, but it can also be referred to as a meditating seat or reading nook.
Consider investing in a highly durable hanging chair if you want to enjoy the 'Zen cloud' and comfort of a chair in swinging motion.
This article highlights the best hanging chairs for bedrooms, patios, and other outdoor spaces. What you need to know while shopping for them, and their unique pros and cons. But first, what do you know or refer to as a 'hanging chair?'
What is a Hanging Chair?
A hanging chair refers to a specific chair type with no legs. It is usually mounted or attached to a ceiling or held up by a support unit such as a rope, chain, etc.
Hanging chairs are mostly free-hanging. This means they can swing or move freely with zero hindrances.
Many apartments today have a hanging chair or two. Hanging chairs are generally associated with a children's or teenager's room. But nowadays, adults appreciate the impact of hanging chairs, too.
This shouldn't be too surprising as rocking movements have been proven to relax the entire body. Hanging chairs are aesthetic elements that swiftly draw your attention as soon as you enter a room or outdoor living space where one is set up.
Hanging chairs are getting increasingly popular and are available in various shapes. They are made from different materials, and the advantages of using one are also crucial.
Rocking hanging chairs enables you to relax at the end of a hard day's work. Since hanging chairs can rock, they help relax your muscles, and you may find yourself falling asleep. This type of motion also stimulates deep sleep among children, teenagers, and adults.
Most hanging chairs are built to be incredibly comfortable as they come with several soft cushions, mattresses, etc. There's perhaps no better way to enjoy the cool of the evening than to lounge in a hanging chair with a cup of coffee or a book.
Types of Hanging Chairs
The primary difference between a hanging chair and a regular chair is construction and appearance. Some hanging chairs are only suitable for use outdoors, while some are more efficient indoors.
Here are some types of hanging chairs you will find in some furniture shops online or offline:
Hanging Chair (with Stands)
Hanging chairs with stands are more mobile. This type of hanging chair seat hangs from specific stands positioned on the floor. It is usually smaller than its counterpart, the ceiling hanging fan (discussed briefly next), and offers a significant benefit in apartments with limited space.
But this type of hanging chair has a small range of movement. Nevertheless, its mobility allows you to position this hanging chair on a balcony or a patio during summer.
Ceiling Hanging Chair
This is the most appealing or aesthetically-pleasing hanging type. The seat of this hanging chair hangs on a rope attached cleverly to a hook affixed to a ceiling.
Ceiling hanging chairs allow a full range of motion or movement for users. You will find narrower and wider models when shopping for hanging chairs, and you can choose the one most suitable for you.
Brazilian Hammock Chair
This unique hanging chair fits nearly every body type or shape. It is relatively cheaper than other hanging chair models. It is removable and can be stored easily in a wardrobe as it takes up only a little space.
Top 5 Hanging Chairs
Here are the best hanging chairs you should consider investing in: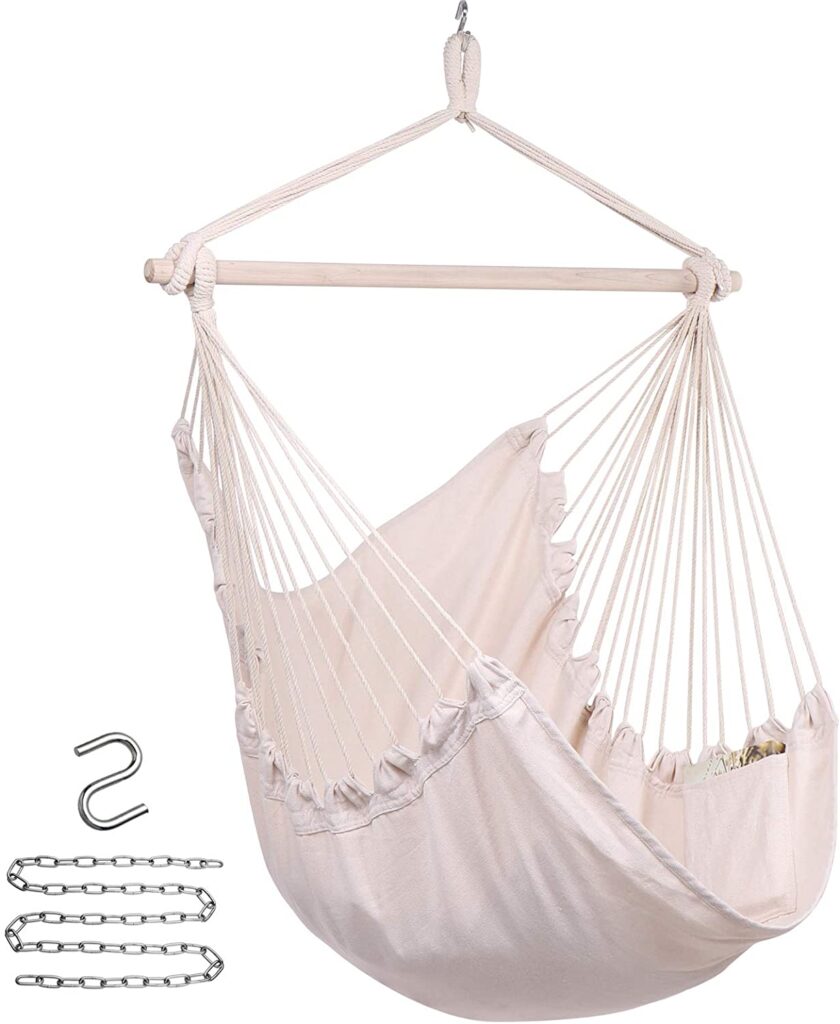 The Y- STOP Hammock Beige Hanging Chair is a high-quality structure and sturdy hanging chair that helps all your troubles disappear as you rock gently in the cool of the evening. This hanging chair easily complements outdoor or indoor living spaces and can support weights up to 330 pounds.
The Y- STOP Hammock Beige Hanging Chair features a unique 8.7-inch by 7.9-inch side pocket for holding your smartphones, books, drinks, and iPads. This is what you need to amp up your reading space. It is easy to assemble and install as it comes with only one S hook as well as a stainless chain that you can hang anywhere.
The Y- STOP Hammock Beige Hanging Chair has a 40-inch long wooden stick as well as heavy-duty hardwood spreader rods that make the hanging chair stylish and more stable. This means you don't have to worry unnecessarily about security issues or how safe the hanging chair is.
What We Liked
Stylish and comfortable
Easy to install
Secure and practical
Sturdy and useful
Powerful enough to withstand 330 pounds.
What We Didn't Like
It doesn't come with the hook that goes into the wall
Pillows are not included. The pictured pillows are only for reference purposes.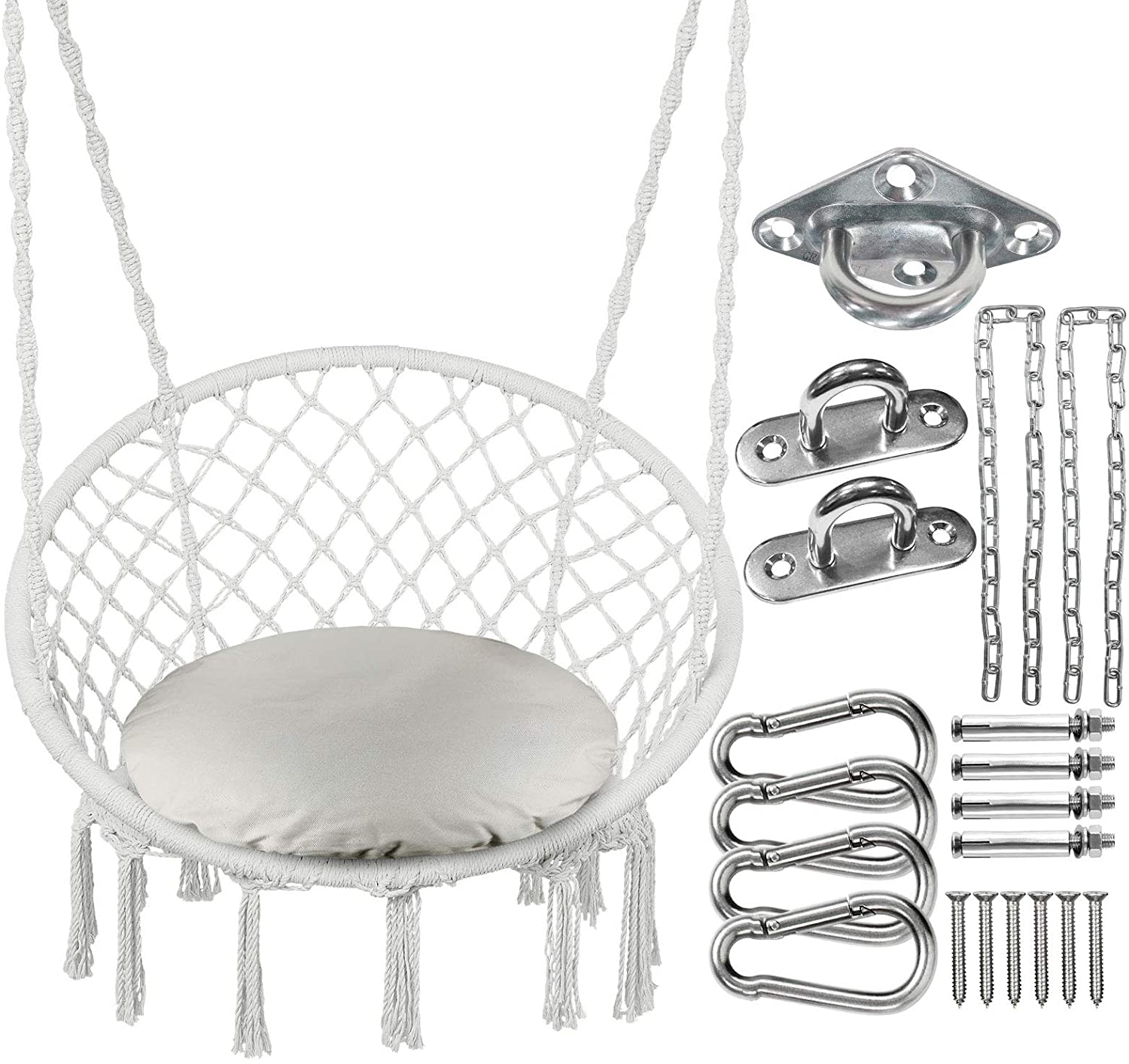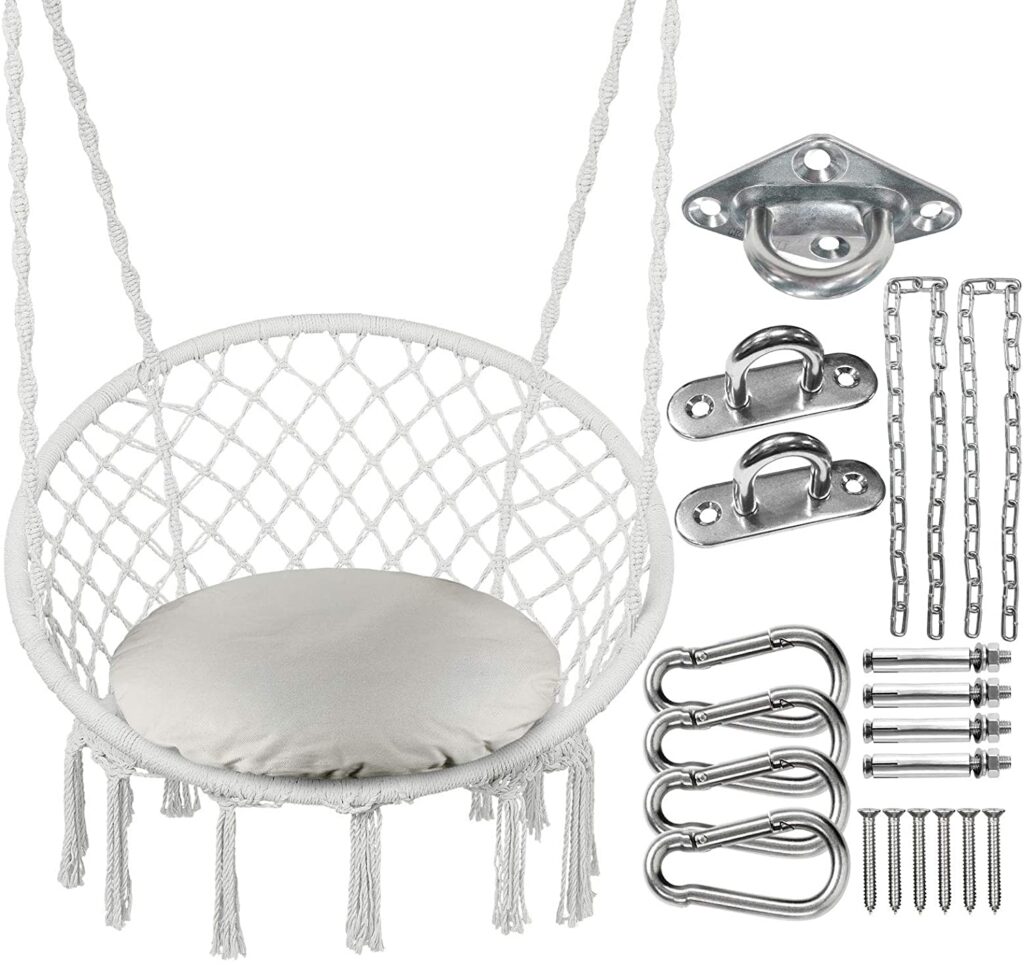 The GREENSTELL Hammock Beige Hanging Chair is an excellent addition to your garden, patio, or home. It features an incredibly sturdy frame which proves its durability, and its elegant bohemian style makes for a casual-retro touch.
Hang the GREENSTELL Hammock Beige Hanging Chair at any cozy spot of your choice whenever you want to unwind or relax. This versatile hanging chair has double functions: as a unique and remarkable centerpiece as well as a hammock chair for lounging.
The GREENSTELL Hammock Beige Hanging Chair is marvelous for use in any season. Thanks to its sturdy features and soft materials that make you feel comfortable, you can swing in style anywhere. The cotton-blend chair cloth significantly boosts the load-bearing capacity of the hanging chair as well as its wear-resistance of the fabric.
The GREENSTELL Hammock Beige Hanging Chair comes with a soft cushion and all the hanging kits you will need to make installation easy and quick. You can hang this hanging chair from any tree branch, the beam right under the roof canopy, or even the porch.
It is available in various sizes, so ensure you check for the size you find suitable for your frame or physique before purchasing this exceptional hanging chair.
What We Liked
It comes with the hanging kits/hardware for easy installation
It comes with easy-to-read/easy-to-install instructions
Versatile and available in various size
High-quality and sturdy product
Relaxing and comfortable
What We Didn't Like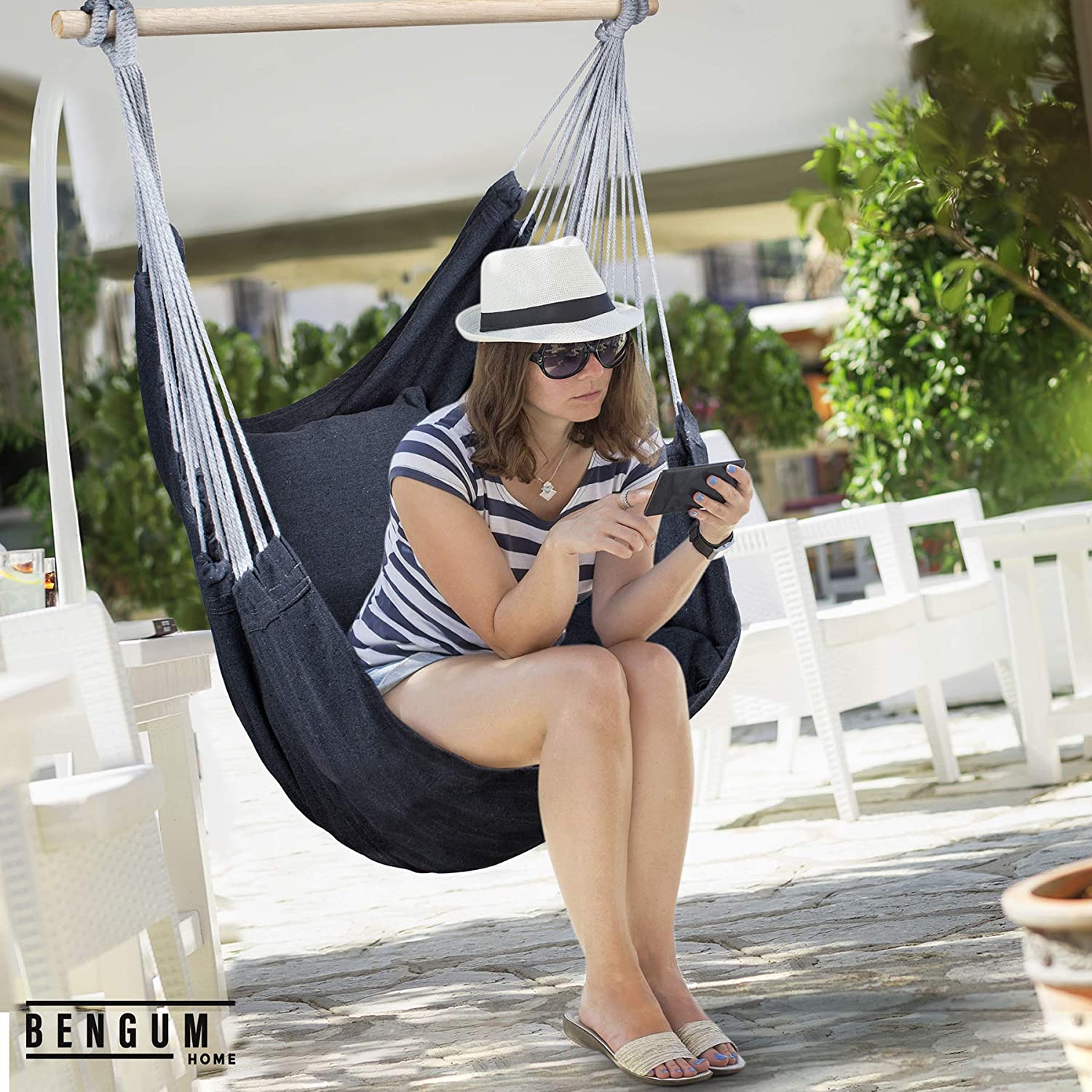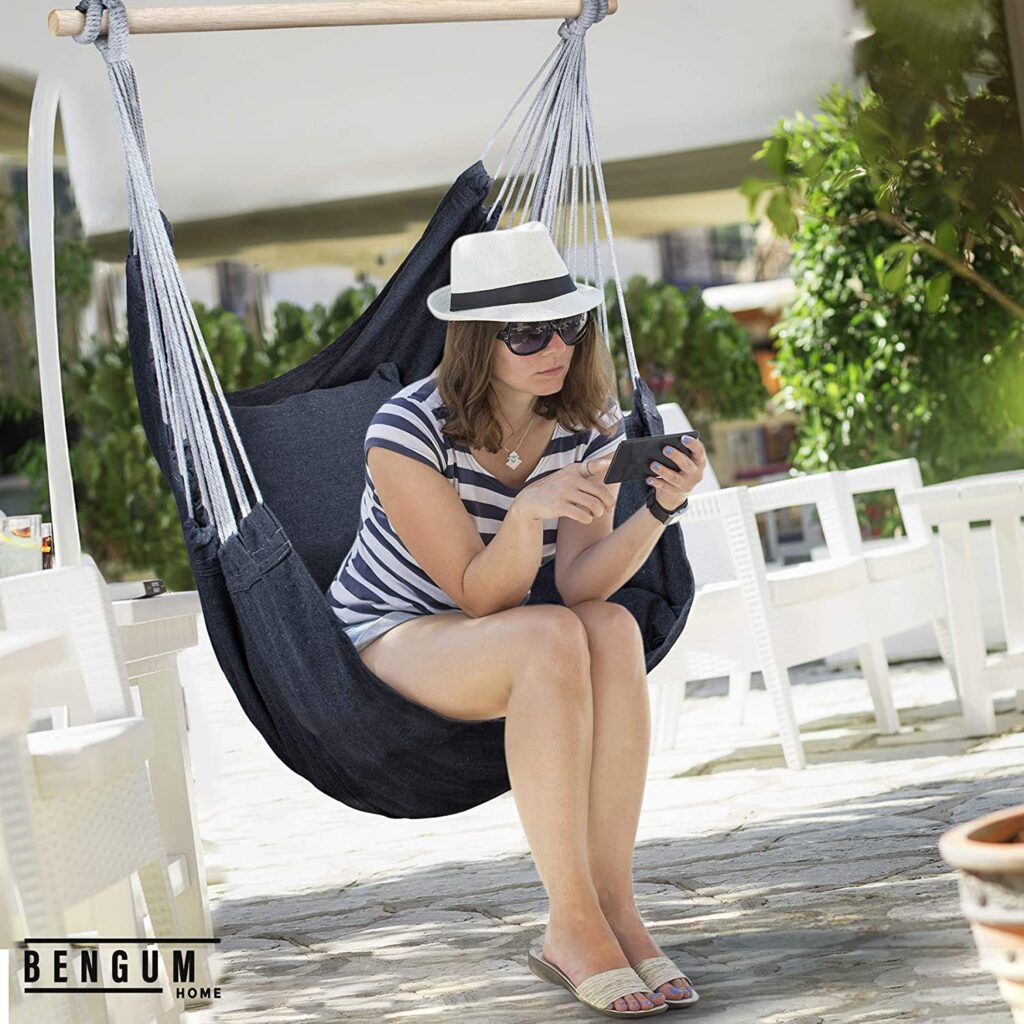 The extra-padded Bengum Hammock Hanging Chair is one of the most durable hanging chairs for reading as it was carefully crafted with readers in mind. This impressively constructed hanging chair comes with 2-piece extra-large cushions for additional support and comfort.
The Bengum Hammock Hanging Chair, capable of withstanding up to 300 pounds, is crafted with durable and breathable cotton plus polyester canvas fabric mixture. This functional hanging chair is perfect for outdoor – i.e., in the backyard, under a tree, on the patio, and indoor use, i.e., in the bedroom.
The Bengum Hammock Hanging Chair is for those who desire to enjoy exceptional relaxation as they read their favorite non-fictions or get lazy by gazing with nostalgia at the stars.
This outstanding hanging chair has a 10-inch by 10-inch side pocket and features an iron S hook for hanging the chair. It comes with a dust/carrying bag adorned with the black 'Bengum Home' logo.
What We Liked
Highly durable hanging chair
It comes with a 2-piece cushion for additional support
Impressively constructed
A perfect option for outdoor and indoor use
It comes with a dust/carrying bag for easy storage or transportation
What We Didn't Like
Hardware for hanging the chair indoors is not included.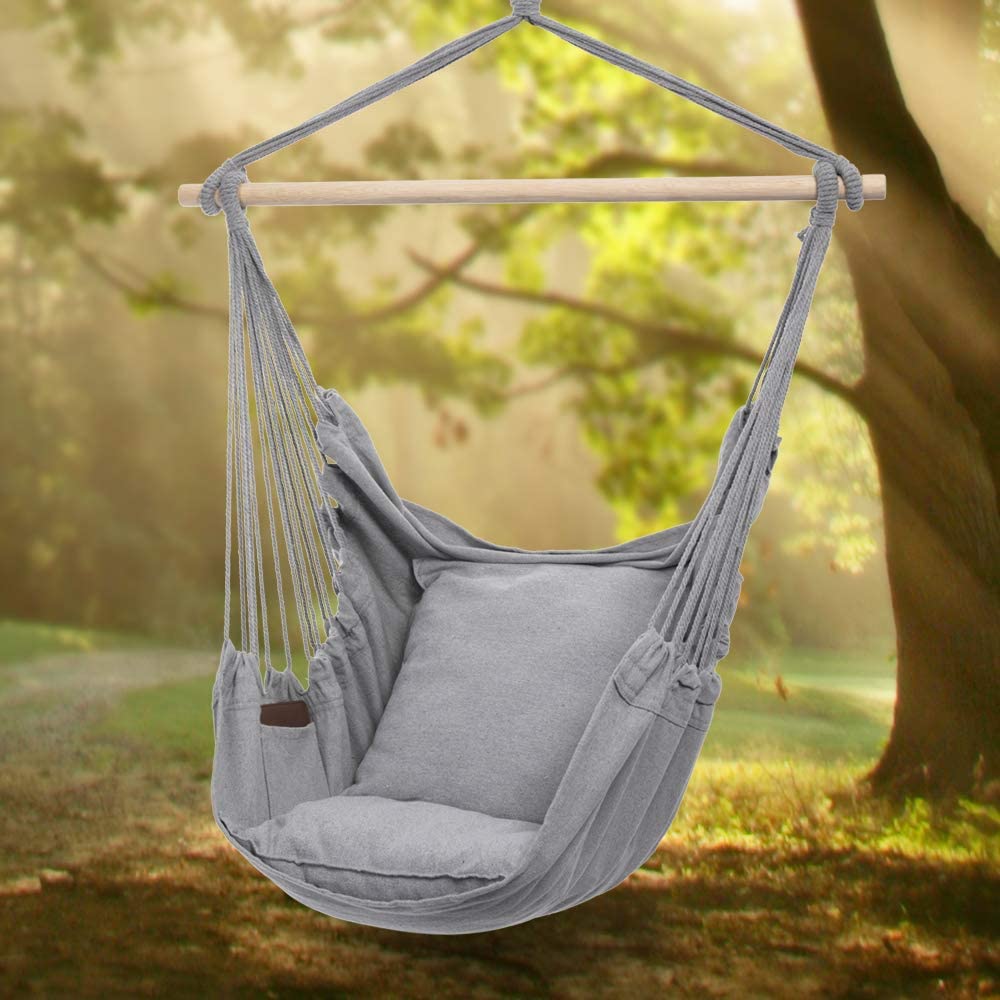 The Y- STOP Light Gray Hammock Chair is versatile, comfortable, and safe. It comes with a unique side pocket that can hold anything from your iPad, books, drinks, or smartphone. This hanging chair was constructed with readers in mind as the material is soft cotton/polyester.
The Y- STOP Light Gray Hammock Chair has zero smells out of the box. The hanging chair comes with a sturdy wooden bar that easily maintains its balance, making it an excellent play spot for children and adults.
It comes with the hardware you need to make installation a breeze. This includes 2 seat cushions, one stainless steel chain, 8 screws for the wood wall/concrete, 2 snap hooks, and one stainless steel ceiling mount.
What We Liked
Incredibly sturdy and comfortable
It comes with all the hardware required to make installation a breeze
Highly convenient side pocket for holding a book or smart devices
Versatile
What We Didn't Like
The pillows are not super fluffy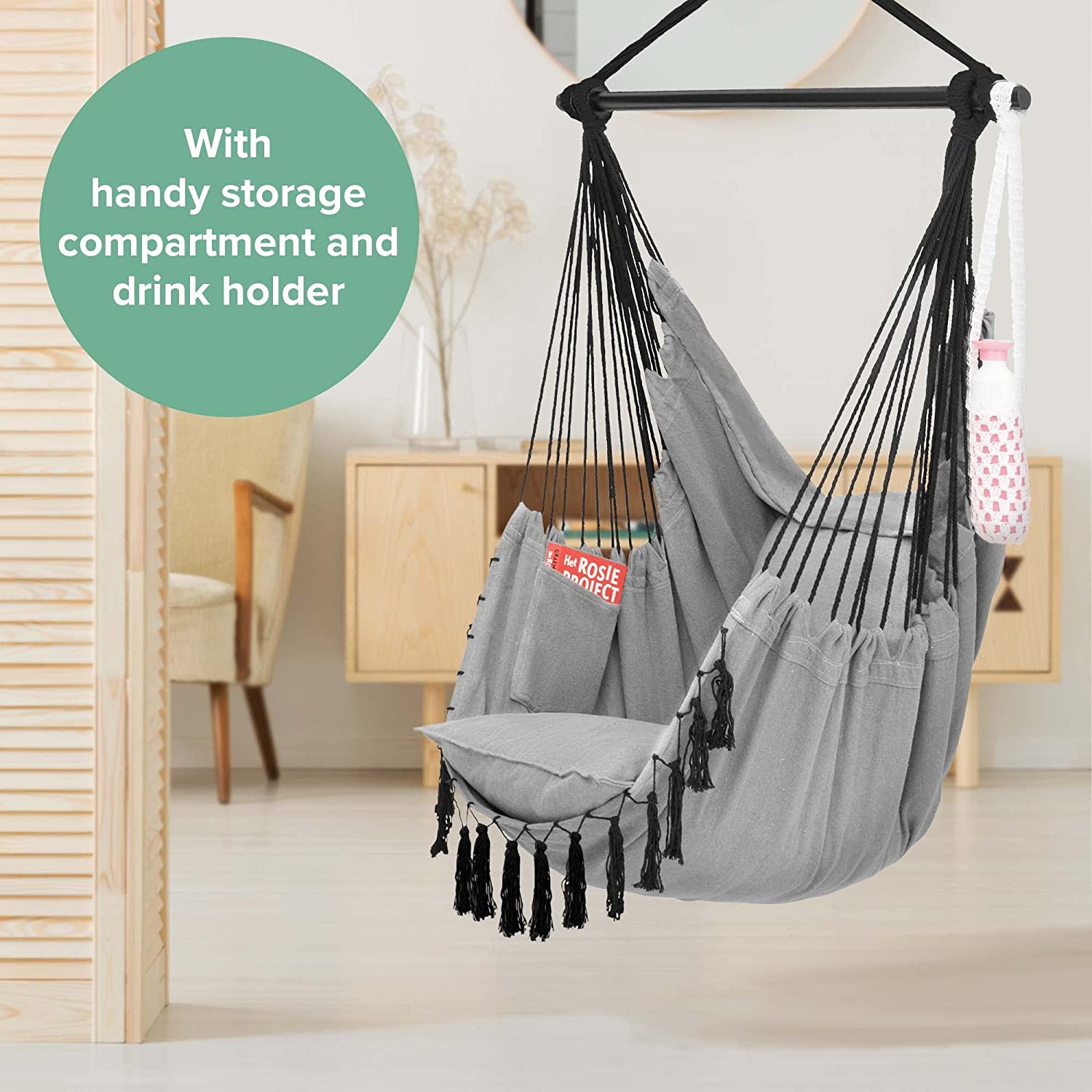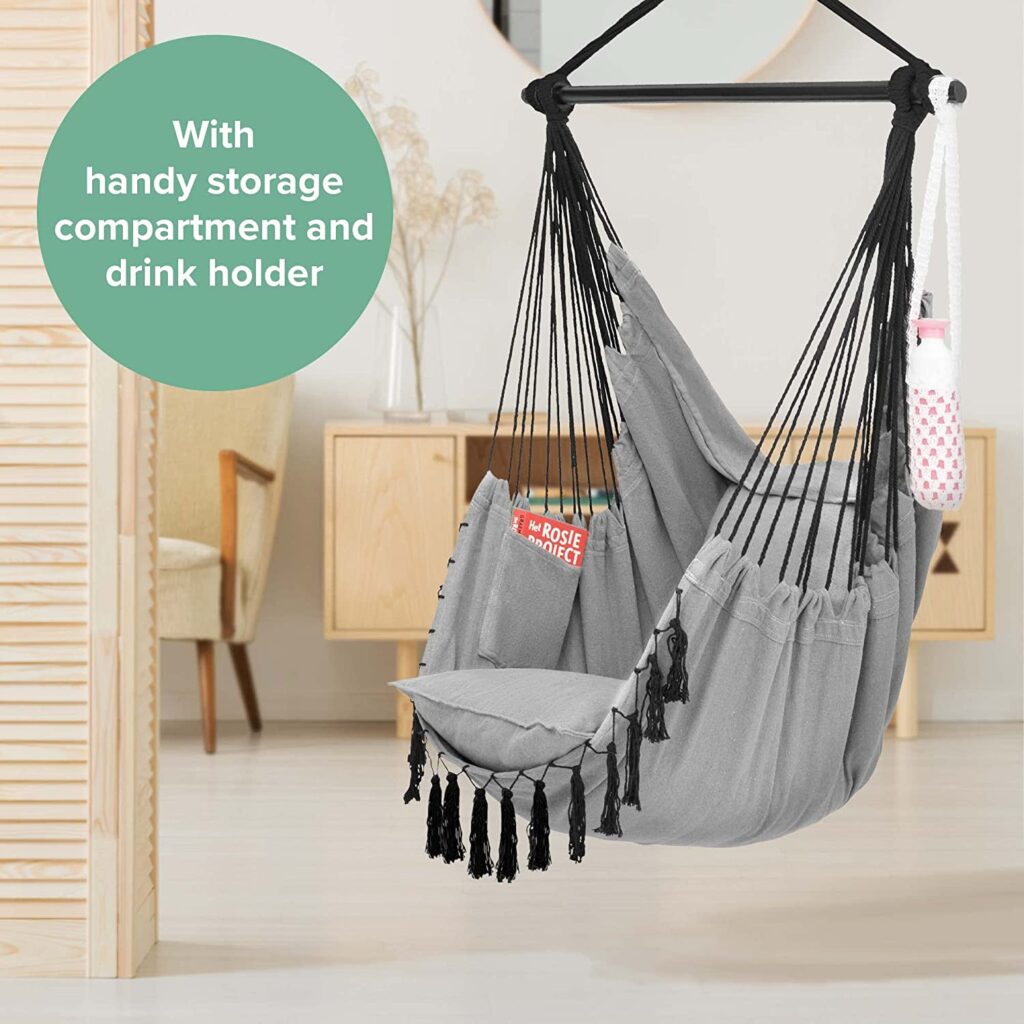 One of the best ways to fully enjoy weightless and soothing relaxation indoors or outdoors is via the VITA5 Sturdy Hanging Chair. This remarkable European-designed hanging chair has a capacity of up to 500 pounds, making it ideal for families of practically any size. It is the hanging chair of choice for freeing up space while adding a unique décor option to any room.
The VITA5 Sturdy Hanging Chair is spacious enough for you to curl up in with your partner or spouse or your favorite pet. It is the place you want to be if you want to spend lots of quality time with your kids or boost your knowledge by reading books in or outside your business field.
The VITA5 Sturdy Hanging Chair features a steel bar that will never let you down. This is unlike many hanging chairs with plastic bars that snap easily under strenuous weights. This soft pillowy chair helps alleviate stress as you meditate or swing quietly or gently.
All you need do is find the perfect spot indoors or outdoors, position the hanging chair, and swing away every morning to set the mood for the day with a cup of your favorite java.
What We Liked
Exceptional and sturdy space saver
Multilingual instructions manual
Comfortable and an excellent fit for any room
Strong support and holds up impressively well
Easy to assemble, weather-proof, and ideal for relaxation.
What We Didn't Like
A user complained about the tassels falling off
Buying Guide: Factors You Should Consider When Shopping for the Best Hanging Chair
The Right Installation Spot
A hanging chair can live literarily anywhere, from bedrooms to living spaces, terraces, or home offices.
But some corners work much better than many others. Therefore, you need to pick the perfect spot that relaxes you when you are stressed or tense. It has to be the place you spend most of your time and wouldn't mind hanging a chair on that spot.
Read:8 Best Chairs for Fire Pit for Comfy Outdoor Relaxing in 2022
The Layout
Avoid choosing and anchoring or installing a hanging chair at a spot that interrupts the overall flow of the room or outdoor space. There should be lots of free room for foot traffic.
You may need to get a small rug that readily defines your hanging chair's spot. You can position the rug directly underneath the seat of the hanging chair.
Sustainability
You should only invest in a highly durable, high-quality hanging chair that will last several years. Buying a poorly constructed hanging chair is a recipe for disaster.
You will be prone to accidents and may need to buy another piece of furniture within months or even weeks. This is why shelling out a bit more for a high-quality product shouldn't be a problem for you.
Conclusion
Hanging chairs are pieces of furniture that will continue to find their way to numerous households. The comfort they provide, especially at the end of a hard or long day, makes them worth investing in.
The best hanging chairs highlighted in this write-up make their users comfortable. Check each one out, bearing the factors you should consider while checking out their pros and cons.
Depending on your budget, you can select any style or type of hanging chair you desire. But whichever one you pick will always be part of any new trend every year.