Are you in the market for a reclining chair that is strong, comfortable, durable, lets you get up easily, and can provide your body with the support it needs to make you feel good and relaxed?
You are in luck!
Our reviews of top-rated power lift recliners with heat and massage functions may be exactly what you're looking for!
Recliners are famous for their capacity to provide optimum support and comfort, especially to the elderly with back and knee pain.
As you age, you'll find that it gets harder to get up from a seated posture – you can confirm from your elderly loved one.
Power lift recliner chairs can help get the work done effortlessly. Power lift chairs are a great way for elders to enjoy relaxation and relief from pain.
Power lift chairs do not only recline but offer assistance to people to enable them to get out of the seat without weakening their knees or hips.
With just the touch of a button, it can support the user to get to a standing position.
Although recliners are mostly used by elderly people, they are not limited to old folks. Anyone who has difficulty sitting down and getting back up can use a lift recliner.
Whether it's due to leg pain, back pain, an illness, an accident, or a recently undergone surgery that affected your mobility, a power lift recliner is ideal for you.
Some lift recliners come with upgraded features such as heating pads and massage motors built in to give people more advantages.
This makes a lift recliner a valuable and convenient piece of equipment for many elderly people.
Read below for a detailed overview of the best-rated power lift recliners with heat and massage.
5 Best Power Lift Recliners with Heat and Massage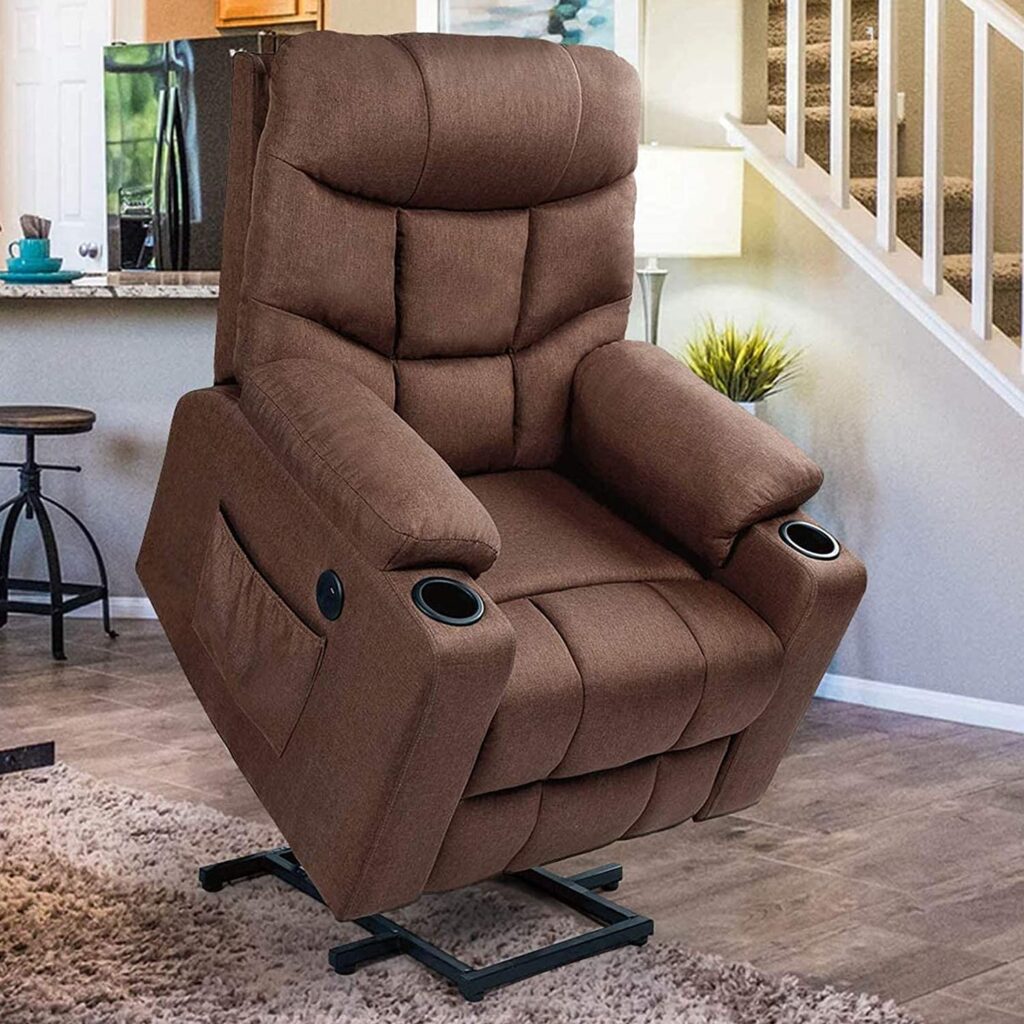 Esright Power Lift Chair is a well-built and stylish-looking recliner sofa. It is designed with overstuffed upholstery padded with an extra thick sponge to provide maximum comfort for the whole body.
It has a solid metal frame that makes the chair stable and reliable, with the capacity to hold up to 330 pounds.
This recliner comes with plenty of interesting and beneficial features such as a heated vibration massage, power lift function, side pockets, dual cup holder, and a USB port.
The special lift feature of this chair gives users the ability to control the chair to tilt forward and help them get to a standing position. Seniors can wave goodbye to the pain that comes with the struggle to get up every time.
Similar to other power lift recliners, this chair provides a vibration massage. It is designed with eight vibration nodes to massage four areas of the body – neck, lumbar, thigh, and leg.
There are five vibration modes – pulse, press, wave, auto, and normal, and the user can control massage intensities from high to low.
One of the best features of this recliner seat is its heating system targeted at the lower back. So if you're experiencing back pain, this chair will come in handy.
Another amazing feature of this seat is its silent lift motor. The chair is designed with an electric and TUV motor that powers the entire chair so that it doesn't make a sound when it reclines or lifts, and lets the chair recline up to 150 degrees.
Other additional features of this chair include the USB port for charging electronic devices like smartphones, tablets, small laptops, and other small devices that can be easily charged with a USB cable.
There are two side pockets to store little things like magazines, newspapers, remote controls, phones, tablets, and so much more.
Also, remote control is available to regulate massage functions, reclining, and lifting functions.
There is a timer option that lets you set massage duration. What's more, it comes at a reasonably affordable price, is easy to assemble, easy to operate, and easy to clean.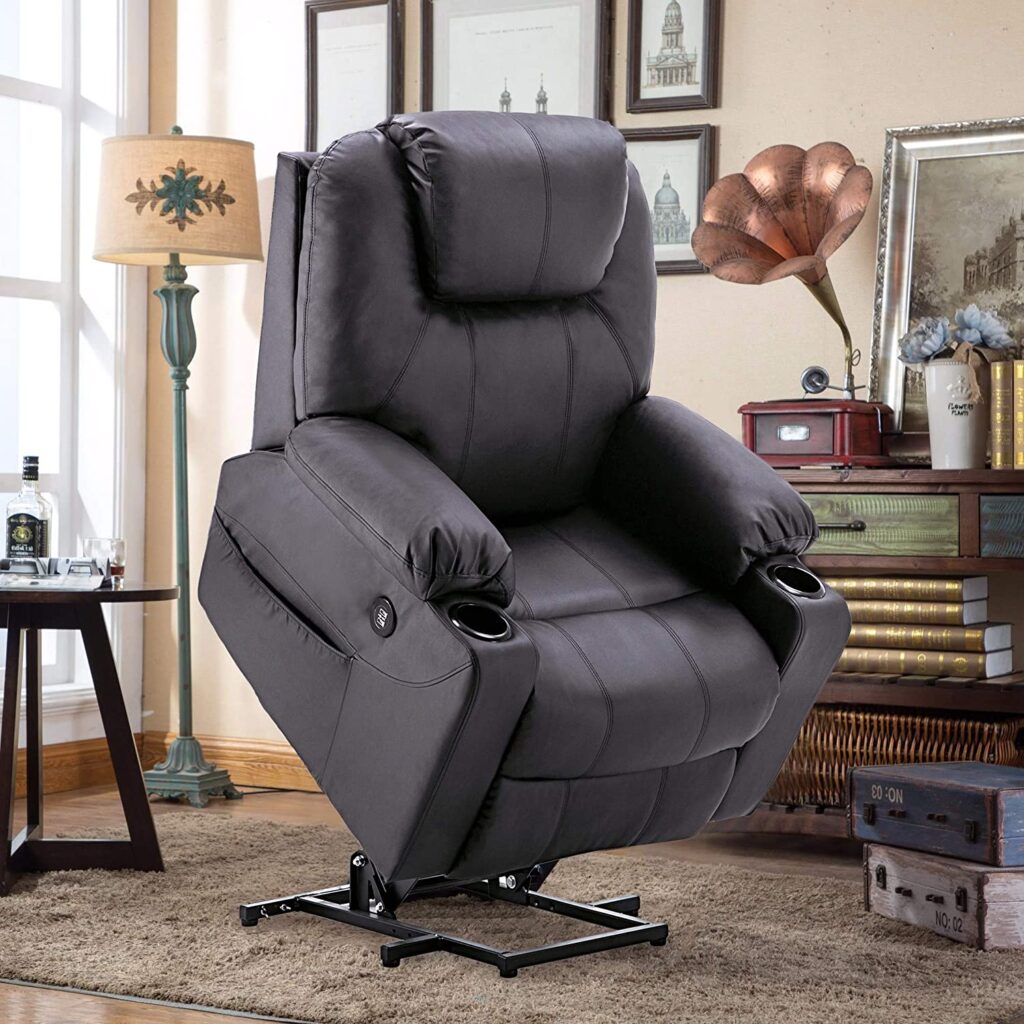 This beautifully made recliner sofa is constructed to give users a comfy and spa-like feeling.
It comes with a counter-balanced lift mechanism with TUV certified actuator that allows smooth reclining and lifting operations to any position. This supports the user to stand up easily without stressing the back and knees by simply pressing two buttons on the remote control.
One of the best features of this chair is the full-body vibrating massage and lumbar heating functions that work separately.
It is built with eight vibrating nodes around the chair, with nine modes of vibration and up to five intensities, as well as one heating node targeted at the lumbar area.
There's a timer option and you can set it to massage or heat for a fixed time of 10, 20, or 30 minutes. Seniors and anyone with back and knee pain can enjoy this feature while getting a spa-like feeling from the comfort of their homes.
For durability, this chair is covered with high-quality upholstery that is easy to clean, is beautiful, and still provides superior comfort.
For maintenance, clean with a dry or damp lint-free cloth.
The Mcombo power lift sofa is also built with dual USB ports for charging small mobile devices and dual cup holders to offer additional comfort and relaxation.
It also has dual side pockets within reach for storing small items.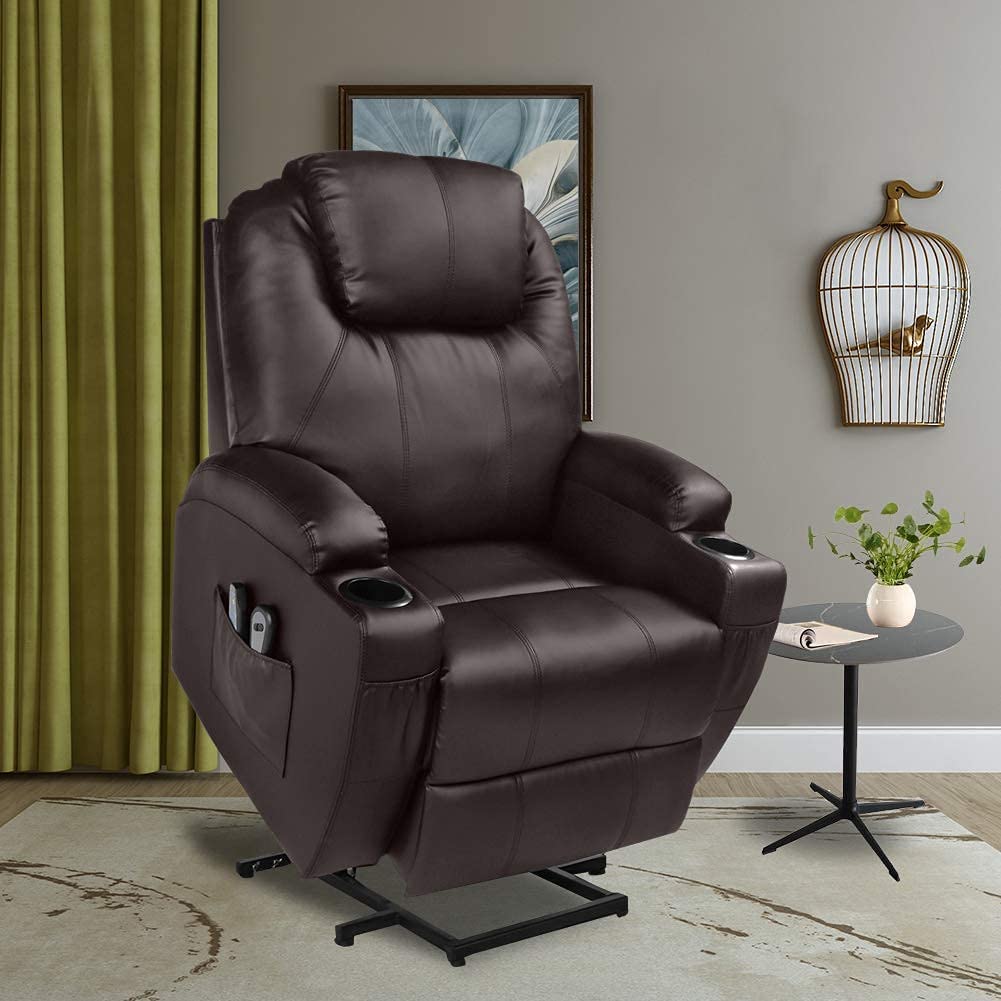 The U-Max power lift chair is constructed with lots of essential and effective features to meet your needs, making it one of the most functional and beneficial recliner seats on the market.
It is built with a silent power lift mechanism with UL certification that lifts and reclines the seat smoothly up to 140 degrees.
It comes with lumbar heating and vibration massage with eight vibration points aimed at four areas of the body – neck, lumbar, thigh, leg, and five vibration modes with two intensities from low to high.
The remote control lets you operate heating and massage separately when needed. You can also set massage time to last a specific duration.
U-Max power recliner Sofa is padded with an extra thick sponge to allow your back, head, and arms to rest comfortably.
It is topped with high-quality upholstery – PU leather fabric, which is not only soft but also durable and easy to maintain.
For extra comfort, it has two cup holders and side pockets for storing essentials such as TV remotes, phones, books, and snacks.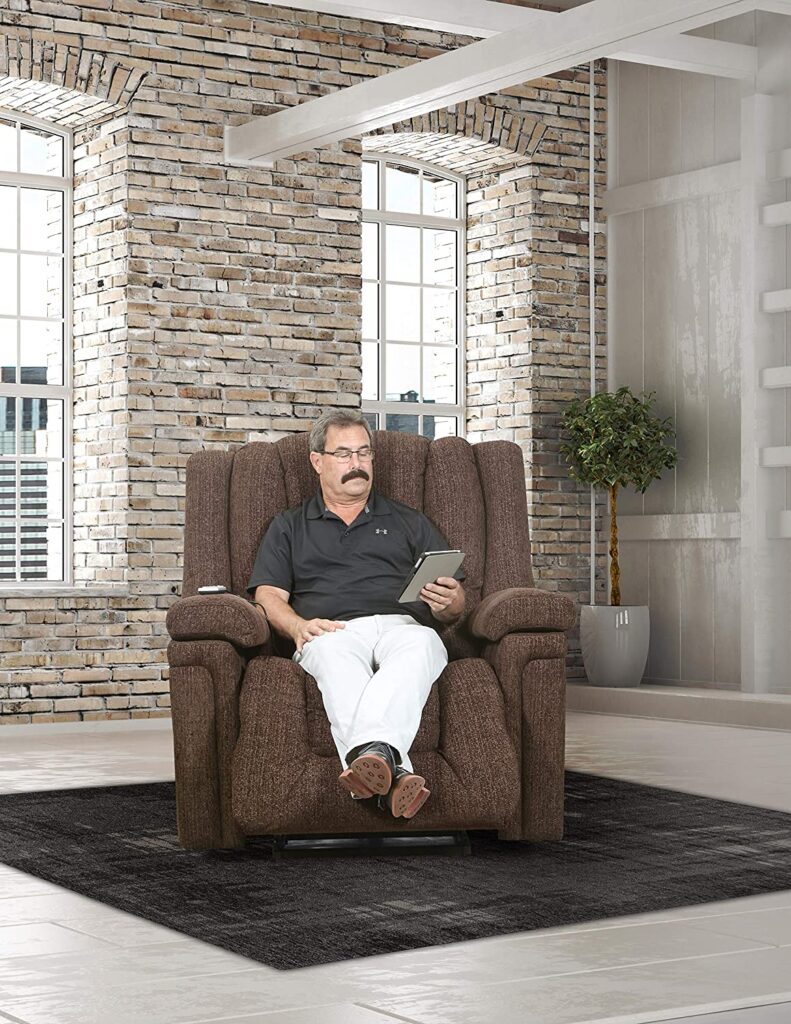 This handcrafted chair is designed with the intent to provide superior comfort, support, and durability.
The hardwood frames and steel recliner mechanism ensure sturdiness and durability. Made with mortise and tenon joints, it is one of the strongest seats on this list and it is easy to assemble.
It has a strong back construction to support equal distribution of weight and offer secure relaxation in any position.
This lane furnishings power lift is so strong it can accommodate a maximum capacity of 450 lbs.
The Lane Home recliner seat is built with double-padded armrests and a padded ottoman to provide full leg support and additional comfort when seated.
It is covered with leather polyester that is soft to the touch, durable, easy to clean, and has a great look anywhere you put it.
This sofa isn't just elegant and double-padded for comfort, it also comes with heat and massage functions to relieve users of body pain and stress.
It has a remote control that you can use to manage reclining and lifting functions, as well as heating and massage functions.
Other features of this awesome recliner sofa include:
A dual USB and 110 outlets installed in the armrest to charge your mobile devices while taking a seat or reclining.
An enclosed storage and side pockets that let you store little things like magazines, remote controls, and tablets.
It is available in a variety of fabrics and colors.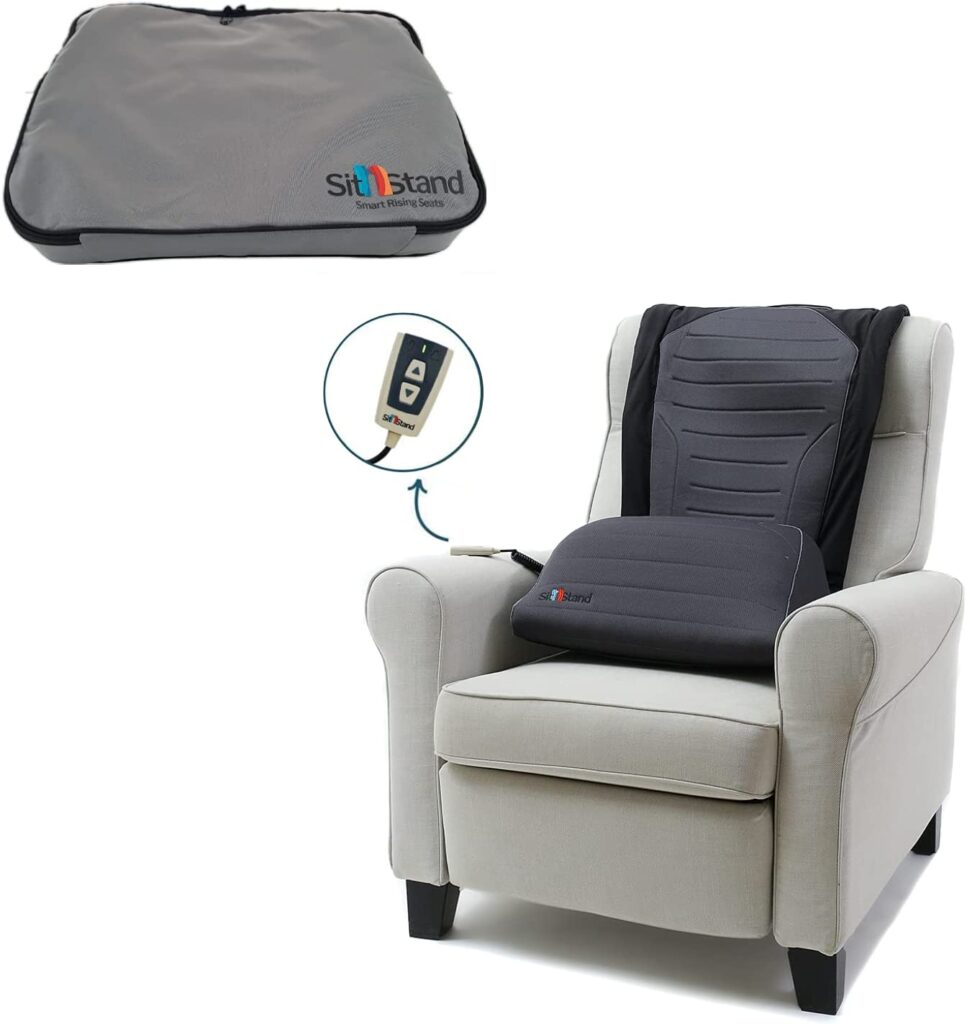 The SitnStand power lift recliner is sought after for its capacity to provide matchless support, comfort, and relaxation.
It comes with lots of inbuilt features that let users stay rested and also have fun while reclining. Whether it's watching TV, reading a book, napping, surfing the net, sleeping, or getting a massage, it is a great choice.
It is suitable for seniors, people with mobility issues, and pretty much anyone else who needs it.
This medical lift chair has a great reclining and power lift function with smooth operation.
You can easily control reclining and lifting functions to any desired angle and get to a standing position without support from others. The chair can recline up to 160 degrees.
This chair doesn't just recline, it also comes with a heated vibration and massage function. Massage functions target four areas of the body – shin, thigh, lumbar, back; and comes in five nodes – pulse, press, wave, auto, normal.
Seniors as well as anyone with body pains can benefit from this feature. This SitnStand recliner seat is topped with durable PU leather covers and can hold a maximum capacity of 350 pounds.
When fully expanded, the length of the chair is 59 inches. So be sure that the length is suitable for you before buying it.
For your convenience and extra comfort, this seat is designed with USB charging ports for charging low-power mobile devices like tablets and headsets.
It is easy to assemble and comes with an easy-to-use remote control with which you can regulate all seat functions.
Does Medicare Cover the Cost of Power Lift Recliners?
Medicare does not pay for the cost of a power lift recliner. However, it may cover the cost of the lift mechanism. Medicare covers costs associated with the part of the chair that is considered medically necessary.
Lift chairs fall under the category known as Durable Medical Equipment (DME). With a prescription from the doctor, you can get the cost of the lift mechanism covered. You must also purchase a lift chair from a vendor who accepts Medicare assignments.
Features to Consider Before Buying a Power Lift Recliner with Heat and Massage
Recliners come in various sizes and with different features to suit different needs. One size does not fit all. So for you to enjoy the optimum benefit of a recliner, you need to choose the right one. When picking the right recliner, there are many things you should consider, from size to functionality, upholstery, and warranties.
Size and Space
This is a very important thing to look out for when shopping for a power lift recliner. Before you buy a power lift recliner, consider the size of the chair and the space you want to put it in. Some power lift recliners are too big to fit into a small space.
Besides checking to see whether the chair will fit into space, you also need to consider whether the chair is a good match for your height and weight.
Most power lift chairs are designed to accommodate a maximum height of 5'1" to 5'9" and a maximum weight capacity of 300 to 330 pounds.
Those who are above 5'9" may have to use a footrest extender or order a custom chair to fit their height. And heavyweights may have to go for heavy-duty lift chairs that have been reinforced to accommodate up to 600 pounds of weight.
Upholstery
Power lift recliners come in a variety of attractive and durable fabric materials. When picking a chair, you should consider fabric and color that complements your home décor, is easy to maintain and can serve you for long. Also, take into consideration the kind of area you live in.
Materials such as leather and vinyl don't breathe well in comparison to cloth or synthetic leather, which means they could cause you to sweat if you live in a hot environment. So if you'll be sitting for long periods, you might want to avoid the leather. Plus leather fabrics are generally more expensive.
Some power lift sofas come with covers for the armrests, headrests, and seats that are detachable for washing. Present-day fabrics such as linen, imitation leather, and microfiber are stain-resistant, easier to clean, and less expensive than others.
Massage and Heat Functions
Power Lift recliners with heat and massage functions are ideal for people with back and knee pain. Power lift chairs are designed with different massage options with most of them focusing on the back, lumbar, thigh, and leg.
Before you pick one, make sure it has a heating option that is suitable for you. Check to see if the remote control allows you to control massage functions as well as heat intensity.
Durability
The mechanism of a power lift recliner plays an important role in its durability. Make sure the chair is made of plywood or hardwood frames, superior screws, and steel recliner mechanisms to make sure it doesn't deteriorate quickly.
Leather fabrics are usually more durable than other types of upholstery and although vinyl fabrics are inexpensive, they tear easily compared to other materials.
Comfort
Besides the reclining function, the heat and massage function, before buying a power lift chair, you should also consider how comfortable the seat is. Some lift chairs provide superior comfort to others.
A good lift chair should make you feel comfortable in any position, whether sitting, reclining, or sleeping. Make sure the chair is very well padded to provide maximum comfort in any position.
Easy To Use
A good power recliner is designed to make things easy for seniors and the disabled. Ensure that the seat is easy to assemble and that the remote control can be operated easily. Make sure that the seat can recline and lift without struggle.
Guarantee
When buying a power lift recliner, ensure that it comes with a guarantee and return policy. Most manufacturers offer a one-year warranty to cover replacements and repairs in case a problem occurs. Also, pay attention to the return policy because it will be useful in case you get a product that you didn't order or if the product is faulty.